UPDATED: JUNE 01, 2023 | 2 MIN READ
Buying homeowners insurance in Georgia shouldn't be complicated. To that end, we've rounded up all the information you need to know to get yourself a policy that gives you the best dollar coverage. Read on to learn the best companies, the type of coverage you need in Georgia, and how to purchase home insurance in Georgia.
Best Georgia Home Insurance Companies
The type of coverage you're looking for in Georgia won't necessarily be the same as in other states. For example, tornadoes frequently happen, as do intense storms. Therefore, the best coverage for your Georgia home may differ from the national one.
Overall Best Georgia Homeowners Insurance Company
Cincinnati is our pick for the best overall home and renters insurance company in Georgia. It's one of the least expensive, has excellent customer service, and has three levels of coverage. These levels mean you can tailor the coverage to suit your needs.
Best Value Georgia Home Insurance Company
The best value Georgia homeowners insurance company is Progressive, with Cincinnati Financial coming second. Progressive has the cheapest home insurance rates in the state, but their liability coverage is pretty basic.
Georgia Home Insurance Company With the Best Customer Service
Cincinnati Financial is the home insurance company with the best customer service in Georgia. The National Association of Insurance Commissioners (NAIC) suggests that based on its size, Cincinnati Financial receives 75% fewer complaints would be expected.
Georgia Homeowners Insurance Company Best For Bundling
The best home insurance company in the state for people who want to bundle their insurance policies is likely to be State Farm most people.
Although their home insurance is slightly above the average for the state, their car insurance rates are super affordable.
Combined with their estimated 15% bundling discount, State Farm is our top choice for bundling policies.
Georgia Home Insurance Company With the Best Coverage Options
With Allstate, you can tailor your policy to suit your particular needs. They have many different endorsements you can add to your policy, meaning that you can make sure your policy is tailored to you.
Local and Regional Home Insurance Options In Georgia
Donegal
Donegal home insurance helps Georgia homeowners protect their property against various disasters. Homeowners in Atlanta, Valdosta, and everywhere else in Georgia trust Donegal with premium home coverages.
Donegal offers Dwelling, Other Structures, Personal Liability, and additional options such as Extended Limits Coverage. Donegal features all the coverages you need to ensure you may rebuild and repair your home from a covered event.
Discounts from Donegal range from savings for high deductible fire/safety devices and policy renewals.
Encompass Insurance
Encompass Insurance features over 100 years of service and is Georgia's premier home insurance provider. The company features a home and auto package called EncompassOne Policy, with the coverages you need for one price.
Unlike other carriers, encompass Insurance also includes standalone homeowners insurance with high limits and premium features. Coverages range from Dwelling to Personal Liability.
You have premium options for protection, including Enhanced Replacement Cost Coverage, Mortgage Rate Protection, and more. Discounts for homes less than 49 years and with a security system help you save on premiums.
Georgia Farm Bureau Insurance
Georgia Farm Bureau offers insurance to its members as a benefit. Their comprehensive home insurance products offer broad coverages to protect your home, no matter where you live in Peach State. The home insurance coverage includes Dwelling, Personal Property, and other essential protection.
Georgia Farm Bureau may include insurance discounts based on your home's features and policy. A bundle discount for home and auto may also be available.
Georgia Insurance Demographics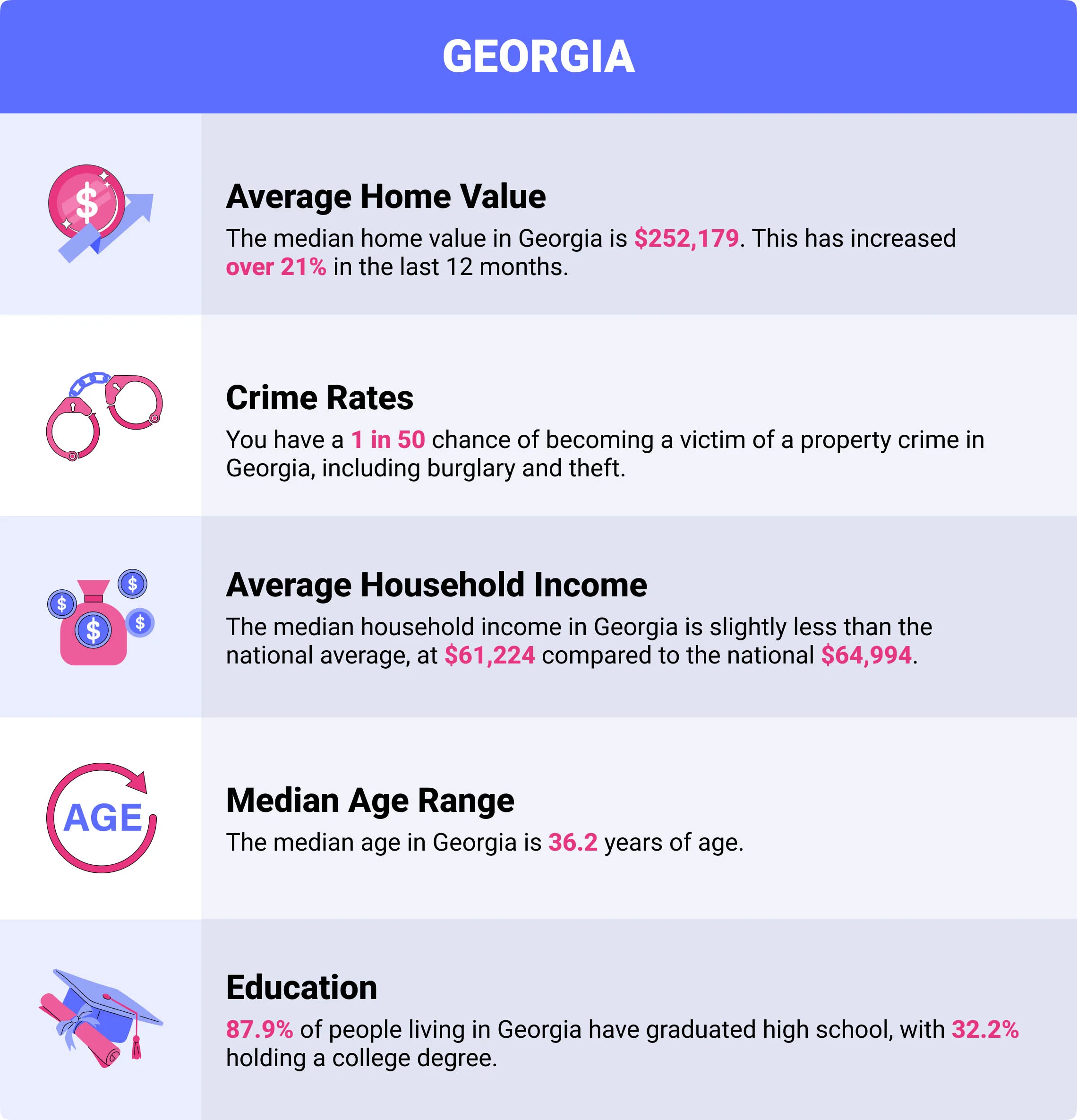 When insurance companies offer you a policy price, they look at the demographics you fall into to determine the cost. They look at the claims and payment histories of people similar to you, and assign risk categories.
Average Home Value: The median home value in Georgia is $252,179. This has increased over 21% in the last 12 months.
Crime Rates: You have a 1 in 50 chance of becoming a victim of a property crime in Georgia, including burgalary and theft.
Average Household Income: The median household income in Georgia is slightly less than the national average, at $61,224 compared to the national $64,994.
Median Age Range: The median age in Georgia is 36.2 years of age.
Education: 87.9% of people living in Georgia have graduated high school, with 32.2% holding a college degree.
Is Georgia Home Insurance Required?
Georgia does not legally require homeowners insurance, but your mortgage company will likely need you to get it as a condition of their approving a loan.
What Does Georgia Home Insurance Cover?
Homeowners insurance in Georgia typically covers any 'peril' or event that isn't explicitly excluded in your policy. Usually, exclusions are things like wear and tear or pest infestations.
Common Home Risk Factors In Georgia
Some of the common risk factors for home damage in Georgia include hurricanes, flooding, severe storms, and tornados. Fires are also common natural disasters that are often declared in Georgia.
Recommended Homeowner's Insurance Coverages
Being a coastal state, Georgia requires specific types of additional coverage that more inland states may not need. These include flooding coverage, windstorm coverage, and roof replacement coverage.
Flooding coverage
While most Georgia home policies cover hurricane damage, flooding is typically excluded and needs to be added to your policy. Some mortgage providers require homes in federally designated high-risk flood zones to have flood insurance.
Even if you're not in a zone that is known for flooding, it's important to remember that flooding often happens outside of these zones.
Windstorm coverage
Windstorm coverage is usually included automatically in a homeowner's policy, but if you live in Georgia, you may want to make sure it's included. Otherwise, you'll likely want to look into getting an additional policy or endorsement for windstorms.
Some policies may require you to pay a separate deductible for named windstorms.
Roof replacement coverage
Roof replacement coverage gives you the total replacement cost of a new roof or repairs to the existing roof. This is beneficial if you have a newer roof or one that is in good condition.
How Much Does Homeowners Insurance In Georgia Cost?
Insurance costs in Georgia vary depending on whereabouts you live. Athens is one of the cheapest areas to purchase homeowner's insurance, whereas Savannah is the priciest area to insure your home. This is likely because Savannah is on the coast and may be more susceptible to flooding and tropical storms.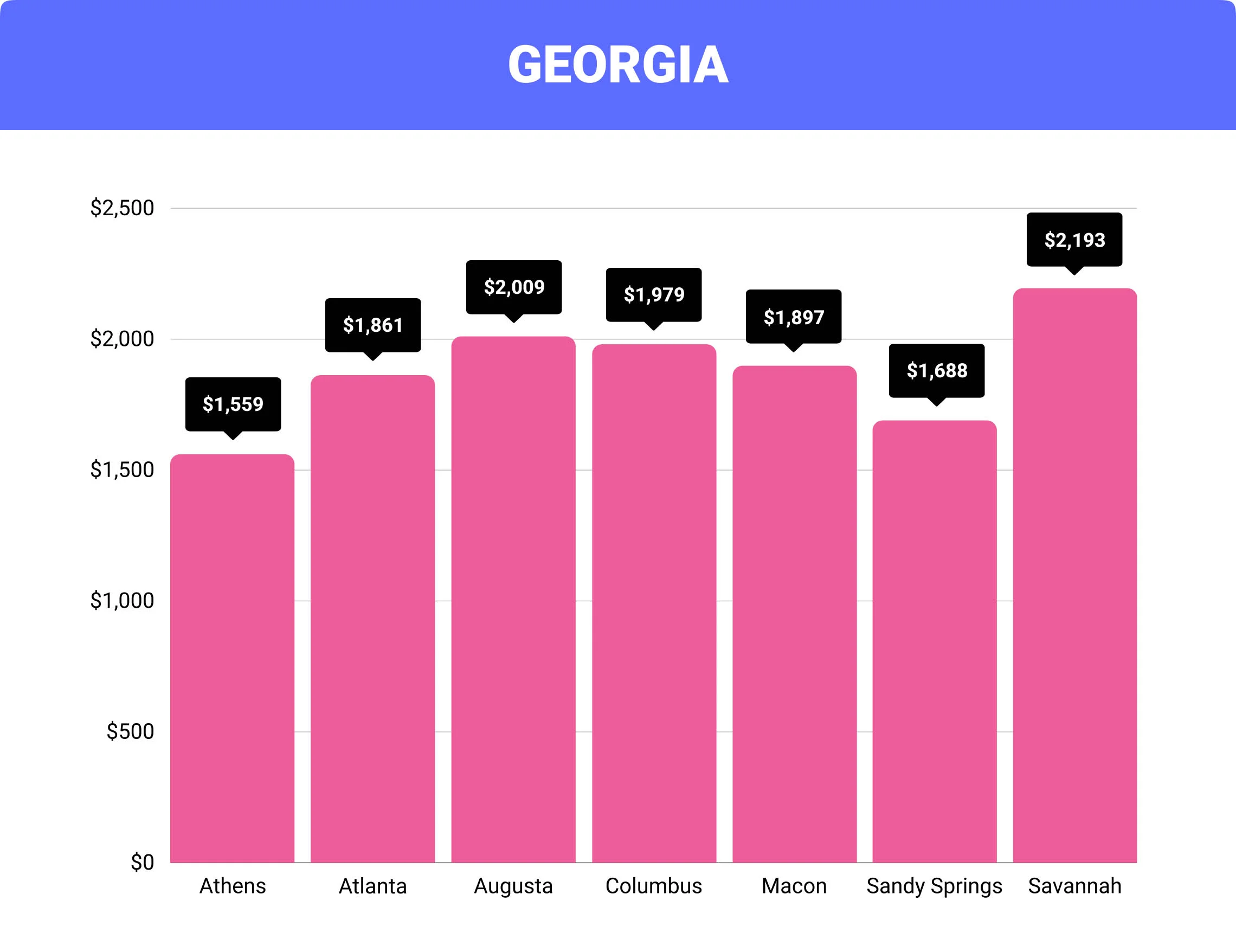 Cost of Home Insurance In Georgia By City
| | | |
| --- | --- | --- |
| City | Average Georgia Home Insurance Cost | Difference From Georgia Average |
| Athens | $1,559 | -$421 |
| Atlanta | $1,861 | -$119 |
| Augusta | $2,009 | +$29 |
| Columbus | $1,979 | +$1 |
| Macon | $1,897 | -$83 |
| Sandy Springs | $1,688 | -$292 |
| Savannah | $2,193 | +$213 |
FAQs
What's the average cost of home insurance in Georgia?
The average cost of homeowners insurance in Georgia is $1,980, but your rate will vary depending on several factors.
Why is homeowner's insurance so high in Georgia?
Homeowner's insurance is around $200 yearly, more than the national average. This is likely due to the state's higher hurricanes and water damage risk.
How much is homeowner's insurance in Atlanta?
The average annual premium for homeowner's insurance in Atlanta is $1,861.
Is homeowner's insurance expensive in Georgia?
Homeowner's insurance is slightly more expensive than the national average but is by no means the most expensive state.
How much is hurricane insurance in Georgia?
Hurricanes are typically covered by standard homeowner's insurance but any damage caused by flooding is not, so would need to be added as a separate coverage. Flood insurance from the NFIP costs a little under $800 on average.
How To Purchase Georgia Homeowners Insurance
Now that you have all the information you need, it's time to get a policy. We recommend completing our rate comparison form to see what deals are available in your area. Thanks for reading, and be sure to let us know if you have any questions about homeowners insurance in Georgia.