UPDATED: MAY 02, 2023 | 3 MIN READ
If you live in Tennessee, you're paying above the national average for homeowners insurance. With the average cost of Tennessee home insurance climbing in 2022, homeowners are looking for an affordable but effective policy.
To help you narrow your search and find the best homeowner's insurance policy, we've compiled a list of the best Tennessee home insurance companies by coverage and cost.
Best Tennessee Home Insurance Companies
Home insurance costs vary depending on your required coverage. Indicators of a quality home insurance company include efficient bundling options, excellent customer service, and value for the price.
According to J.D. Power's customer satisfaction scores, the top five home insurance companies in Tennessee are Farm Bureau, Shelter, USAA, Erie, and State Farm.
Overall Best Tennessee Homeowners Insurance Company
The best homeowners insurance company for most people in Tennessee is Farm Bureau. Farm Bureau boasts affordable homeowners insurance costs and high-quality customer service with an annual cost almost 40% cheaper than the statewide average.
Best Value Tennessee Homeowner's Insurance Company
For homeowners who prefer a household name, State Farm provides the best value overall for homeowners insurance in Tennessee. The average annual cost is 29% lower than the statewide average, and unlike Farm Bureau, which has limited coverage options, State Farm offers more varied house insurance plans.
Tennessee Home Insurance Company With the Best Customer Service
Customers seeking fantastic customer service may enjoy USAA. With a five-star customer satisfaction rating and an annual cost lower than the statewide average, USAA offers affordable, personalized service homeowners may find appealing. However, USAA eligibility restrictions apply.
Tennessee Home Insurance Company Best for Bundling
State Farm offers discounts that save you up to $1,127 annually when you combine home and auto insurance. Customers pay one bill monthly to cover both their homeowner's insurance premium and auto insurance. Discount eligibility may vary from state to state and person to person.
Tennessee Homeowners Insurance Company with the Best Coverage Options
Shelter is the homeowners insurance company with the best coverage options in Tennessee. It offers additional add-on options to protect exterior structures and personal property and an opportunity for earthquake insurance. Likewise, Shelter's dwelling coverage includes equipment in the home, such as heating and cooling systems and water softeners.
Local and Regional Home Insurance Carriers
Tennessee Farmers Mutual
Place your home in safe hands with a policy from Tennessee Farmers Mutual. The insurance agency sells home insurance policies with dwelling coverage to protect against fire, windstorms, hail, vandalism, theft, and other events.
Their policies also include personal liability coverage and apply to the rental homes of the policyholder. Tennessee Farmers Mutual even makes it easy to get home insurance for a mobile home or a leased property. Tennessee Farmers Mutual is ready to protect it wherever you call home.
Celina Insurance
Celina Insurance is a leading home insurance carrier in Tennessee. The insurer's coverages include dwelling, dwelling fire coverage, personal property, personal liability, medical payments, and optional coverages such as service line coverage or water backup.
Tennessee homeowners, condo owners, and renters need not worry about the safety and security of their homes with Celina Insurance by their side.
Chubb
Chubb's home insurance extends its protection throughout your property, from its roof to the flooring. The company features home insurance products for homes, condos, home equipment, and renters.
Chubb features home replacement cost coverage, extended replacement cost, temporary living arrangements, and various extras within its coverage, with options like tree removal, lock replacement, and other concerns.
Tennessee Insurance Demographics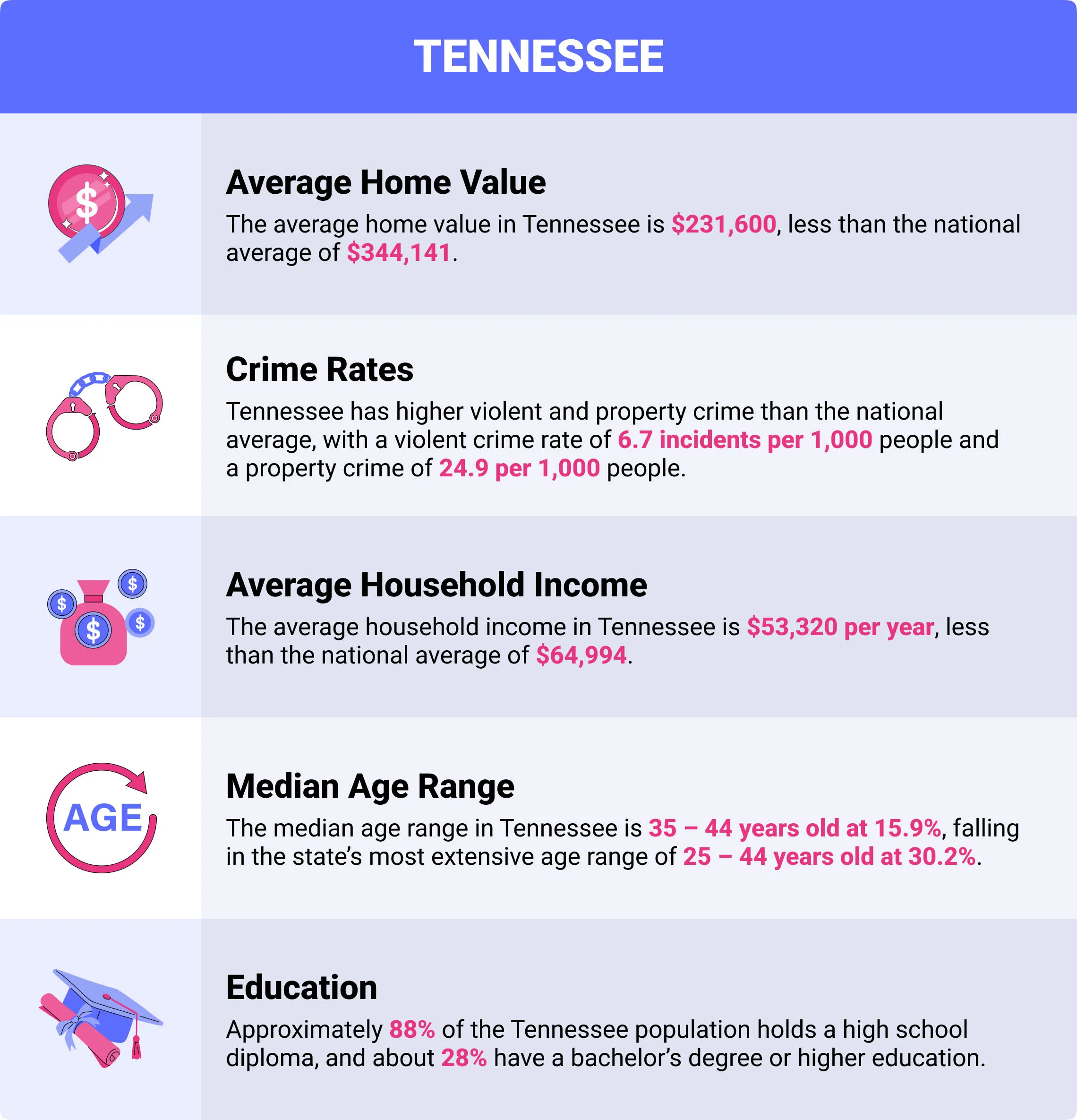 The cost of home insurance in Tennessee varies depending on your location's geographic and socioeconomic factors.
Homeowners in areas prone to natural disasters like floods, tornados, and earthquakes often pay more for homeowners insurance due to the risk of structural damage. Additionally, homeowners who live further away from emergency services pay a higher insurance premium.
Other social and environmental factors that may affect the price of your insurance include:
Average Home Value: The average home value in Tennessee is $231,600, less than the national average of $344,141.
Crime Rates: Tennessee has higher violent and property crime than the national average, with a violent crime rate of 6.7 incidents per 1,000 people and a property crime of 24.9 per 1,000 people.
Average Household Income: The average household income in Tennessee is $53,320 per year, less than the national average of $64,994.
Median Age Range: The median age range in Tennessee is 35 – 44 years old at 15.9%, falling in the state's most extensive age range of 25 – 44 years old at 30.2%.
Education: Approximately 88% of the Tennessee population holds a high school diploma, and about 28% have a bachelor's degree or higher education.
Is Tennessee Home Insurance Required?
Tennessee law doesn't require homeowners insurance. However, mortgage companies and other lenders may require it for you to receive a loan.
What Does Tennessee Home Insurance Cover?
Most Tennessee home insurance policies cover damage to the dwelling and other structures around the home, including fire, hail, and other inclement weather. However, Tennessee home insurance doesn't cover flood damage. You may have to purchase flood insurance from private insurers or the National Flood Insurance Program.
Common Home Risk Factors in Tennessee
Tennessee's most significant home insurance risks include flooding, tornadoes, and earthquakes, though few standard Tennessee homeowners insurance plans cover all of these hazards.
Instead, homeowners must choose which hazards they want their coverage to include when picking a homeowners insurance policy.
Choosing a home insurance policy with coverage for the risks most common in your area is critical for protecting your home and valuables in the event of an environmental disaster.
You need an insurance policy to cover the majority, if not the total value of your home, to avoid paying for expensive replacements out of pocket.
What Type of Homeowner's Insurance Coverages Are Recommended?
Tennessee home insurance includes some coverage for damage resulting from inclement weather, but most plans don't include coverage for serious structural damage due to environmental hazards. Given the risk, homeowners may consider purchasing flood, earthquake, and sinkhole insurance.
Flood Insurance
A standard Tennessee homeowner's insurance policy won't cover flood damage. Homeowners in flood zones and other areas prone to flooding throughout the year should consider purchasing flood insurance through private insurers or the National Flood Insurance Program.
Earthquake Insurance
Most Tennessee home insurance plans don't cover earthquake damage either. However, some companies may offer earthquake insurance as a separate policy to add to your primary home insurance. If your insurance company doesn't offer earthquake insurance as an additional option, some private insurers also provide it.
Sinkhole Insurance
Tennessee homeowners face an increased risk of sinkhole damage compared to other states. Despite its commonality in Tennessee, most standard insurance plans don't cover it. You may need a separate insurance policy to protect your home from this hazard.
How Much Does Homeowner's Insurance in Tennessee Cost?
The cost of homeowners insurance in Tennessee varies statewide, with differences in crime rates, flood risk, and proximity to emergency services affecting the overall price.
Brentwood is the most expensive city in Tennessee for home insurance, with the average policy at $2,721 annually. The city with the cheapest annual insurance rates is Tullahoma, at $716.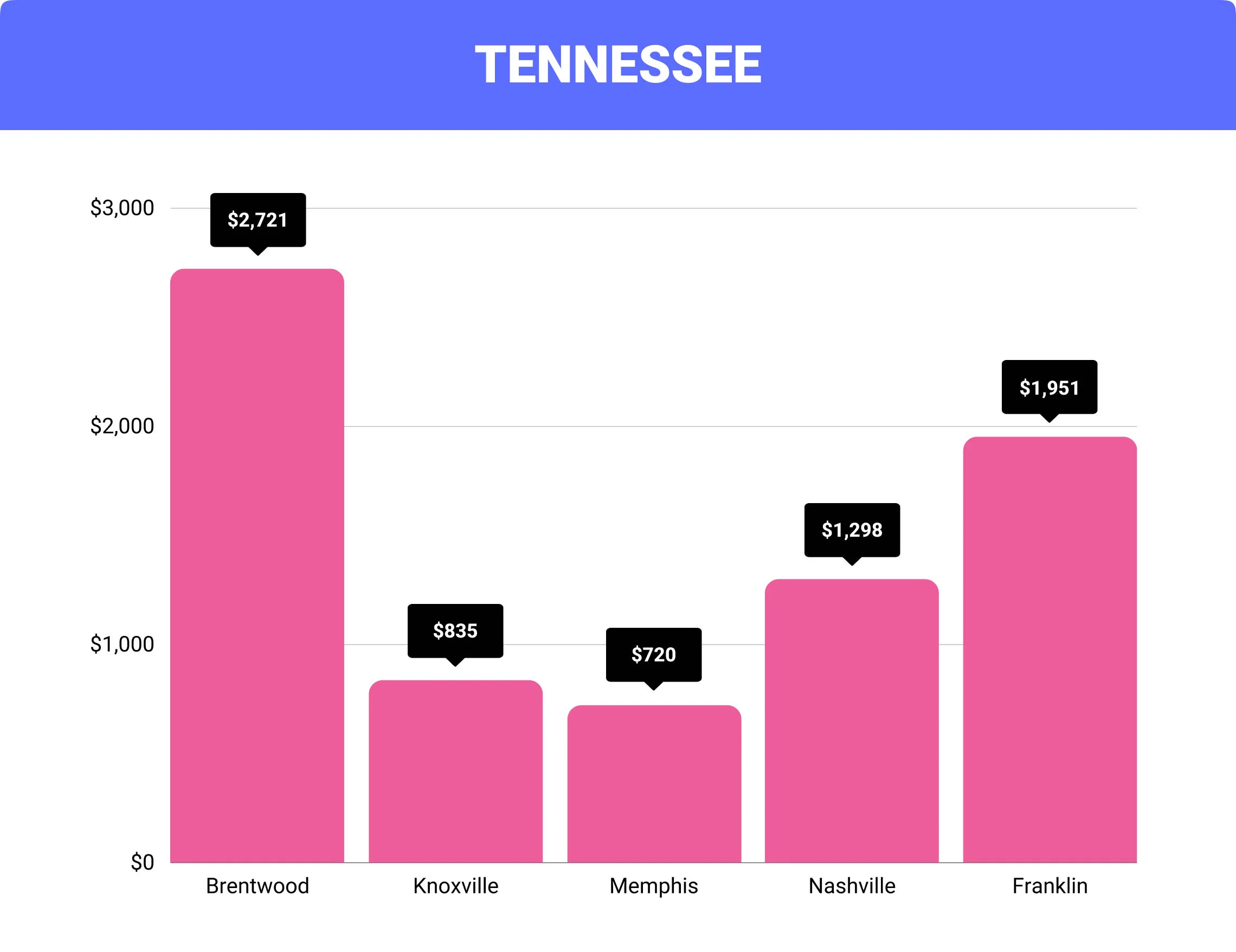 Cost of Home Insurance in Tennessee by City
| City | Average Tennessee Home Insurance Cost | Difference From Tennessee Average |
| --- | --- | --- |
| Brentwood | $2,721 | 67% |
| Knoxville | $835 | -48% |
| Memphis | $720 | -44% |
| Nashville | $1,298 | -20% |
| Franklin | $1,951 | 20% |
FAQs
Is homeowners insurance required in TN?
Tennessee law doesn't require homeowners insurance, though mortgage lenders might.
How much is home insurance in Tennessee?
Homeowners insurance costs vary across the state depending on location and your chosen insurance company. In Brentwood, people pay an average of $2,721 annually, while in Tullahoma, the annual average cost of home insurance is only $716.
Why is home insurance so high in Tennessee?
Homeowners insurance is generally higher in Tennessee due to the state's exposure to severe environmental hazards, including tornados, earthquakes, wildfires, and sinkholes.
Do you need tornado insurance in Tennessee?
While Tennessee law doesn't require tornado insurance, homeowners might want to add it to their plans to protect their homes in the event of damage.
Is Tennessee home insurance expensive?
Tennessee home insurance is more expensive than the national average due to inclement weather and environmental hazard risks.
How to Purchase Tennessee Home Insurance?
When it comes time to choose a homeowners insurance policy, you have several providers to choose from. Each provider offers different policies with varying premiums, deductibles, and coverage levels. How do you know which one is the best for you? We can help make that decision easier.
We provide online comparisons of homeowners insurance quotes so that you can find the policy that's right for your needs and budget. So don't wait any longer—compare rates today and find the best deal on homeowners insurance!