UPDATED: AUGUST 10, 2023 | 2 MIN READ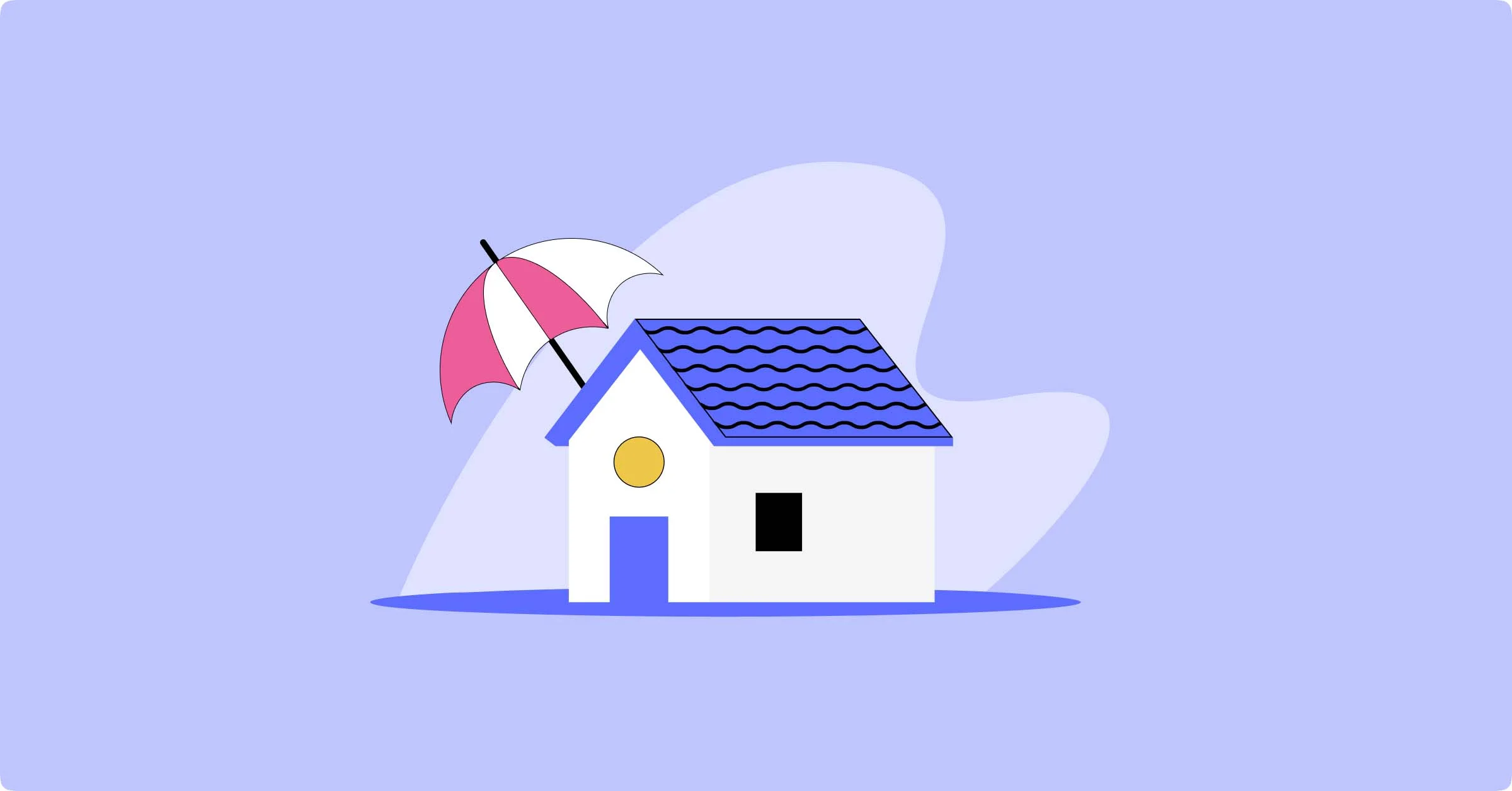 Homeowners insurance is a type of insurance that protects the home and its occupants from financial loss in case of natural or man-made disasters. When shopping for homeowners insurance, you should know what to look for and be mindful of what you need to protect your property and family.
Many factors go into selecting the right homeowners insurance policy. Policyholders should consider factors such as the amount of coverage available, the deductible amount, and whether or not there are any exclusions in their policy.
How much coverage do I need?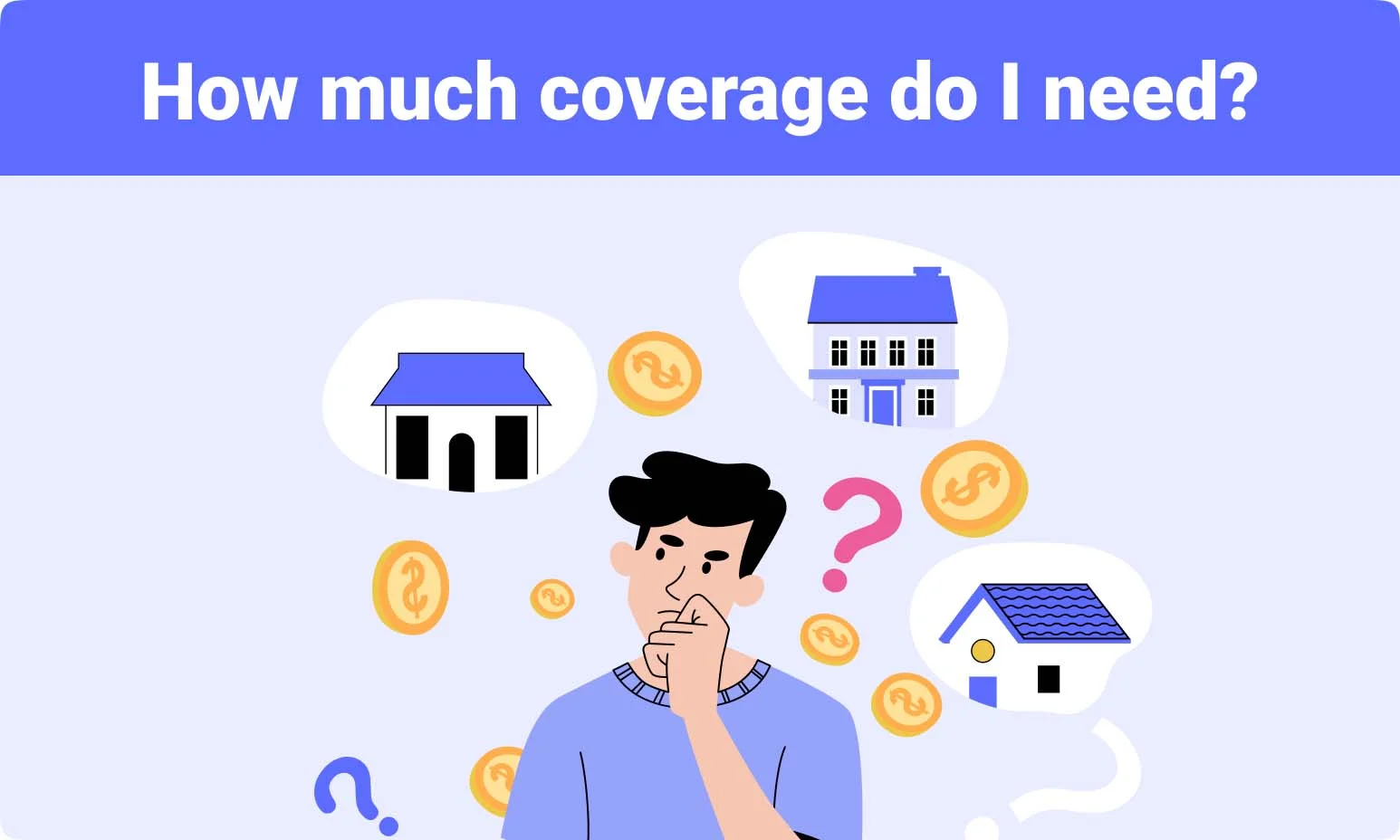 A home insurance policy can be an excellent investment for peace of mind. You need to consider your budget to determine the amount of insurance you should purchase.
The amount of coverage you need will vary depending on your location, property size, and construction type. For example, suppose you live in an area prone to natural disasters or wildfires. In that case, you should purchase more coverage than someone living in an area less prone to natural disasters or wildfires.
Lender requirements
The insurance requirements for home loans are different depending on the mortgage lender. Some lenders require that you have a fire insurance policy, while others require liability.
Lenders will ask you to provide a copy of your insurance policy before they can approve it. If you don't have a policy, you must purchase one and submit proof of payment.
Home inventory
A home inventory is a list of items that are inside a home. It could be anything from the kitchen to exercise equipment and anything else. Insurance companies use this list of items to see if there have been any losses or damages within the home.
An insurance company will use this information to calculate the value of your possessions and then offer you an appropriate amount of money for them. Having a home inventory of all your expensive items and collectibles makes filing a claim easier than estimating the replacement cost after an event.
What does my homeowners insurance cover?
How much homeowners insurance you need depends on several factors. You should consider the value of your home and any expensive items you may own. Thinking about these will help make sure you have enough coverage. The type of policy you have is also important to think about.
Standard policies
A standard homeowners insurance policy covers damage to your home and belongings and the liability of injuries to people or property.
The specific details are listed below:
Damage to your home, belongings, and the liability of injuries to people or property
Actual cost value coverage for all items in your home that are damaged or destroyed
Personal liability protection covers medical expenses and legal fees related to injuries you cause
Replacement cost coverage
Personal property coverage usually covers items at their depreciated value, as standard. Replacement cost coverage offers protection for the total replacement cost of the item. This means it pays out for the price that an item would be new.
Extended replacement cost
This Extended replacement cost insurance is a type of insurance that promises to pay the total replacement cost of a lost or damaged item.
Extended replacement cost insurance is also an extended warranty or service contract. It provides product coverage with a limited warranty and/or lifetime service plan.
This type of policy protects against the risk of losing an expensive item and having to repurchase it.
Consumers can use this policy to protect their valuable possessions from damage and loss.
Additional coverage
Other things to consider when shopping for insurance are whether or not you want your policy to include earthquake, flood, and even hurricane coverage. If you do, you may need to purchase add-ons to your policy to make sure these events are included as a covered loss.
The National Flood Insurance Program (NFIP) offers two types of coverage – building coverage and contents coverage – to protect your home and belongings.
Look for discounts in homeowners insurance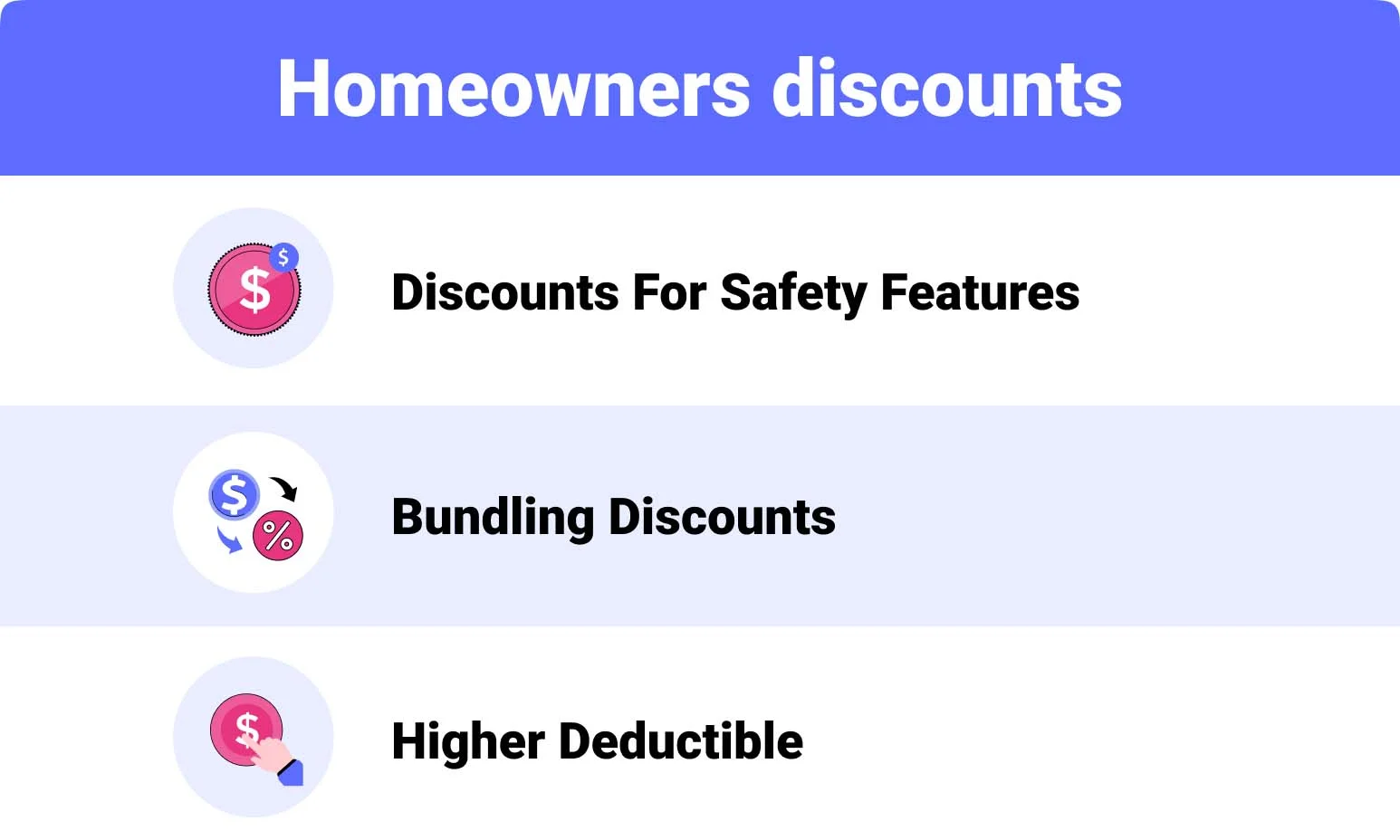 A homeowners insurance policy is a must for every home, and it can be challenging to find the best deal. However, discounts are sometimes available to help you save on insurance costs.
Discounts for safety features
To save money on your homeowners insurance policy, consider adding safety features like a home security system or a smoke alarm. A deadbolt on your front door could save you money on your homeowners insurance coverage, as could installing a burglar alarm.
Bundling discounts
Bundling separate policies is a common strategy for many homeowners. It's an excellent way to save money on insurance rates.
Bundling is an excellent way to get discounts on your home insurance policies. You can bundle your homeowners policies with car and life insurance, flood insurance, windstorm endorsements, or even an umbrella policy.
Higher deductible
Raising your deductible is a great way to reduce higher premiums. This means that you'd have to pay more out-of-pocket in the case of an insurance claim, but it does mean that you save money on your premiums so that it might work out better for you in the long run.
Understanding coverage exclusions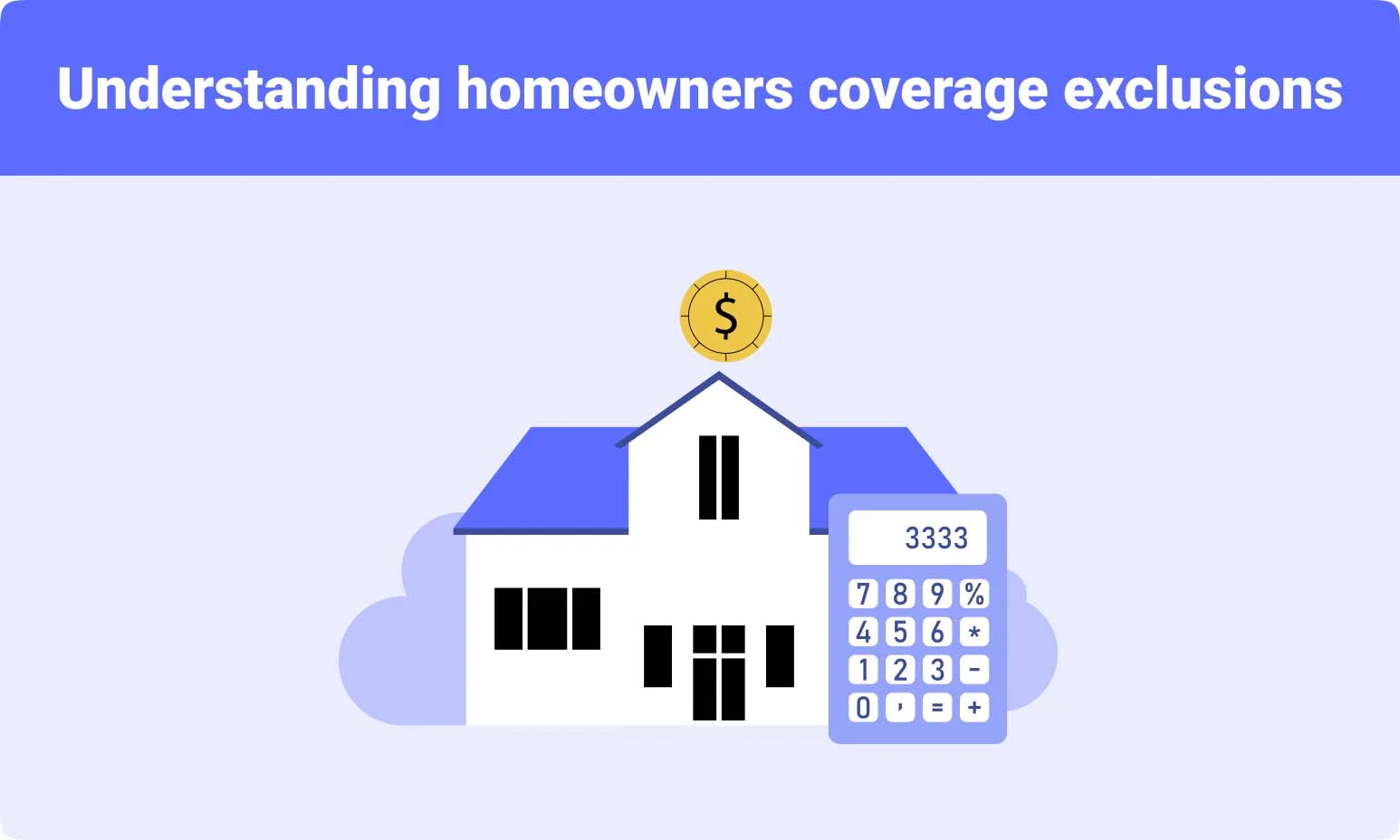 When shopping for homeowners insurance, you must know the coverage exclusions that may apply to your policy. Exclusions are specific situations or events not covered by standard homeowners insurance policies. Here are some common exclusions.
Flood damage
Most standard homeowners insurance policies don't cover damage caused by floods. If you live in an area prone to flooding or near a body of water, it's important to consider purchasing separate flood insurance to protect your property. Flood insurance is typically available through the National Flood Insurance Program (NFIP) or private insurance companies.
Earthquake damage
Earthquakes are also commonly excluded from standard homeowners insurance policies. If you live in an earthquake-prone area, obtaining earthquake insurance is advisable to cover potential damages to your home and belongings. Earthquake insurance can often be purchased as an add-on or separate policy.
Maintenance-related issues
Homeowners insurance isn't designed to cover damages from lack of maintenance or wear and tear. It is essential to properly maintain your home to prevent issues like rot, mold, or pest infestations. Regular maintenance and repairs are the homeowner's responsibility and may not be covered by insurance.
Specific personal property
While homeowners insurance typically covers personal property, specific items may have limitations or exclusions. High-value items like jewelry, artwork, or collectibles may have coverage limits in standard policies. If you own valuable items, consider adding scheduled personal property endorsements or obtaining separate coverage to protect them adequately.
Understanding policy limits
When selecting a homeowners insurance policy, it's important to understand the concept of policy limits and how they can impact your coverage. Policy limits refer to the maximum amount an insurance company will pay for a covered loss. Choosing appropriate coverage limits is crucial to ensure you have adequate protection for your dwelling, personal property, and liability. Here's what you need to know:
Dwelling coverage limits
Dwelling coverage is part of your homeowners insurance policy that protects the structure of your home, including the walls, roof, and foundation. It's important to determine the appropriate dwelling coverage limit by considering the cost of rebuilding your home in the event of a total loss. This amount may differ from the market value of your home.
Personal property coverage limits
Personal property coverage protects your belongings, such as furniture, appliances, and clothing, from perils covered by your policy. To determine the appropriate coverage limit for personal property, it's essential to conduct a thorough inventory of your possessions and estimate their total value.
Liability coverage limits
Liability coverage protects you in case someone is injured on your property or if you cause damage to someone else's property. It covers legal expenses, medical costs, and potential settlements or judgments. It's recommended to select liability coverage limits that reflect your assets and potential risks. Consider factors such as your net worth, the value of your possessions, and the likelihood of facing a lawsuit.
Consequences of underinsuring
Underinsuring your property or assets can have significant consequences. If your coverage limits are insufficient to cover the total cost of a loss, you may have to pay out-of-pocket for repairs, replacements, or legal expenses. This can result in financial strain and potential hardship.
Periodic policy reviews
Policy limits should be reviewed periodically to ensure they remain appropriate. Changes to your home, improvements, renovations, or the acquisition of valuable assets may require adjustments to your coverage limits. Regularly reviewing your policy with your insurance provider allows you to make necessary updates and ensure your coverage aligns with your current circumstances.
Tips for negotiating premiums
Securing homeowners insurance is essential for protecting your property and belongings, but it's also important to find ways to manage the cost of premiums. Negotiating with insurance providers can help you secure better rates and save money on your homeowners insurance. Here are some practical tips for negotiating premiums:
Understand your policy
Familiarize yourself with your policy details, including coverage limits, deductibles, and endorsements. This knowledge will enable you to have informed discussions with your insurance provider and identify areas where adjustments can be made to reduce premiums.
Raise deductibles
Consider increasing your deductibles to lower your premiums. The deductible is the amount you're responsible for paying before your insurance coverage kicks in. By opting for a higher deductible, you assume more risk, which can lead to significant savings in premium costs. However, ensure that the deductible is affordable if you need to make a claim.
Adjust coverage limits
Review your coverage limits for dwelling, personal property, and liability. If your home value has decreased or you've downsized your belongings, you may be able to adjust your coverage limits accordingly. Be cautious not to underinsure, but finding the appropriate coverage limits can help reduce premiums.
Bundle policies
Many insurance companies offer discounts for bundling multiple policies with the same provider, such as homeowners and auto insurance. Inquire about potential discounts for bundling your insurance needs under one carrier. Compare bundled rates with separate policies to determine the most cost-effective option.
Improve home safety
Making improvements to enhance the safety and security of your home can lead to premium discounts. Installing safety features like smoke detectors, security systems, or deadbolts can reduce the risk of damage or theft, which may result in lower premiums. Check with your insurance provider to see if they offer discounts for specific safety features.
Maintain a good credit score
Your credit score can impact your insurance premiums. Maintaining a good credit score demonstrates financial responsibility and may qualify you for lower rates. Regularly review your credit report, address any inaccuracies, and practice good credit management to help secure better premiums.
Shop around and compare quotes
Don't hesitate to shop around and gather quotes from multiple insurance providers. Use online comparison tools or work with an independent insurance agent to explore different options. Comparing quotes allows you to evaluate coverage options, pricing, and potential discounts, empowering you to negotiate better rates.
Communicate effectively
When negotiating premiums, communicate proactively with your insurance provider. Express your desire to find cost-saving measures and ask about available discounts. Be prepared to provide relevant information that may help support your case, such as home improvements, security features, or updated appraisals.
Maintain a good claims history
Demonstrating a good history by avoiding frequent or small claims can positively influence your premiums. Insurance providers may consider policyholders with a lower claims history as lower-risk individuals, potentially resulting in more favorable premium rates.
FAQs
What is the most important thing to look for in home insurance?
One of the most essential things in a homeowners insurance policy is the coverage amount and the policy limits. Homeowners insurance should cover contents and personal liability. The coverage amount should be enough to cover all the costs arising from potential theft at your house and the damages you may cause while living there.
What are the four main coverages in a homeowners insurance policy?
A homeowners insurance policy will cover four main things: dwelling, other structures, personal property, and liability protection. Dwelling coverage covers the main structure of your home, such as the foundation, walls, and roof.
Other structures would protect any buildings on your property that are separate from your home, such as a detached garage or shed. Personal property would be any of your personal belongings in your home, including things like your major appliances. Liability coverage protects you if someone outside your household suffers injury on your property.
What are the three most significant factors in determining the cost of homeowners insurance?
The three most significant factors in determining the cost of homeowners insurance are the cost to rebuild the home, the type of coverage required, and the risk level of filing a claim.
The cost to rebuild the home is essential for you to know to ensure the policy provides sufficient coverage to rebuild the house if it's damaged. The higher the cost to rebuild, the more insurance companies will charge to insure it.
There are different types of homeowners insurance policies; some offer more overall protection but will also increase costs. Living in an area prone to natural disasters, having a pool, or even owning certain breeds of dogs can increase your premiums. The insurance companies will determine you're at a higher risk of claiming your home insurance.
What are the two types of deductibles?
There are two types of deductibles for homeowners insurance policies. A dollar amount deductible will specify the amount you must cover out-of-pocket when filing a claim. There is also a percentage-based deductible, a percentage of the home insurance value.
What is the most common type of homeowners insurance?
The most common type of homeowners insurance policy for most single-family homes is an HO-3. HO-3 policies cover the same named perils as HO-1 and HO-2 policies and cover your home and personal property.
What are the two types of coverage for personal property in a homeowners insurance policy?
Coverage for personal property is part of a homeowners insurance policy that protects your home and its contents from damage. This coverage is usually provided in two ways: an actual cash value policy and a replacement cost policy.
An actual cash value policy will pay the current market value of your property if it's damaged or destroyed. A replacement value policy will pay you to replace your property with a new one if it gets damaged or destroyed.
What does an HO-3 policy cover?
The HO-3 home insurance policy protects your home from fire, theft, and vandalism. It covers the structure of your home and its contents. An HO-3 policy also includes personal liability protection in case someone is injured on your property or a guest suffers an injury while visiting. With some HO-3 policies, you may also be covered for other structures on your property and additional living expenses if you need to make a claim.
What is the best way to get a quote for homeowners insurance?
The quickest way to get insurance quotes is by doing it online. You can visit several insurance company websites to obtain quotes or use a comparison website. Alternatively, you may want extra advice about coverage limits and plans. In that case, you can use an insurance agent to help you find the best rates.
What is the difference between replacement cost and actual cash value?
The replacement cost value is the amount of money someone would pay to replace an object with something of equal value. Actual cash value is the amount of money someone would get if the item sold at its current market price. Actual cash value takes into consideration depreciation when an item is valued.
What is the difference between HO-3 and HO-4?
HO-3 is a homeowners insurance policy that covers the structure and personal property and includes liability coverage. HO-4 is strictly a renters insurance policy. So while it can protect your personal property and offer liability coverage, it doesn't cover the property's structure, as that would be covered under the landlord's insurance.
What to remember when shopping for home insurance policies
When shopping for home insurance policies, it's important to remember that the best policy is one that covers all your needs. Different providers offer different benefits, and you should compare the options to find the one that best suits your needs.
Homeowner insurance policies will cover risks like fire, theft, and damage. In addition, most policies will also cover liability and legal costs in case of a mishap or accident.
Simply fill out our online rate form to find the best rates in your area. We can provide the top carriers' prices and even get you in touch with a licensed homeowners insurance specialist.
---
Related Content
---