UPDATED: JULY 07, 2023 | 3 MIN READ
Many know Vermont for offering the best maple syrup in the nation, beautiful fall foliage, scenic wineries, and rolling hills but don't realize it's also one of the cheapest states for homeowners insurance.
Vermont homeowners insurance averages only $614 per year, which is $779 below the national average. We want to help you find the best policy for your home, so we compiled a list of all of the top Vermont homeowner's insurance companies.
Best Vermont Home Insurance Companies
When shopping for house insurance, you must consider price, coverage, discounts, online experiences, and customer service reviews. Based on average expenses and the J.D. Power 2020 U.S.
Home Insurance Study, the best Vermont homeowners insurance providers are Allstate, Concord Group, State Farm, Union Mutual, and Vermont Mutual. We recommend reviewing our top choices across the categories below to pick the best option for your needs.
Overall Best Vermont Home Insurance Company
The overall best homeowners insurance in Vermont comes from Allstate. Allstate policies average $503 per year, which is $111 below the state's average.
The National Association of Insurance Commissioners (NAIC) found 67% fewer customer complaints about Allstate than the other leading companies. When you open a policy, Allstate allows you to add customized coverage options with an easy-to-use website and convenient self-service features.
Best Value Vermont Home Insurance Company
Vermont Mutual is the most affordable Vermont home insurance company, a smaller local business with 190 years in the industry. Vermont Mutual homeowner's insurance costs only $378 per year. Homeowners may upgrade their plans for additional insurance beyond the standard $250,000 coverage plan.
Vermont Home Insurance Company With the Best Customer Service
Customer service transforms your entire experience with a company, and homeowners often want to pay a bit more to receive attentive help.
Union Mutual is the best Vermont homeowner's insurance company for customer service. Union Mutual customers pay an average of $160 over the state's average to enjoy personalized help, loyalty discount rewards, and superior coverage options.
Vermont Home Insurance Company Best for Bundling
State Farm offers the best bundling deals out of all the competitors. The company's bundling promotion offers excellent savings, though the standard home insurance cost without auto exceeds state averages by 26%.
Homeowners who combine their auto and home insurance policies save an average of $114 per year, equaling 12% off the state's average homeowners insurance premium.
Vermont Home Insurance Company With the Best Coverage Options
If you want top-tier coverage options customized to the local area rather than generalized policies, consider Concord Group. Concord Group is another local home insurance provider specializing in New England property risks and needs.
With ample add-on coverage options and discount deals, Concord Group offers the best coverage, though the customer reviews are sub-par.
Local and Regional Home Insurance Carriers
Union Mutual
A regional New England insurance company, Union Mutual, helps Vermont homeowners cover their homes in the event of disaster or loss.
The company's home insurance products protect against loss and damage from fire, wind, vandalism, theft, and other structures at your residence. Your home's contents are well-protected, and you also have access to personal liability coverage to guard against expensive lawsuits.
The discounts from Union Mutual include the wise device deductible to a new home discount and even a credit for a property with a standing seam roof built within the past 40 years.
Vermont Mutual
Vermont Mutual, one of the oldest continuously-operating insurance companies, provides homeowners insurance, tenant, condo, and mobile home coverage. 
Various coverages are available for your home, its appliances, and other structures. These coverage options address your unique needs and ensure your home's protection when things go wrong. Vermont Mutual agents tailor their insurance products to suit your budget and needs.
Concord Group Insurance
Concord Group Insurance serves the needs of homeowners in Vermont with personal service, quality products, and a swift claims process. The company dates back to 1928 and is one of the best New England insurers.
Their coverages include dwelling, other structures, personal property, personal liability, and medical payments to others.
You may also expand your protection with add-ons, such as water backup or law coverages.
There are several ways to enjoy savings from Concord Group Insurance's home insurance if you have protective devices, advance quotes, multiple policies, and an automatic backup generator.
Vermont Insurance Demographics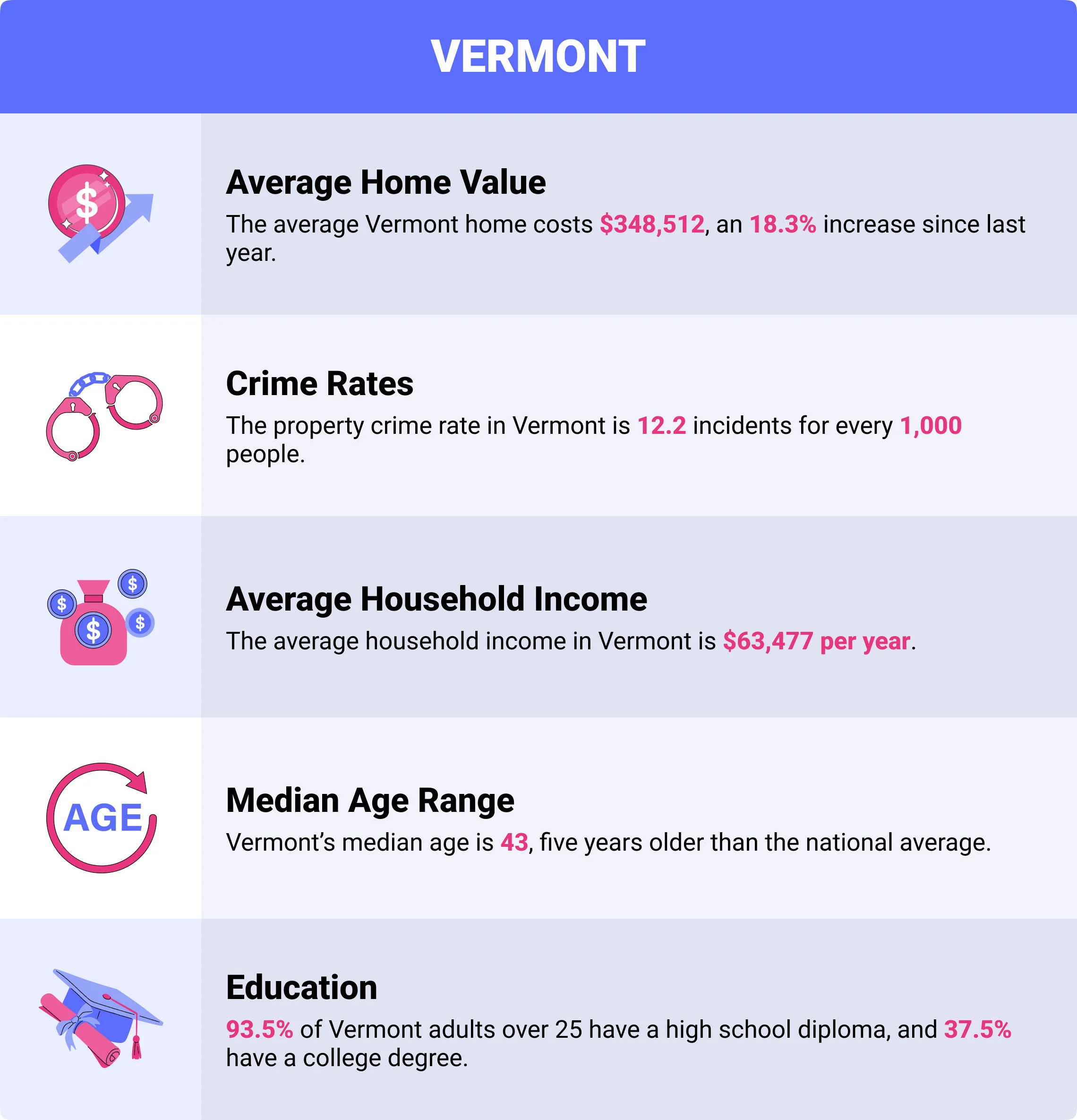 Your home insurance cost varies based on where you live, your property's value, the local crime rates, and natural disaster risks.
Understanding Vermont's average demographics helps you learn why rates fluctuate the way they do. Use the data below when considering the quotes you receive for your homeowner's insurance policy.
Average home value: The average Vermont home costs $348,512, an 18.3% increase since last year.
Crime rates: The property crime rate in Vermont is 12.2 incidents for every 1,000 people.
Average household income: The average household income in Vermont is $63,477 per year.
Median age range: Vermont's median age is 43, five years older than the national average.
Education: 93.5% of Vermont adults over 25 have a high school diploma, and 37.5% have a college degree.
Is Vermont Home Insurance Required?
Vermont state laws don't require homeowners to purchase insurance for their properties. Even the most basic plans protect your best financial interests. However, most lenders won't give you a loan unless you open a policy.
What Does Vermont Home Insurance Cover?
Basic Vermont home insurance plans cover up to $250,000 in repair costs. Some companies cover snow damage and burst pipes, and many cover wind destruction. You should check your policy's inclusions to see whether it protects your home from the most common risk factors.
Common Home Risk Factors in Vermont
The biggest risk for homeowners in Vermont is snow and ice. The northern state experiences severe winter storms, damaging roofs, bursting drainage pipes, and causing water damage. Since Vermont sits on the east coast, you also must consider potential hurricanes and Nor'easters.
What Types of Homeowner's Insurance Coverage Are Recommended?
All Vermont home insurance policies vary in coverage amounts. Most companies recommend adding coverage inclusions to extend your policy and cover all potential risks. Considering Vermont's climate, you might want to consider purchasing the following upgrades.
Flood Insurance
If a hurricane hits, your Vermont home insurance covers wind damage but won't pay for any water destruction. Your house could flood from tropical storms or leaking pipes, so you need this protection year-round. Add flood coverage to your homeowner's insurance in Vermont for an additional cost.
Leakage Coverage
When pipes and drainage systems freeze in the winter, the ice expands the materials and might cause a rupture. You'll suffer severe water damage if a pipe bursts beneath your house. Check whether your Vermont home insurance plan includes leakage coverage, and consider adding it if it doesn't.
Theft Insurance
Most don't expect their homes to get broken into until the day it happens. Vermont's property crime rates prove how all residents should prepare for the worst by purchasing theft coverage. Some Vermont home insurance plans include this protection, though you might want to upgrade it to cover your total asset values.
How Much Does Home Insurance in Vermont Cost?
Vermont home insurance costs vary within the state. Cities with increased crime rates near the coast usually have more expensive rates than safer areas. Out of the state's most popular cities, South Burlington is one of the cheapest, while Springfield exceeds the Vermont price average by 2.36%.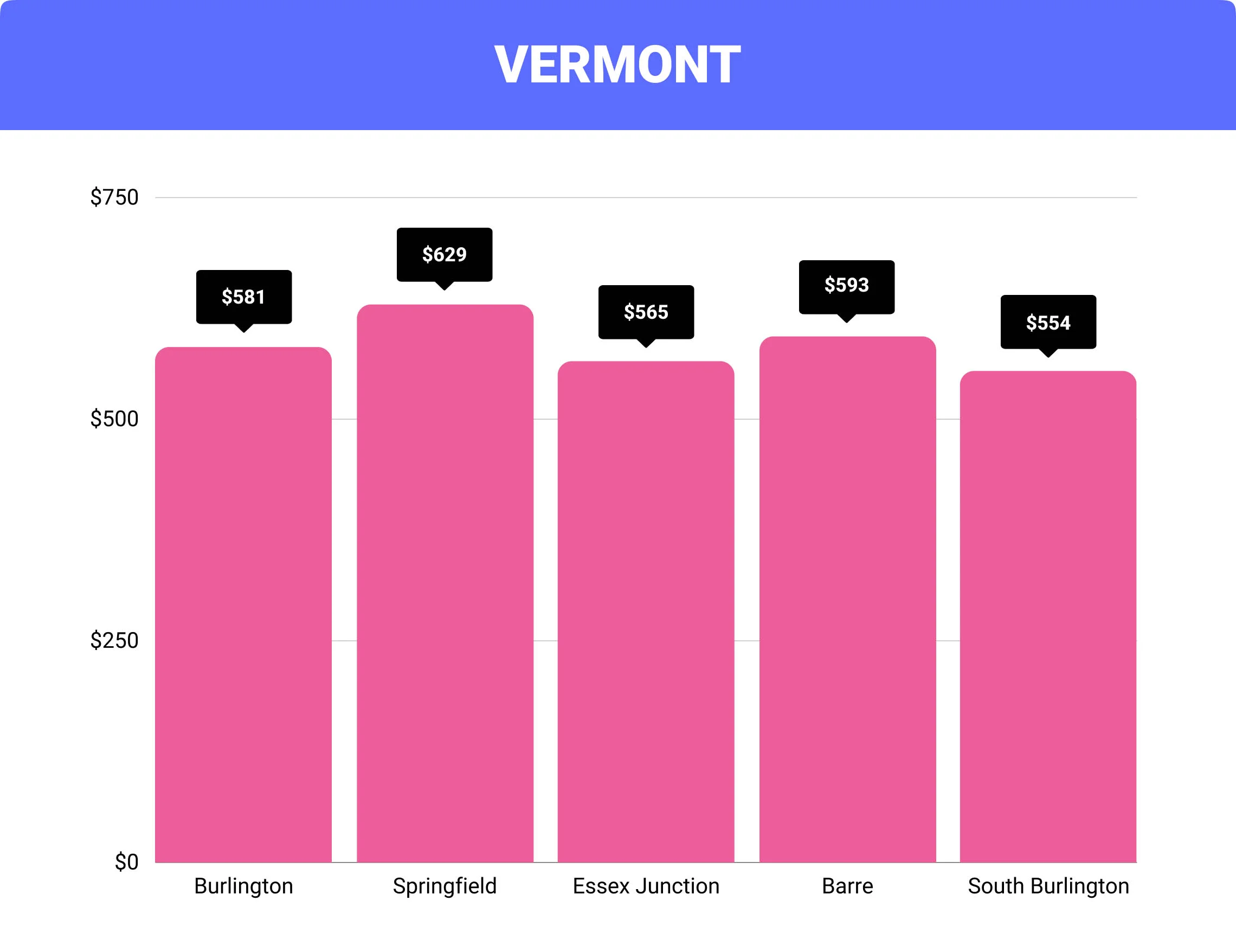 Cost of Home Insurance in Vermont by City
| | | |
| --- | --- | --- |
| City | Average Vermont Home Insurance Cost | Difference From Vermont Average |
| Burlington | $581 | -5.39% |
| Springfield | $629 | +2.36% |
| Essex Junction | $565 | -8.04% |
| Barre | $593 | -3.36% |
| South Burlington | $554 | -9.83% |
FAQs
How much is home insurance in Vermont?
Home insurance in Vermont costs an average of $614 per year, which is less than half of the national average.
How much is homeowner's insurance per month in Vermont?
The average homeowner's insurance policy costs just over $51 per month.
Is home insurance required in Vermont?
No. Vermont state laws don't force you to buy home insurance, but most lenders do.
What types of homeowner's insurance coverage are recommended in Vermont?
Vermont home insurance companies recommend purchasing flood insurance, leakage coverage, and theft insurance.
Who has the best home insurance in Vermont?
The best home insurance in Vermont is Allstate, which provides great rates, exceptional service, and reliable coverage.
How To Purchase Vermont Home Insurance
To purchase Vermont home insurance, pick your favorite company, visit its website, and follow the instructions on setting up a policy. Calling and speaking with a representative might offer you better deals and make the whole process easier. Ask about different coverage add-ons, bundling options, and discount opportunities.