UPDATED: AUGUST 07, 2023 | 3 MIN READ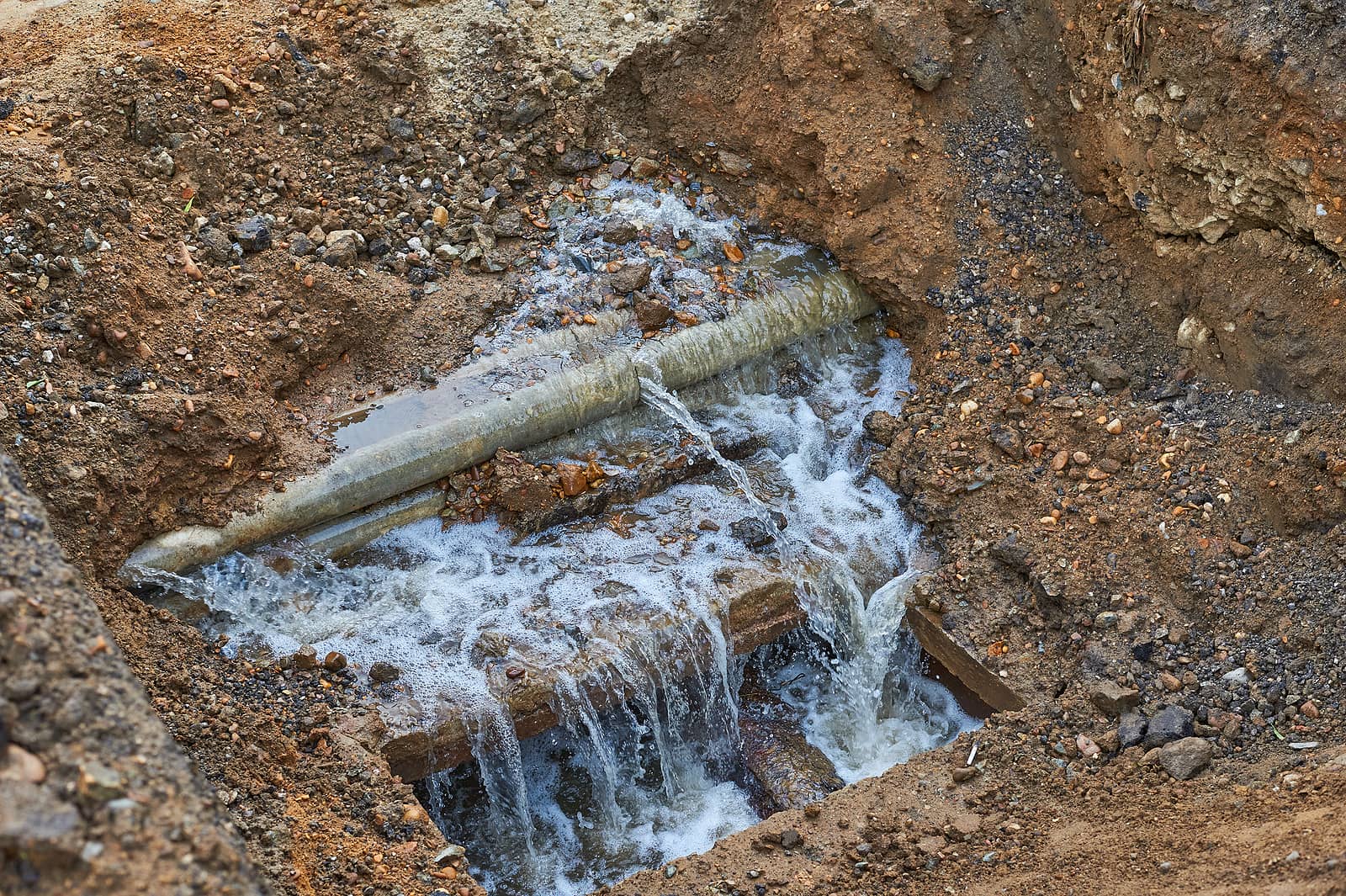 Do you have a home with a burst pipe? If so, then this guide is for you. You may be wondering: What exactly is homeowners insurance for burst pipes? Is it the same as regular homeowners insurance? And how do I know if I need it or not? Read on to find out more about these questions and more.
What to Do When a Pipe Bursts in Your Home
The first thing to do is to turn the water off. This will prevent the water from flooding your home. Then, find a towel and wrap it around the leak to absorb as much water as possible.
You can also use a bucket if you have one available. Place something under the leak to collect more water, if possible.
If you can't turn off your home's main valve, go outside and turn off your home's main valve (usually located near your meter). Call a plumber or fire department immediately if you can't find or access it.
Don't attempt any repairs unless you know what you're doing or have experience with plumbing issues.
Steps to Take if a Pipe Bursts
This section is about pipes bursting. It's a common problem that can be avoided with the proper steps.
If your pipes burst, contact a plumber immediately. They will know what to do and how to stop the water from coming out of the pipe before it starts flooding your home.
If you can't find a plumber, try using a towel or cloth to seal off the pipe and prevent more water from escaping.
It's important not to turn on any other faucets or toilets while waiting for help because doing so could cause even more damage than just a burst pipe.
Consider consulting a water remediation company to prevent mold from forming.
Use a water heater to dry out the room and drywall where possible.
Types of Damage from Burst Pipes
Burst pipes are a common plumbing issue that can lead to significant damage.
There are three frequent types of burst pipes:
Frozen pipes Damage – this type of pipe damage is usually found in colder climates. It generally occurs when the water supply is turned off for some time (typically during the cold winter) and then turned back on when the weather warms up.
Burst pipes caused by pressure – this type of pipe is usually found in older homes that have not been updated to meet current plumbing codes.
Broken pipes caused by corrosion – this type of pipe is usually found in homes with galvanized steel or copper piping.
Does Homeowners Insurance Cover Burst Pipes?
The answer to this question depends on the type of insurance you have for your home. If you have a comprehensive policy, then it will cover burst pipes. However, liability coverage won't cover damages from any external source like a burst pipe if you only have liability coverage.
Does Homeowners Insurance Cover Water Damage?
Homeowners insurance is a type of insurance that protects your home and property against disasters such as fire, theft, or water damage.
The coverage usually includes damage from windstorms, hurricanes, and hail. Homeowners insurance policies don't typically cover floods. However, the federal government does provide flood insurance for those who qualify.
Water damage can result from burst pipes or a natural disaster such as a flood or hurricane. It can also happen from an accident in your home, like spilling a pot of water on the floor.
Suppose you have homeowners insurance coverage and experience water damage to your home or property. In that case, it will be covered under your policy.
What is Flood Insurance?
Flood insurance is a type of additional coverage insurance policy that helps homeowners recover from flood damage.
Floods are considered a type of natural disaster that can cause significant damage to property and lives. Floods happen when water covers an area outside of its natural boundaries. It's typically listed as an exclusion from most property coverage – this means it's usually not a covered loss under your policy.
Flood insurance is available for homeowners in the United States. It helps you recover from any flood-related damages to your home and its contents caused by water overflowing from its usual boundaries, like rivers or streams, or coming up through the ground.
The Claim Process After a Pipe Burst and How to File an Insurance Claim
The first thing you should do is call your insurance company and let them know what has happened. They will be able to advise you on how to file the claim and provide a contractor who can come out and assess the damage.
You may also want an estimate from a plumber or other professional before proceeding with the claim process to save time, money, and hassle later on down the line.
Filing an Insurance Claim
The claim process after a pipe burst can be complicated. You need to know what information you should have and how to file a claim. You will need your policy number, the name of your insurance company, and the property address where the event occurred.
You'll also need to provide an estimate of the damage and an itemized list of any damaged personal belongings. Please provide any other pertinent information that your insurance company's policy requires.
Steps to File a Claim
The first step in filing a home insurance claim is to call your insurer and tell them what happened. If you have pictures of the damage done, it will help the insurer assess your claim more quickly.
The second step in filing a home insurance claim is to get an estimate for repair costs from an authorized contractor or repairman.
The third step in filing a home insurance claim is to send copies of all documents related to the damage or loss to your insurer, including receipts, photos, and estimates for repair costs.
Make sure that you note the names of each insurance agent you speak to in case of any irregularities in your case. It can help you get reimbursement for any costs you have to pay out to resolve the resulting damage.
FAQs
Is a burst pipe covered by home insurance?
Sudden and accidental damage, such as a burst pipe, is usually covered under a homeowners insurance policy. However, there was a slow leak or known problem due to poor maintenance. In that case, that's unlikely to be covered by your insurance policy.
How do I make a successful water leak claim?
When you discover a water leak, you want to try and minimize the potential water damage immediately. This means turning off your water supply if necessary and cleaning up and standing water with a wet vac or mop.
It's essential to document the damage for your insurance and take photos and videos of everything, including the source of the water leak. Contact your insurance company with the claim details and all your evidence.
Does insurance cover water damage from a burst pipe?
A burst pipe is usually sudden and unexpected, and most homeowners insurance companies will cover water damage in this instance. However, there are some exceptions that a standard home insurance policy won't cover.
For example, if your pipe had a known slow leak that got worse or the leak resulted from poor maintenance.
What qualifies as water damage?
Water damage is a broad term often used to describe any damage caused by water. This includes any wetting or saturation from water infiltration into the structure of the building and its contents.
Water damage can be caused by a natural disaster such as an earthquake, flood, hurricane, or tsunami. It can also result from human error, like improper installation or operation of equipment.
When it comes to water damage in residential properties, it's usually due to plumbing issues like leaking faucets, water heaters, and toilets that aren't adequately maintained.
How do I file a claim for burst pipe water damage?
Making a water damage claim from a burst pipe is similar to any claim on your insurance. You should contact your insurance company as soon as you know of the burst pipe.
Document as much information about the damage as possible. Send photos and videos to your insurance company to support your homeowners insurance claim.
What should I do if my water pipe bursts?
If you have a burst pipe in your home, you can do a few things to help manage the situation. First, turn off your water supply to prevent more water from flowing into your home, causing water damage.
Next, get rid of as much of the standing water as possible; you can use a mop, wet vac, or towels to dry the area. You should remove any of your personal property items to stop further damage.
How do I file a homeowners' claim after a pipe burst?
To file a homeowner insurance claim, you should contact your insurance company immediately after the event. The insurance company will ask you to provide as much detail about the damage as possible; videos or photos of the damage can help to support the claims process.
What is the average cost of burst pipe repair?
The average cost to repair a burst pipe is $500. However, the repair cost can range from $200 to $2,000, depending on the severity of the issue.
Filing a Claim after a Burst Pipe
Knowing what kind of coverage you have is essential if you ever need to file your insurance claim. Policyholders should know the difference between actual cash value, replacement cost, and coverage limits.
Take a minute to fill out our online rate form to quickly compare rates and companies in your area. This will ensure you have the best coverage at the best prices, or we can connect you with a licensed professional to help answer any questions.