UPDATED: JUNE 01, 2023 | 2 MIN READ
Finding the best West Virginia home insurance can be challenging, especially for first-time homeowners. Numerous policies exist with different costs, coverage, and add-ons. We've researched the top insurance companies in West Virginia to help you find the best plan for protecting your home.
Best West Virginia Home Insurance Companies
The best home insurance company for you depends on the characteristics of your home and the coverage you need. You should also consider what qualities you value most in a provider: affordability, bundling discounts, coverage options, or customer service. We've analyzed data on the top home insurance providers in West Virginia to help you choose.
Overall Best West Virginia Home Insurance Company
State Farm is the largest insurance provider in the state, and the annual cost is lower than the average homeowner's insurance premium in West Virginia. State Farm is a top-rated company in customer satisfaction and offers numerous coverage options to suit your needs.
Best Value West Virginia Homeowners Insurance Company
The company with the cheapest premium in West Virginia is Erie Insurance, which can be as low as $600. You can also receive discounts for having security features in your home, switching from another carrier, and bundling your auto and homeowners insurance policies.
West Virginia Home Insurance Company With the Best Customer Service
Erie Insurance has a J.D. Power rating of 835 out of 1000, the third-highest company in customer satisfaction rankings among U.S. homeowner's insurance companies. Erie is a regional insurance carrier operating in only 12 states, including West Virginia, but has thousands of agents who provide localized service.
West Virginia Home Insurance Company Best for Bundling
Allstate has one of the highest discounts for bundling West Virginia home insurance. Combining your home and auto insurance could take 25% off your premium. Allstate also has discounts for being a new customer, using automatic payments, and switching from another carrier.
West Virginia Home Insurance Company With the Best Coverage Options
Erie Insurance provides the most comprehensive coverage options for homeowner's insurance in West Virginia. The basic policy has replacement cost coverage, which allows you to receive the total cost of replacing your property. On top of dwelling and personal property coverage, Erie offers water backup, service line repair, personal liability, and identity theft coverage.
Local and Regional Home Insurance Carriers In West Virginia
Westfield Insurance
Westfield's got a home insurance option for home types, whether single-family, condo, or rental. High-value homes are also part of the Westfield home insurance offerings, which makes it easy to protect every dollar you spend on your investment.
Coverage options include dwelling, home equipment breakdown, replacement cost, flood insurance, and other options for wherever you call home. Featuring good savings, Wespak is the company's bundle discount for auto and home insurance.
Infinity Insurance
Infinity offers affordable home insurance for West Virginia homeowners as part of the Kemper family of companies. Your home deserves protection against damaging events such as theft, hail, lightning, fire, and wind, and Infinity delivers.
Their home insurance coverage encompasses damage and liability and your home's contents. Infinity is available throughout the Mountain State, including in Charleston and Morgantown.
West Virginia Insurance Demographics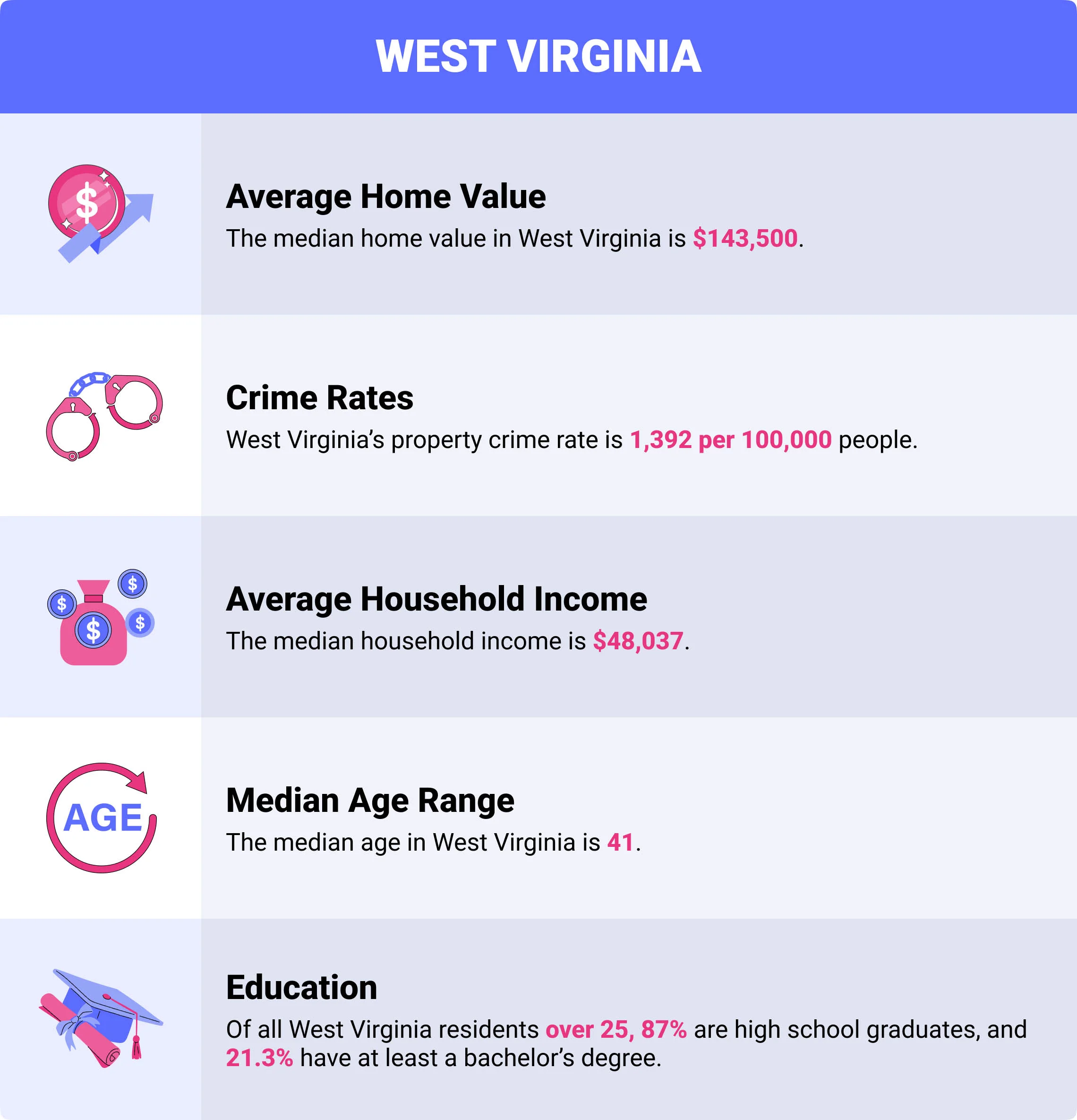 West Virginia homeowners insurance providers charge higher premiums in areas with more claims, which are usually regions with severe weather. Demographics that can affect the homeowners insurance premium in your area are:
Average home value: The median home value in West Virginia is $143,500.
Crime rates: West Virginia's property crime rate is 1,392 per 100,000 people.
Average household income: The median household income is $48,037.
Median age range: The median age in West Virginia is 41.
Education: Of all West Virginia residents over 25, 87% are high school graduates, and 21.3% have at least a bachelor's degree.
Is West Virginia Home Insurance Required?
West Virginia doesn't require residents to have a homeowner's insurance policy by law, but many mortgage lending companies will require insurance before issuing you a loan. If you have complete home ownership, we still recommend having house insurance to cover unexpected damage.
What Does West Virginia Home Insurance Cover?
Home insurance in West Virginia typically has a dwelling, personal property, and liability coverage. These basic policies help cover expenses from structural damage, fire, theft, and personal injury claims on your property. Common add-ons include replacement cost, identity theft, and equipment breakdown coverage.
Common Home Risk Factors in West Virginia
In West Virginia, 17% of properties have a higher risk of flooding over the next 30 years. Homeowners in the state are also at risk for damage due to winter storms, high winds, and hail. Many West Virginia home insurance companies don't automatically cover flooding and other perils. You might need to purchase a separate policy to ensure protection from natural disasters.
What Types of Homeowner's Insurance Coverage Are Recommended?
Depending on your home, location, and risk factors, you might need extra coverage for your property. If you want coverage for specific hazards, you'll likely need to add optional coverage. We recommend the following coverage options for homeowners in West Virginia.
Roof Replacement Cost Coverage
West Virginia properties experience severe weather that can lead to roof damage over time and, eventually, total roof replacement. Adding roof replacement cost coverage ensures you receive the full amount you need to replace your damaged roof, rather than a depreciated value.
Flood Insurance
Severe flood damage can cost you tens of thousands of dollars to rebuild or replace property. Your basic West Virginia home insurance policy most likely doesn't cover flooding. However, you can purchase a policy from the National Flood Insurance Program (NFIP) for $250,000 in dwelling coverage and $100,00 in personal property coverage.
Wind and Hail Coverage
Depending on your area, your insurance provider might not cover wind or hail damage despite the frequent storms in West Virginia. You can add extended coverage to your policy to cover the costs of these perils.
How Much Does Home Insurance in West Virginia Cost?
The average home insurance cost in West Virginia is $1,124. The state has severe weather all year long, including strong winds, lightning, hail, and snow, which can affect the price of home insurance in high-risk locations.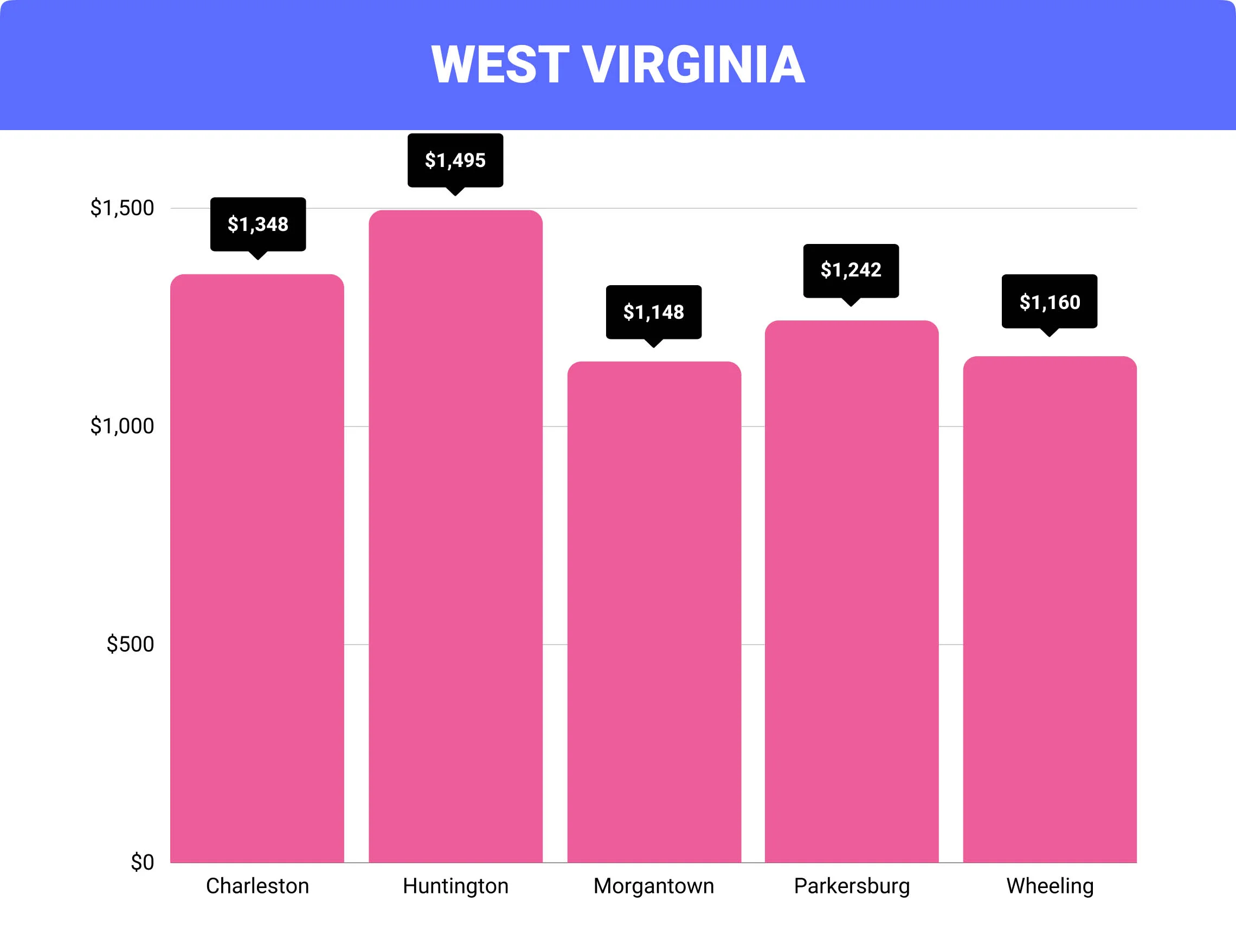 Cost of Home Insurance in West Virginia by City
| | | |
| --- | --- | --- |
| City | Average West Virginia Home Insurance Cost | Difference From West Virginia Average |
| Charleston | $1,348 | +17% |
| Huntington | $1,495 | +25% |
| Morgantown | $1,148 | +2% |
| Parkersburg | $1,242 | +10% |
| Wheeling | $1,160 | +3% |
FAQs
How much is homeowner's insurance in West Virginia?
The average home insurance premium in West Virginia is $1,124, though your cost depends on your home's value, location, and risks.
How much is homeowner's insurance a month in WV?
West Virginia home insurance is $94 per month on average. You can expect higher homeowner's insurance costs for extended coverage or if you have a high-value property.
What types of homeowner's insurance coverage are recommended in West Virginia?
Since West Virginia properties are at risk of severe weather, we recommend flood insurance, wind and hail coverage, and replacement cost coverage.
Is home insurance required in West Virginia?
West Virginia doesn't require residents to have home insurance policies by law, but most mortgage companies require coverage to give you a loan.
Do you need flood insurance in West Virginia?
According to the FEMA flood map, all of West Virginia is at risk of flooding, so you should consider adding the coverage through the NFIP or a private West Virginia home insurance carrier.
How To Purchase West Virginia Home Insurance
After you gather information on your home and decide on the coverage you need, we can get you online quotes from several West Virginia home insurance companies. Compare the costs and coverage of each policy before making a final decision to find the best deal.