UPDATED: APRIL 27, 2023 | 2 MIN READ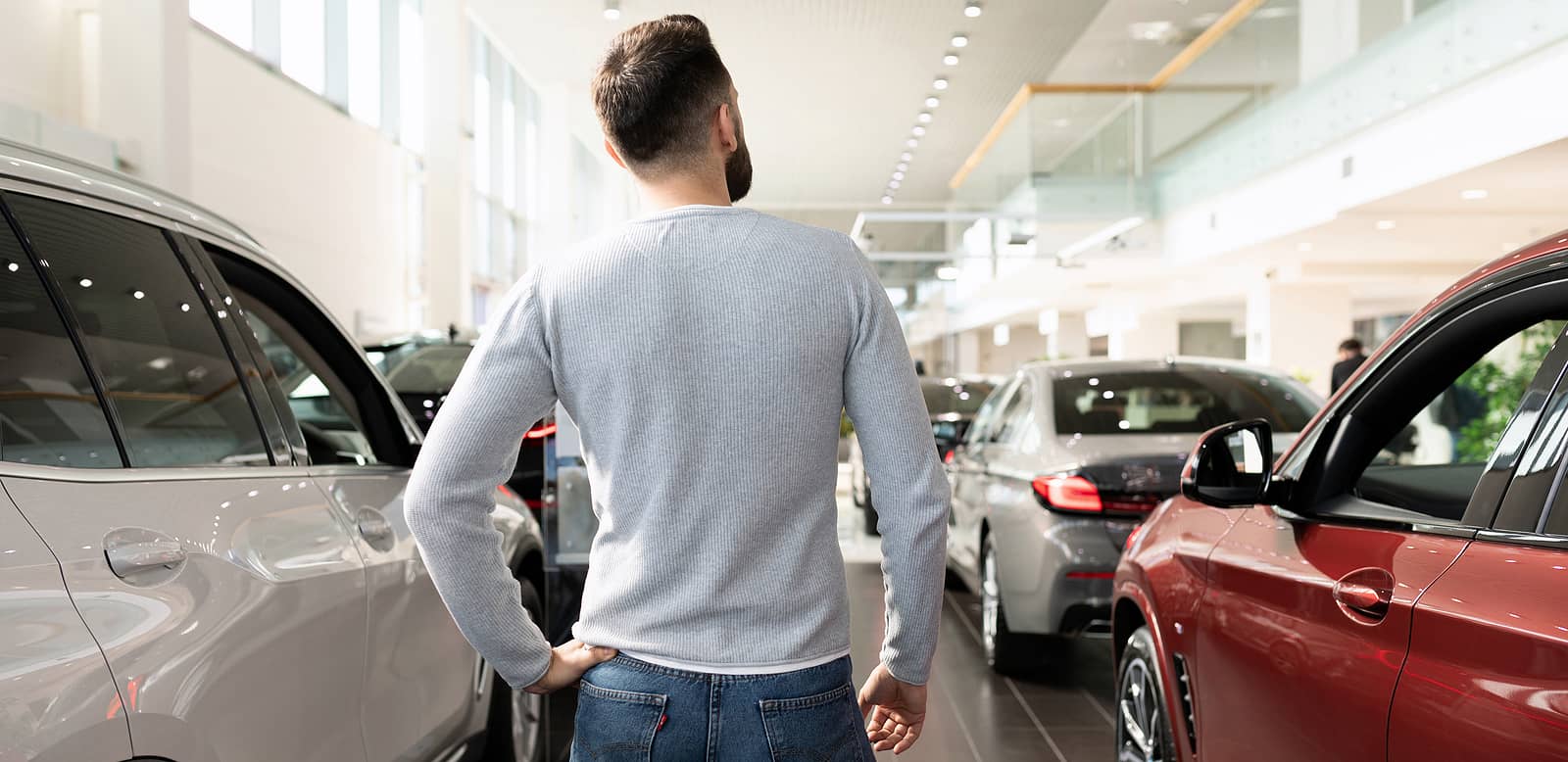 When buying a car, one of the things you need to consider is how your purchase will affect your car insurance rates. A vehicle's age is one factor that comes into play when insurance companies determine your premium, but it isn't the only one. Learn more about how new and used cars affect your car insurance rates.
What is the Difference in Car Insurance Rates Between a New and Used Car?
Generally, used car insurance rates will be lower and less costly than new vehicle rates. However, the costs vary greatly between different vehicle makes and models and with the insurance coverage you select.
For example, purchasing a new car might qualify you for more discounts because they generally have more safety features than older cars. But the base coverage on a new vehicle may be more expensive because they are worth more than a used car.
On the flip side, when you purchase an older car and pay full price, you aren't required to carry as much insurance. Instead of full coverage car insurance, you can carry liability only, which lowers your monthly insurance rates.
On average, car insurance rates drop by 3.4% each year your vehicle ages. This makes it about 25% cheaper to insure an eight-year-old car than it is a brand-new one.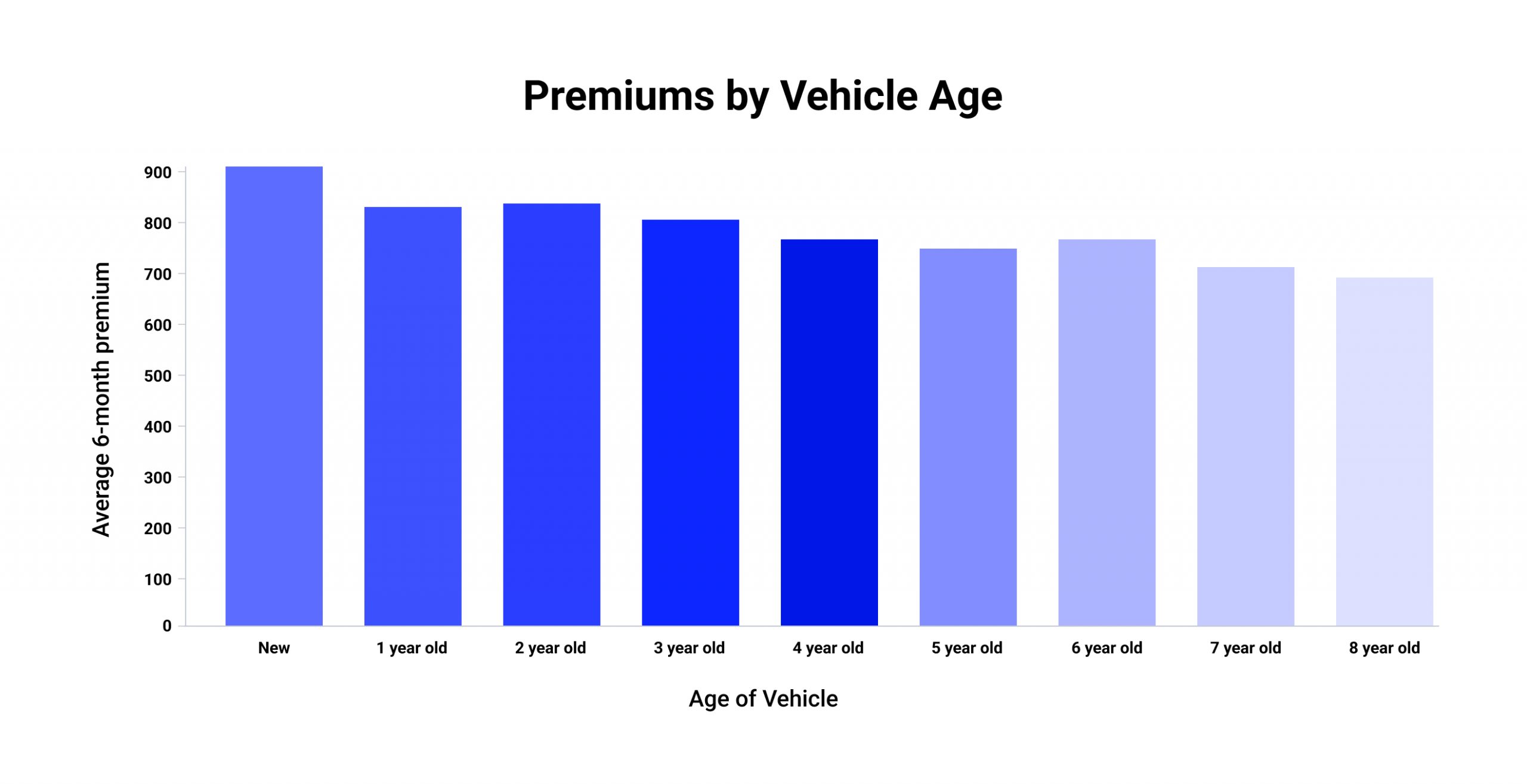 Insurance Coverage Types for New and Used Vehicles
Liability Coverage
You must carry minimum liability coverage on any vehicle you own. The minimum amount of liability varies between states. Also, remember that liability coverage covers the other driver's medical expenses and the cost of repairs if you're in an at-fault accident.
You should ensure your liability coverage is enough to protect your assets if someone tries to sue you after you are involved in an accident.
If you have an older vehicle that's paid for in full, you can save money by only carrying liability coverage. However, this means that the cost to repair or replace your vehicle falls on you if you're in an at-fault accident.
You can also add these coverages to the liability part of your policy:
Uninsured/underinsured motorist coverage
Medical payment protection
Full-Coverage Car Insurance
Full-coverage car insurance adds collision and comprehensive coverage to your liability insurance. These two coverages pay for repair or replacement to your vehicle when you file a claim. If you're still making payments on your car, your loan company will require you to carry full-coverage insurance, regardless of your vehicle's age.
If you carry full-coverage insurance, you can also add these coverages to your policy:
Rental car coverage
Towing
Insurance Coverage for New Cars
Ask your auto insurance agent about gap insurance if you've taken out a loan to purchase a brand-new vehicle. Gap insurance covers the difference between the value of your car and the amount of money you owe on your loan. If your car is totaled in an accident, your loan gets paid off completely.
What Are the Requirements for Insurance for a Used vs. New Car?
The auto insurance requirements for new and used cars are the same. All vehicles, regardless of age, must have minimum liability insurance as your state requires.
If you've bought your car outright, you aren't required to have any additional coverage beyond minimum liability overage. However, if you purchased your car via lease or loan, you'll need to carry comprehensive collision coverage to satisfy the lender's requirements.
FAQS
Do I need auto insurance before buying a new or used car?
Not necessarily. Some dealerships require you to have car insurance before you drive your vehicle off the lot. However, many insurers have a grace period that extends coverage to any new vehicle you purchase for several days.
This gives you time to add your new car to your auto insurance policy. Of course, the grace period varies between insurance companies, so check with yours before you buy a car.
What is the average cost of auto insurance in the United States?
The average for full coverage auto insurance across the U.S. is between $1200 to $1600 every six months. However, multiple factors come into play when determining auto insurance rates, so your six-month premium can be higher or lower.
How do I find the cheapest car insurance rates?
The best way to find the cheapest car insurance rates is to compare prices for different companies. You can also ask for car insurance premium quotes for various levels of coverage to find the cheapest option.
The Bottom Line
Typically, car insurance rates don't vary greatly because of the vehicle's age. However, getting car insurance rates from multiple companies is important before deciding whether to purchase a new or used vehicle.