UPDATED: MAY 31, 2023 | 1 MIN READ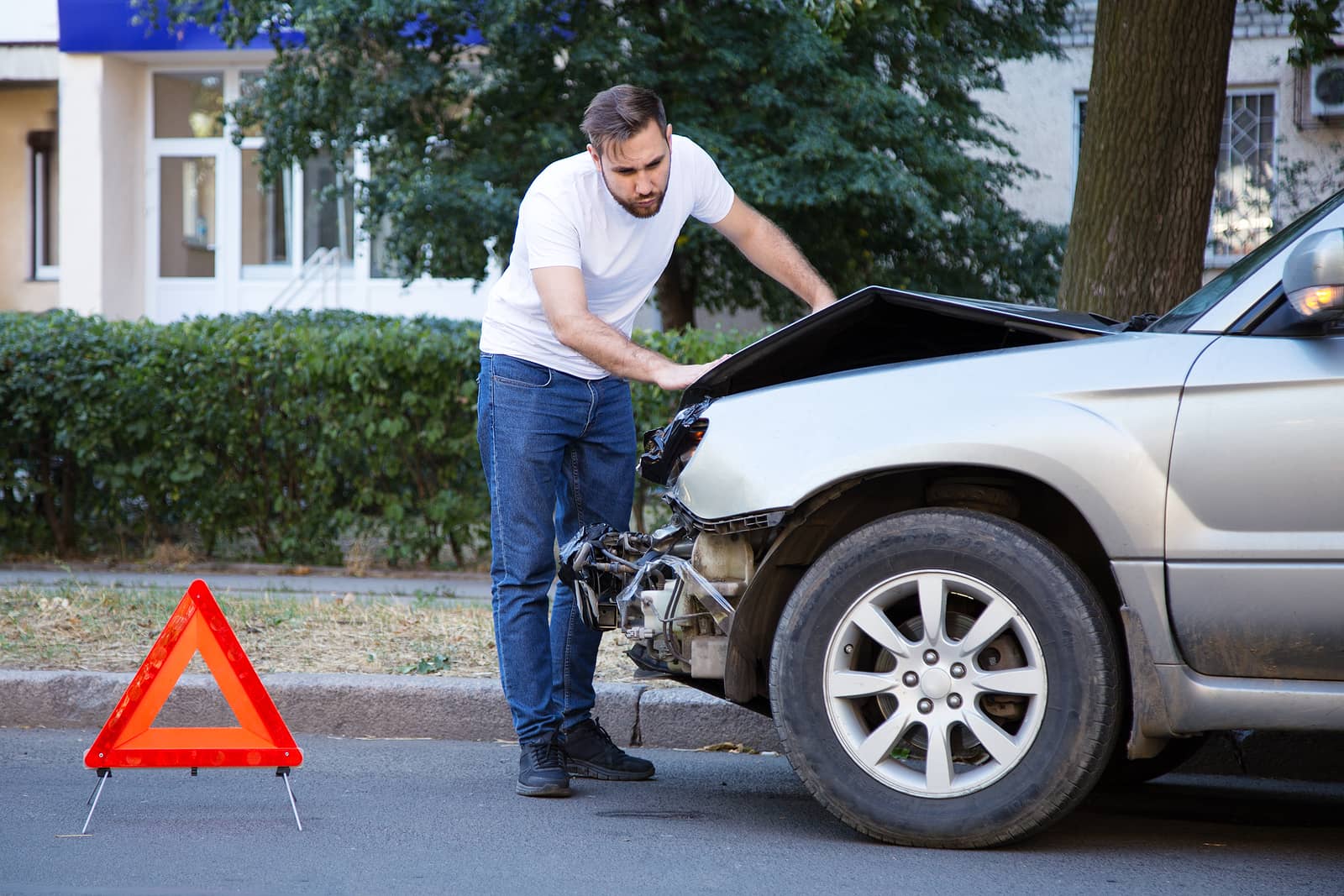 Car insurance protects you from financial liability if you get into a car accident. Full-coverage car insurance isn't a type of policy itself, but it means you have all of the basic coverages available, protecting you in most situations. Read on to learn if full-coverage car insurance is right for you.
What does full-coverage car insurance cover?
Full-coverage car insurance typically includes liability, collision, and comprehensive coverage. It refers to the combination of different policies that protect you and your car from most scenarios.
Liability coverage
Liability coverage is split into two sections, but both are typically mandatory in some form. Property damage coverage covers damage to a third party's property, for example, their car.
Bodily injury liability insurance covers medical expenses, loss of wages, and pain and suffering for the driver and any occupants of a third-party vehicle involved in an accident you are responsible for.
Collision
Collision coverage pays for damage to your car if it is involved in an accident. This could be with another vehicle or involve a building or other object.
Comprehensive
This type of coverage protects your car in the case of damage by things other than collisions, such as if it is stolen or experiences a fire.
Personal injury protection (PIP)
PIP insurance covers medical expenses for both you and the occupants of your car after an accident, no matter who was at fault. It also covers other costs you may incur from injury in a car accident, such as funeral expenses or loss of wages.
Personal injury protection insurance is only available in a limited number of states. Twelve of these states require you to have this coverage. They are:
Other states have PIP insurance as optional coverage.
What additional car insurance coverages are available?
Full-coverage car insurance doesn't mean that it covers everything, though. There are still optional add-on coverages you can choose to increase your coverage.
MedPay
Medical payments coverage (or, MedPay) pays for medical expenses from accidents no matter who was at fault. It bridges the gap between health insurance and car insurance.
Medical payment coverage can cost under $10 per month and has no deductible. MedPay can even pay deductibles and copays for health insurance or PIP. If you have PIP you can still get MedPay.
Uninsured/underinsured motorist coverage
If the other driver is responsible for the accident but either doesn't have insurance or doesn't have enough insurance, uninsured/underinsured motorist coverage will reimburse your expenses. It covers bodily injury expenses for you and the occupants of your vehicle.
Towing/roadside assistance
Roadside assistance will help you get to a garage to fix the car if you break down. It's important to note that some policies limit how many miles you can get towed before you're charged.
Gap coverage
This coverage is helpful if you haven't paid off your car loan. It pays out if your car is totaled or stolen, but you owe more on the loan than the car's depreciated value, meaning the amount it is currently worth.
New car replacement
New car replacement insurance will pay for you to get a brand new replacement car of the same make and model instead of only paying the current market value of your vehicle if your car gets totaled or stolen.
Full-coverage car insurance considerations
Full-coverage insurance isn't appropriate for everyone, so there are a few things you need to consider before purchasing it.
Who needs full-coverage insurance?
You may need full-coverage insurance if you have an auto loan, lease your car or have an expensive car that will cost a lot to repair or replace.
Is full-coverage car insurance worth it?
Whether full-coverage insurance is worth, it depends on several factors.
Pros
Pays to repair or replace your car rather than just a third party's.
Typically full-coverage policies pay the costs upfront rather than you having to pay out of pocket and be reimbursed.
It will satisfy the requirements of leasing companies or auto loan companies.
Covers you for several unexpected events.
Cons
Costs a lot more than just the mandatory minimum policies.
Still have to pay the deductible before the insurance kicks in.
May not be worth it if your car is of little value.
How to reduce the cost of full coverage car insurance
Full-coverage insurance encompasses many different insurance policies, and so is usually the most expensive kind of insurance. However, there are ways to lower the cost.
Shop around and compare prices.
Raise your deductible.
Apply for discounts.
Improve your credit score.
Drive safely and carefully, avoiding tickets and accidents.
FAQs
Is it worth it to get full-coverage insurance on my car?
That depends on many things, including the car's age, the cost to replace it, and the amount you want to spend on car insurance.
What's the difference between full-coverage insurance and comprehensive?
Full coverage is the term for when you have comprehensive insurance as well as other types of coverage on your car. Comprehensive coverage pays out if your vehicle is stolen or becomes damaged by bad weather, fire, or falling trees.
How long should you keep full-coverage insurance on your car?
Typically, experts suggest that you keep full-coverage insurance on your car until the yearly price of the insurance equals or is more than 10% of the value of your vehicle. For example, if your car is worth $5,000, your premium should be under $500. Having said that, if the expense of buying a new car would be too much for your finances, it might be worth keeping full-coverage insurance on your vehicle.
What's the difference between full-coverage insurance and collision?
Collision insurance pays for damage to your car if you hit another vehicle or (for example) a building, etc. Full-coverage insurance combines collision insurance with other types to protect you and your vehicle from various situations.
How do I know if I have full-coverage insurance on my car?
You have full-coverage insurance on your car if you have liability, collision, and comprehensive coverage. If you're not sure you have enough coverage, speak to your insurance provider about additional coverage you may wish to purchase.
What type of insurance pays for the treatment of injuries and losses to the driver and passengers?
Full-coverage insurance pays for damage to your vehicle if you're in an at-fault accident. If the accident was the other driver's fault, their insurance pays for damages.

Medical bills can get a bit tricky, though. If you are in an accident that's not your fault, the at-fault driver's insurance is responsible for your medical bills and the medical bills for anyone in your car. However, if you're at fault, medical bills are paid by your medical payments coverage, personal injury protection, or health insurance. Who pays depends on the state you live in and your insurance type.
How to get full coverage auto insurance for cheap
Full coverage insurance gives you the best protection but also costs the most. If you decide that full-coverage car insurance is for you, make sure you get an auto insurance quote to get the best deal available.
Related content: