UPDATED: AUGUST 07, 2023 | 3 MIN READ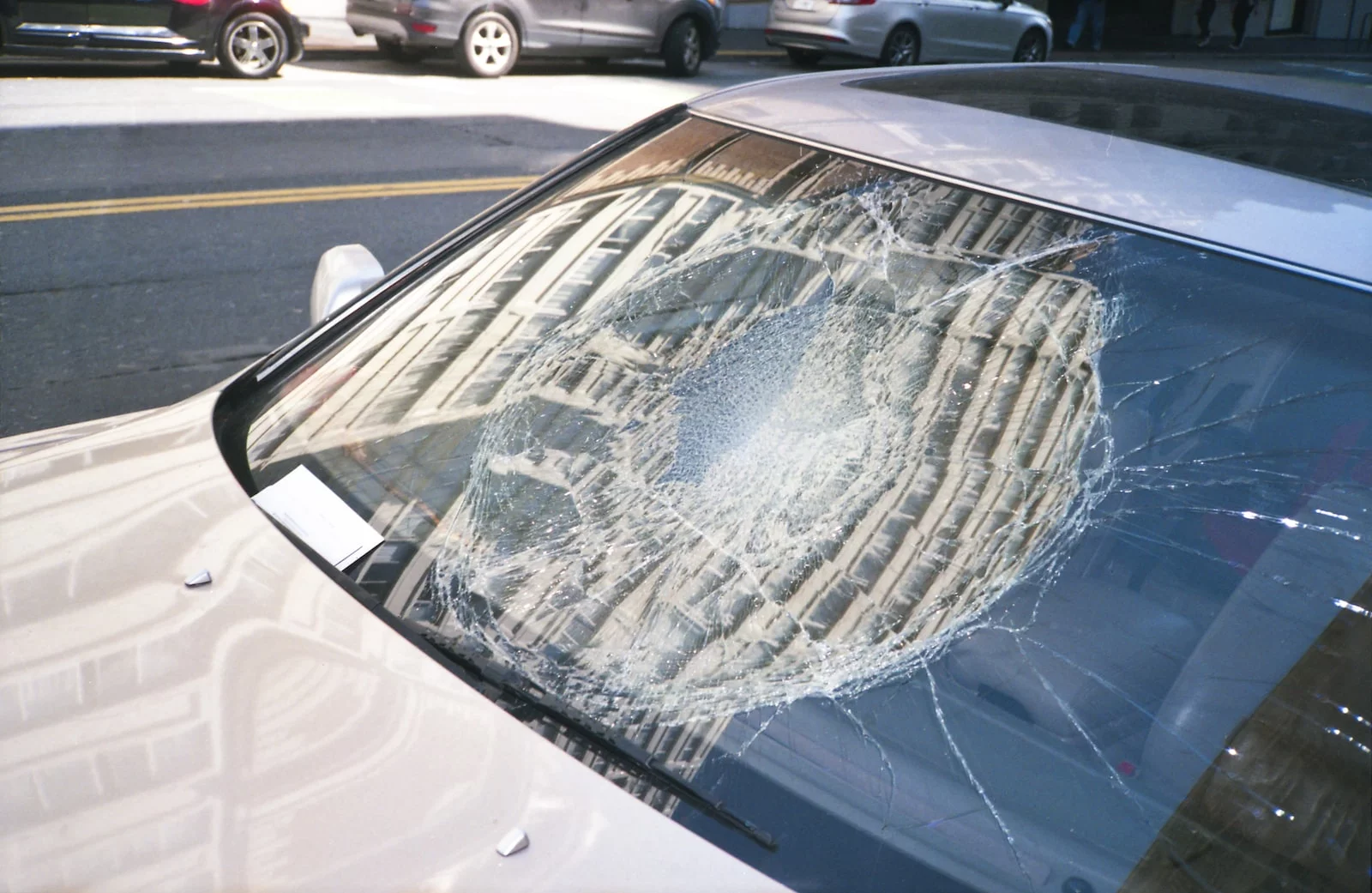 One of the top car insurance claims is a windshield replacement. Many things cause damage to the windshield of your car. Debris from other vehicles and construction trucks on the highway causes significant damage when driving 80 miles per hour. Just one tiny pebble has the potential to crack your windshield. That's why glass coverage is so important.
You might be wondering if your car insurance policy covers windshield damage. That's a yes, and no answer, depending on your insurance type. We're here to walk you through the process.
Key Points About Windshield Repair Insurance
The windshield insurance coverage pays to replace or repair your car's windshield if damaged. Insurance companies must either include windshield insurance coverage in comprehensive insurance or collision or sell separate "full glass" repair coverage, depending on the state.
If you're in an accident where you're not at fault, the other driver's liability insurance pays to replace or repair your windshield.
If you don't have collision insurance, full glass repair coverage, or comprehensive coverage, your insurance doesn't pay out for damage.
Your windshield needs to be replaced if the damage is significant enough to pose a risk.
Most car insurance companies waive comprehensive deductibles if the windshield needs to be repaired.
You must have full glass coverage to get your deductible waived for windshield replacement.
Does car insurance cover windshield damage?
Your insurance might cover windshield damage, but it depends on your car insurance policy.
These are the three types of coverage that help:
Collision insurance: Collision insurance is an optional coverage that covers cracked windshields damaged during a crash. On average, it costs $378 yearly for collision insurance.
Comprehensive insurance: This portion of your car insurance policy covers windshield damage. It also covers theft, flood, vandalism, fire, hail, and falling objects. On average, it costs $168 yearly.
Full glass coverage: Some companies sell optional full glass coverage or allow zero deductible for glass replacement. This option costs extra but saves you when you have to pay a high deductible costing $1,000 or more.
What To Do If You Have a Cracked Windshield
If you have auto glass damage, you must file a glass claim quickly before repairing the damage. Pull over, and report your claim immediately if windshield damage happens while driving.
Quickly file a comprehensive claim before you repair the damage to your cracked or chipped windshield. You should promptly replace it so that the crack doesn't spread.
When does insurance cover windshield replacement?
You need comprehensive coverage for your auto insurance policy to cover a broken or cracked window.
When comprehensive applies: If your windshield is damaged due to hitting a deer, falling debris, or other perils, comprehensive coverage kicks in to replace or repair it.
When collision applies: If you're involved in a car accident, and your windshield is damaged, collision covers it.
Does minimum auto insurance coverage protect against windshield damage
There are two types of auto insurance, full-coverage and liability-only insurance. The state legally requires the base amount of coverage as minimum car insurance. That's called liability-only insurance.
Comprehensive coverage isn't part of your liability coverage. You need to have comprehensive coverage if you want glass repairs paid for.
Full-coverage insurance has collision and comprehensive coverage on your auto policy. These add-ons cover flooding, theft, vandalism, fire, and damage to your vehicle from an at-fault accident.
When Car Insurance Does Not Cover Your Windshield
You must have comprehensive or collision coverage to have your glass damage covered. If you only have liability coverage, your policy doesn't cover windshield damage. The other motorist's liability coverage pays for your windshield in an accident that wasn't your fault.
Even with collision or comprehensive coverage, your insurance doesn't pay for replacing or repairing your windshield if you intentionally cause damage, including being under the influence.
How much does it cost to fix a broken windshield?
If you have to repair a windshield, it's less expensive than replacing one. The cost to repair a windshield varies depending on the damage. But the cost of a windshield replacement varies based on the following factors:
The type of glass used
Your car's model and make
Your location
Depending on your policy, you might have to pay the deductible if you file an auto glass claim. Some state laws, like Florida's windshield replacement law, waive the insurance deductible for damaged windshields if you have comprehensive coverage.
FAQs
Is a glass deductible worth it?
It's worth filing a glass claim if the repair cost exceeds your car insurance deductible. If your windshield replacement costs $400, and your deductible is $250, you pay $250, and your policyholder picks up the remaining $150.
What is the windshield law in Florida?
Florida prohibits insurance companies from charging a deductible for glass damage repair. Florida residents receive free windshield repair if damaged while driving, in a hurricane, or in vandalism.
Does replacing your windshield raise insurance in Florida?
You shouldn't see a premium increase due to a windshield claims to replace a cracked windshield.
What's the difference between comprehensive and collision deductible?
A collision deductible applies to losses from a collision with another vehicle. A comprehensive deductible applies to damage caused by something other than a collision.
Is a cracked windshield covered by warranty?
Your auto insurance policy often includes windshield replacements. Most warranties and service contracts don't cover windshields.
Is it required to have a glass deductible in Florida?
Florida law prohibits insurance agents from charging a deductible for windshield glass repair.
What is a deductible?
A deductible is an amount you pay to have your car repaired before your insurance plan starts to pay.
What is the difference between windshield replacement and repair?
Windshield replacement is when the damage is too significant to be repaired, so the windshield has to be replaced. Repair is usually in the case of a small crack or chip that's repairable.
How much does a windshield replacement cost?
The cost to replace a windshield is roughly $250-$400, but the amount varies by location and the type of damage incurred.
What are the benefits of adding glass coverage to your car insurance?
You benefit from not having to pay a deductible when you get your windshield replaced or repaired.
What are the benefits of installing an aftermarket windshield?
Aftermarket glass often lures glass customers because it is low-cost and has a quick turnaround. They cost roughly $100 less than the original glass and take 30 minutes less time to install.
What should I do if my windshield has a crack?
If your windshield cracks, inspect the damage, determine if you're able to drive, prevent further damage, and contact your insurance agent to make a claim, repair, or replace only after you get the go-ahead from your insurer.
How to Purchase Glass Coverage For Your Car
Purchasing glass coverage is simple and easy. Ensuring you have the right coverage in case something happens is essential. We hope this article has helped you understand your options and how to deal with windshield damage if it happens to you.
If you're ready to get insurance quotes for your car, it's as simple as comparing rates as amounts vary by company. We have a helpful tool to find the best car insurance.