UPDATED: APRIL 27, 2023 | 1 MIN READ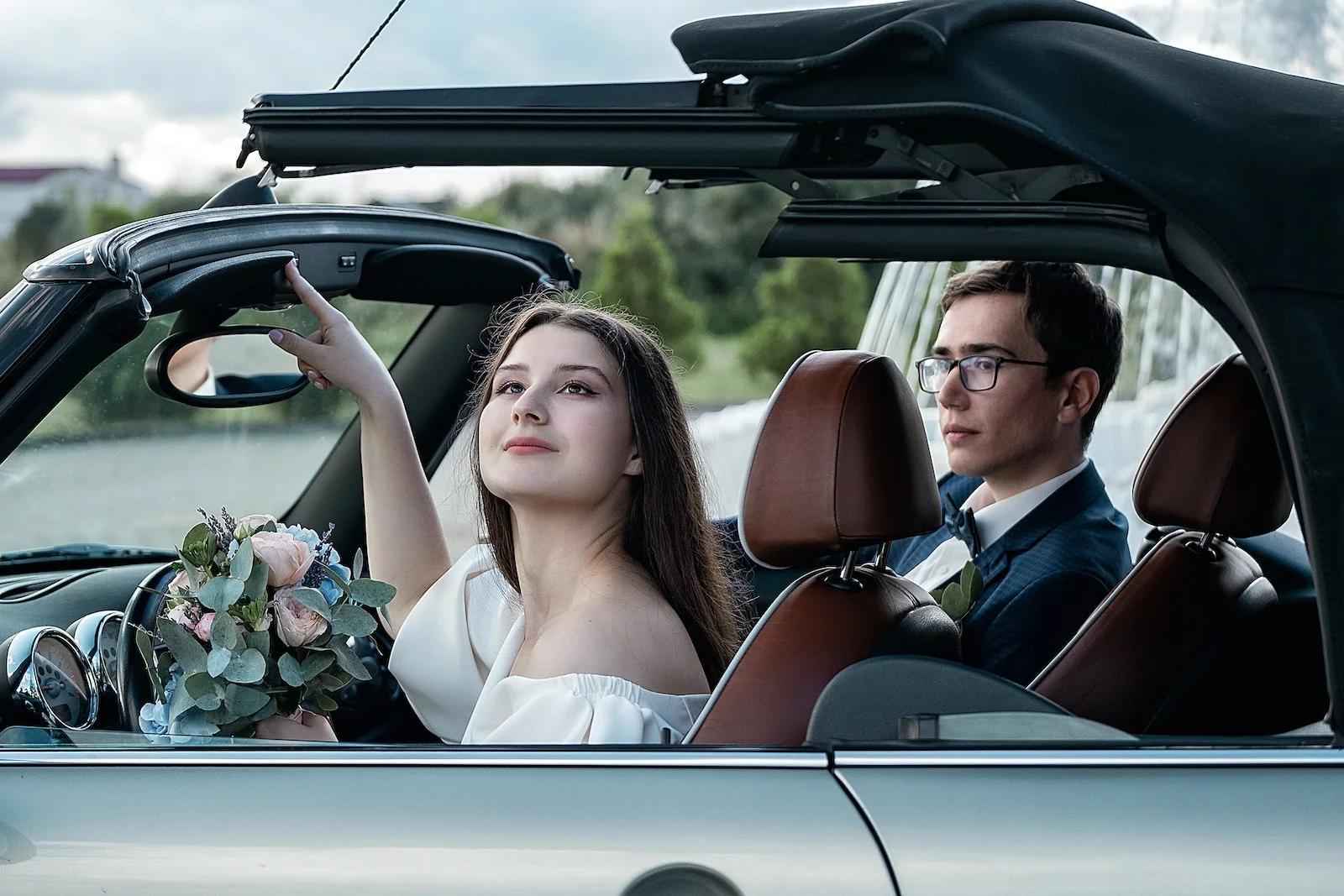 Saying "I do" is an exciting time in your life, and there are many important decisions that you have to make when you settle into your new life together. When you say those "I do's," there's more to it than promising to be there in sickness and health. Married couple's rates for auto insurance are just one item that has to be taken into consideration.
Why You Get Lower Car Insurance Rates When You're Married
Although it's not a specific discount, you end up with a lower car insurance premium when you marry. On average, a six-month car insurance policy for a married couple would cost $694 or $116 a month.
Car insurance might be cheaper for married people because married individuals are more stable and safer drivers. They are more likely to bundle their policies by adding multiple vehicles or homeowners' insurance with the same insurance company.
It's a fact that married people file fewer claims than single, widowed, or divorced people. This is because being married classifies you as being a less-risky insurance holder. So, on average, married couples pay $96 less yearly than single people. They are less likely to drive under the influence or recklessly.
Do I Have to Add My Spouse to My Car Insurance?
Adding your spouse to your policy is necessary if you want lower car insurance rates. It's a good thing to add your spouse because it's one less payment you have to make. There could be a downside; however, if your spouse has a bad driving record, the policyholder might have an increase in their auto insurance rates.
Can You Be Excluded From Your Spouse's Insurance?
If your spouse has a poor driving history, you might think excluding them from your policy is better. The general rule is that you should be listed on the same policy if you live in the same household.
It depends on the insurance carrier; some may allow you to exclude your spouse from your insurance policy, but most don't allow spouses to be excluded.
If you can exclude your spouse from your policy, your spouse can't drive your vehicle. If they are listed as an excluded driver and proceed to get into an accident while driving your car, your claim will be denied.
Marriage-Related Discounts for Auto Insurance Policies
You can get discounts as a married couple from some car insurance companies. This discount can lower your car insurance premium.
Multi-Vehicle Discount
When you're married, you can get a discount for having more than one vehicle on your policy. Insurance providers will offer these lower car insurance rates to alleviate the costs of paying for separate car insurance policies.
The lower insurance rate will depend on the provider. Still, you could get 5%-20% off with a multi-car discount and a clean driving record.
Safe Driver Discount
If you and your spouse are safe drivers free of traffic violations or accidents, you can get a safe driver discount of up to 15% off your insurance costs.
Multi-Policy Discounts
Another way to get discounts is to bundle multiple insurance policies. For example, when you get a car insurance policy, you can add a home and life insurance policy. You can then bundle them for savings. So whether you own or rent, you can get home or renters insurance with your car insurance.
If you and your spouse own a home together, you can take advantage of more savings. Ask your agent about the different multi-policy discounts available to you. You could save up to 18% on your car insurance policy.
Military Discounts
If your spouse or parents served in the military, you might be eligible for a military discount for veterans. You can save up to 15% off your car insurance rates.
How Does Marital Status Affect Auto Insurance Prices in Each State?
When married, you benefit from cheaper car insurance, saving you up to $123 yearly compared to single drivers. Your rate is likely to be different depending on your state.
State
Average Annual Premiums for Individuals
Average Annual Premiums for Married Couples
Alabama
$1,870
$1,870
Alaska
$1,576
$1,468
Arizona
$3,071
$2,776
Arkansas
$2,065
$1,840
California
$1,817
$1,665
Colorado
$3,120
$N/A
Connecticut
$2,753
$2,626
Delaware
$2,883
$2,828
Florida
$3,230
$2,071
Georgia
$2,386
$2,286
Hawaii
$1,763
$1,763
Idaho
$1,707
$1,603
Illinois
$2,218
$2,016
Indiana
$1,485
$1,444
Iowa
$1,659
$1,555
Kansas
$2,043
$1,940
Kentucky
$2,040
$1,944
Louisiana
$3,546
$1,188
Maine
$1,285
$1,188
Maryland
$2,386
$2,398
Massachusetts
$2,158
$2,144
Michigan
$4,788
$4,777
Minnesota
$2,109
$1,930
Mississippi
$2,167
$1,937
Missouri
$2,531
$2,371
Montana
$2,297
$2,297
Nebraska
$2,248
$1,940
Nevada
$3,061
$2,891
New Hampshire
$2,016
$1,975
New Jersey
$2,809
$2,710
New Mexico
$2,039
$1,917
New York
$2,777
$2,723
North Carolina
$1,506
$1,529
North Dakota
$2,286
$2,207
Ohio
$1,558
$1,489
Oklahoma
$2,460
$2,291
Oregon
$2,332
$2,332
Pennsylvania
$1,802
$1,692
Rhode Island
$3,589
$3,454
South Carolina
$2,071
$1,915
South Dakota
$2,429
$2,251
Tennessee
$1,875
$1,732
Texas
$2,653
$2,405
Utah
$2,403
$2,332
Vermont
$1,735
$1,622
Virginia
$1,642
$1,497
Washington
$1,748
$1,624
Washington DC
$1,956
$1,920
West Virginia
$2,106
$1,969
Wisconsin
$1,559
$1,484
Wyoming
$2,123
$2,065
FAQs
Do married couples get lower car insurance rates?
There isn't a marriage discount that you get for being married. Still, married couples generally pay lower car insurance rates than single people. On average, car insurance can cost $123 less yearly for married couples, giving them a 5% savings.
Does your spouse have to be on your car insurance policy?
Adding your spouse to your policy is necessary if you want lower car insurance rates. It's a good thing to add your spouse because it's one less payment you have to make. There could be a downside; however, if your spouse has a poor driving record or is considered high-risk, you might have an increase in your insurance.
Do you get a discount on car insurance if you're married?
Marital status makes a difference in whether you get lower car insurance rates. On average, married couples will pay 5% less for insurance coverage than single people.
How do car insurance rates change after divorce?
A divorced person can pay an average of $1,486 annually for car insurance. That's $99 more than car insurance for a married person. That doesn't sound fair, but it's just a reflection of statistical correlations and historical data. Married drivers file fewer claims than divorced drivers, so their premiums tend to be lower.
Do you get lower car insurance rates if you're widowed?
There is little difference between the premium for married couples and widowed drivers. On average, widowed drivers pay $1,437 yearly for car insurance, which is only $50 more than a married couple. It's still higher because, statistically, widowed drivers are more likely to get into an accident than married people. But divorced or single people are more likely to get into an accident than widowed drivers.
Finding the Best Car Insurance for a Married Couple
Marriage can be an exciting part of your journey but can also change many aspects of your life. The most common question is how being a married couple affects my car insurance rates. It's always best to research if a joint policy is for you. Find out the best prices from your area's top auto insurance companies by filling out our online rate form.