UPDATED: AUGUST 08, 2023 | 1 MIN READ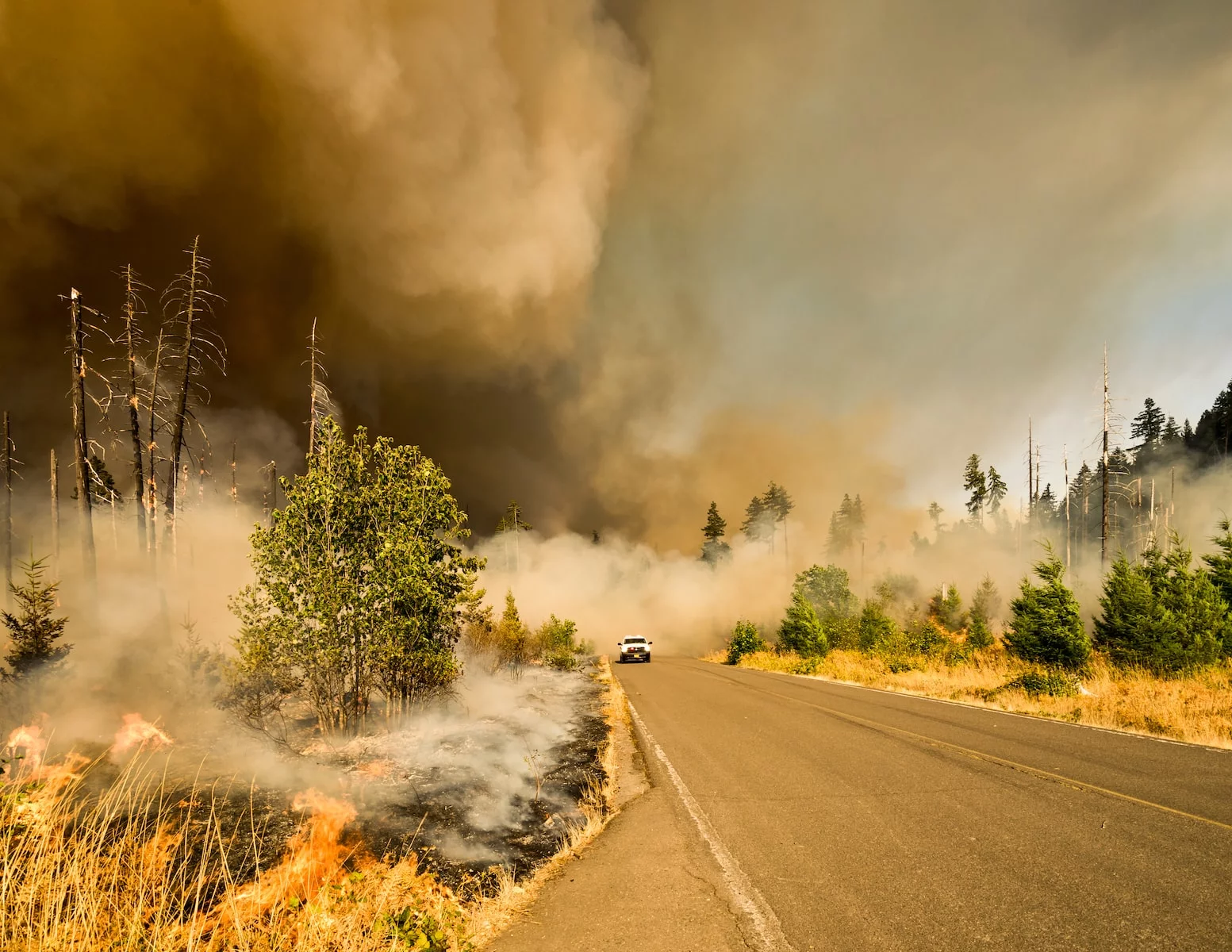 California suffers devastating wildfires yearly, and the insurance industry often struggles to keep up with the immense loss. The state saw $11.2 billion in damage in 2022, and as the number of wildfires grows, California homeowners face rising home insurance rates.
The Golden State's efforts to alleviate the burden on homeowners offer significant changes to homeowners who need wildfire insurance. Here's what property owners should know about California wildfire insurance, how to reduce wildfire risk, and how to save on your premium costs.
What is California Wildfire Insurance?
Many homeowners insurance policies cover fire insurance, but the coverage option depends on your location. Los Angeles and other California cities feature a high risk of brushfire or wildfire, which equals higher home insurance rates for many homeowners. Homeowners in fire-prone areas often need a separate fire insurance policy.
There isn't a specific policy known as "wildfire insurance." Instead, a wildfire insurance policy offers coverage similar to a standard homeowners insurance policy, specifically for fire and smoke damage. The policy may also cover water damage from extinguishing the fire.
Most wildfire policies include coverage of the dwelling, personal property, and loss of use. A fire protection policy can apply to a dwelling, a condo, or a renter's property in California.
California Wildfire Insurance Costs
The annual premium for home insurance in California is $1,565; however, rates vary by the insurance carrier, coverage, location, and property. California averages over 7,000 wildfires a year, and climate change and increased building in heavily-wooded areas increase the risk. Premiums for California wildfire insurance rise as the risks for fires grow. One survey of San Diego homeowners shows 98% of respondents report a premium increase, and some say their rates doubled.
Fire insurance for homeowners in high-risk areas
California homeowners may need help finding fire insurance if they live in a high-risk area, such as Los Angeles and San Diego. If homeowners face rejection from two or more insurance companies, they may apply for a California Fair Access to Insurance Requirements (FAIR) plan. The FAIR plan helps Californians who can't find insurance in the traditional insurer marketplace.
The FAIR plan comes at a higher cost than regular home insurance in California and offers only limited coverage. It's known as last resort insurance but provides coverage for homeowners in these fire-prone areas. California FAIR plans aren't public; homeowners must purchase fire insurance through a licensed FAIR broker.
Moratorium on insurance after a wildfire in California
California features a consumer protection law, Senate Bill 824, which institutes a one-year moratorium on an insurance company canceling or refusing renewal of an insurance policy in areas after a fire.
The bill mandates residents of specific zip codes to be exempt from insurance cancellation or nonrenewal after the Governor issues a state of emergency declaration. The most recent declaration, November 2022, is for the Route Fire in portions of Los Angeles County.
New California Wildfire Insurance Discounts
There's more hope for frustrated homeowners in the Golden State. California recently became the first state to mandate insurance discounts for homeowners when they reduce fire risk. California Insurance Commissioner Ricardo Lara's program, Safer from Wildfires, incentivizes homeowners with reduced insurance premiums.
Safer from Wildfires consists of three parts:
The structure
The surroundings
The community
As of January 2023, participating insurers of Safer from Wildfires include carriers Allstate, State Farm, the Cincinnati Insurance Company, and the California FAIR Plan. Policyholders of these companies may receive valuable discounts on fire insurance when they help mitigate the risk of fire around their homes and communities.
Insurers must now assess the risk of properties and provide homeowners with a "risk score." They also must offer discounts on home insurance when a community or policyholder reduces fire risk.
Homeowners and communities can reduce wildfire risk by:
Switching to a Class-A fire-resistant rated roof
Clearing debris from the roof, porch, and surroundings of a home
Removing excess shrubbery or brush, especially near decks and porches
Adding defensible space around the house for a safe evacuation route and zone for firefighters
Fire-safe landscaping
Installation of a 5-foot ember-proof fence
Trimming trees around the house and community
Removing sheds and other combustible buildings within 30 feet of the home
Gutters and downspouts made of fireproof material, like metal, that are clear of debris
Outfitting exterior walls with a minimum of six vertical inches of brick, stone, concrete, or other non-combustible material
If you need wildfire insurance in California, look into these and other ways to lower your risk of fire and reduce a hefty insurance premium.
FAQs
Does homeowners insurance cover California wildfires?
Yes. Homeowners insurance covers fire damage under a standard policy; however, you should carefully check your policy. Areas at high risk for fire often require a separate fire policy for homeowners.
What qualifies me for a discount for CA wildfire insurance?
Discounts for California wildfire insurance vary by company. Typical home insurance discounts include savings for smoke detectors on every floor, replacing a home's roof with fire-resistant material, clearing excess brush, and other actions. You may also qualify for a discount if you live within a community that reduces fire risks.
How much does wildfire insurance in California cost?
The average cost for homeowners insurance in California is $1,565. Suppose a homeowner buys a separate fire policy. In that case, they may pay more than the average, especially if they opt for a policy from the California FAIR plan and not from the voluntary insurance market.
Is it covered under my homeowners insurance policy if a wildfire destroys my stuff?
A homeowners policy typically covers personal property; however, your policy documentation lists exclusions. If you live in an area where you need a separate wildfire policy, your insurance may not cover your belongings. You should check your insurance policy to know all coverage and exclusions.
Will adding smoke detectors in my home earn an insurance discount?
Multiple insurance companies offer discounts on your home insurance with a smoke alarm and other safety-security devices. These discounts vary by carrier, so you should check with your insurance provider.
Get California Wildfire Insurance Today
Living in California may seem like paradise, but you should take steps to protect your home. California is susceptible to wildfires, especially in Los Angeles and other areas of the state, which is why home insurance is a must-have for any homeowner or renter. California wildfire insurance ensures that policyholders protect their homes and belongings from fire, smoke, and water damage. Fire insurance policies are expensive, but California now offers ways to reduce premium costs.
After you make your home safer with fire reduction techniques, why not see how you can save even more on your home insurance? Whether you're new to the Golden State or have lived there for over 20 years, everyone in California needs fire insurance. Let us help. We offer an easy way to compare rate quotes. Find a plan for California fire insurance now.