UPDATED: APRIL 19, 2023 | 2 MIN READ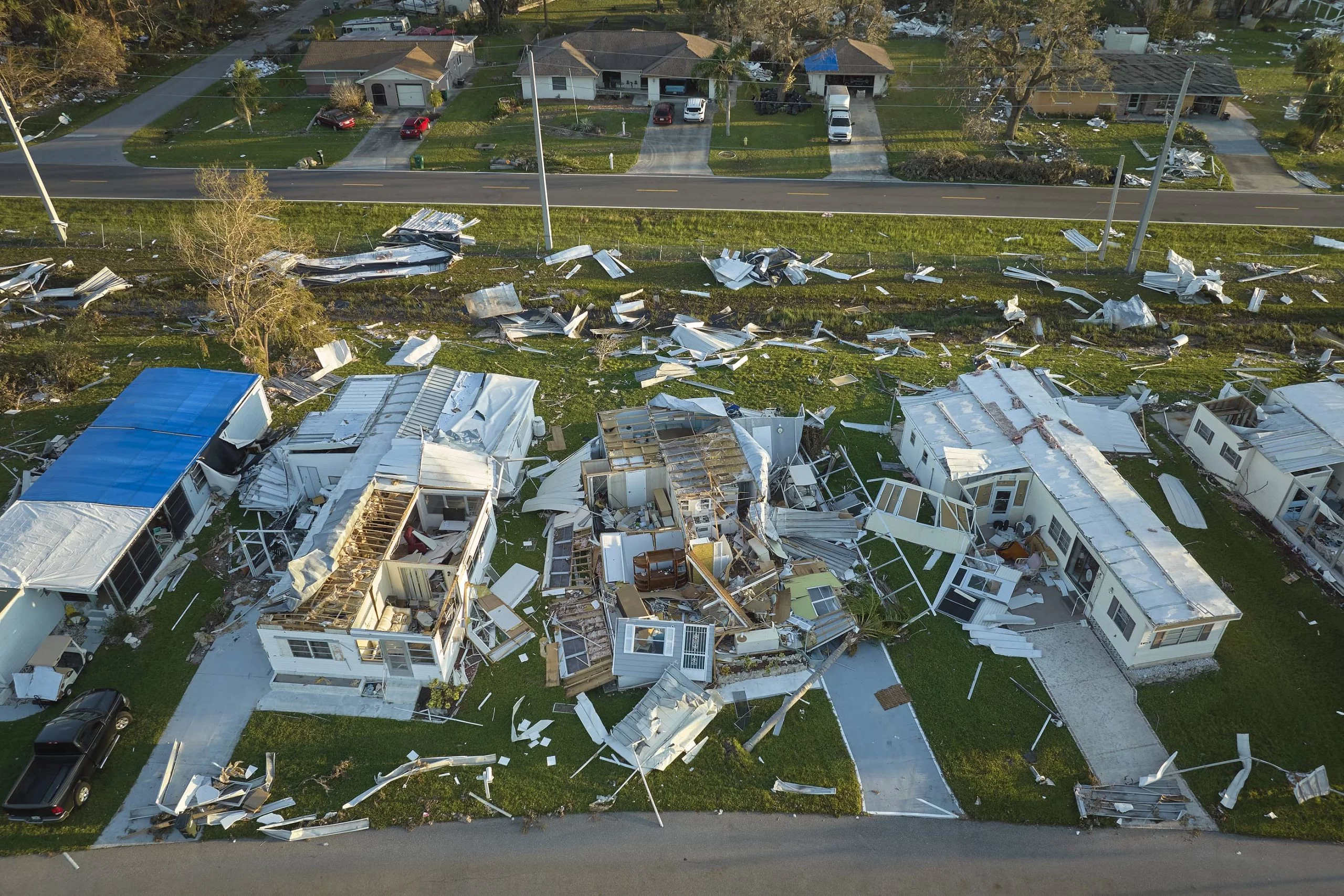 Hurricane season lasts from June 1 to November 30, and Florida is the state that has the most recorded hurricanes. Hurricane Katrina hit Louisiana in 2005; costs ranged from $125 billion to $186 billion. The damage caused by Hurricane Ian is expected to go anywhere from $42 billion to $258 billion.
Florida already pays the highest homeowners insurance premiums in the United States, and many insurance companies are no longer offering insurance policies. So, can Floridians afford to rebuild after Hurricane Ian?
Hurricane Ian
Hurricane Ian is one of the most devastating hurricanes to date. It made landfall on September 28, 2022, as a category 4 with winds recorded up to 155 mph; it brought a storm surge of up to 12 feet and over ten inches of rain within 24 hours.
Over 100 deaths are contributed to Ian and almost 2500 rescues of people stranded in southwest Florida. Lawmakers have blamed climate change for the increased intensity of hurricanes.
Homes affected by Ian
At least 12,000 homes have been reported to have been either destroyed or significantly damaged due to Hurricane Ian. Many Florida homeowners don't have enough coverage to rebuild their homes in today's market.
Many also don't have the financial means to afford alternate housing until the insurance providers process the claims. Residents must now rely on the federal government for disaster relief assistance until receiving payouts on their insured losses.
Cars affected by Ian
There are over 350,000 cars estimated to be damaged by Hurricane Ian. These cars will be sold at auction for salvage or scrapped for parts. Uninsured flooded vehicles are also illegally sold to individuals without notification of damage.
Wind damage vs. flood damage
Since homeowners insurance in Florida doesn't include flood coverage, many homes that did not require flood insurance had none. If insurance assessments show that the high winds damaged your home, your homeowners policy will cover the damage, but if it was from the storm surge or flooding from the rainfall, it will not. The homes affected by the storm surge or rainfall without flood coverage could be financially ruinous to the homeowners after Hurricane Ian.
Florida's insurance industry troubles
The insurance market in Florida was already in trouble before Hurricane Ian made landfall. In 2022, six private insurance providers have declared insolvency, with five more about to follow suit. Many insurance providers have stopped writing in Florida altogether.
The reinsurance companies that help cover the insurance providers' costs are backing out of Florida due to natural disasters and the high number of frivolous lawsuits. The insurance information institute has shown that most homeowners insurance lawsuits (about 80%) originate in Florida, while only 9% are actual homeowners claims.
The state-backed homeowners' insurance provider, Citizens property insurance (the insurer of last resort), now has over one million policies due to the inability of Floridians to purchase from private insurance providers.
Floridians pay, on average, three times more in homeowners insurance premiums than any other state. The regular rate increases can soon cost more than the monthly mortgage payment on your home.
Can Citizens Cover 225,000 Claims from Hurricane Ian?
Citizens say they have plenty of money to cover all of Hurricane Ian's 225,000 claims and then some. With $13.6 billion in reserves, they project to pay out 3.8 billion to homeowners who filed a claim due to hurricane Ian. They have over one million policyholders, which exceeds what they expected.
Homeowners Insurance on the coast
Home insurance on the coast of Florida, such as Tampa, where Hurricane Ian was projected to make landfall, and Ft. Myers Beach, where it did, costs over $4000 compared to the national average of $1500 per year.
Even though Floridians pay the most in homeowners insurance, they may not have enough coverage for a total loss or the repairs needed to make the home habitable in these disaster areas.
Auto Insurance
Floridians pay over 50% higher auto insurance premiums than the national average. Since the premiums are so high, many policyholders don't have full coverage. The comprehensive coverage on a full coverage auto policy would have paid for the damages in the case of Hurricane Ian.
Flood Insurance
The National Flood Insurance Program (NFIP) provides flood insurance to each state and is required by mortgage companies in flood-prone areas along the coast. The NFIP is managed by the Federal Emergency Management Agency (FEMA). The average flood insurance policy in Florida for homeowners is $562 per year.
Flood insurance only covers rising water and isn't covered under your homeowners policy. Many Floridians will be in dispute with their insurance companies regarding the cause of damage to their property by Hurricane Ian.
Assistance After Hurricane Ian
While waiting for the homeowners and auto insurance payoffs after filing the claims for Hurricane Ian, there are other ways to get disaster assistance in the short term. Government agencies and nonprofit organizations can assist with housing, transportation, food, and medical needs.
Government aid
Thanks to Gov. Ron Desantis and President Joe Biden, FEMA initially declared thirteen counties disaster areas, but more were added as necessary. The aid is for Floridians who don't have flood or car insurance or don't have enough, eligible for federal assistance to help with repairs on homes and cars. The aid is, however, limited to less than $40,000.
Nonprofit aid
The Salvation Army, Red Cross, United Way, Operation Airdrop, and local ministries are just a few suggestions of where you can get everyday necessities in the disaster areas of Florida.
FAQs
Can you get hurricane insurance in Florida?
Yes, you can get hurricane insurance in Florida. If you can't purchase homeowners insurance through a private insurance company, you can buy it through the state-backed insurance provider, Citizens Insurance Company.
How much does hurricane insurance cost in Florida?
On average, homeowners insurance costs roughly $2000 per year, depending on your coverage limits and deductibles.
Is it hard to get hurricane insurance in Florida?
Hurricane insurance is a named coverage included in your homeowners insurance policy. There isn't an actual hurricane insurance policy. So no, it's not hard to get hurricane insurance in Florida.
Can you buy flood insurance in Florida?
Of course, you can buy flood insurance in Florida, as all states offer flood insurance.
What are some of the natural disasters that could happen in Florida?
The most common are tropical storms and hurricanes, but there are also floods, wildfires, and tornados.
What are some of the risks of not having hurricane insurance in Florida?
The risks of not having homeowners insurance in Florida are losing your personal property without compensation, such as losing your home and belongings.
When did Hurricane Ian hit Florida?
Hurricane Ian hit Florida on September 28, 2022.
The Cost of Living in Paradise
Florida is a beautiful tropical state that's geographically perfect for hurricanes. While hurricanes can be devastating, many resources for Floridians are available when they are affected. You should always have homeowners and auto insurance wherever you reside, not just in Florida. Our online tools can show you how to save on these insurance policies.