UPDATED: APRIL 14, 2023 | 3 MIN READ
California is well-known for its great health insurance Marketplace and Medicaid program. Unlike many other states, California features a lengthy Open Enrollment and special programs for California residents, even those who aren't legal citizens. Read on to learn more about California health insurance options for all.
California Open Enrollment Dates For Health Insurance
Health insurance open enrollment dates in California run from November 1st to January 31st annually.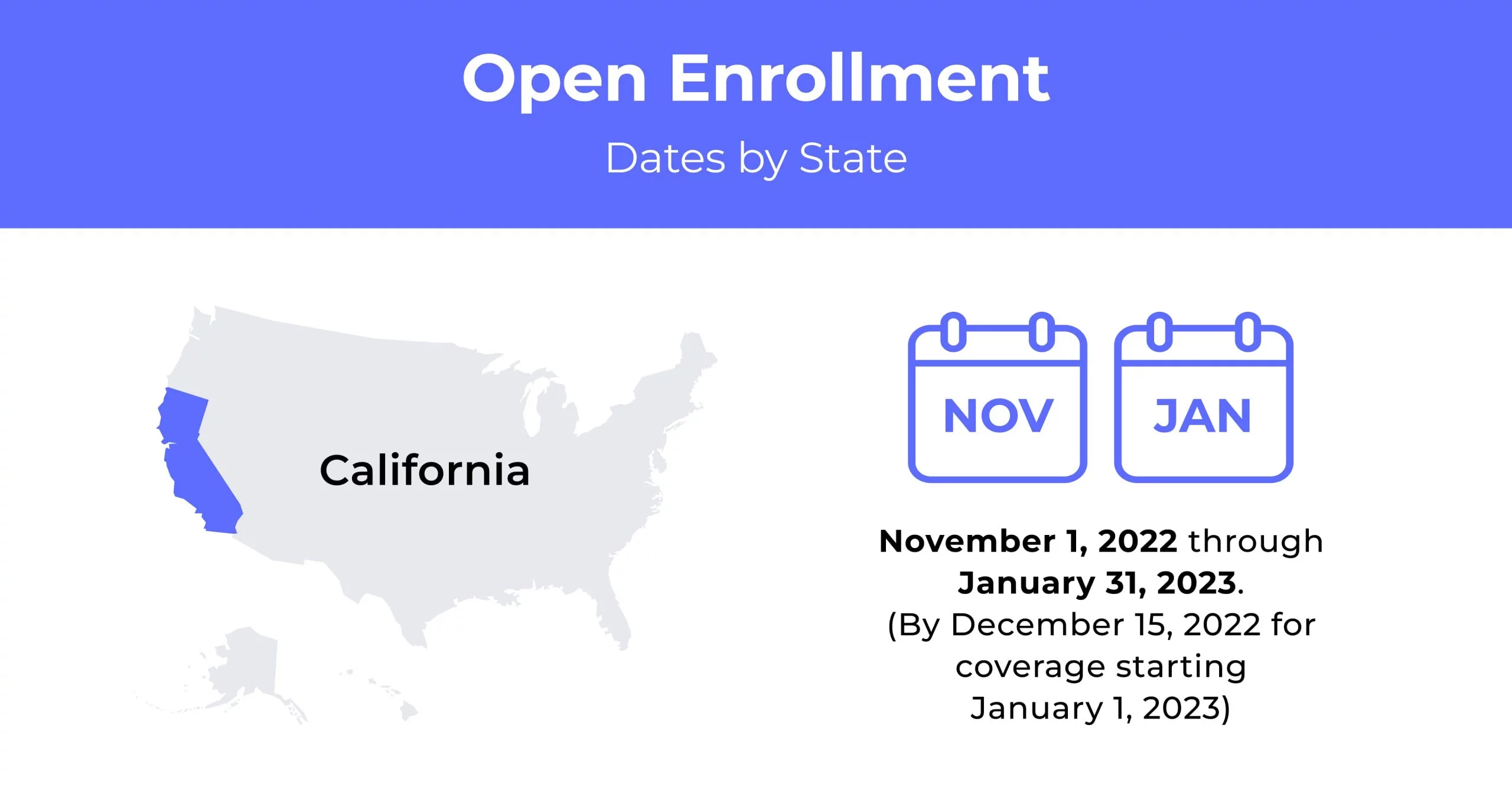 California Health Insurance Demographics
California has a diverse population with people of every age, background, and income bracket. The state requires its residents to have health insurance or pay the tax penalty unless they qualify for an exemption. This and the following demographic factors help influence the state's health insurance rates.
Average Household Income: The average household income for California is $104,870, a figure far higher than the U.S. average income.
Median Age Range: According to the last U.S. Census, California's median age is 36.7. California has one of the youngest populations in the country, with 25.1% of the state aged 35-54.
Education: In California's population, 34.7% of residents have a college degree.
What Type Of Health Insurance Marketplace Does California Have?
Covered California is the state-run marketplace available to residents. As one of the country's most successful marketplaces, it lets millions access affordable health care plans. California has a state mandate for health insurance.
How many people are insured through the California health insurance marketplace?
Covered California has enrolled 1.8 million Californians. The ACA dropped California's uninsured rate from 17.2% to 7.2% in 2018. Enrollment numbers remain steady year after year.
Did California implement the ACA's Medicaid expansion?
California expanded Medi-cal in 2022. As of May 1, any California resident is eligible if they meet income requirements. This expansion offers healthcare to over 150,000 individuals age 50 or older, even those who aren't legal residents.
When can you purchase ACA health insurance in California?
You can purchase ACA health insurance for California when Open Enrollment begins. Open Enrollment for 2023 coverage begins November 1 and runs through January 31. Unlike other states, California offers a full three months for enrollment.
People with certain life changes may be eligible for Special Enrollment, where they can enroll anytime 60 days before or 60 days after the qualifying event. These events may potentially alter finances and health insurance options. They include the following:
Childbirth, adoption, or placement of a foster child
Divorce or marriage
Leaving a jail or prison after incarceration
Loss of a spouse's health insurance through divorce
Change in household income
Death of an ACA-covered household member
Turning 26 and aging off a parent's health insurance
Relocation to a new zip code or county
Moving for seasonal work or school
Becoming a U.S. citizen or member of a federally-recognized tribe
Ending or beginning Americorps service
When qualifying for Special Enrollment, proof of the event is required. This could include pay stubs, wage statements, court documents, etc.
Types of ACA Plans In California
There are four metal tiers for ACA plans in California. These are:
Bronze: Bronze plans have the lowest premiums but the highest out-of-pocket costs. You may be eligible for financial assistance at a lower premium cost.
Silver: Silver plans have a lower premium and moderate out-of-pocket costs.
Gold: With Gold plans, you have a higher premium but a lower out-of-pocket.
Platinum: Platinum plans have the lowest service prices, higher premiums, and no deductibles.
Unlike other states, California doesn't offer an Expanded Bronze plan. Residents under the age of 30 may qualify for a Catastrophic plan, an insurance plan mainly designed for worst-case emergencies. If you want a Catastrophic plan, you must apply for a hardship or affordability exemption.
What carriers offer ACA plans in California?
Covered California, the ACA health insurance marketplace for California, features 12 insurance carriers for 2022. This robust marketplace offers at least two to four carrier options for residents. Plan options and availability vary by county. The marketplace includes:
Anthem Blue Cross of California
Blue Shield of California
Bright HealthCare
Chinese Community Health Plan
Health Net
Kaiser Permanente
L.A. Care Health Plan
Molina Healthcare
Oscar Health Plan of California
Sharp Health Plan
Valley Health Plan
Western Health Advantage
How Much Does Health Insurance Cost In California?
California has an average cost of $487 for an individual health insurance plan. The premium price varies by plan tier, gender, age, and location. You may find a plan lower or higher than the average cost of health insurance California features.
Cheapest Health Insurance By Metal Tier In California
California has four metal tier plans, Bronze, Silver, Gold, and Platinum. The average monthly cost ranges from $250 per month to $370 per month, and plans with the lowest monthly premium have a maximum out-of-pocket expense of $8,200.
| Metal Tier | Monthly Premium | Deductible | Maximum Out-Of-Pocket |
| --- | --- | --- | --- |
| Bronze | $250 | $6,300 | $8,200 |
| Silver | $325 | $3,700 | $8,200 |
| Gold | $330 | $0 | $8,200 |
| Platinum | $370 | $0 | $4,500 |
Cheapest Silver Health Insurance Plan By County
Silver-tier plans are mid-range options. They typically have a lower deductible and out-of-pocket maximum than Bronze health insurance plans. But they also have a slightly higher deductible. As shown below, the monthly premium varies depending on your age (and other factors).
County Name
Plan
Company
Individual,
Age 21
Individual,
Age 40
Individual,
Age 60
Los Angeles
Silver 70 HMO
L.A.Care
$270
$340
$695
Orange
Silver 70 HMO
Anthem Blue Cross
$275
$350
$675
Riverside
Silver 70 HMO
L.A.Care
$250
$315
$665
San Bernardino
Silver 70 HMO
Molina Healthcare
$265
$335
$655
San Diego
Silver 70 HMO
Molina Healthcare
$270
$345
$640
Health Insurance Subsidies Available In California?
Covered California is the state's subsidy program. It helps low-income individuals and families obtain health insurance coverage.
Can You Purchase Off-Exchange Coverage In California?
Yes, you can buy off-exchange health insurance plans in California.
Can You Purchase Short-Term Insurance In California?
No. Lawmakers prohibit short-term health insurance in California.
Health Insurance Options For Low-Income People In California
California is one of the best states for low-income residents and healthcare options. The Medicaid program, Medi-Cal, covers 4 in 10 California residents. California also offers a good Medicare plan, with over 6.2 million residents enrolled and 23% of enrollees eligible for both programs.
What Medicare Options Are Available In California?
California Medicare has several parts, each with specific service coverage. Medicare A, B, D, and C (Medicare Advantage) are available in the state.
Hospital Coverage (Part A): Hospital insurance for inpatient stays, skilled nursing care, hospice, and home health.
Doctors Coverage (Part B): Part B covers doctor services, outpatient care, medical supplies such as wheelchairs, and preventative care.
Advantage (Part C): Also known as Medicare Advantage, Medicare C covers hospital services, medical services, and prescription drugs.
Prescription Drug Coverage (Part D): Prescription drug coverage is what Medicare D covers.
Medicaid In California
California's Medicaid program, Medi-Cal, is healthcare available for free or at a low cost for qualified residents. Medi-Cal features income eligibility limits based on the federal poverty level. Children, individuals, families, and pregnant women may receive Medi-cal coverage. To qualify, you must be one of the following:
Pregnant
Guardian of a child under 21
A resident in a skilled nursing care home
Diagnosed with breast or cervical cancer
U.S. refugee (varies)
Blind
Disabled
21 or younger
65 and older
The income qualification for Medi-Cal begins at $18,755 for a household of one and $25,268 for a two-person household.
Cheapest Health Insurance Plans In California
You should consider your financial approach when looking for the cheapest health insurance in California. Do you prefer low out-of-pocket costs? If you regularly visit a doctor, this might be a consideration.
You may opt for a cheaper plan with higher maximum out-of-pocket costs if you're generally healthy. Browsing for the cheapest plan will depend on your needs for California health insurance options.
Cheapest health insurance plan in California with low out-of-pocket maximums
You'll have a higher premium if you want a low out-of-pocket maximum. However, you'll reach your out-of-pocket faster with healthcare expenses.
These plans are usually Platinum tier. Some California insurance out-of-pocket-maximums are typically over $5,000, which makes L.A. Care's Platinum 90 HMO the cheapest.
The Platinum 90 HMO has an individual out-of-pocket maximum of $4,500 and costs an average of $400 monthly. Molina and Blue California have similar plans.
Cheapest health insurance plan in California with high out-of-pocket maximums
Californians in good health may opt for a cheap health insurance plan with a high out-of-pocket maximum.
These plans provide coverage with a low monthly premium but higher costs when seeking care. L.A. Care Health Plan wins here again, with a Bronze 60 HMO plan that costs an average of $211 for a high out-of-pocket of $8,200. Kaiser Permanente offers a similar plan.
Cheapest health insurance plan in California with an HSA option
Health insurance plans with a health savings account (HSA) are good for investing in your future healthcare needs. These plans let you have tax-free savings and are good low premium options. You can draw from your HSA as needed or spend it on anything else though you will lose the tax-free option.
Health Net has the cheapest health insurance HSA plan, the Bronze 60 HDHP EnhancedCare PPO, which runs $357 a month on average. California has fewer than 10 HSA plans on its exchange.
Cheapest HMO/PPO/POS health insurance plans in California
California health insurance options include Health Maintenance Organization (HMO), Preferred Provider Organization (PPO), and sometimes, Point of Service (POS). HMO plans are the cheapest, but only if you stay with providers in-network.
The cheapest plan for an L.A. Care Health Plan's HMO is Silver 70 HMO, with an average monthly cost of $338. Typically, at least one carrier offers a PPO plan in a county, but options differ. If available, the cheapest PPO is Health Net's Silver 70 EnhancedCare PPO.
California Health Insurance FAQs
How much does health insurance cost in California?
California residents pay an average of $487 a month for an individual health insurance plan. The exact amount you pay varies by location, carrier, age, and gender.
What's the maximum income to qualify for Covered California?
The maximum income for Covered California eligibility is less than $47,520 a year for an individual and less than $97,200 for a family health insurance plan with four members.
Who qualifies for Medi-Cal in California?
Individuals with an annual income of $18,755 or less are eligible for Medi-Cal. You may qualify if you're blind, disabled, or the parent or guardian of a child under 18, under the age of 21, 65, or older. Residents of skilled nursing homes may also qualify.
How do I get health insurance in California without a job?
If you're unemployed, look for health insurance through the California marketplace, Covered California. You can get health insurance without a job and may be eligible for free or low-cost health services.
What's the difference between Covered California and Medi-Cal?
Covered California is California's health insurance marketplace. Medi-Cal is the state Medicaid program.
How To Buy Affordable Individual and Family Health Insurance Plans In California
Buying health insurance plans for you and your family is easy. Once you decide what is important to you, get a quote for health insurance policies. We can help you find the one that meets your needs.