UPDATED: NOVEMBER 02, 2022 | 1 MIN READ
The health insurance Marketplace in Oklahoma can be confusing. This article provides all you need to know if you're looking for the best plan. You can view all the healthcare factors and options to choose affordable health insurance in Oklahoma with the best coverage for your needs.
Oklahoma Open Enrollment Dates For Health Insurance
Oklahoma's Open Enrollment period for health insurance runs annually from November 1st to January 15th.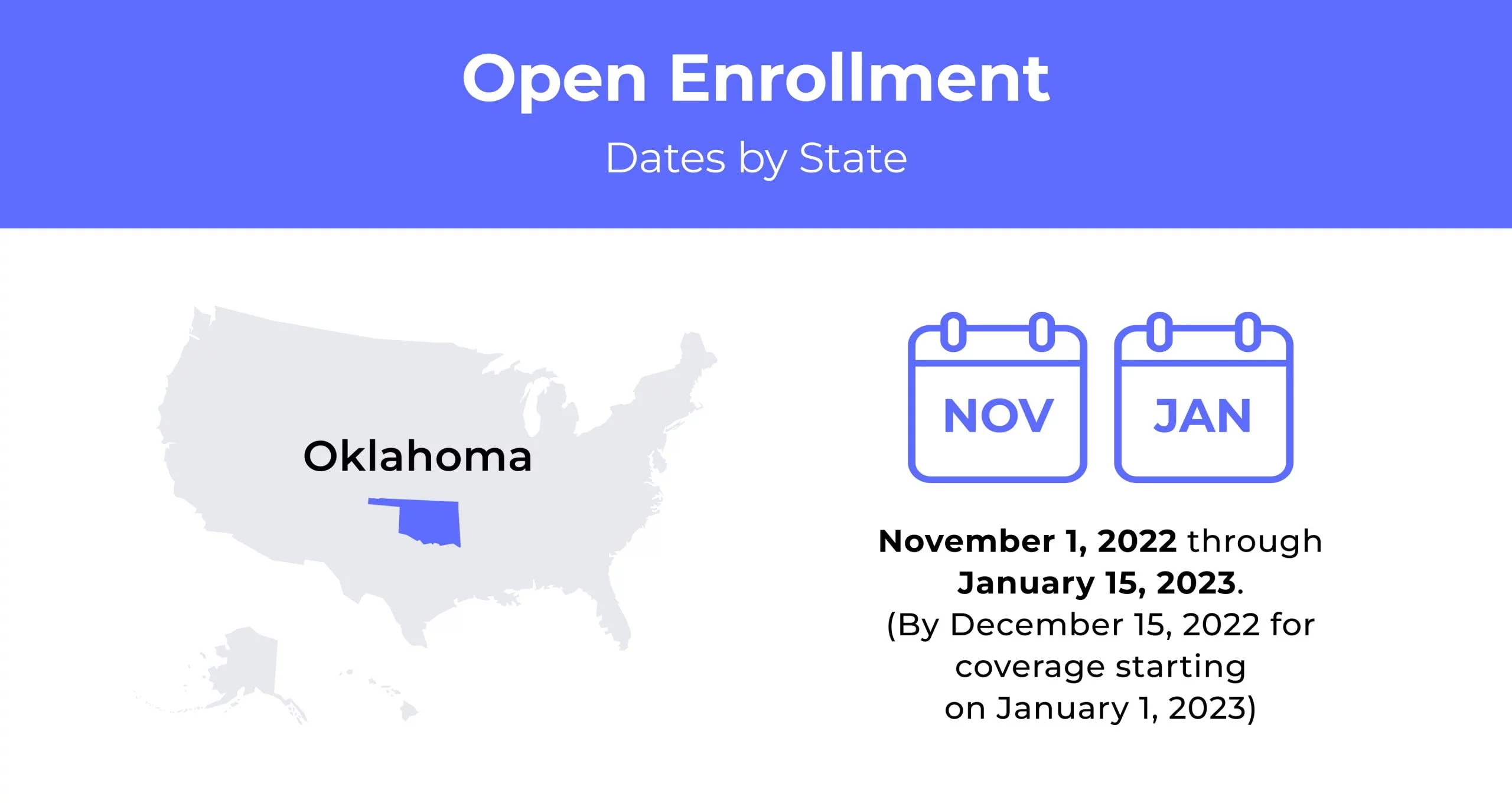 Oklahoma Health Insurance Demographics
Demographics factor into health insurance premiums. Here are some typical demographics for Oklahoma:
Average Household Income: Only 4.5% of households in Oklahoma are high-income. The average household income is $74,195.
Median Age Range: The median age of Oklahoma residents is 36.3 years.
Education: 26.1% of residents in Oklahoma 25 years and older have a bachelor's degree or higher. 88.6% of them have a high school diploma or higher.
What Type Of Health Insurance Marketplace Does Oklahoma Have?
Oklahoma uses a federal exchange, where people can shop for individual and family health insurance plans on the Healthcare.gov website. These available healthcare plans are under the Affordable Care Act (ACA), also known as "Obamacare."
How many people are insured through the Oklahoma health insurance marketplace?
Open enrollment in 2021 showed 171,551 people enrolled through the Oklahoma health insurance marketplace. It was an 8% increase from 2020.
Did Oklahoma implement the ACA's Medicaid expansion?
Oklahoma offers ACA's Medicaid expansion as of last year. It took over seven years after federal funding for Medicaid expansion became available in Oklahoma under the ACA.
When can you purchase ACA health insurance in Oklahoma?
You can purchase ACA health insurance in Oklahoma during the Open Enrollment Period from November 1 to December 15th annually. Only qualifying life events provide exceptions to enrolling outside of the period.
Types of ACA Plans In Oklahoma
There are five metal tiers of ACA health plans in Oklahoma. The tiers include:
Catastrophic
Bronze
Bronze Expanded
Silver
Gold
The best type of plan for you depends on factors like your location within the state and your tier of coverage.
What carriers offer ACA health insurance in the state?
Eight carriers offer plans on the Oklahoma exchange. The insurers are:
Oscar
CommunityCare
UnitedHealthcare
Blue Cross Blue Shield of Oklahoma (BCBSOK)
Bright Health
Medica
Friday Health Plans
Ambetter (Centene/Celtic)
Carriers may vary depending on where within the state you live.
How Much Does Health Insurance Cost In Oklahoma?
The average cost of health insurance in Oklahoma depends on your coverage and the metal tier you choose. Residents can expect to pay around $564 for individual health insurance. Below is a further breakdown of affordable plans by tier and county.
Cheapest Health Insurance By Metal Tier In Oklahoma
Finding health insurance in Oklahoma isn't hard, but you need to know which metal tier plan you want before getting quotes. Below are the cheapest plans for each tier.
| Metal Tier | Cheapest Plan | Monthly Premium | Deductible | Maximum Out-of-Pocket |
| --- | --- | --- | --- | --- |
| Catastrophic | Balance by Medica Catastrophic | $290 | $8,700 | $8,700 |
| Bronze | Blue Advantage Bronze PPO | $370 | $6,000 | $8,700 |
| Bronze Expanded | Bronze Classic | $380 | $7,500 | $8,700 |
| Silver | Silver Simple | $490 | $4,200 | $8,700 |
| Gold | CommunityCare Gold L21 Select Plus | $480 | $4,000 | $8,300 |
Cheapest Silver-Tier Health Insurance By County
Health insurance in Oklahoma varies by county. Below you'll find the cheapest Silver-Tier plans for the five largest counties in the state.
| County Name | Cheapest Plan | Individual, Age 40 | Couple, Age 40 | Couple, Age 40 & Child |
| --- | --- | --- | --- | --- |
| Canadian | Silver Simple | $490 | $1,000 | $1,265 |
| Cleveland | Silver 5000 | $495 | $990 | $1.285 |
| Comanche | Blue Advantage Silver | $555 | $1,105 | $1,435 |
| Oklahoma | Silver Simple | $490 | $975 | $1,265 |
| Tulsa | CommunityCare Silver L21 Select Plus | $500 | $1,000 | $1,300 |
Are Subsidies Available In Oklahoma?
Subsidies for your health insurance can reduce your monthly premiums. They are available depending on eligibility. Oklahoma's average premium tax credit received last year was $568 monthly, and 91% of residents received subsidies.
Can You Purchase Off-Exchange Health Insurance Coverage?
Residents can purchase individual health insurance outside of Oklahoma's federal exchange. However, getting several quotes is essential to ensure you're getting the best possible rates.
Can You Purchase Short-Term Health Insurance In the State?
You can purchase short-term health insurance in Oklahoma for 30 days to a year. And you can also renew your policies for up to 3 years of coverage. The state has at least seven insurers to choose from when buying a short-term healthcare plan.
Health Insurance Options For Low-Income People In Oklahoma
In Oklahoma, low-income residents have access to more affordable health insurance programs. These federally-assisted programs have reduced premiums. SoonerCare is the state's Medicaid program, and Medicare options are available.
What Medicare Options Are Available In Oklahoma?
Older residents and disabled people who qualify for Medicare in Oklahoma. Coverage options under Medicare include:
Part A and B – Original Medicare coverage applies to routine doctor visits, hospital stays, nursing and at-home care, and hospice care.
Medicare Advantage – Medicare alternatives where those eligible can choose a private company rather than government coverage. You can customize coverage to include vision, dental, and prescription drugs.
Part D – Prescription drug coverage
Medicare Supplement – Medigap insurance works with Parts A&B to help pay out-of-pocket costs.
Medicaid In Oklahoma
SoonerCare is the name given to Oklahoma's Medicaid program. It covers expenses for groups of people with limited income and resources. It provides free or low-cost coverage for all medical services, and you must meet eligibility.
Cheapest Health Insurance Plans In Oklahoma
Finding affordable health insurance depends on many factors, including location, age, and medical history. Comparing premiums across metal tiers and companies can help you find the cheapest plan. Here are some of the more affordable plans based on medical needs in Oklahoma.
Cheapest health plan in Oklahoma with low out-of-pocket maximums
If you have frequent medical needs and doctor visits, a plan with a low out-of-pocket maximum is beneficial. These plans have high premiums, but you meet the out-of-pocket limit faster, and your insurance kicks in to cover your expenses.
The cheapest health insurance plan in Oklahoma is Oscar Gold Classic. It costs an average of $542 monthly for a 40-year-old male.
Cheapest health plan in Oklahoma with high out-of-pocket maximums
Healthy young people in Oklahoma benefit more from low-cost insurance. These plans have higher out-of-pocket maximums. So, you pay more for emergency or doctor visits when you need to use them.
The most affordable insurance plan with high out-of-pocket maximums is Balance by Medica Catastrophic. It costs an average of $204 monthly for a 26-year-old individual.
Cheapest health plan in Oklahoma with an HSA option
Oklahoma insurance plans with a health savings account (HSA) option are great. You can more easily pay deductibles, co-pays, or other medical-related expenses through pre-tax savings.
Oklahoma's cheapest insurance plan with an HSA option is the Balance by Medica Bronze HSA. It's a PPO plan costing an average of $386 monthly for a 40-year-old male.
Cheapest HMO/PPO/POS health plans in Oklahoma
Most insurance plans in Oklahoma fall under Health Maintenance Organization (HMO) plans or Preferred Provider Organization (PPO) plans. HMO plans are more prevalent in Oklahoma.
The following are the cheapest HMO and PPO plans found in Oklahoma:
HMO Silver Plan: CommunityCare Silver L21 Select Plus by CommunityCare. It costs an average of $493 monthly for a 40-year-old male.
PPO Silver Plan: Silver 5000 by Bright Health. This plan costs an average of $476 monthly for a 40-year-old male.
FAQs
Does Oklahoma have free health insurance?
Eligible residents can buy plans under Oklahoma's Medicaid (SoonerCare) for free or minimal cost for health insurance. The program covers essential and long-term care services.
Is Oklahoma healthcare good?
Oklahoma's healthcare system ranks 48 nationwide. It is one of the lowest for healthcare, and insurance coverage isn't the problem. The healthcare issue has more to do with the doctor-patient relationship.
Who qualifies for SoonerCare?
Eligibility for Oklahoma's SoonerCare program is for
Children under 19 years of age
Adults with children under 18
Pregnant women
US Citizens over 65
Those with blindness or other disability
What's the maximum income to qualify for Medicaid in Oklahoma?
The Federal Poverty Level (FPL) thresholds to qualify for Medicaid vary by state. For Oklahoma, they range from $18,075 for one person to $46,630 for a family of 8.
Can adults get SoonerCare in Oklahoma?
Yes, adults ages 19 to 64 with an income of 138% of the FPL or lower are eligible for SoonerCare in Oklahoma.
How To Buy Affordable Health Insurance In Oklahoma
It is essential to conduct research before choosing affordable health insurance in Oklahoma that fits your needs. Compare health plan quotes from multiple companies to find the cheapest one.