UPDATED: MAY 05, 2023 | 2 MIN READ
Tennessee is home to one of the most prominent hospitals in the country, Vanderbilt. It's no surprise the state has a good healthcare Marketplace. If you want to purchase Tennessee health insurance, here's everything you need to know.
Tennessee Open Enrollment Dates For Health Insurance
Tennessee's health insurance Open Enrollment period runs annually from November 1st to January 15th.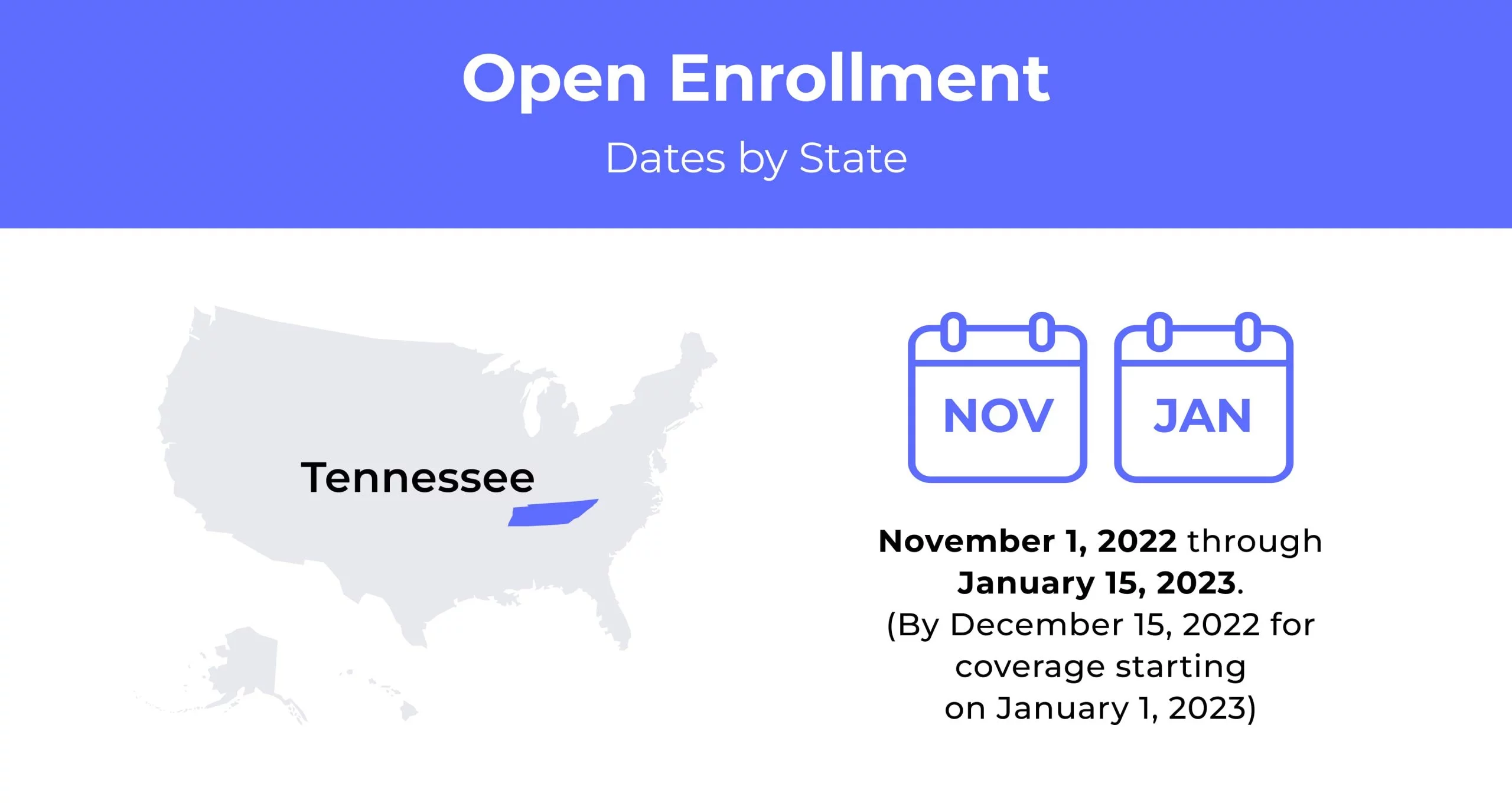 Tennessee Health Insurance Demographics
Tennessee's demographic information, like income, age, and education, influence the cost of health insurance. Educated individuals often have more access to job-provided health insurance. Younger people may go without health insurance, which can affect costs for other age groups.
Average Household Income: Tennessee's average household income is $68,698, and the median income is $48,479.
Median Age Range: The median age in Tennessee is 38.8, with the median age range at 25-29.
Education: The residents of Tennessee are educated. Of the population, 17.78% have a Bachelor's degree, and 10.37% have a Graduate degree.
What Type Of Health Insurance Marketplace Does Tennessee Have?
Tennessee uses the federally-run health insurance Marketplace. Residents sign up for Tennessee health insurance through Healthcare.gov.
How many people are insured through the Tennessee health insurance Marketplace?
For 2022 coverage, 273,680 people enrolled in the Marketplace, an increase compared to 212,052 people for 2021 coverage.
Did Tennessee implement the ACA's Medicaid expansion?
Tennessee opted out of the Medicaid expansion. This leaves at least 118,000 people ineligible for free or low-cost healthcare.
When can you purchase ACA health insurance in Tennessee?
You may purchase health insurance in Tennessee during Open Enrollment, which runs November 1 through January 15. You may also participate in Special Enrollment if you have a Qualifying Event that significantly changes your lifestyle. Such events include:
Family changes such as a birth, adoption, or foster placement
Marriage or divorce, or a legal separation that results in healthcare coverage loss
Death of a family member Marketplace enrollee
A move to the U.S., Tennessee, or to a new zip code
Relocation for school or seasonal work
Your 26th birthday, which ages you off your parents' plan
Loss of employer-provided insurance
You must sign up for health coverage within 60 days of the event: before or after.
Types of ACA Plans In Tennessee
Tennessee has five metal tiers: Catastrophic, Bronze, Expanded Bronze, Silver, and Gold. Catastrophic health insurance is only available if you're under 30 or possess a hardship where health insurance is unaffordable.
Bronze – Bronze plans have low premiums but feature high deductibles and care costs. They're good if you're young and healthy
Expanded Bronze – Expanded Bronze plans add a bit more coverage than regular Bronze but still have cheaper premiums
Silver – Silver plan premiums are moderate cost and usually offer lower deductibles than Bronze and Expanded Bronze insurance plans
Gold – Gold plans have the highest premiums but also feature low care costs and lower deductibles
If you anticipate visiting the doctor often, a Silver or Gold plan may be the right choice for your needs.
What carriers offer ACA health insurance in Tennessee?
The Tennessee health insurance Marketplace has six carriers. However, some offer coverage in certain areas, so your choices may be more limited. Tennessee carriers include:
Blue Cross Blue Shield of Tennessee
Oscar
Bright
Celtic/Ambetter
UnitedHealthcare
How Much Does Health Insurance Cost In Tennessee?
The average health insurance plan in Tennessee costs $547 monthly for a Bronze plan. Prices vary by location, carrier, age, gender, and plan so you may pay more or less than the average cost.
Cheapest Health Insurance By Metal Tier In Tennessee
| Metal Tier | Cheapest Plan | Monthly Premium | Deductible | Maximum Out-of-Pocket |
| --- | --- | --- | --- | --- |
| Catastrophic | Catastrophic 8700 | $310 | $8,700 | $8,700 |
| Bronze | Bronze B08L | $330 | $8,700 | $8,700 |
| Bronze Expanded | Bronze 8700 | $325 | $8,700 | $8,700 |
| Silver | Silver 5000 | $420 | $5,000 | $8,700 |
| Gold | Gold 1000 | $520 | $1,000 | $8,700 |
Cheapest Health Insurance By County
| County Name | Cheapest Plan | Individual, Age 40 | Couple, Age 40 | Couple, Age 40 & Child |
| --- | --- | --- | --- | --- |
| Davidson | Cigna Connect 4750 | $460 | $915 | $1,190 |
| Hamilton | Cigna Connect 4750 | $460 | $915 | $1,190 |
| Knox | Silver 5000 | $430 | $855 | $1,110 |
| Rutherford | Cigna Connect 4750 | $460 | $915 | $1,190 |
| Shelby | Silver 5000 | $420 | $840 | $1,090 |
Health Insurance Subsidies Available In Tennessee?
Tennessee offers ways to save on health insurance costs with subsidies. Enrollees saw $578 a month in savings in 2020 for Tennessee health insurance. You may be eligible for subsidies and cost-sharing reductions based on your income.
Can You Purchase Off-Exchange Health Insurance Coverage In Tennessee?
Yes. You can purchase health insurance off the exchange in Tennessee. Some carriers on the ACA Marketplace might also offer off-exchange plans in the state.
Can You Purchase Short-Term Health Insurance In Tennessee?
You may purchase short-term health insurance plans in Tennessee. The state uses federal regulations for short-term plans and limits the duration to 364 days. You may renew the policy for up to 36 months.
Health Insurance Options For Low-Income People
Tennessee offers low-income individuals free or affordable healthcare through TennCare, the state Medicaid program. TennCare Kids is for children under the age of 20. Medicare is also available to eligible individuals and anyone over age 65.
What Medicare Options Are Available In Tennessee?
Medicare provides medical insurance to individuals age 65 or older or those with a qualifying disability. Qualifying disabilities include ALS (Lou Gehrig disease) and end-stage renal failure.
Tennessee Medicare programs include Original Medicare (Parts A and B), Medicare Advantage (Part C), and Medicare Prescription Drug Coverage (Part D). These plans cover the following:
Parts A and B – Part A is Hospital Insurance, while Part B is Medical Insurance. Hospital Insurance covers lab tests, hospital stays, skilled nursing home stays, and hospice. Part B is for doctor visits, some home health, medical equipment, preventative wellness, and screenings.
Medicare Advantage – A combination of Medicare Parts A and B, Medicare Advantage features the same coverage, except some plans may limit hospice care.
Part D – While some Medicare Advantage plans offer prescription drug coverage, others do not. Medicare Part D is available to help with drug costs.
Medicaid In Tennessee
TennCare recipients receive needed healthcare that they otherwise couldn't afford. Eligibility requires applicants earn less than $18,075 a year as a single person or $24,353 for a two-person household. Applicants must also be one of the following:
Pregnant or responsible for children aged 21 or younger
Blind, disabled, or live with a disabled family member
Be age 65 or older
TennCare provides various services, including wellness visits, immunizations, screenings, dental visits, and more.
Cheapest Health Insurance Plans In Tennessee
If you want cheap health insurance in Tennessee, start with marketplace-rate comparisons. You should consider how much you will visit the doctor on average, your prescriptions, and your desired coverage.
Low out-of-pocket maximums
A cheap health insurance plan option with a low out-of-pocket maximum will have a high premium, but you'll quickly hit your limit thanks to recurring visits or charges. One of the cheapest plans is the Ambetter Balanced Care 25 HSA, which costs around $489 monthly. The out-of-pocket is only $4,800, much lower than other plans.
High out-of-pocket maximums
If you want affordable health insurance, you might choose a plan with a high-out-of-pocket plan if you don't visit the doctor often. The BlueCross BlueShield of Tennessee Bronze B08L, Network L plan is $237 a month on average and has an $8,700 out-of-pocket cost.
Cheapest health insurance plan with an HSA option
Health Savings Accounts (HSA) plans are a good way to save up for health expenses as you can make pre-tax contributions. Best of all, if you don't use the money for health expenses, you can still access it – it's only taxed for non-medical use. The cheapest HSA plan is the Bronze B08L at $364 yearly or the Ambetter Balanced Care 25 HSA at $489 yearly.
HMO/PPO/POS Plans
For HMO plans, a good cheap option is the Friday Bronze at $315.08 a month. The marketplace also has a variety of Exclusive Provider (EPO) plans, where care is covered if you stay within the plan's network, unless in an emergency. The cheapest EPO is the Ambetter Essential Care 1, with a $325.84 monthly premium.
FAQs
How much is health insurance in TN per month?
The average cost ranges from $507 to $537 a month. This varies by plan tier and other factors.
Does Tennessee have free health insurance?
Tennessee doesn't have free health insurance for all; instead, it offers low-cost or free healthcare to residents through Medicaid and Medicare.
Who qualifies for TennCare in Tennessee?
You may qualify for TennCare if you're pregnant or taking care of a child under 18 or if you're blind or disabled. Living with a disabled family member or age 65 or older can qualify you. TennCare also features an income limit.
How do I get health insurance in TN without a job?
You can still get health insurance without a job through the Marketplace. Savings are based on your household's income and size.
Why is Tennessee health insurance so expensive?
When they first entered the market, carriers didn't charge enough to meet demand and have raised prices over the years to compensate for this. However, prices have decreased slightly over the two years.
How To Buy Affordable Individual and Family Health Insurance Plans In Tennessee?
If you need health insurance in Tennessee and want an affordable plan, start shopping for plans based on your income and needs. You may have to wait for Open Enrollment if you don't have a qualifying event for Special Enrollment. You might also consider purchasing off the exchange.