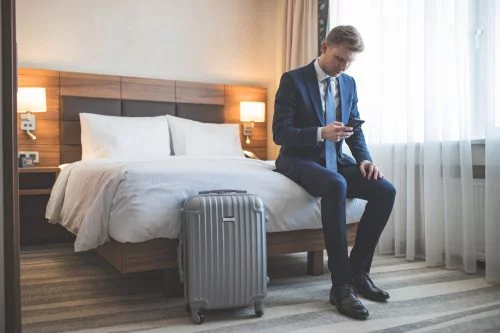 If you were suddenly forced out of your house or apartment, do you have a financial plan in place to stay on your feet? Fortunately for you, if you purchased a homeowners insurance or renters insurance policy, you are likely covered. And If you are in the process of comparing home insurance quotes and selecting your policy, you will soon be protected as well. Additional Living Expenses (ALE) is money for alternate housing if you become displaced from your home. It may also include other related expenses such as furniture rental or storage. ALE is only available if your home is damaged for a covered reason.
What is Additional Living Expenses coverage?
Because relatively few people are ever displaced from their homes, ALE is not something most people are aware of. However, ALE is part of standard homeowners, renters, and even condo owners' insurance policies. So, if you were to be displaced from your house by an insurable event, ALE would provide financial support so that you can maintain your lifestyle to the extent that it is possible.
Common insurable events include water damage, fire, flooding, or damage from an extreme weather phenomenon such as a hurricane. Do not just assume that your plans to relocate temporarily will be covered by your insurance provider. For instance, if home renovations are large scale and have made staying in your house unbearable or even simply less than ideal, you might not be covered by ALE to pay for a hotel room until the renovations are complete. Your insurance provider will need to clear any requests for ALE coverage.
Also worth noting is that just because these events are covered by ALE does not necessarily mean that your insurance policy covers repairs that result from them. ALE only provides compensation for you to maintain your lifestyle while your house or apartment is repaired or until you find a new permanent residence. Flooding or wind damage repairs, for instance, are not covered by most standard insurance policies. Flood insurance or windstorm insurance are thus separate policies that cover repairs and do not include any additional ALE themselves.
Financial coverage provided by the ALE is not one-size-fits-all either. For homeowners, the maximum amount of coverage comes as a percentage of their dwelling limit. This is the maximum amount of money insurance providers will pay out for any damage and reconstruction costs to your house. Additional living expenses come as a percentage of your dwelling limit and range between 10% and 30% based on the exact policy you purchased.
For renters and condo owners, the maximum coverage is a bit different. Here, the coverage typically comes as a percentage of the policy's personal property limit. The personal property limit provides a cash value of your possessions. The minimum personal property limit is typically set at 10% of the total liability coverage of the policy but can increase if your property is more valuable. renters policies cover 30% of personal property limits and condo owners' policies cover 50%.
So, if you are a renter and your policy has a liability limit of $250,000, then your personal property limit will be at least $25,000 and your additional living expenses will be maxed out after $7,500, for instance. For condo owners with the same amount of coverage, additional living expenses will be maxed at $12,500.
The numbers mentioned above are only to illustrate how maximum coverage is determined for each policy. The amount of actual compensation received is based on other factors such as lifestyle, other available options, and whether or not your claim is approved by your insurance company.
For instance, imagine you are a homeowner with an insurance policy that covers up to $250,000. And, let's say your ALE is capped at 20%. So you would be eligible for up to $50,000 in coverage. Your insurance company might also set a time limit on your coverage as well, so only the expenses within a 12-month period might be considered, for example. However, this does not mean you automatically receive $50,000 and then you can go live rent-free at a family member's home. Insurance companies will pay as the expenses are incurred. This means you will have to keep track of receipts on a monthly basis to receive any compensation. You will also need to start collecting receipts to show your need for additional coverage.
Let's look at some of the expenses that could be included in your ALE coverage.
What expenses are considered for coverage?
Costs for your temporary accommodations (as illustrated above)
Furniture rental: if you are renting an unfurnished apartment or house, your ALE could cover rental furniture such as a bed, couch, or dining table that you are used to having.
Laundry: if your temporary accommodation does not provide a washer and dryer, you can be reimbursed for laundry expenses.
Storage costs: Storage costs for your possessions might be included as well, but typically under special circumstances.
Moving costs: Any expenses incurred during the moving process such as a U-Haul rental might be considered as well.
Pet boarding: If your temporary residence does not allow for pets, you might have to send them to a pet hotel for a few weeks. These expenses might be covered as well.
Mileage: Any increase in mileage or other transportation costs that result from your temporary move might be included as well.
Restaurant meals: In order to receive compensation, you will need to show what your previous food expenses were and then show that your expenses are similar and within the insurance company's normal range. For example, let's say you eat out twice a week getting pizza and a fast food option. If you are displaced and all of a sudden start going to high-end diners and rack up expensive bills, your insurance provider is not going to cover them.
Coverage for restaurant meals can be tricky, so it is best to communicate with your insurance agent to know exactly what they will or will not cover.
What expenses are not considered for coverage?
Additional living expenses only provide coverage for, well, living expenses! They do not provide financial support for the damage and repairs that have forced you to temporarily relocate. However, your insurance policy will likely provide a certain amount of coverage to aid in that process.
How to make sure you get full coverage
All, some, or none of these expenses might be considered during your claim. It is best not to assume that a certain expense is automatically covered by your policy. If you are forced to relocate, it is best to contact your insurance provider immediately and determine what type of coverage they are going to provide and then go from there.
You should also be preparing the necessary documents yourself. These include all receipts from your expenses and receipts from previous expenses to show the increase or similarity. When communicating with your insurance provider, make solid records. Make sure that you have written authorization from your insurance provider for any special expenses that are incurred.
Of course, the situation you will be dealing with is not ideal, but you should try to make the best of it. Knowing what type of financial support you will receive from your ALE will certainly make the process a bit less stressful!