Flood insurance can come in handy in times of heavy rainfall, snowstorms, tropical storms, or hurricanes. If the flood impacts your home, it can become extremely costly to fix hardwood floors, carpet, any outlets that have been damaged, or furniture. Depending on where you live, this may not be a priority to you, but if you live in areas with frequent rainfall, heavy snow, or that is exposed to annual natural disasters, flood insurance may be a great option to look into.
Quick Summary
What is flood insurance?
Should you obtain flood insurance?
What are the types of flood insurance?
What are the costs of flood insurance?
What to know before purchasing flood insurance
What is Flood Insurance?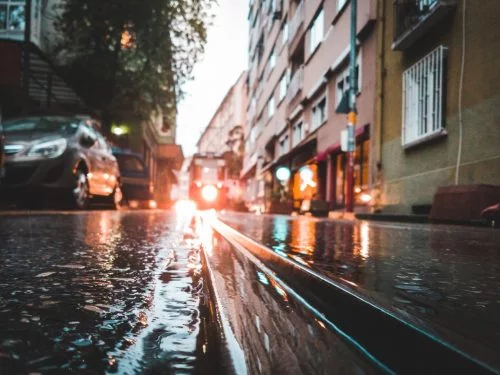 Flood insurance falls under the umbrella of types of property insurance. Specifically, flood insurance covers losses sustained by water damage in the occurrence of a flood. Typical causes of flood can be heavy or prolonged rainfalls, tropical storms or hurricanes, melting snow, blocked storm drainage systems, or levee dam failure. With flood insurance, any damage that is caused to your home due to a flood will be financially covered, partially or completely, depending on your insurance coverage limits and the costs of repairs.
How Does Flood Insurance Work?
Since a flood is an occasional occurrence, flood insurance is classified under catastrophe insurance, which is different from standard home insurance coverage. Under standard home insurance coverage, water damage is limited to the damage done at the time of a natural disaster. However, it does not cover any damage covered by floodwaters, which is typically done in an accumulation of time as a result of a natural disaster – but not during it.
Does Homeowners Insurance Provide Flood Coverage?
Homeowners insurance does not cover flood insurance. Instead, flood insurance can be seen as a supplemental insurance that is added to an existing homeowners insurance policy. Just like any other insurance plan, the homeowner or property owner pays an annual premium based on flood risk and chooses a deductible that fits within their budget and needs. In the event of a flood, the insurance will pay the amount to fix any damages that were caused by the floodwaters.
What Are The Two Types of Flood Insurance?
There are two different types of flood insurance you can choose between: Insurance from the National Flood Insurance Program (NFIP) or insurance from a private flood insurance company.
National Flood Insurance Program (NFIP)
The National Flood Insurance Program (NFIP) is a system managed by the Federal Emergency Management Agency (FEMA) that monitors the cost and offers flood insurance to homeowners in certain communities. The insurance is provided by private flood insurance companies but FEMA works to limit inflation of flood insurance prices in flood zone areas, or areas that are at high risk for flooding. NFIP covers both personal property and building property coverage. To determine if you are eligible, all you have to do is locate your community and see if it is in a high risk zone on a flood map, which can be found on the Floodsmart.gov website. If you are eligible, you must reach out to an NFIP insurance agent so they can help find a flood insurance plan for you.
What Isn't Covered by the National Flood Insurance Program?
Basements (or any area of your home that is below ground level)
Damage caused by moisture or mold that could have been prevented
Precious metals
Stock certificates
Bearer bonds or cash
Features outside of your home
Temporary housing
Loss of income
Cars
Private Flood Insurance
Private flood insurance are plans that are offered through insurers that are not funder through the federal government. Since they are not managed by FEMA or NFIP, the cost can vary greatly. If you are choosing to opt for a private option, it is important to speak to an insurance agent to give you the best prices based on your budget and needs. Since only a limited number of insurance companies offer private flood plans, they are not available anywhere and typically have a higher premium than a NFIP plan. However, many people opt for private flood insurance since it can save you money if you are in a low-risk area, it is backed by the state, you get the coverage quicker than you would with an NFIP, and there is higher coverage.

How Are Costs From Flood Insurance Calculated?
Costs from flood insurance vary vastly because it is determined on your risk level. The risk levels are determined by the structure of your home, the location of your home, the nearest body of water, and its elevation. The price is also impacted by the age of your property, size of the property, and flood zone designation. On average, the annual cost of a NFIP policy is $699 and typical premiums for private flood insurance policies can be expected to be higher.
Flood Insurance Expectations
In your search for finding a flood insurance plan that works for you, you should keep in mind these expectations before committing to a plan since they can impact when you get your flood insurance and the amount you will have to pay.
Most Companies Have The Same Premiums
With the NFIP, all flood premiums are the same across every company. However, if you choose a privately funded flood insurer, the cost will vary. Most flood insurance plans are run through the NFIP and since the flood premiums do not vary, it is important in this case to focus on the service and the quality of the flood insurance companies rather than the premiums. Typically, it is a good idea to obtain floor insurance with the same company you purchased your home policies form.
You Have To Wait 30-Days
Once you purchase your insurance policy, the coverage will not go into effect until 30 days after you purchase it. If you want to be prepared for seasons that have a higher risk of flooding, make sure to purchase your flood insurance in advance. The 30-day wait period is specific to NFIP policies, so if you want your insurance in a shorter time span, you might need to look into private flood insurance policies (if they are available in your area).
You Have To Pay In Full
Unlike standard homeowner insurance policies, flood insurance policies must be paid in full at the time of purchase for the entire year. There is no monthly premium associated with flood insurance plans, so you have to make sure you can afford the cost upfront.