UPDATED: AUGUST 11, 2023 | 3 MIN READ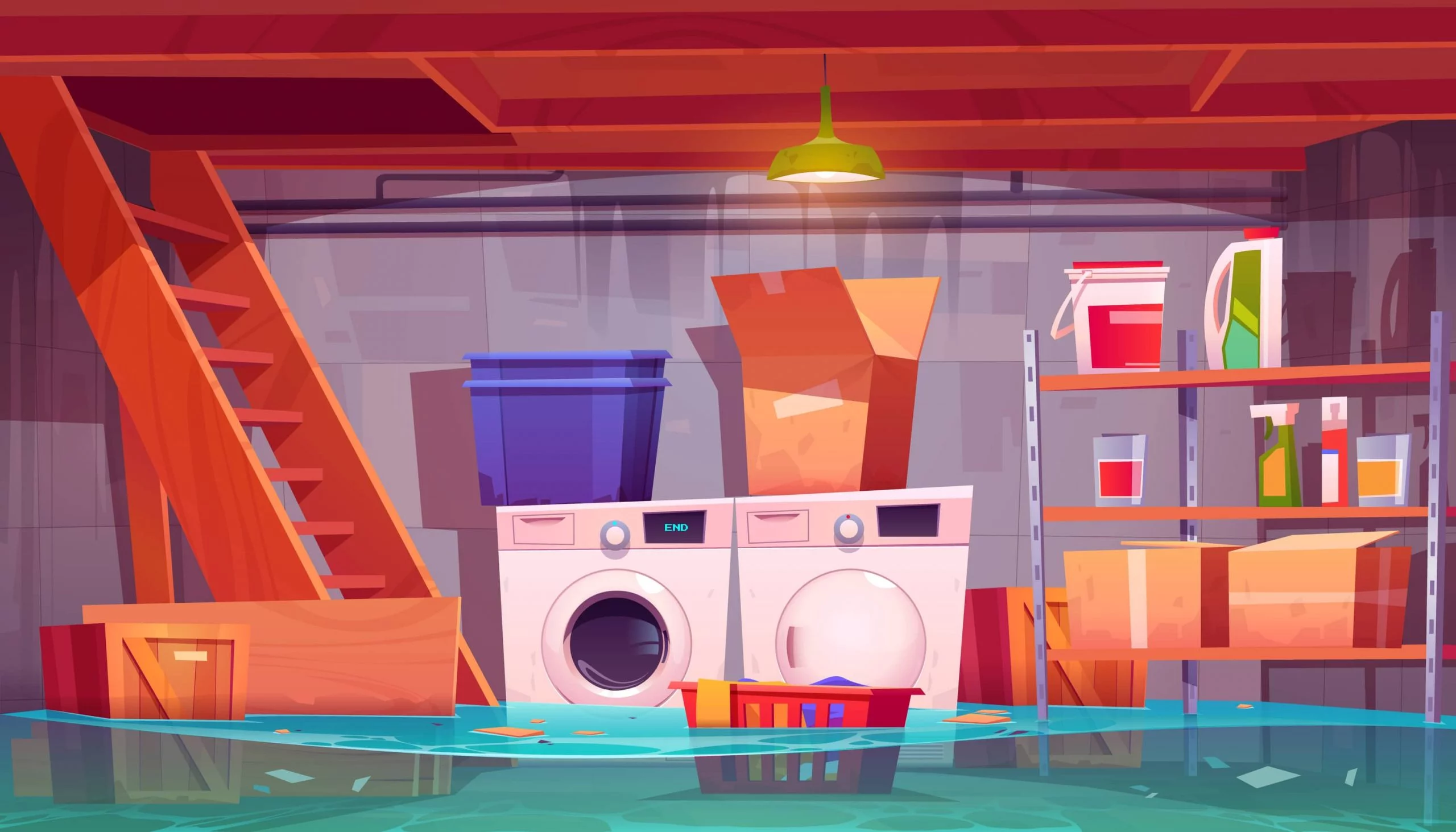 The main cause of a flooded basement is a broken or clogged pipe. This could be because of an earthquake, heavy rain, or a burst water pipe. A flooded basement can be caused by any one of these events. This article will provide everything you need to know about basement flood insurance and the different options available to you.
Understanding Flooded Basement Home Insurance Claims
The best way to protect your home and family from flooding risks is to buy flood insurance. Flood insurance covers damage caused by flooding and is available to people who live in a high-risk area or have a mortgage on their property.
Floods are common in many parts of North America but aren't covered by most homeowners' insurance policies. Floods can happen when there is heavy rain for a long period or after snow melts during the spring.
What is Flood Coverage?
Flood coverage is a type of insurance that helps protect you from the financial consequences of flooding. It's typically purchased by homeowners and renters in areas with a high risk of floodings, such as coastal areas subject to storm surges or low-lying areas near rivers.
Flood coverage can be provided on either a stand-alone basis or with other types of insurance, such as homeowners or renters insurance. Flood coverage usually pays for damage to your property caused by flood waters up to the limits specified in your policy.
5 Ways to Help You Get the Most From Your Insurance Coverage After a Flood
Flood damage can be devastating. But you don't have to go it alone. You can get help from your insurance company and the National Flood Insurance Program (NFIP), through FEMA. Here are five ways to help you get the most from your flood insurance coverage after a flood:
Know your policy limits.
Get an estimate of damages as soon as possible.
If possible, keep receipts for all repairs and replacements, including photos of damaged items. This includes air conditioners, washers, water heaters, or other broken appliances. It also includes personal belongings that may have been damaged and drywall or carpeting.
Be sure to file a claim with the NFIP if it is not included in your policy.
Keep records of all correspondence with your insurance company so that you know what they are doing on your behalf and when they will contact you again.
What to Do After a Flooded Basement
When a basement floods, the first thing to do is turn off your home's power and water. Next, you need to remove the standing water with a pump or bucket. You also should check for any electrical hazards before turning on the power again.
If you have a sump pump, it should be running 24/7 and can help remove excess water from your basement. If not, you should contact a professional as soon as possible, and they will come out and assess the damage.
FAQs
Why is flooding not covered by insurance?
Flooding may not be covered by insurance because it is a natural disaster. Floods can happen anywhere and at any time of the year, making it a difficult risk to cover.
What to do when your basement has flooded?
There are many things you can do to help your basement dry out. One of the most important things is to ensure that you turn off the power and gas in the house. You should also contact a professional water damage restoration company to ensure that all the affected areas are properly dried out.
Does home insurance cover foundation water leaks?
The answer to this question is probably yes. Most home insurance policies will cover foundation water leaks. This can include anything from a sump pump failure to a faulty pipe.
However, there are some exceptions. If your home has been damaged by flooding in the past, you may not be able to get coverage for foundation water leaks. You would need to purchase a separate flood insurance policy for this.
Will homeowners insurance cover a leaking basement?
Suppose your house has been flooded by heavy rain or snow melting, and groundwater seeps into your basement through cracks in the foundation or flooring. In that case, you may be able to get coverage for repairs of the resulting damage under your homeowners insurance policy.
What is a homeowners insurance excess?
An excess is an amount of money that you are required to pay in addition to your insurance deductible. It's typically used by the insurer to limit their liability and will be specified on your policy as a percentage of the total claim amount. For example, if a person has a $1000 deductible and an excess of $200, they would be liable for paying $1200 out-of-pocket before the insurer pays anything.
What types of damages are covered by homeowners insurance?
Homeowners insurance is a type of insurance that covers the damage to your home, as well as any other personal property inside it. The most common types of damages are fire and smoke, water damage, windstorm and hail, vandalism, and theft.
What is the best way to prevent flooding in your basement?
We store our belongings, including our furniture and appliances in a basement. We may not think about the possibility of a flood happening, but it's something that we should be prepared for.
There are many ways to prevent a basement from flooding in the future. One way is to install sump pumps in your home's basement with a battery backup system so that the pump will still work if there's a power outage. Another way is to install an exterior drainage system on your property so that any water can flow away from your house.
What are the most common reasons for basement flooding?
Basement flooding is a common problem in many homes. A basement usually floods when a break in the sump pump, a crack in the foundation, or an overflow from the sewer line.
The most common reasons for basement flooding include a break in the sump pump, cracks in the home's foundation, or overflow from the sewer line, causing a sewage backup.
What are the steps to take when your basement has flooded?
When your basement has flooded, you first need to stop the water from flowing in. If a broken pipe causes it, turn off the water supply to avoid more damage.
The next step is to remove any wet items from the basement. Once all of this has been done, you can start cleaning up. You should use a wet vacuum cleaner and mop to clean up any standing water and dry everything with paper towels.
Then, call your insurance provider and decide if you need to contact professionals for help with the cleanup.
How do you know if your basement has flood damage?
First, you will want to inspect your walls and floors for any signs of water damage. You may notice that the paint on the walls has started to peel off, or there are small patches where the flooring has buckled, warped, or cracked.
Suppose there are any obvious signs of water damage. In that case, you should contact a professional as soon as possible to mitigate future damages and ensure the safety of your family.
Once you have confirmed that your walls and floors are free of damage, the next step is to inspect your baseboards and other areas around the windows that are susceptible to leaks. If you notice any water damage or mold-like growth near these regions, then it is time to contact a professional.
Who should I call if my basement has flooded?
It's important to contact a professional if your basement has flooded. A professional will be able to determine the extent of the damage and provide you with a plan to get the water out.
An emergency plumber is usually your best bet if you're unsure who you should call. They specialize in this type of situation and will be able to help you right away. Then, contact your insurance company.
What are some steps to take to prevent water damage?
Water damage is a serious issue. It can lead to mold, wood rot, and other unpleasant consequences. To prevent water damage, you should take the following steps.
Ensure that your gutters are clean and clear from debris and aren't clogged with leaves or other things.
Have a good roofing system in place to avoid leaks. Keep your windows closed during rainstorms, and ensure that your doors are tight enough to keep water out of the house. Check for any leaks or burst pipes in your plumbing system regularly.
How To Get Basement Flood Insurance
If you've ever been unfortunate enough to have a basement flood, you know it can cause much damage. Thankfully, many home insurance policies cover water damage to your basement caused by burst pipes or other natural disasters.
Check if you need additional coverage or if your standard homeowners insurance covers water damage, and make sure basement flooding is a covered peril in your policy. You can compare companies in your area that offer basement flood insurance policies.