UPDATED: JUNE 01, 2023 | 3 MIN READ
Homeowners insurance in Arizona, on average, costs $1,614 annually. There are many factors involved in determining the best insurance policy for you. Below are quotes from top companies for homeowner's insurance in Arizona and how they differ in reliability, customer services, cost, and coverage.
Best Arizona Home Insurance Companies
Homeowners in Arizona face issues such as wildfires, floods, dust storms, and monsoons. The best Arizona homeowners insurance companies are Auto-Owners, American Family, Farmers, Allstate, and State Farm. Choosing the best company for you depends on what type of coverage you're looking for.
Overall Best Arizona Home Insurance Company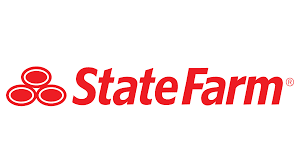 Deciding on the best homeowners insurance in Arizona depends on many factors, including the cost. If you're looking for the cheapest coverage for Arizona Homeowner's Insurance, it would be State Farm. Their insurance rates average $916 annually, which helps if you're on a budget.
Arizona Home Insurance Company With the Best Customer Service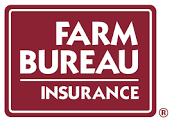 The best Arizona homeowners insurance company for customer service is Farm Bureau. They don't offer specialized coverage discounts or offers, but you can get umbrella coverage for extra liability coverage. If personalized attention is important to you, Farm Bureau is your best choice.
Arizona Home Insurance Company Best For Bundling

Allstate is an Arizona home insurance company with high ratings through J.D. Power. They are considered one of the best home insurances in Arizona because they offer green reimbursement coverage, options for short-term rentals, and discounts if you bundle your insurance policies. Allstate typically has slightly higher premiums, but getting the extra savings for its Easy Pay Plan might be worth it.
Arizona Home Insurance Company With the Best Coverage Options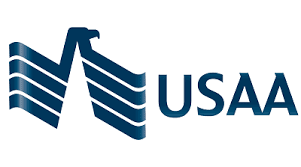 The top marks for the best coverage for Arizona homeowners insurance are USAA and Farm Bureau.
They consistently rate high when it comes to coverage options, cheap quotes, and highly rated customer service.
Local and Regional Home Insurance Carriers In Arizona
GAINSCO Insurance
GAINSCO Insurance is a regional carrier and subsidiary of State Farm. The company offers homeowner insurance policies for Arizona resident properties, including single-family homes, mobile homes, condos, and townhomes.
GAINSCO's homeowner policies are written by its subsidiary, MGA, which has agents and adjusters in Phoenix, Tucson, and Mesa. MGA/GAINSCO offers discounts based on the length of homeownership, prior GAINSCO coverage on another property, and current GAINSCO automobile coverage. GAINSCO may provide renters insurance to some Arizona residents.
Personal Express Insurance
With service in Tucson, Phoenix, and throughout Arizona, Personal Express Insurance provides flexible homeowners insurance that's designed to meet each family's individual needs. The risk for damage from weather, fire, water, or theft can be managed by a standard policy by Personal Express.
A typical policy includes Dwelling coverage, Personal Property coverage, and Personal Liability coverage. Homeowners can purchase add-ons to cover earthquakes and floods, loss of use, and equipment breakdowns.
The company's policies include discounts for homeowners who have never filed any claims, new home buyers, and homeowners with multiple policies with Personal Express Insurance.
Arizona Insurance Demographics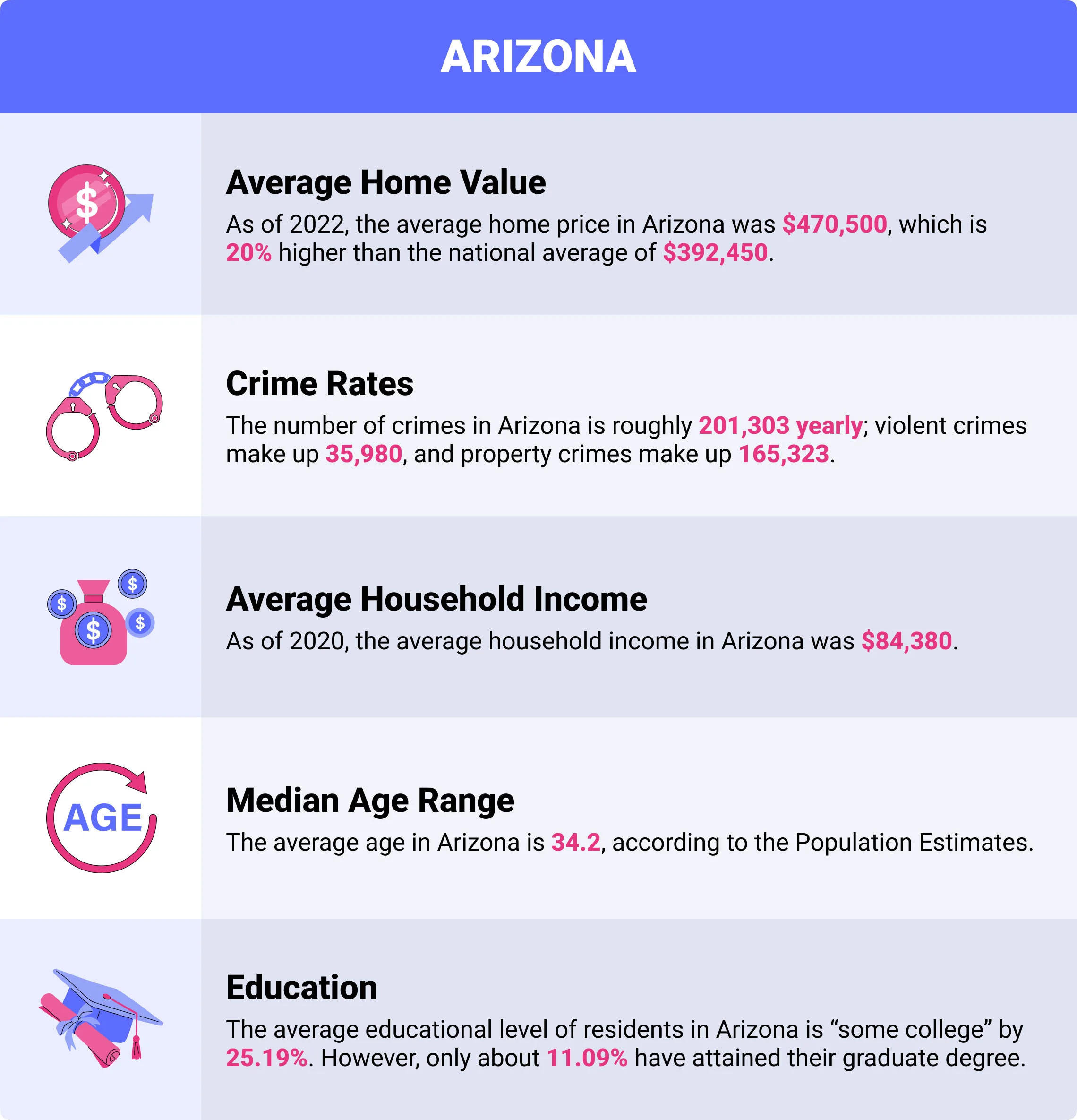 As of 2021, the United States had an approximate population of 331,449,281. Arizona has a population of 7,640,796 and is one of the states currently experiencing population growth. Below are some demographics to consider when looking for Arizona homeowners insurance.
Average Home Value: As of 2022, the average home price in Arizona was $470,500, which is 20% higher than the national average of $392,450.
Crime Rates: The number of crimes in Arizona is roughly 201,303 yearly; violent crimes make up 35,980, and property crimes make up 165,323.
Average Household Income: As of 2020, the average household income in Arizona was $84,380.
Median Age Range: The national age in Arizona is 34.2, according to the Population Estimates.
Education: The average educational level of residents in Arizona is "some college" by 25.19%. However, only about 11.09% have attained their graduate degree.
Is Homeowners Insurance Required in Arizona?
In Arizona, homeowners insurance is not required by law, but some mortgage companies require it to give you a loan. Protecting your home from monsoons, dust, and wildfires is also good.
What Does Home Insurance Cover in Arizona?
Arizona home insurance policies typically provide coverage for more than just your home. For example, the policy covers your dwelling, personal property inside the house, structures such as a shed, living expenses coverage, and personal liability if someone is injured on your property.
Common Home Risk Factors In Arizona
Different factors come into play when getting a quote for Arizona home insurance. Of course, one of the most significant factors is where you live, but the insurance company will also consider your roof, claims history, and deductible.
What Type of Homeowner's Insurance Coverages Are Recommended?
There are many risks to consider to protect your home from natural disasters. For homeowners in Arizona, there are many risks, such as flash floods, lightning, hailstorms, and wildfires.
Flood Coverage
Standard Arizona home insurance policies do not cover flood damage. Therefore, you must purchase separate flood insurance to cover damage caused by flash floods or monsoons.
Wildfire Coverage
In Arizona, homeowners insurance doesn't cover fire damage if you live in a high-risk area. Therefore, a separate policy is needed to protect you from damage from wildfires.
How Much Does Home Insurance In Arizona Cost?
You won't find the same rates in every city in Arizona, as rates are determined by how many claims are filed in each area. The cheapest Arizona homeowners insurance is in Oro Valley at $1,078 per year.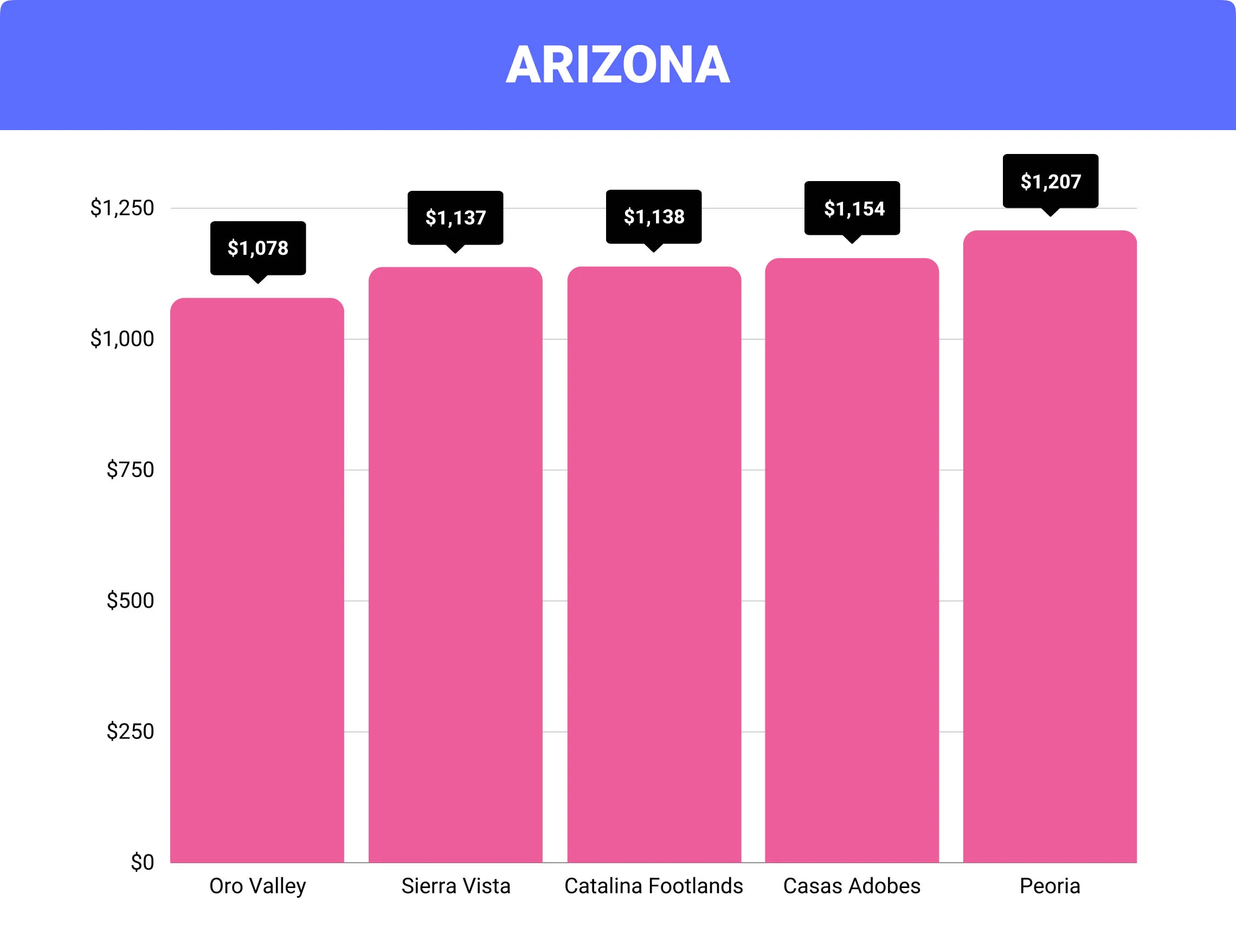 Cost of Home Insurance In Arizona By City
| City | Average Cost | Difference From Average |
| --- | --- | --- |
| Oro Valley | $1,078 | $111 |
| Sierra Vista | $1,137 | $52 |
| Catalina Footlands | $1,138 | $51 |
| Casas Adobes | $1,154 | $35 |
| Peoria | $1,207 | $18 |
FAQs
Who has the cheapest home insurance in Arizona?
State Farm has the cheapest home insurance for Arizona residents at around $76 a month.
How do I determine if I am at risk of flood damage in Arizona?
Arizona is a state that is often affected by flooding. You can see if your area is at risk by looking at the Flood Map Service Center from the Department of Homeland Security.
How can I ensure that my home is protected from wildfires in Arizona?
Most Arizona homeowners insurance companies cover wildfire damage, but you might want to invest in additional coverage if you have high-value items in your home. Additional coverage includes extended replacement, wildfire defense services, and replacement costs.
How can I save money on homeowners insurance in Arizona?
You can save money by opting for a higher deductible, and some carriers offer discounts if you bundle your policies.
Is home insurance cheaper if you pay yearly in Arizona?
Most carriers will offer discounts if you pay the full amount upfront or even for six months.
How To Purchase Arizona Home Insurance
Arizona home insurance is easy to acquire by simply filling out our quote form. However, it's always best to shop around to ensure you get the best rate for the coverage you need.