UPDATED: AUGUST 07, 2023 | 1 MIN READ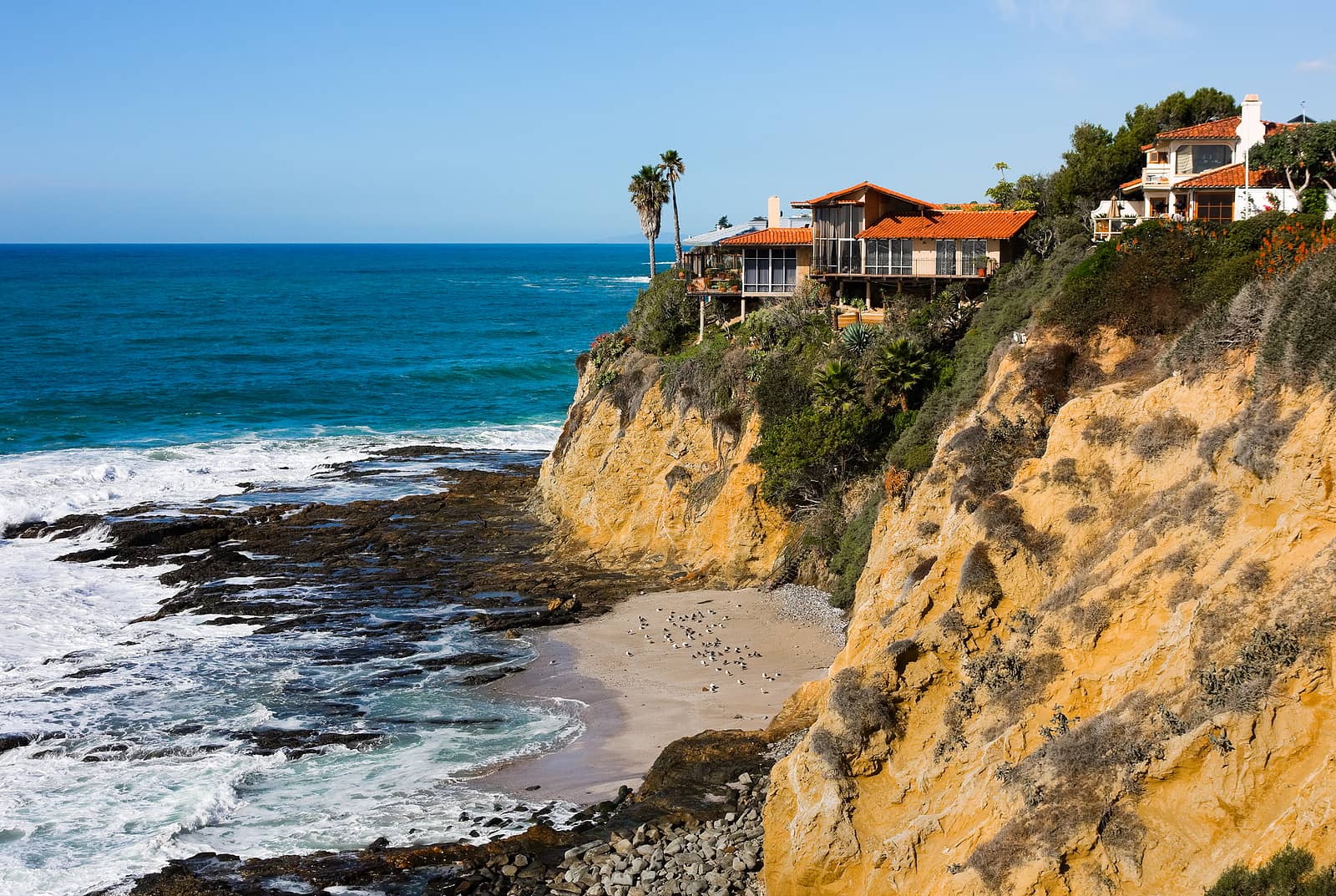 At $1,031 per year, California's average home insurance policy costs about 35% less than the national average. To help you find great home insurance, we've compiled the best California homeowner's insurance companies and loads of helpful info to help you make an informed buying decision.
Best California Home Insurance Companies
Wondering how various California home insurance companies compare? Whether you're concerned about costs, customer service, or coverage options, we've chosen the best homeowners insurance options.
Overall Best Home Insurance In California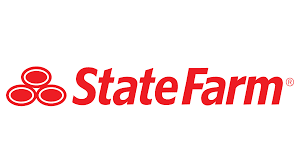 Not only is State Farm a well-known company with a long history of customer satisfaction, it has a J.D. Power Score of 835/1,000 and an "excellent" rating from AM Best. The company's average annual premium for $250K dwelling coverage is $764, which is $320 less than the state's average.
California Home Insurance With the Best Coverage Options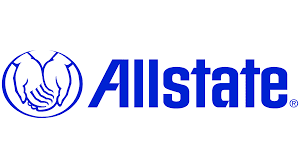 The home insurance company with the best coverage options in California is Allstate. It offers several optional coverage add-ons, including earthquake insurance, flood insurance, and water backup insurance. Of course, the company offers all of the typical home insurance coverage options too, such as dwelling and other structures coverage.
Best Value Home Insurance In California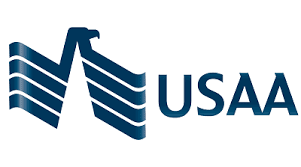 Home insurance rates in California vary depending on the company. USAA sells the cheapest home insurance in California at $484 below the state average. Those that do not qualify for USAA coverage should look to Allstate. Its average annual premium of $764 is $320 less than the state's average amount.
California Home Insurance With the Best Customer Service

Those seeking top-tier customer service should consider AIG. The company registered zero complaints in California with the National Association of Insurance Commissioners (NAIC) Complaint Index for 2021. It also ranked 830/1,000 for overall satisfaction in J.D. Power's June 2022 consumer survey.
California Home Insurance That's Best For Bundling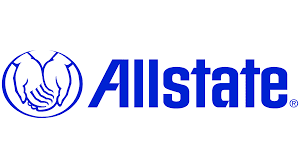 If you aim to save, consider purchasing your home and auto policies from the same company. Allstate has the best discount, with homeowners saving up to 25% when they purchase an auto policy. Allstate also offers a 10% welcome discount for new customers and safety and payment discounts.
Local and Regional Home Insurance Carriers In California
California Casualty
California Casualty offers homeowners policies that protect your home and personal items from things that damage your property. The policies also cover living expenses if you're forced out of your home due to a covered loss or if someone is accidentally injured on your property.
California homeowners may qualify for extra benefits like $500 in lost luggage coverage, a $0 deductible for loss of use, and an identity theft defense.
California Casualty can evaluate your needs and risk factors and offer specialized products to maximize your protection, like flood insurance. The company discounts educators, nurses, firefighters, peace officers, credit unions, and other employer groups. Premium discounts may apply for 55+ homeowners, non-smokers, and homeowners with protective devices.
Kemper Personal Insurance
Kemper Personal Insurance sells complete homeowners policy packages for the budget and needs of every California resident.
The packages include Kemper Prime Home Essentials (covering home and possessions), Kemper Prime Home Enhanced (covering home and possessions with higher limits), and Kemper Prime Home Elite (combining all the benefits of Prime and Enhanced packages with even higher policy limits in important coverage categories).
Kemper Personal provides robust discounts for customers who combine their home and auto policies, making it possible for you to have one premium, one deductible, and just one bill.
Infinity Insurance
Infinity Insurance offers California homeowners policies. Its coverages meet all needs from Dwelling to Liability, plus Personal Belongings. California residents know all too well the dangers of fire and water; Infinity Insurance enables you to buy coverage for additional living expenses if your home suffers severe damages that you can no longer live in the home. Additional living expenses from Infinity include the hotel costs, meals, bills, repairs, and other expenses.
California State Demographics that Impact Your Home Insurance Premiums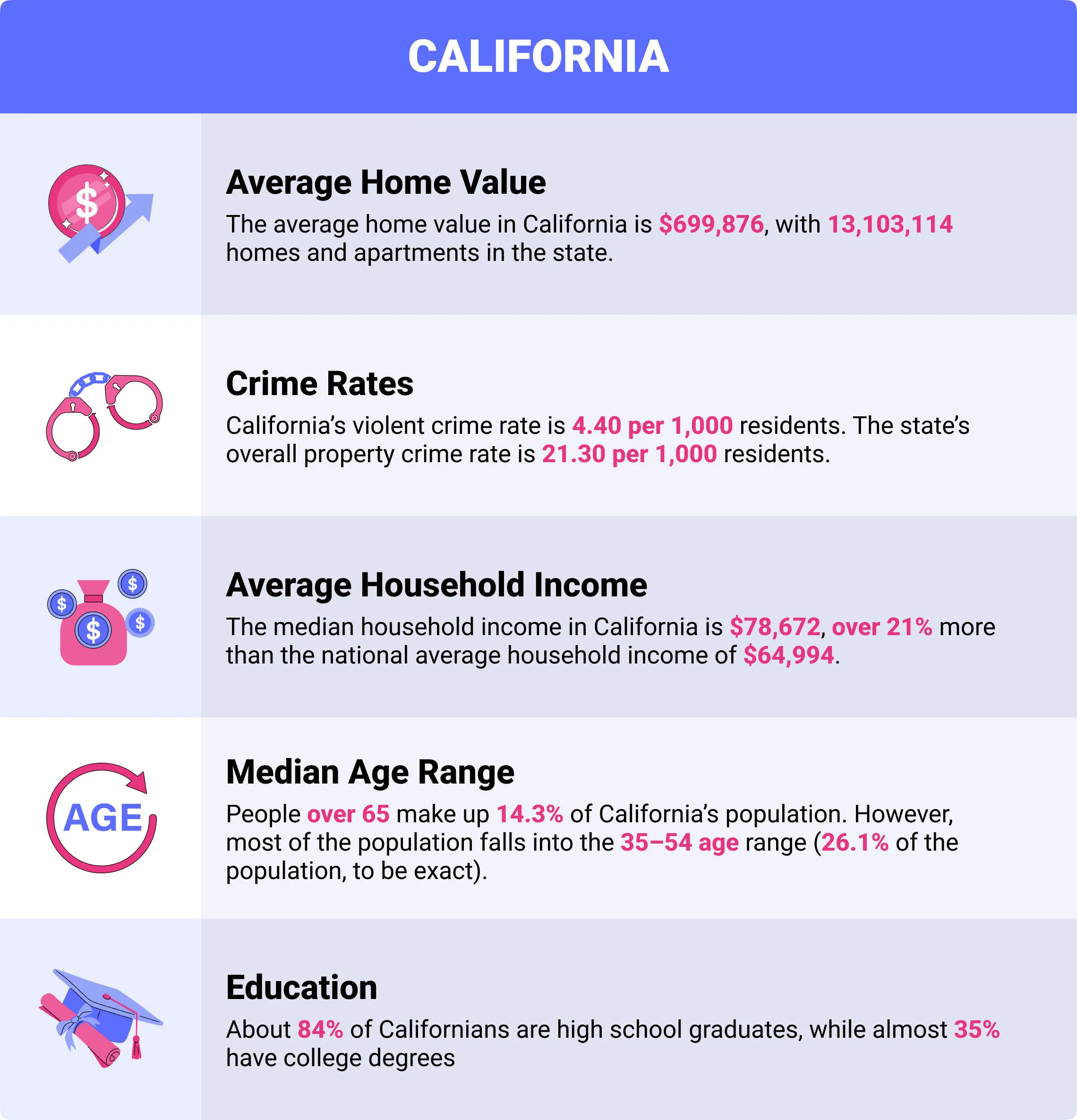 Home insurance costs vary depending on various factors, including age and location. Below are some of the state's demographics that could affect your home insurance premiums.
Average Home Value: The average home value in California is $699,876, with 13,103,114 homes and apartments in the state.
Crime Rates: California's violent crime rate is 4.40 per 1,000 residents. The state's overall property crime rate is 21.30 per 1,000 residents.
Average Household Income: The median household income in California is $78,672, over 21% more than the national average household income of $64,994.
Median Age Range: People over 65 make up 14.3% of California's population. However, most of the population falls into the 35–54 age range (26.1% of the population, to be exact).
Education: About 84% of Californians are high school graduates, while almost 35% have college degrees.
Is Home Insurance Required In California?
California doesn't require you to carry homeowners insurance or renters insurance, but your mortgage company might. If your lender does not require it, it's still wise to take steps to protect your home and your items from unforeseen events. If you're worried about the cost, you can use a home insurance calculator to get a fairly good estimate.
Common Home Risk Factors In California
California's biggest home insurance risks are fire, earthquake, and flood damage. With these common risk factors, homeowners need to make sure that a homeowner's insurance policy will cover the full value of a home in the event of a total loss.
What Type of Homeowner's Insurance Coverages Are Recommended In California?
While your standard home insurance policy includes coverage for fire damage, it may be worth adding additional coverage to extend it. Some optional coverages California residents should consider are earthquake insurance, flood insurance, and scheduled personal property insurance.
Earthquake Insurance
California law requires home insurance companies to offer earthquake insurance to their policyholders. Unfortunately, most companies' earthquake insurance excludes any damage caused by earthquake shaking.
This is where the California Earthquake Authority (CEA) comes into play.
25 different residential insurers sell CEA policies. You can't purchase it directly from the CEA. If you're insured by one of the 25 providers, you simply ask them to include a CEA earthquake policy with your home insurance.
If you aren't insured by one of the 25 insurers, you need to purchase your earthquake insurance as a separate policy. The companies that handle CEA earthquake insurance include:
Companies in California that Handle CEA Earthquake Insurance
ACA Insurance
Allstate
Amica Mutual Insurance Company
Armed Forces Insurance Exchange
ASI
Automobile Club of Southern California
California FAIR Plan
Commerce West
CSAA-AAA Northern California
Encompass
Farmers Insurance Group
Foremost
Homesite
Hyundai Marine & Fire Insurance Policy
Liberty Mutual
Liberty Mutual Group Business Insurance Agriculture/Farm
MAPFRE
Mercury
Nationwide
Nationwide Private Client
Progressive
SafeCo
State Farm
Toggle
USAA
Flood Insurance
Standard home insurance policies don't include coverage for flood damage. If you're in a high-risk area, it's important to consider adding flood insurance to your home insurance policy.
Flood insurance is available private insurance or as a National Flood Insurance Program (NFIP) policy, which is underwritten by the Federal Emergency Management Agency (FEMA).
Insurance Providers that Sell NFIP Flood Insurance Policies in California
Allstate
American Commerce
American National Property & Casualty
American Strategic Insurance Corp
Assurant
CSAA Insurance Exchange
Farmers Insurance Group
Hartford Fire Insurance Co.
Hartford Underwriters Insurance Co.
Liberty Mutal Fire Insurance Company
National General Insurance Company
NFIP Direct Servicing Agent
Occidental Fire & Casualty
Pacific Specialty Insurance Company
Philadelphia Indemnity Insurance Co.
Privilege Underwriters
QBE Insurance Corporation
Selective Insurance Company Of America
Universal North America Insurance Company
USAA
Wright National Flood Insurance Co.
Scheduled Personal Property Insurance
Personal property coverage limits specific high-value items, such as jewelry, artwork, and electronics. To ensure your property is completely covered, you should schedule valuable items on your home policy. Keep in mind, that a scheduled personal property endorsement may require an appraisal.
How Much Does Home Insurance In California Cost?
In California, home insurance costs are based on city and region-specific variables, like fire risk, crime rate, number of filed claims in your area, and more.
Los Angeles is the most expensive city in California for home insurance, with an average price of $1,385 per year. The cheapest home insurance rates are available in Oxnard, where a typical term costs around $722.
The below table shows the cost of California home insurance by city, with average costs ranging from $925 to $1,385.
Cost of Home Insurance In California By City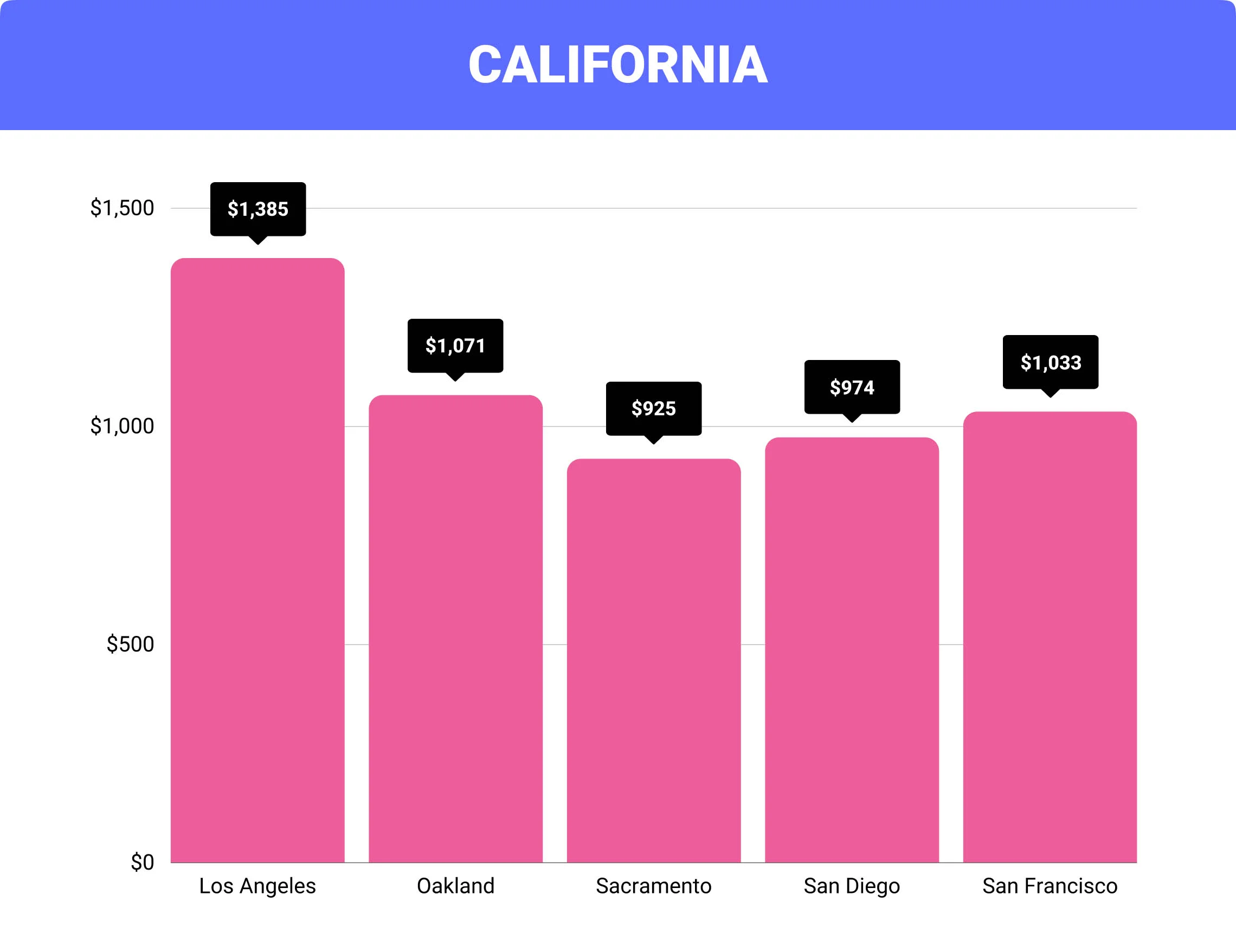 In California, home insurance costs vary from city to city. The table below shows how the average cost in the state's five largest cities compares to California's overall average.
City
Average California
Home Insurance Cost
Difference From
California Average
Los Angeles
$1,385
34%
Oakland
$1,071
4%
Sacramento
$925
-10%
San Diego
$974
-6%
San Francisco
$1,033
Same
Companies That Offer Fire-Hardened Homes Discounts
Fire-hardened homes are built using specific materials and installation techniques to increase heat resistance and damage from embers and wildfire flames. The following home insurance companies offer fire-hardened home discounts in California.
Allstate
American Modern Home Insurance
ASI Select Insurance
California Automobile Insurance Company
Crestbrook Insurance Company
CSAA Insurance Exchange
Falls Lake Fire and Casualty
Occidental Fire & Casualty Company of North Carolina
State Farm
The Cincinnati Insurance Company
California FAIR Plan
Chubb Group
Federal Insurance Company
Pacific Indemnity Company
Vigilant Insurance Company
USAA
Garrison Property and Casualty Insurance Company
United Services Automobile Association
FAQs
How much is the average home insurance in California?
The average home insurance policy in California is around $1,031 per year. This is approximately 35% less than the national average.
Do you have to have homeowners insurance in California?
Homeowners insurance isn't a requirement in California. However, most mortgage companies and lenders require anyone paying on their homes to carry home insurance.
Why is homeowner's insurance so expensive in California?
The median cost of homeowner's insurance in California is about 35% less than the national average. However, it can be more expensive in areas prone to wildfires and/or earthquakes and with high crime rates.
How much is fire insurance in California?
Fire insurance doesn't cost extra in California. It's included with the cost of your homeowner's insurance policy. The average cost of California home insurance is $1,031 annually as of June 2022.
Is wildfire insurance mandatory in California?
No, wildfire insurance isn't mandatory in California. However, most mortgage companies and lenders require you to have home insurance that includes wildfire coverage.
How To Purchase California Home Insurance
Home insurance quotes require quite a bit of information, so before you get started, you should know:
Year your house was built
Age of your roof
Roof style
The exterior finish of the home
What improvements you've made
Updates that could increase the home's value
It's also important to have a general idea of the value of your personal belongings and a list of any high-value items with their appraisal amounts.
Once you've gathered the needed information, get several home insurance quotes online to compare coverages and rates.