UPDATED: AUGUST 28, 2023 | 3 MIN READ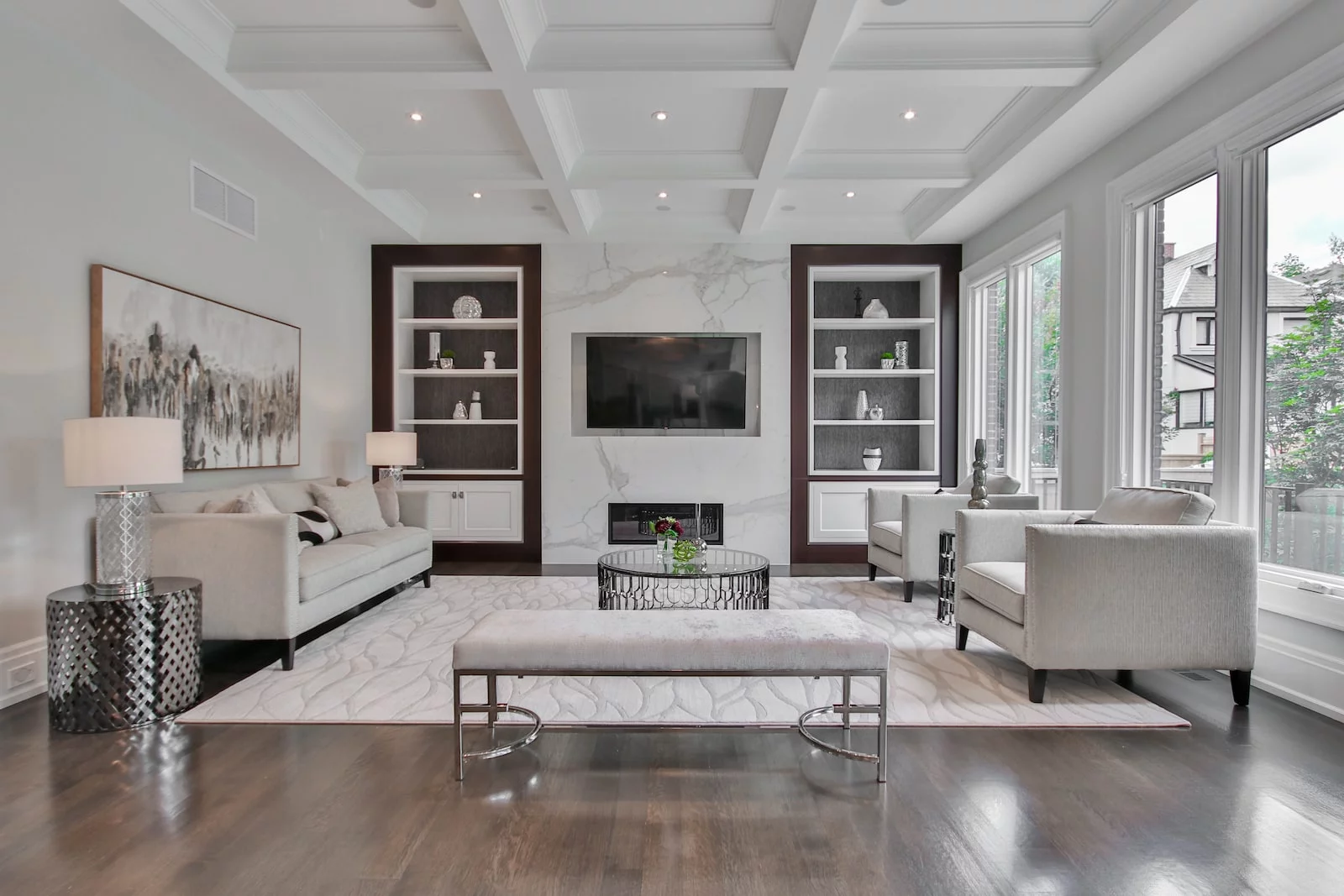 Renters insurance in New Jersey isn't required, but it's highly suggested to do so for your protection. These policies help financially protect your personal belongings if a fire, windstorm, vandalism, or theft should occur within the rental property. Today, we'll cover all things renters insurance in New Jersey, including what the average cost is, what's covered, and some of the most affordable insurance companies in the area that offer renters policies.
What Does New Jersey Renters Insurance Cover?
New Jersey renters insurance policies can cover a plethora of personal belongings. And when you spend a small fortune to furnish and decorate your home, you'll want to be sure that your items are protected in an emergency. Let's take a look at what these insurance policies cover.
Liability coverage
Liability coverage is essential for both renters and homeowners. Let's say you invite a group of friends over to your home for a holiday party.
Your friend accidentally falls from your porch steps when leaving for the night. Liability coverage will kick in if someone is injured in your home or your property. It'll also help provide coverage if anyone named on the insurance policy causes any property damage to someone else's stuff.
Personal property coverage
Personal property coverage helps cover your belongings, even if you're not home during the emergency that causes the damage. For example, your property coverage will kick in if a water pipe busts and the water destroys your living room furniture. This coverage will even kick in if you're on vacation and your belongings are stolen while traveling.
Medical protection coverage
Let's revisit the group of friends that were visiting your home. The friend who slipped and fell while going down your steps may have been injured during their fall. In that case, your medical protection coverage will provide coverage for medical bills. This insurance covers medical costs if visitors to your home are injured or if you accidentally hurt someone outside your home or property.
Loss of use coverage
If a policyholder's home sustains damage from a severe storm, fire, or other such disasters, your loss of coverage insurance will offer coverage. This insurance provides financial reimbursement for hotel stays, parking, food expenses, and more.
Does the state require renters insurance?
Renters insurance isn't required by either state or federal law. However, if your landlord requires this coverage and it's noted in your lease, you are legally obliged to carry renters insurance.
Most landlords need tenants to have some insurance coverage before signing a lease, and many landlords will also ensure that you provide proof of insurance coverage before each lease renewal. Landlords are particularly interested in ensuring their property is protected against potential issues, so they also want to ensure that tenants have their protections in place.
Landlords may often require tenants to list the landlord as an interested party so they'll be notified if tenants try to cancel the renters insurance policy. Keep in mind that your landlord will likely have a homeowners insurance policy that covers damages to the dwelling itself. However, your landlord's insurance won't cover what your renters policy does.
How to find affordable renters insurance in New Jersey
Renters insurance policies differ slightly from car insurance policies. They aren't based on statewide legislation like car insurance is. But, there is still a wide variation of renters insurance prices, and these costs can vary depending on several factors.
Rental insurance policy costs can vary depending on which state you live in, and expenses will also depend on the value of the personal belongings in the dwelling. Tenants in New Jersey tend to pay less than the national average.
New Jersey policies are around $16 less than other policies in different states. When you're ready to find affordable renters insurance in New Jersey, you should find as many quotes from different insurance companies as possible.
New Jersey renters insurance prices
The average rental insurance policy cost is $104, which is far less than the U.S. average. The ultimate cost of renters insurance will depend heavily on how much coverage you have and the amount of personal property insurance coverage you need to carry to ensure your belongings are covered. A bare-bones policy will cover personal property insurance coverage with limits of $100,000 in liability insurance coverage and a $500 deductible.
Below, we'll review New Jersey cities where renters can find the cheapest renters insurance.
Cities where renters insurance is the cheapest
Keep in mind insurance rates will vary from city to city. Your residence could play a significant role in your policy rates. The least expensive renters insurance is available in Linden, New Jersey. Annual policy costs are as low as $164, which runs $3 less than the state's yearly average policy cost.
| City | Average Premium |
| --- | --- |
| Linden | $164 |
| Trenton | $167 |
| New Brunswick | $167 |
| Clifton | $168 |
| Fort Lee | $168 |
Affordable renters insurance companies in New Jersey
Renters policy prices will also vary depending on which insurance company you choose to take a policy out with. For example, we see here that Cumberland Insurance Group has the most affordable monthly premium rates compared to other companies, at around $9 per month.
| Company | Monthly Premium |
| --- | --- |
| Cumberland Insurance Group | $9 |
| Narragansett Bay | $10 |
| State Farm | $11 |
| Germantown | $11 |
| Preferred Insurance | $12 |
Cheapest renters insurance in New Jersey
Lemonade proves to be the most affordable renters insurance in New Jersey. At just about $9 per month and $106 per year, Lemonade proves to be around 42 percent cheaper than other insurance companies.
One thing to remember if you choose to go with Lemonade for your renters policy is that Lemonade doesn't tend to offer many additional coverage options like other insurers often do. Flood coverage isn't an option with Lemonade, which many New Jersey tenants prefer who may live on the coast.
However, Lemonade offers auto insurance in some states, so you might be able to bundle your coverage.
Best renters insurance in New Jersey for the fastest claims process
Once again, Lemonade ranks highest for fastest claims processing. It's a relatively young insurance company, but despite its young age, they prove affordable and efficient. About 30% of their rental insurance claims are paid instantaneously, whereas most other insurers can take several weeks to pay out.
Renters insurance with the best optional coverages
Nationwide insurance is the best renters insurance for optional coverage add-ons. Some of the potential add-ons include:
Earthquake coverage
Flood insurance coverage
Theft extension coverage to items within your vehicle or boat
Brand new belongings coverage
If you need comprehensive coverage and like the options to add protection, Nationwide is your best choice in New Jersey. Although, Nationwide tends to be more expensive than other insurers, ranking at around $20 per month for basic coverage before any add-ons are added to your policy.
New Jersey renters insurance with the best bundling discounts
State Farm insurance provides renters insurance with the best bundling discounts available. The company's bundling discounts can equate to 25% off with discounts and an annual policy premium of $2,534 with discounts.
State Farm only offers a few optional coverages, as Nationwide does. Still, if you have an auto insurance policy and need to add rental insurance, this is likely the insurance company for you. Prices remain decent with State Farm, which makes this insurer a popular choice among New Jersey residents.
Renters insurance with the best for home business owners
The best rental insurance for home business owners is the Hartford insurance company. While it may not be the cheapest around, it has extensive coverage designed to protect your home business in emergencies, such as theft, water damage, fire, and more.
Policies generally include liability, commercial property, and business income interruption coverages. Hartford has excellent options for additional coverage as well.
FAQs
How much is the average renters insurance policy for NJ?
The average cost of a renters insurance coverage policy in New Jersey is around $9 each month. The national average is approximately $13 per month, which makes New Jersey premium costs less than most other states.
Is renters insurance coverage required in New Jersey?
New Jersey doesn't require tenants to carry renters insurance by law. However, most landlords will require tenants to have some insurance coverage.
What is the average deductible for renters insurance in NJ?
The average deductible for renters insurance in Jersey is $500. Of course, this price can vary depending on what type of coverage you have, where you live, and what the value of your personal belongings equates to.
What does renters insurance cover in NJ?
Renters insurance in New Jersey covers personal property, liability, medical payments, and loss of use. The only thing not covered is the structural coverage of the physical building.
What is the minimum amount of renters insurance in New Jersey?
The minimum renters insurance in New Jersey is $100,000 in personal liability insurance. For most renters, this is sufficient in coverage limits.
Finding cheap renters insurance in New Jersey
Call our team when you're ready to find the most affordable renters insurance policy in New Jersey. We will provide you with multiple quotes from the best renters insurance companies and stop at nothing to ensure you get the best rates and peace of mind. Call us today, or complete our online form for a renters insurance quote in just minutes!