UPDATED: JULY 07, 2023 | 3 MIN READ
When protecting your home, you should choose a Wisconsin homeowners insurance provider you can rely on. You must have the proper coverage for your home's value and location to avoid paying out of pocket for unexpected damage. Many affordable policies with comprehensive coverage options are available in Wisconsin.
Best Wisconsin Homeowners Insurance Companies
Wisconsin's average homeowner's insurance premium is $986 yearly, below the national average. While finding an affordable plan isn't difficult, one must consider customer service, bundling discounts, and coverage options. We used data on the top carriers in the state to provide insights into the best homeowners insurance in Wisconsin.
Overall Best Wisconsin Home Insurance Company
The yearly premium for Erie Insurance home coverage is $590 on average, making it the best option for Wisconsin homeowner's insurance. Erie has exceptional customer service and robust coverage options for homeowners in the Badger State, including pet insurance and replacement cost protection.
Best Value Wisconsin Home Insurance Company
Erie Insurance has rates as low as $418 yearly for a $125,000 policy and $641 for a $250,000 policy in Wisconsin. Even the basic policies have comprehensive coverage, and you can get discounts for bundling insurance or adding safety features to your home.
Wisconsin Home Insurance Company With the Best Customer Service
According to the J.D. Power Home Insurance Study, State Farm has one of the highest customer satisfaction ratings and is the largest insurance provider nationwide. Wisconsin has State Farm agents throughout the state who can provide in-person service to help you with your homeowners insurance needs.
Wisconsin Home Insurance Company Best for Bundling
Allstate can save you up to 30% on your premium if you bundle your auto and home insurance. The carrier also offers multi-policy discounts for umbrella and life insurance policies. The company's homeowner's insurance costs are higher than average in the state ($954 yearly), but it has extensive coverage options to customize your plan.
Wisconsin Home Insurance Company With the Best Coverage Options
Because American Family is Wisconsin's resident insurance provider, you can expect coverage options appropriate for properties within the state. Besides the standard dwelling and personal property protection, American Family offers hidden water damage, equipment breakdown, and siding replacement coverage.
Local and Regional Home Insurance Carriers In Wisconsin
Rural Mutual
Rural Mutual began as an insurance company for farmers and now exclusively services farmers, businesses, and families.
Individual home insurance policies from Rural Mutual are only available for Wisconsin residents, so customer service is attentive and tailored to area customers' unique needs, be they located in Madison, Green Bay, or Milwaukee.
Their home insurance coverage includes property insurance/hazard insurance, personal property coverage, liability coverage, and for everything else, umbrella coverage.
You can get your boat, watercraft, and recreational vehicles insured under your home insurance plan from Rural Mutual. The insurer also features insurance for builder's risk when you build your dream home. Save on your insurance with the Rural Mutual multi-policy discount.
Rockford Mutual
For more than 100 years, Rockford Mutual has protected the homeowners of Wisconsin. Their home insurance products assure you that your home is safe and protected. If you reside in a single-family, condo, townhome, mobile home, or apartment in Wisconsin, their home insurance products help protect your sanctuary. 
Coverage includes covered events such as fire, falling objects, lightning, windstorm, hail, frozen plumbing, theft, and other disasters that may strike.
Rockford Mutual lets you save with valuable discounts for multiple policies, protective devices, dwelling renovations, and owning a new home.
Acuity Insurance
With their home insurance products for Wisconsin residents, Acuity Insurance insurers treat your house as well as their own. Know your home and its contents are protected well with Acuity, an insurer since 1925.
The company boasts high claim satisfaction and offers a variety of coverages that differ from other Wisconsin insurers. Acuity Insurance coverage features guaranteed home replacement, matching coverages for your home-based business, plus coverage for service lines and mechanical breakdowns.
They likely cover it if it's in your home, near your home, or on your home. Acuity Insurance also packages all your auto and home coverage in one offer called Road and Residence.
Wisconsin Insurance Demographics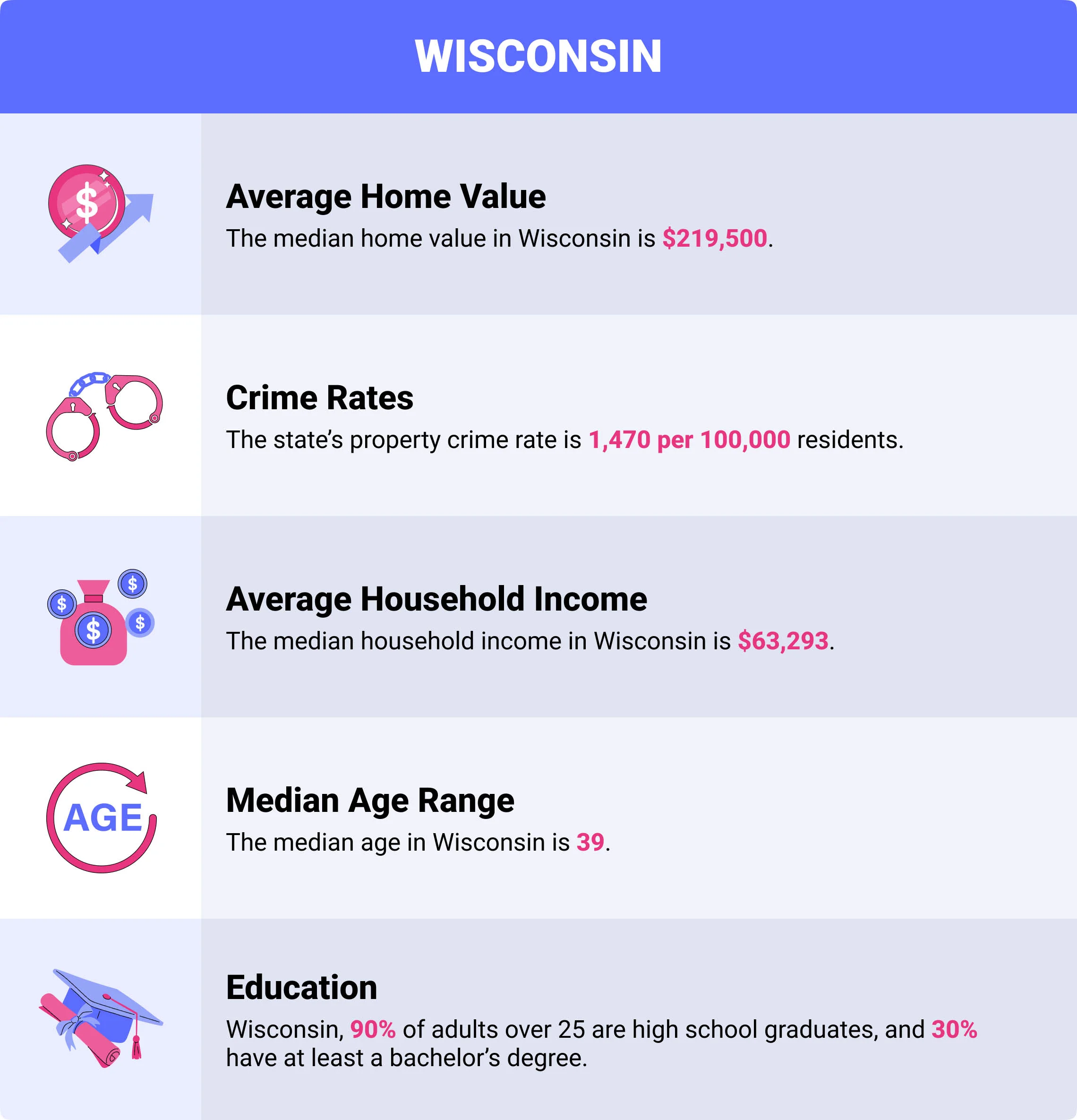 The average amount of claims residents file in your area can affect your Wisconsin home insurance premium. Insurance companies might impose higher rates in areas with specific demographics that make it more likely for policyholders to file a claim. Wisconsin demographics that can impact your insurance costs include:
Average home value: The median home value in Wisconsin is $219,500.
Crime rates: The state's property crime rate is 1,470 per 100,000 residents.
Average household income: The median household income in Wisconsin is $63,293.
Median age range: The median age in Wisconsin is 39.
Education: In Wisconsin, 90% of adults over 25 are high school graduates, and 30% have at least a bachelor's degree.
Is Wisconsin Home Insurance Required?
No, the state doesn't require you to have house insurance by law. However, most mortgage lending companies require you to have a policy as a part of your loan agreement.
What Does Wisconsin Home Insurance Cover?
Wisconsin's standard homeowner's insurance policy covers the dwelling, personal property, personal liability, medical payments, and additional living expenses. These coverages help pay unexpected expenses due to property damage, liability claims, and injuries. If you need expanded coverage, additional protections, such as theft, secondary residences, and watercraft coverage, are typically available.
Common Home Risk Factors in Wisconsin
Wisconsin's most common risk factors are severe storms, tornadoes, flooding, and snow. Basic Wisconsin home insurance policies usually cover damage due to storms, tornados, and ice, but not flooding. If you are in an area prone to floods, consider purchasing a separate policy from the National Flood Insurance Program (NFIP).
What Types of Homeowner's Insurance Coverage Are Recommended?
The harsh, cold weather in Wisconsin can damage your home severely. Freezing temperatures might damage your pipes and plumbing, or a strong storm could punch holes in your roof. If you have to repair or replace your property, the following homeowner's insurance coverage options may save you from paying out of pocket:
Flood Insurance
Homeowners insurance in Wisconsin typically doesn't include flood coverage. Flooding is widespread in certain parts of the state, so we recommend evaluating your home's risk and choosing a flood insurance policy that covers the value of your property. The NFIP has $250,000 dwelling coverage and $100,000 personal property coverage.
Equipment Breakdown Coverage
Equipment breakdown protection is a common coverage option for homeowner's insurance in Wisconsin. If your heating, electrical, or plumbing systems stop working, your insurer can help you pay for the repair or replacement.
Replacement Cost Protection
Most Wisconsin homeowner's insurance policies calculate payouts with your property's depreciation. Replacement cost protection allows you to receive the total cost of the damaged property.
How Much Does Home Insurance in Wisconsin Cost?
Wisconsin has a lower-than-average home insurance cost compared to other states, with an average yearly premium of $986. Since the state doesn't experience as many catastrophic natural disasters as the coast, Wisconsin home insurance premiums tend to be lower.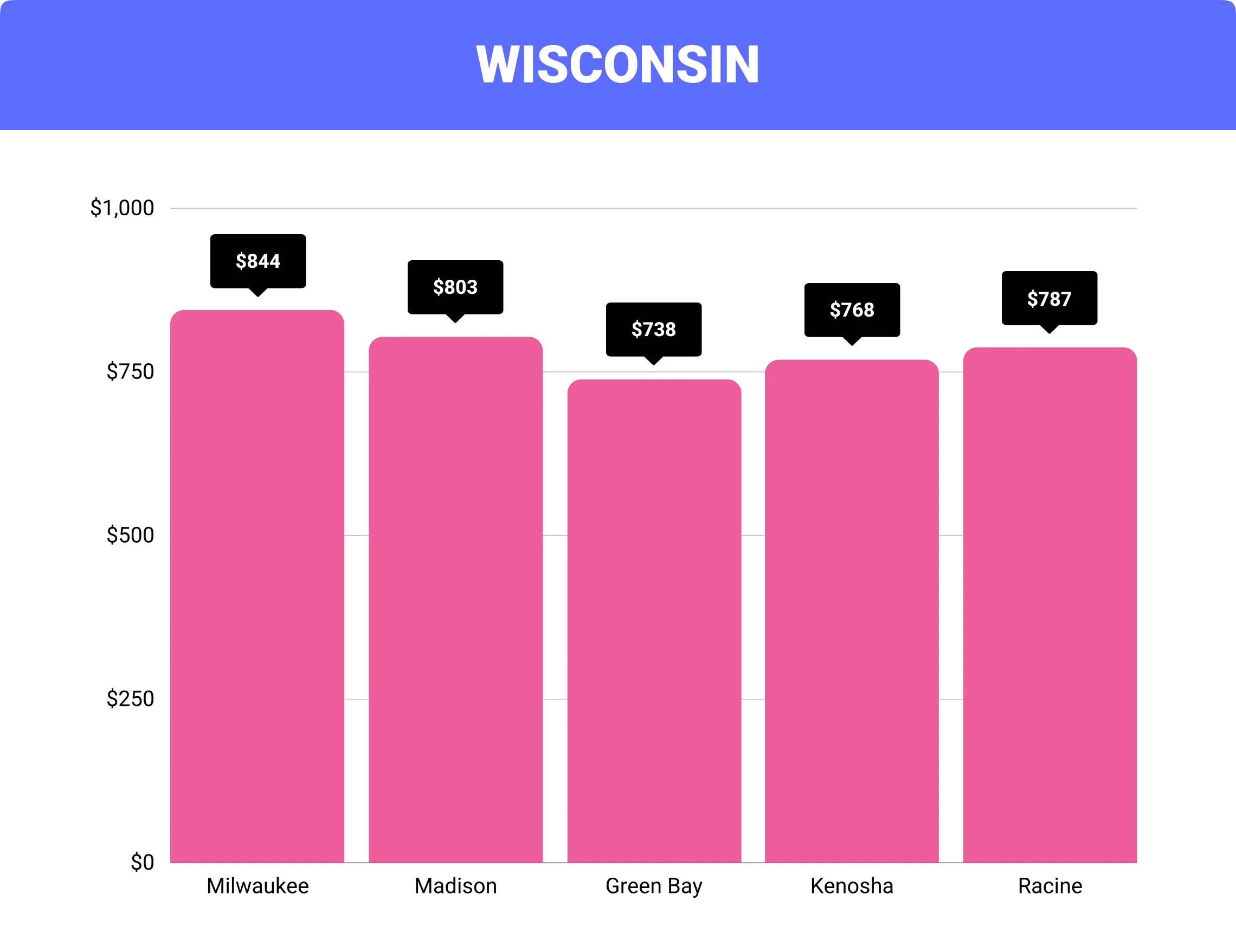 Cost of Home Insurance in Wisconsin by City
| | | |
| --- | --- | --- |
| City | Average Wisconsin Home Insurance Cost | Difference From Wisconsin Average |
| Milwaukee | $844 | -14% |
| Madison | $803 | -19% |
| Green Bay | $738 | -25% |
| Kenosha | $768 | -12% |
| Racine | $787 | -20% |
FAQs
What's the average cost of Wisconsin homeowner's insurance?
The average annual premium for homeowner's insurance in Wisconsin is $986, which is about 25% lower than the national average.
How much is homeowner's insurance per month in Wisconsin?
The average monthly payment for Wisconsin homeowners insurance is around $82.
Is home insurance in Wisconsin expensive?
No, Wisconsin has relatively cheap home insurance compared to other parts of the country. Besides severe storms and flooding, Wisconsin has no devastating natural disasters like Florida or other coastal states.
Who has the cheapest home insurance in Wisconsin?
Erie has below-average rates compared to other Wisconsin home insurance companies, with premiums as low as $590. Alternatives to Erie include American Family at $895 yearly and USAA at $801. However, USAA is only available to active military members, veterans, or their immediate families.
What types of homeowner's insurance coverage are recommended in Wisconsin?
Since flooding is common in parts of the state, we recommend purchasing flood coverage from the NFIP or your private insurer. Cold Wisconsin weather can cause wear on appliances and plumbing so equipment breakdown coverage can save you a lot of money in repairs.
How To Purchase Wisconsin Home Insurance
When it comes time to choose a homeowners insurance policy, you have several providers to choose from. Each provider offers different policies with varying premiums, deductibles, and coverage levels.
How do you know which one is the best for you? We can help make that decision easier. We provide online comparisons of homeowners insurance quotes so that you can find the right policy for your needs and budget.