UPDATED: APRIL 27, 2023 | 2 MIN READ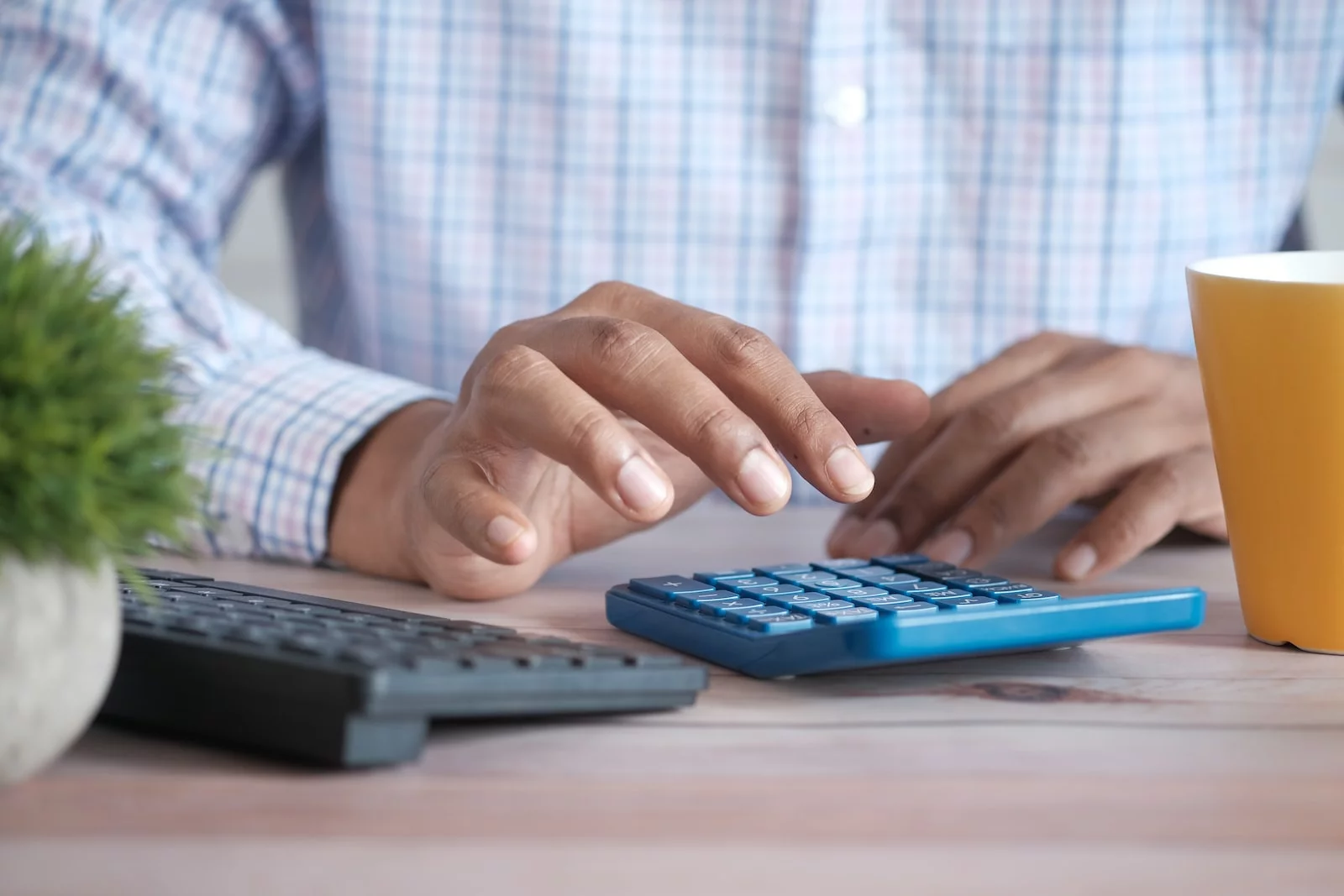 When you shop for auto insurance coverage, you'll want to find policies that meet your needs. The cost is likely a significant factor in your shopping process. Most car insurance companies provide car insurance estimators to help you understand what your annual premium and payments could look like. But you can do plenty of calculations to help determine your coverage needs. Today we'll discuss how you'd use an insurance calculator to help find the best prices with the most coverage.
How are car insurance costs calculated?
Car insurance costs are calculated by insurance companies and are based on several different things. When you shop for insurance, you probably need to realize everything that goes into the car insurance prices you receive. So today, we'll discuss the different factors that insurance companies review when deciding your annual premiums.
How demographics play a role in your insurance costs
Believe it or not, demographics play a significant role when insurance companies review insurance applications. When reviewing demographics, insurance companies could help determine whether an applicant may pose a risk of liability to an insurance company.
Age
Age has a lot to do with your auto insurance rates. Typically senior and teen drivers tend to face the highest premiums. Adults between the ages of 30-60 pay the least car insurance premiums.
Teens don't have the overall driving experience that adults have, and seniors may be more prone to accidents and injury, making them more of a liability to an insurance company.
Gender
Overall, men and women pay around the same premium costs as the opposite sex. However, men do pay slightly more on an annual basis than women do.
On average, men tend to drive more than women. Therefore they face slightly higher premiums. But the price difference is not too significant, as men only pay around 1% more per year on car insurance than women.
Marital Status
Individuals tend to pay more in insurance premiums when compared to married couples. Why? Insurance companies tend to deem individual drivers at higher risk for accidents when compared to married people.
Also, when a spouse has a positive driving history and rifle with an insurance company, it can lower the premiums as a whole for your household.
Credit Report
Like everything that checks your credit score before approval, your credit could also affect your insurance rates. While not all states allow insurance carriers to check credit scores, many do. And in states that check credit scores, you could see drastically different rates.
An applicant with a higher credit score tends to get lower premium rates, and those with lower scores tend to get higher premium rates. Unfortunately, most insurance companies see an uptick in insurance claims among drivers with lower credit scores than those with better scores.
How location affects car insurance rates
When you shop for car insurance, you can expect that your zip code will factor into your car insurance rates. Each state within the country regulates car insurance, and prices for policies are based on residential zip codes. Let's look at why zip codes play such a big part in premium costs.
Zip Codes
Insurance may cost more depending on where a river lives. For example, suppose a driver lives in an incredibly populated city. In that case, they should plan on paying more premiums than a driver who resides in a small country town with a much smaller population.
In a large city, drivers are more likely to be victims of theft of their vehicle, car accidents, and vandalism. Some states and cities may be at higher risk of flooding or storm damage, or other natural disasters.
Additional State Coverage
In addition to zip codes playing a factor in insurance premiums, certain states' specific state laws have other coverages that they require as well. For example, Oregon, California, and Michigan require motorists to carry personal injury protection (PIP), which will increase your premium costs. In states where PIP is optional, you'll have the option of purchasing out-of-pocket medical payment coverage.
Insurance and driving history
One of the primary factors when calculating a driver's premiums is your driving record and insurance history.
Driving Record
Part of the application process includes obtaining your driving history record from the insurance company. This will present the insurance company with a look at your driver's license's past driving infractions, including speeding tickets, DUIs, or suspensions, and can help better determine what your premiums may cost you. You can save money on your new car insurance by practicing good driving.
Insurance Record
Potential insurers will review your past insurance records when calculating insurance premiums. Suppose you're an adult driver with a very minimal record.
In that case, lack of previous insurance or insurance that hasn't been continuous, the insurance company will mark your application as a high-risk driver because of the probability of driving without insurance coverage in the past.
Vehicle
Insurance premiums will range depending on your vehicle type and the age of your vehicle. For example, if you drive a brand-new Corvette, you can be sure that your annual premium will be much higher than if you drive a Hyundai sedan.
Suppose you're financing or leasing a vehicle. In that case, most lenders will require you to carry comp and collision coverage rather than just liability coverage that you can get away with if you own your car.
What car insurance coverage types are available?
The average insurance policy is based on one of the six following types of motorist coverage:
Liability Coverage: This is also known as bodily injury liability coverage. This insurance coverage helps cover costs related to injury or death if you cause a car accident.
Collision Coverage: This insurance coverage is often referred to as full coverage combined with liability and comprehensive coverage. It helps cover expenses from car accidents, no matter who's at fault.
Comprehensive Coverage: This covers the costs of repairs needed for events such as hitting a deer, a natural disaster, or theft.
PIP (Personal Injury Coverage): This coverage covers repairs for any property damage if it's an at-fault accident.
Uninsured / Underinsured Motorist Bodily Injury Coverage: This insurance coverage will cover medical bills if involved in an accident with another driver without insurance.
Uninsured Motorist / Underinsured Property Damage Coverage: This coverage pays for repair expenses if involved in an accident with a driver without insurance.
Estimate your vehicle insurance expenses
When you're ready to see how much you'll pay in vehicle insurance, you'll want to follow the following steps:
Step One
If you don't already have a car or are looking for a new one, now's the time to pick the best car for you. Once you choose your vehicle, you'll have a better idea of narrowing down your estimate calculations.
Step Two
Here's where you'll need to measure the coverage limits you'll need to carry. If you're financing or leasing a car, you'll likely need to purchase comprehensive and collision coverage. If you own your vehicle, you will probably be okay with buying the minimum liability coverage that your state requires.
Step Three
Now's the time to collect your car insurance quotes. You can contact our team for multiple quotes. We'll compare policies and find the best match for you.
Lower your insurance expenses
Once you have an idea of the vehicle you'll be driving, the amount of insurance coverage you'll need, and multiple quotes before you, you can take some additional steps to try and save as much money as possible. Below are some cost-saving strategies that could help you save big:
Drive safely to improve your driving record
Check into insurance discounts
Look into bundling car and home insurance if you're a homeowner
FAQs
How do insurance companies calculate rates?
Insurance companies look at various things when calculating your insurance costs. Each company has its own formula that they use, and they'll always review the likelihood of you making a claim and if the claim will be costly for the company.
Essentially, they weigh all variables like age, gender, driving history, etc., and determine whether you'll be a rush to the company. The more of a liability, the more expensive the insurance will be.
How will companies determine how much you pay for car insurance?
Several qualifications are involved when determining how much you'll need to pay for car insurance. Just a few of those factors include your vehicle type, driving record, and insurance claims history.
How much does car insurance coverage cost?
Your cost of car insurance coverage will depend on the amount of coverage you carry. The average annual premium for bare minimum liability coverage costs around $510 per year. Of course, this is for very minimal coverage.
How much does car insurance coverage cost?
Every state within the U.S. has its own minimum liability insurance coverage requirements. You should ensure you get the most liability coverage your budget can afford to protect you and others as much as possible in the event of an accident.
How much should I spend on auto insurance each year?
The average annual premium cost of car insurance is right around $1,630 per year for an individual. Of course, this may vary based on your driving record, where you live, and other factors.
What type of car insurance should I get?
Since each state carries its minimum requirements, you should check with the insurance company before buying a policy. You'll need to make sure you buy, at the very least, the minimum coverage required. There are six types of insurance, and the insurance you should get should depend on your budget, whether you finance or lease your car, and what your driving record is like.
Ready to find the best insurance possible?
When you're ready to buy your new auto insurance policy, you'll want to work with an agent with your best interest at heart. We can find the best and cheapest car insurance coverage options, and our auto insurance quotes are free and done in minutes. Call us, or fill out the online quote form to get started today.