UPDATED: APRIL 27, 2023 | 1 MIN READ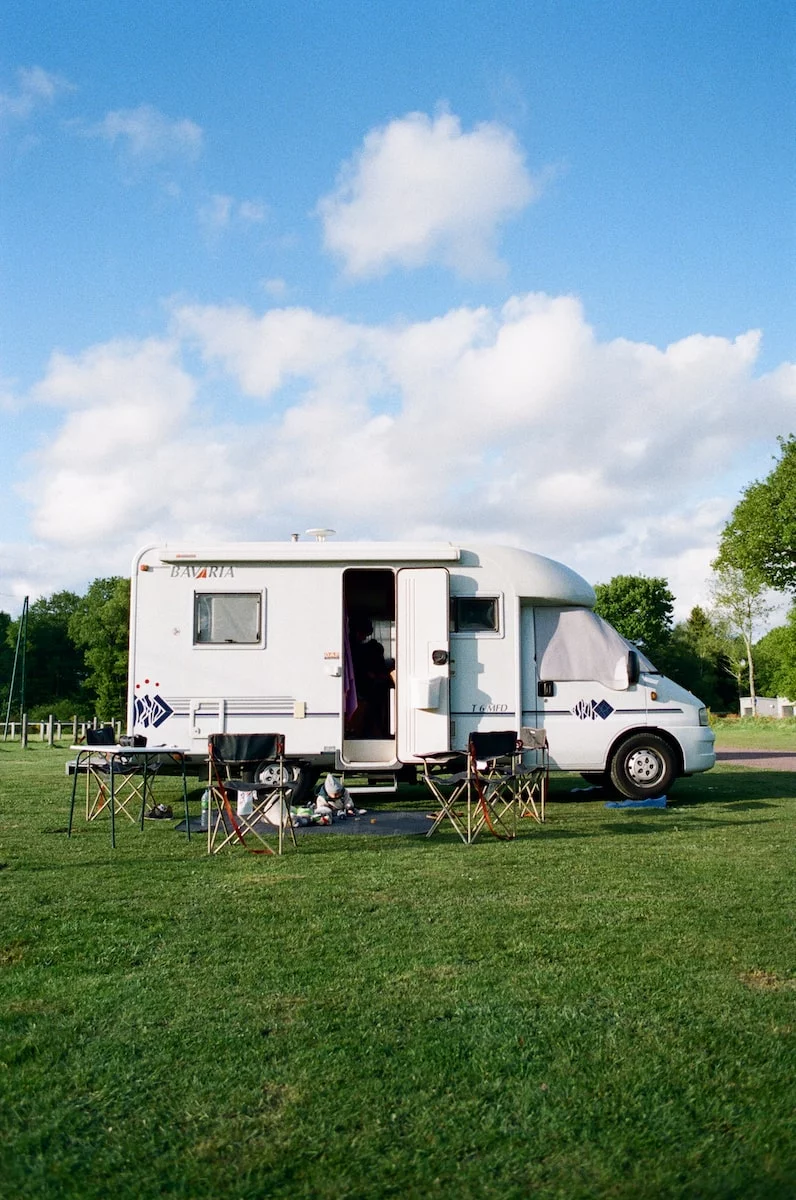 When you buy an RV, you also venture into a full-blown investment. And when you start your RV-ing adventures, you'll need to ensure your investment is protected, which is where RV insurance comes into play. Shopping for RV insurance shouldn't be put on the back burner, so today, we'll go over the best insurance options to ensure you're protected against damage, theft, and disasters that may strike.
Why do I need RV Insurance?
RVs are a type of recreational vehicle, and anytime you're on the road, you'll want to carry adequate vehicle insurance to protect yourself and others in the event of an accident. In addition to travel, RVs are often used for housing, whether just temporary or permanent.
Because of this potential, motorhome insurance can be a bit more comprehensive than typical auto insurance. Essentially, RV insurance combines homeowners and car insurance into one bundle policy. RV insurance comes in various coverage levels in addition to basic coverage. Some of those additional coverages include the following:
Personal property replacement coverage.
Emergency expenses coverage includes hotel coverage, rental car transportation, and food stipends if your RV should stop running while traveling.
Total loss replacement coverage.
For full-time RVers, there are even more options for RV insurance coverage. These coverage options include:
Total coverage for vandalism, fire, or theft
Storage expense coverage
Liability coverage should accidents occur at the campsite while towing or traveling on the road
Theft of items that aren't covered by the RV owner's homeowners insurance policy
RV Classifications
Your insurance premiums will vary on many factors, and one of those factors is what type of RV you have. RVs are based on their classifications, so let's look below at the available types of RV classes.
Class A RV
Class A RVs are commonly referred to as class A motorhomes. These tend to be the most expensive type of RV and the largest in the RV family. The average annual premium for Class A motor homes runs between $1,000 – $3,000 per year. Annual premiums are based on usage, equating to 140 days per year.
Class B RV
Class B RVs are camper vans, conversion vans, pop-up campers, or Class B motor homes, and Class Bs tend to be the smallest RVs in the RV family. Since these are much smaller than Class As and Class Cs, these RVs can be covered under a standard car insurance policy. Just like your vehicle, these RVs' annual premiums are calculated similarly. Factors that play a part in how much you pay to include:
Residency location
Driving record
Marital status
In some cases, credit scores
Etc.
Class C RV
Class C RVs are motorized and considered min-size vehicles. In most cases, these RVs have areas to sleep in and are not as big as motor homes but are more significant than Class Bs. The average annual premium for Class C motorhomes runs between $800 – $1,000 per year.
Additional Vehicles
Travel trailers and fifth-wheel campers tend to be less expensive than other RVs. Of course, premiums will vary based on how old the vehicle is, where you live, how often you use it, and other factors. But, the average premium for these types of trailers can run between $200 – $1,000 per year.
How to help keep RV insurance rates low
When shopping for your RV insurance, you should know that discounts are often available to help save you money on your insurance rates. Here are some of the best ways to save cash because more cash in hand when traveling is more fun than spending it on insurance!
New owner discounts: If you buy a brand new RV, you may qualify for a new owner discount.
Insurance bundling: Many folks who own multiple assets may reap the benefits of adding another insurance policy. You can bundle almost all insurance policies, whether a vehicle, homeowners, RV, boat, or even motorcycle policies.
Pay your premiums in full: Insurance companies often offer a discounted rate if you're willing to pay your entire annual premium upfront.
No claims on file: Many insurance companies provide discounted rates for drivers that have no history of insurance claims on file.
Driving record: Drivers with clean driving records may also receive discounted insurance rates.
Automatic bill pay: You can see savings when opting for auto bill pay. You can often avoid administrative fees you'd typically be responsible for if you pay by credit card each month.
Smoke-free discounts: Many RV insurance companies even offer discounts for smokers in good health, such as non-smokers.
Paper-free Discounts – When you go paperless and pay your insurance premiums online, you'll often get a discount.
Factors that play a role in your insurance rates
Insurance premiums can vary drastically between drivers. When you are on the hunt for insurance, you aim to find the best coverage at the best rates. Here are just some of the factors involved in the underwriting process that can have a significant impact on what you pay for RV insurance:
How old is your RV, and what condition is it in?
Motorists often find that a newer RV may be more affordable than an older one. Insurance companies often look at the condition of the RV, and if it's older and in poorer condition, you can probably expect higher premiums.
How often do you plan on using the RV?
Policies will also vary depending on whether your RV is a full-time residence versus a part-time toy you take out occasionally.
The value of the personal belongings on board
The overall cost of belongings will also play a role in the coverage you should get and what you can expect to pay. Full coverage insurance will generally cover these expenses.
Where do you plan on traveling to?
One of the most significant factors affecting insurance is where you plan to travel with your RV. Why does this matter? Your insurance will stay intact if you drive throughout the United States.
However, if you plan on taking your RV to Mexico, you likely won't be covered if an issue should arise while in Mexico. Others may or may not cover you if you plan on traveling to Canada, so it's best to have these conversations with your insurance agent before sealing the deal.
The market value of the RV
The market value of your RV also plays a significant role in what you can expect to pay for insurance. The more expensive your RV, the more your insurance company may need to pay out if there's an accident.
Your driving history and insurance claims
Your driving record and previous insurance claims history impact your insurance rates. If you've had previous driving infractions associated with your driver's license, you'll likely pay more monthly for insurance. Similarly, if you have a history of filing claims with an insurance company, you may pay more in premium costs.
RV experience
When you buy car insurance, your insurance company will review your RV driving experience. If you have significant RV experience, your premium will be less costly. You can expect higher premiums if this is your first time owning and driving an RV. Insurance companies want to ensure that you'll be able to effectively operate an RV since they can be long and sometimes cumbersome to maneuver.
The RV coverage you need
Some motorhome and camper insurance coverage will cover essentially just the basics. However, if you decide to purchase additional optional coverage, this will increase your insurance rates. You may buy the minimum required insurance coverage, property damage, and bodily injury liability insurance.
If you're financing or leasing your RV, you'll likely need to buy comprehensive and collision insurance coverage. Roadside assistance, personal effects, pet injury coverage, vacation liability, and total loss replacement are additional options available for purchase. Everyone's requirements and budgets are different, so it's important to choose coverage based on what you can afford and what you find most important in coverage.
Which insurance companies offer RV coverage?
While not every insurance company covers RVs, many do. Some of the most popular insurance companies to offer RV insurance include GEICO, Progressive, and National General insurance.
Different insurance companies will have pros and cons. It's best to do your homework and speak with an insurance agent who can provide multiple quotes to ensure you're saving money everywhere you can.
FAQs
Is RV insurance monthly or yearly?
RV insurance can be paid both monthly and yearly. It depends on what's best for you and your budget. If you pay a lump sum upfront, you'll likely save some money instead of paying monthly. Most 12-month policies will cost the average driver between $40-$80 per month.
Is RV insurance cheaper than regular insurance?
For most RV owners, RV insurance is typically cheaper than a car. Of course, this varies depending on many factors, like whether you drive your RV part-time or are a full-timer.
What insurance should I have on my RV?
You'll likely be required to carry a bare minimum of bodily injury and property damage liability insurance. However, most experts suggest comprehensive collision coverage to protect you.
Is full-time RV insurance more expensive?
In most cases, full-time RV coverage is more expensive than part-time RV coverage. This is because insurance companies must provide additional liability coverages to protect you and others.
What type of RV insurance do I need?
Comprehensive coverage not only protects you if you cause an accident, but it covers various other issues that can arise. It'll help protect you against vandalism, theft, natural disaster-related events, fire, and even accidents involving animals, such as a collision with a deer. Collision coverage will help cover the cost of repairs or replacement of your RV, no matter who's at fault.
What is the average cost of RV insurance?
The average RV policy cost for part-time travelers is usually less than $1,000 annually. For those who RV full-time, you can expect to pay between $2,000 – $3,000 per year, depending on several factors.
How much is RV insurance?
The average driver can expect to pay around $40 – $80 per month for an annual policy. However, these rates can vary significantly depending on your RV type, driving history, and more.