UPDATED: JULY 06, 2023 | 2 MIN READ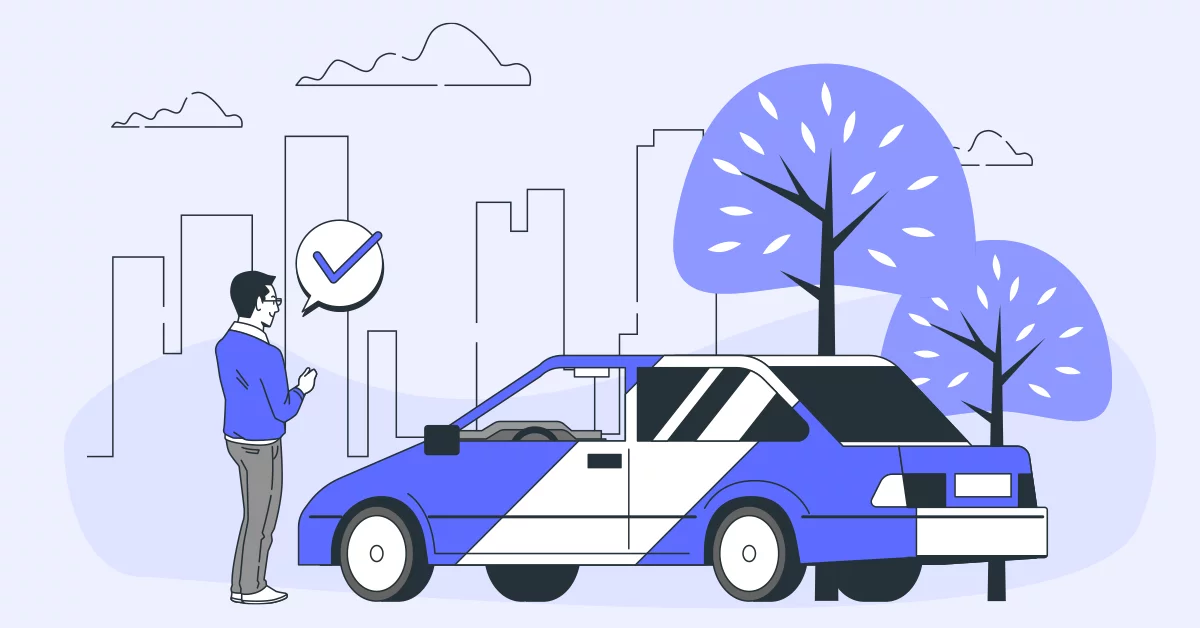 In this modern era of ride-sharing, delivery driving, and more, more employees and business owners are on the road for work in their vehicles. Understanding how your auto insurance works and if you'll be covered in the event of an accident if using your car for business is paramount. Let's determine if and when your auto insurance covers business use.
What type of car classifications do insurance companies use?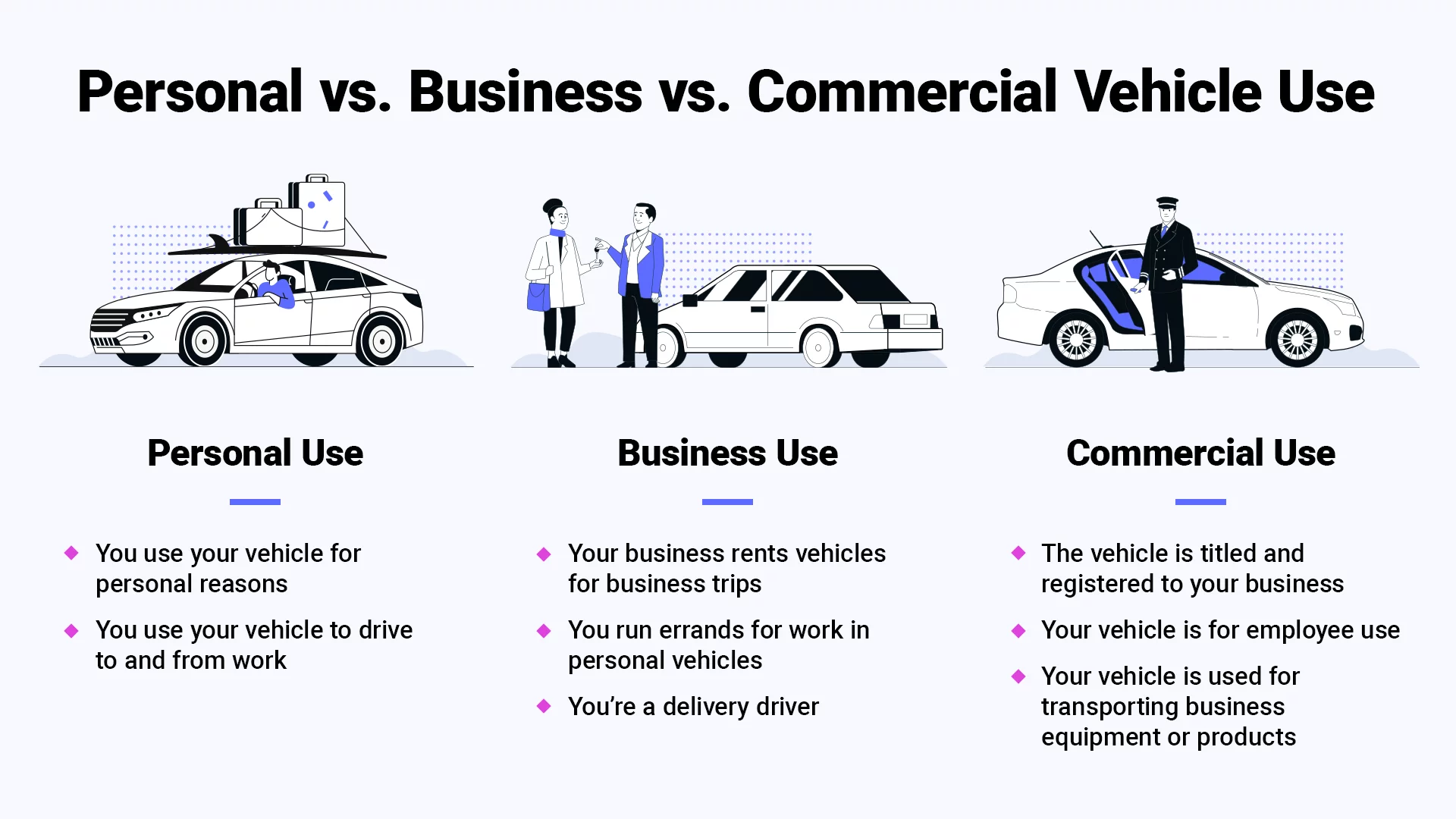 Auto insurance carriers see drivers who use their vehicles for business purposes as higher-risk drivers when compared to personal drivers. Because of this, you'll need car insurance that fits your needs.
Nearly every state in the country requires some personal car insurance to remain legal while driving. And almost every state requires business owners with company vehicles to insure the vehicles with commercial car insurance policies. Let's take a closer look at car insurance companies' different types of classifications when proving auto insurance.
Personal use
Personal car insurance will only cover car accidents while driving for personal use and not for work. So, if you plan to use your car for business use, personal insurance won't cover it in the event of an accident while physically operating the vehicle for business purposes.
However, there may be some cases where personal coverage could include limited coverage for business purposes. Still, you'll need to check with your insurance carrier to determine what could be covered and what isn't.
Keep in mind that if you're insuring a personal vehicle, you'll be asked whether to classify your car as personal or work use. Personal use means you only drive your car for personal reasons – you don't commute to and from work. Work use is for people who regularly commute to work.
Business use
Business use coverage should be considered if you or your employees utilize a personal car for work-related errands or business use (also referred to as hired and non-owner auto insurance). This coverage offers liability protection if you are involved in a car accident while behind the wheel in your car for work. This coverage will also extend if your business rents motor vehicles during business trips.
Remember that business use coverage only covers legal costs resulting from a car accident, not actual property damage to vehicles. So, if your car suffers physical damage from the accident, HNOA won't pay for repairs. This insurance coverage is a good option if you meet the following parameters:
Your business rents vehicles for business trips
You run errands for work in personal vehicles
You're a delivery driver
Commercial use
Commercial car insurance typically covers more expensive claims, various types of motor vehicles, and more complicated legal issues, should they arise. Generally, this coverage covers all of a business's employees as additional insureds, meaning each employee with a valid driver's license can drive a company car.
Commercial car insurance costs will vary depending on the insureds driving records, deductibles, and the policy's coverage limits. Commercial car insurance helps cover motor vehicles that are used for the following work purposes:
Towing trailers related to business purposes
Hauling heavy workloads
Transporting employees or clientele
Business errands
Transporting equipment or products
And more
What type of car classification do you need?
Determining the type of auto insurance, you need is critical. If you're involved in an accident and don't have adequate or proper car insurance, you could be in a flurry of legal trouble and hefty financial strain. Let's look at which type of car insurance is necessary for you, depending on your purpose behind the wheel.
Delivery drivers
Delivery drivers like DoorDash and Uber Eats are responsible for using their vehicles while working. Because of this, drivers need car insurance to protect them while out on the job. If you decide to start delivering for work, you'll need to notify your vehicle insurance carrier immediately.
This is because delivery drivers are viewed as higher-risk drivers by insurance carriers. Many companies offer additional coverages to help protect you and your vehicle if you use it for business purposes.
Taking out a business use policy may be necessary to ensure you're adequately protected. You'll likely see an increase in premium costs because of the higher liability that follows this use of your vehicle.
Ride-share drivers
Ride-share drivers drive vehicles to transport clients to and from locations or deliver goods. In this day and age, most people relate ride-sharing to companies such as Lyft and Uber. If you're an independent contractor and utilize your car, you'll need to contact your car insurance company to advise them that you're a ride-share driver.
Many companies provide additional coverage for drivers who ride-share at a higher premium cost. But Uber and Lyft aren't the only types of ride-share companies. For instance, taxi cabs are also considered ride-sharing.
Suppose you are employed with a company, such as a taxi company, and drive a company vehicle. In that case, the vehicle must be covered with commercial insurance, which is intended for company cars, fleets, etc. It's always best practice to speak directly with your insurer to ensure you understand what type of car insurance is necessary.
People who work from home
Individuals who work from home aren't required to carry any additional insurance other than personal car insurance. This insurance will cover accidents that happen while you drive your vehicle.
In most cases, those who work from home only tend to travel in cars for errands or fun. Generally, these policies will cover the vehicle's owner and one or two family members.
What's the difference between commercial and personal car insurance?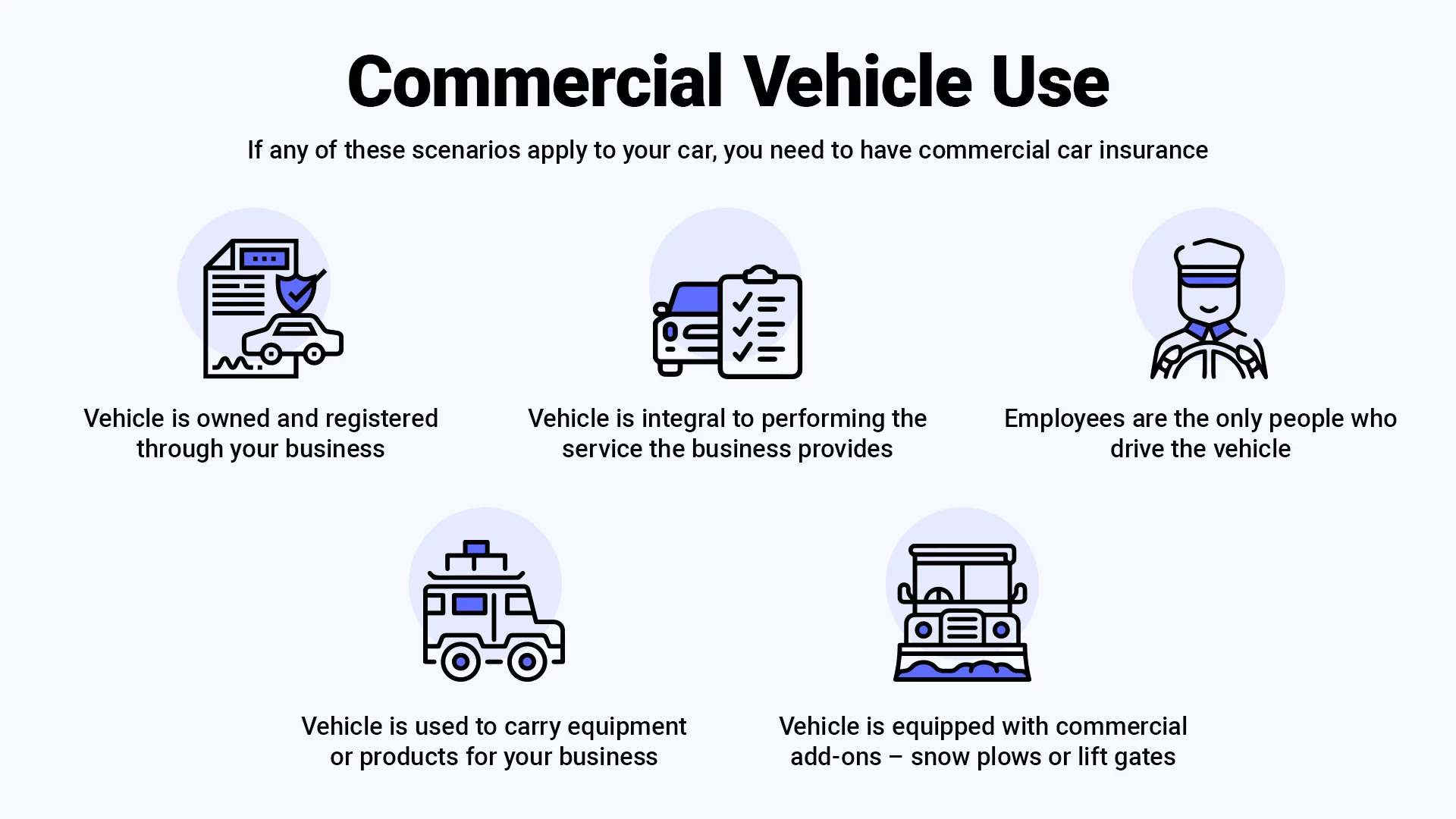 The primary difference between personal and commercial car insurance is who owns the vehicle. If a business owns it, it needs to be covered through commercial coverage.
Personal use insurance is designated for drivers who run errands for the home, such as driving to and from work, grocery shopping, and picking up children from school. Commercial insurance covers work vehicles that transport equipment, haul loads, and things of that sort. Personal liability insurance won't ever cover business-owner vehicles, and commercial insurance won't ever cover personal-owned vehicles.
Can you get commercial coverage on a personal vehicle, and why would you need to?
While employees can't get commercial coverage for personal vehicles, a business owner can have commercial coverage on a private car. You'll need a commercial car insurance policy if you own your company and vehicle.
For example, you'll need commercial coverage if you own a landscaping company, drive a large landscaping truck for work, and use it for daily driving. But keep in mind you'll also need to carry personal insurance on your car for times when you're not actively on the job and using the vehicle for personal use.
What's a business exclusion on a personal car insurance policy?
Business exclusions are often included in personal car insurance policies. This means that business use of vehicles is excluded from your car insurance. So, your insurance won't cover you if you're in a car accident when using your car for business purposes.
FAQs
Can you use a personal vehicle for business?
Yes, personal vehicles can be used for business purposes. However, you'll need to ensure the right insurance is designed for business use. You can contact your insurance carrier to find the best way to get enough coverage.
What is the difference between personal and business use of vehicle insurance?
Personal use insurance is designed for people who use their cars for errands, such as driving to and from work, grocery stores, and fun trips. Business use insurance covers individuals who use their vehicles for work errands, such as DoorDash drivers or employees who use their cars for delivering goods.
What is the definition of business use on a personal auto policy?
Business use on a personal auto insurance policy covers errands you may run for the company you work for in your private car. These errands include driving clients around, transporting goods, making deliveries, and meeting clients.
What is the difference between personal auto insurance and commercial auto insurance?
Personal car insurance policies cover vehicles solely used for personal use, such as driving children to school, commuting to the movies, and getting groceries at the supermarket. Commercial insurance covers companies and the employees' use of commercial vehicles, such as fleet vehicles for construction companies.
Should you have a separate policy for business use?
If you use your car for business purposes, you'll need a policy designed for business use. These car insurance policies have higher coverage limits and will cover you in the vent of an accident while on the job, whereas a personal policy won't.
Does my personal auto insurance cover business use?
Personal car insurance is intended for personal use. You can call your insurance company to discuss adding business-use coverage to your policy to ensure your coverage limits are high enough.
Is it illegal to use a personal vehicle for business purposes?
It's not illegal to use your car for business purposes, but you'll need to make sure you're adequately insured. If not, your insurance won't cover your accident costs if you are on the job while in an accident and could face financial trouble.
Are you looking for new car insurance?
You've come to the right spot if you're shopping for business, work, or personal insurance. We have a team of dedicated insurance agents who can provide you with excellent customer service, top-rated insurance providers, and affordable quotes. You can find out more by giving us a call or checking out our online quote tools to get quotes in just seconds.
Related content: