UPDATED: JULY 05, 2023 | 2 MIN READ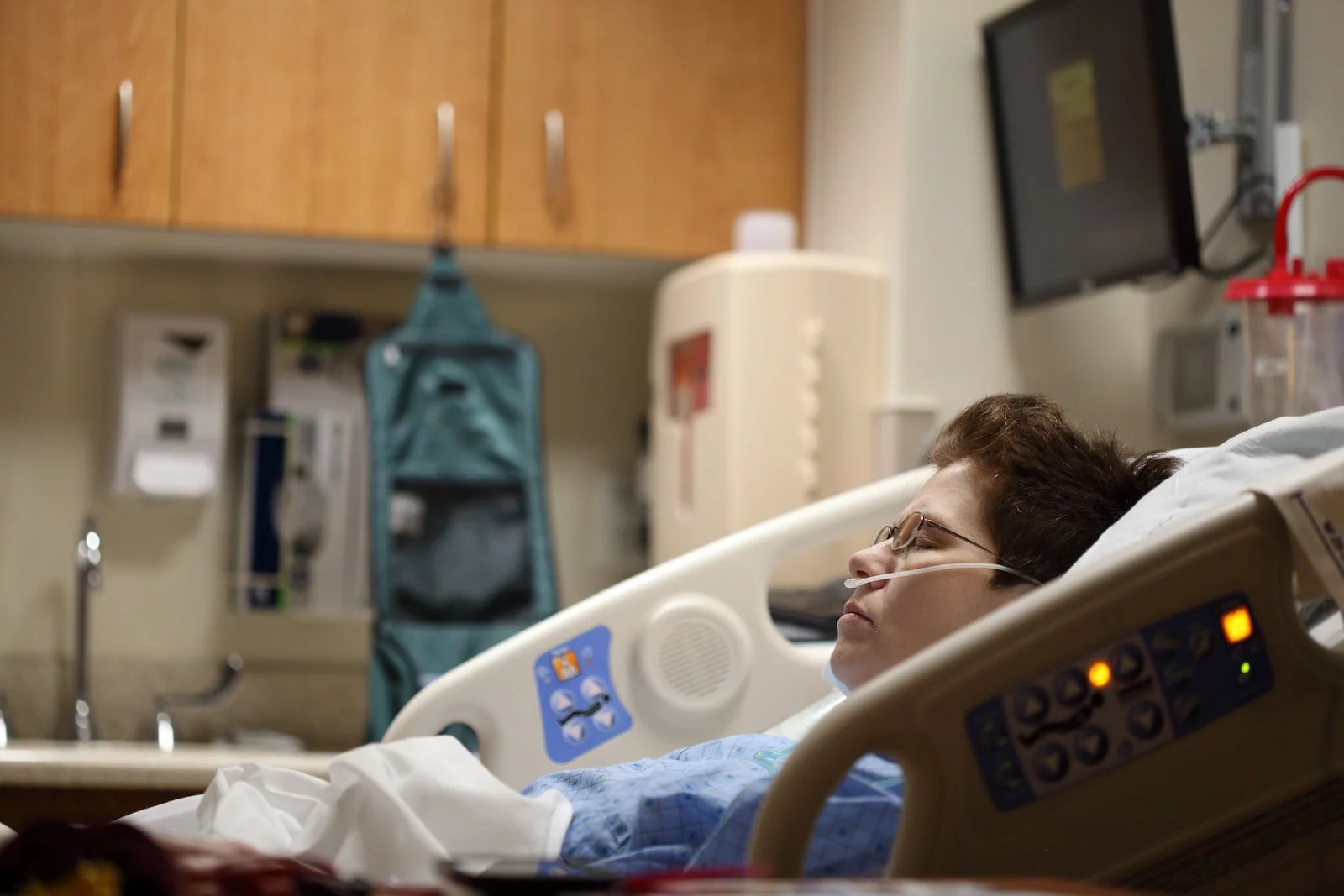 It can be incredibly difficult to predict the need for most inpatient healthcare expenses, as we always hope never to need that degree of medical care. Outpatient care is typically less expensive and complex. That said, serious injury or illness is always possible, and knowing what to anticipate regarding healthcare costs is important.
Preparation starts with understanding what expenses are related to inpatient care and applying that knowledge to different healthcare plans. From there, you will be able to analyze potential coverage and out-of-pocket healthcare costs. Here is an in-depth guide to understanding inpatient healthcare expenses to get you started with a comfortable foundation.
Most common inpatient services and expenses
Inpatient medical care includes services provided during hospital stays, long-term health care treatment, and hospital care. The first things that may come to mind are overnight stays in a hospital bed or intensive treatment.
Admissions for surgical or intensive care
In 2020, more than $1.4 trillion was spent on hospital treatment services – over 30% of total healthcare expenses. Hospital costs averaged $2,607 per day, with the average hospital stay on Medicare costing $13,600.
These medical costs skyrocket when surgery is involved. A heart valve replacement, for instance, can run upwards of $170,000. Since costs are astronomical, even excellent insurance that pays 80% of a $100,000 medical bill will leave the patient with a $20,000 tab that most would struggle to pay. This can get even worse if your health insurance plan has a maximum that is easily met with expensive surgery.
Areas typically involved in surgical prices include:
Operating room costs per hour
Surgeon's fee
Anesthesia
Pre-surgery treatment
Hospitalization costs
Anti-rejection medications
Lost wages
This excludes a patient's out-of-pocket medical costs (deductibles, co-pays, and premiums) or non-medical expenses such as transportation, child care, or lodging.
This hospital stays, medical bills, and surgical expenses add up. According to the U.S. Department of Health and Human Services, Medicare spent almost $800 billion on health benefit expenses for 61 million individuals who were disabled or over 65 in 2019. 29% of this ($231.8 billion) was related to inpatient expenses. According to the American Hospital Association, around 36.3 million patients are admitted to U.S. hospitals yearly, with Medicare paying about 90% of the cost for almost half of them.
Inpatient mental health treatment
In a crisis, outpatient mental health treatment isn't always enough. This is why it is important to consider healthcare coverage for mental health treatment requiring more intensive and extensive care.
According to the National Alliance on Mental Illness, about 51.5 million people in the U.S. experience some form of mental illness each year. Due to a lack of insurance coverage or understanding, only about 45% receive treatment.
A study in the National Library of Medicine found that the cost to deliver inpatient psychiatric treatment was highest in individuals with Medicare and lowest for the uninsured, with average specific costs below.
| Treatment | Medicare | Uninsured |
| --- | --- | --- |
| Schizophrenia Treatment | $8,509 for 11.1 days | $5,707 for 7.4 days |
| Bipolar Disorder Treatment | $7,593 for 9.4 days | $4,356 for 5.5 days |
| Depression Treatment | $6,990 for 8.4 days | $3,616 for 4.4 days |
| Drug Use Disorder Treatment | $4,591 for 5.2 days | $3,422 for 3.7 days |
| Alcohol Use Disorder Treatment | $5,908 for 6.2 days | $4,147 for 3.8 days |
Research indicates that attempts to control these prices have led to large gaps between charges and reimbursed amounts, shifting costs between payers, and extended stays to offset reduced per-day costs. Lack of transparency is the biggest struggle in estimating the cost of psychiatric hospitalization.
Hospice care
The price of hospice care is possibly the most tragic of costly inpatient expenses. It's a vital and humane endeavor to keep elderly and terminal patience as comfortable as possible at the end of their life. Still, it can also quickly become a large inpatient expense.
The ultimate cost per day will vary depending on numerous factors. Some facilities and programs will charge around $150, while others could be $500. Factors that impact pricing include:
Insurance (provider and plan coverage)
Level of care
Income level
Age
State
Qualification criteria (varies by facility)
At-home vs. facility care
How long services are needed
Healthcare coverage
The cost of inpatient care and services is shouldered by several different areas, regardless of your healthcare plan. For individuals and families on Medicaid, inpatient services generally have no cost. However, this isn't the case for most insurance programs.
Private and affordable care act health insurance plans
ACA plan coverage varies greatly for inpatient care. In most cases, you'll need to pay out of pocket until you hit the plan deductible. Once your deductible is met, most plans will require you to pay a coinsurance amount ou-of-pocket. Fortunately, there is a stopgap in place in the form of a maximum out-of-pocket (MOOP) on these plans.
Private plans will work the same way as an ACA plan. You'll pay any required deductible and then pay the coinsurance or copay related to inpatient care. You'll continue to incur these costs until you meet your Maximum out-of-pocket.
Employer and COBRA health insurance
If you're enrolled through a group or employer plan through work, you'll also have coverage for inpatient hospital services. Similar to the ACA coverage, these plans can vary depending on the employer's chosen plan and what's available in the area.
Most plans have a deductible and coinsurance that applies to the hospital. However, some employer plans may have little to no deductible and cover most costs. This is the exception, not the norm. Check with your benefits manager at your job to see exactly how your group coverage works.
If you were to leave or lose your job, you could elect COBRA. The COBRA coverage will work exactly the same way the group plan you were enrolled in does.
Health savings accounts and high-deductible health plans
If you're enrolled in a high-deductible health plan (HDHP) and a health savings account (HSA), you're generally responsible for all health-related costs until you meet your deductible. In many cases, once you reach the deductible, you'll have no more to pay out of pocket for the year.
However, this will depend on the plan details. Some HDHPs have a separate deductible and maximum out-of-pocket. This means you would continue to pay coinsurance until your reach your MOOP.
The benefits of an HSA and an HDHP are that you, and your employer, if applicable, contributed to the HSA funds, and the money used for your medical care is deducted from that account.
Medicare Part A
Part A of Medicare and Medigap plans are most commonly known for this coverage area. Medicare's Part A, also known as Hospital Insurance, covers the areas of healthcare typically involved with hospitalization.
Hospital care is covered if you are admitted to inpatient care after a doctor's order and the hospital accepts Medicare.
Coverage includes:
Meals
Semi-private rooms
General nursing
Other hospital services
Coverage does NOT include:
Private-duty nursing
Separate charges for telephones or television
Private room (unless medically necessary)
Personal care items
It's also critical to note that inpatient psychiatric care coverage is limited to 190 days in a lifetime.
Medigap
Medigap supplements many private health insurance plans. Original Medicare has gaps from deductibles, coinsurances, and copayments. Medigap fills them. Oftentimes, the out-of-pocket costs for these gaps can grow steep.
In terms of inpatient healthcare, Medigap is helpful for patients who need relief with these gap areas. Since inpatient healthcare can quickly get expensive, deductibles and coinsurances can be financially brutal for some patients.
Premiums for Medigap policies vary depending on the specific plan selected.
Out-of-pocket costs
Finally, even with high-end health insurance, there will be out-of-pocket costs related to inpatient treatments. Stay informed to prepare for these costs, make wise decisions regarding your plan, and cause some plans to be steeper than others.
Deductibles
Deductibles are the amount the patient pays before an insurance policy kicks in. For example, the Medicare inpatient stay (Part A) deductible is $1,600 in 2023. The Part B deductible is $226 in 2023.
Private insurance providers will have different specifics regarding the deductible amounts in their plans. A higher deductible will mean a lower monthly premium but higher out-of-pocket costs if an injury or illness requires inpatient care.
Fortunately, there is no Medicare deductible for hospice care.
Coverage gaps
As mentioned, coverage gaps can quickly become expensive with inpatient care. Thousands of dollars in deductibles or care expenses challenge most patients once they reach their maximum.
According to Health Care Insider, inpatient cost gaps have grown from $0 to $1,700 in the past two decades. This is partially due to healthcare inflation which has caused the overall cost of providing care to rise, thus increasing the expense to insurance providers and patients.
Uncovered Services
Finally, as with all areas of healthcare, there will likely be uncovered services or expenses related to your inpatient care bill. These will vary depending on your healthcare provider and your coverage, but commonly uncovered inpatient expenses include:
Previously mentioned uncovered services by Medicare Part A
Non-medical related costs such as childcare and travel
Elective services (including surgeries like Lasik Eye Surgery)
Anything not specified under your insurance plan's coverage
FAQs
How does price transparency affect inpatient hospital care?
Hospitals are now required to provide clear pricing information online in 2 ways. They must provide a machine-readable file and a consumer-friendly display of shoppable services. These aim to assist patients in understanding what their costs will be for services rendered in the hospital
What is the average cost of inpatient care in the United States?
The average cost of common hospital stays is $13,900 as of 2022. The amount you will pay depends on your insurance coverage and specific circumstances.
What costs are not covered by insurance?
This will vary depending on your specific insurance plan. In terms of inpatient expenses, this often includes any healthcare costs accrued after hitting a specified maximum, non-medical related expenses such as travel and childcare, and most elective procedures.
How do you know what your health insurance will cover?
The best way to know what your specific health insurance policy will cover is to do extensive research when selecting or opting to change plans. Comparing rates will ensure that you are getting the most affordable plan and also help educate you on what your plan entails.
What type of insurance covers the expenses of a hospital stay?
Hospital indemnity insurance will supplement existing healthcare coverage during hospital stays. Additionally, in terms of Medicare, the areas responsible for inpatient coverage will fall under Medicare Part A (included in Original Medicare) and Medigap plans.
Why is inpatient care so expensive?
Inpatient treatment refers to extensive and long-term treatment in the hospital. As such, the cost of lengthy hospital stays and services related to intensive care (surgeries, rehabilitation, medication, etc.) can accumulate very quickly. It can also be difficult to anticipate costs as they will vary between hospitals and patients based on resources, insurance, and unique circumstances.
Comparing Rates to Offset Expenses
Inpatient health care can be notoriously expensive. In addition, out-of-pocket costs are often unavoidable in all areas of healthcare. There are still a variety of options available to you, and it's possible to choose a plan best suited to your needs. Comparing rates between insurance companies is the only way to ensure you make the best choices with the lowest premiums.