UPDATED: JULY 06, 2023 | 2 MIN READ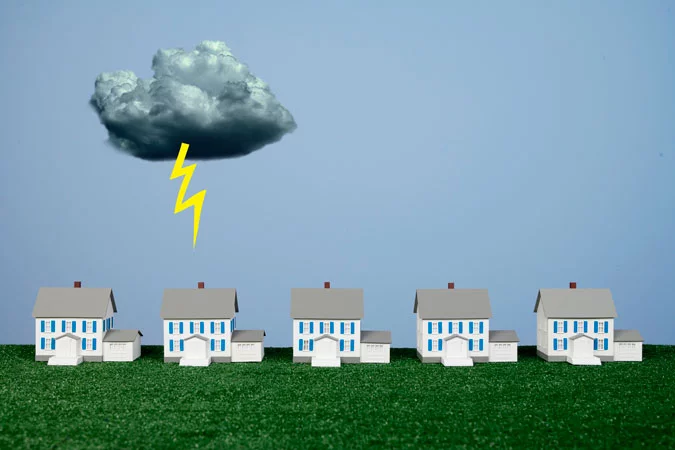 When it comes to filing a home insurance claim, the process can be daunting, and more often than not, there are many factors to consider. Your home insurance policy can influence what you're entitled to and what you'll need to do to file a claim.
Your house may need to be repaired if it has taken any damage, such as an accident or natural disaster. Maybe an earthquake hit, or a tree fell on your roof during a windstorm.
The steps involved in filing a claim can be long and daunting. However, if you know what to avoid, it needn't be more difficult than it should be.
Here are 20 common mistakes to look out for.
1. Filing lots of claims for minor incidents.
Know whether you should file a claim – or cut your losses.
It's no secret that filing many claims can be costly. However, repairs up to $10,000 can be much lower than the costs associated with filing many claims. If you have already filed any home insurance claim and are worried about your insurance rates going up, it may pay for you to talk to your agent about how to avoid rate hikes in the future.
If you've filed many claims or the damage is a relatively low value, you should consider whether this situation is something you need to contact your insurance company about or if it works out better to resolve it without them.
2. Waiting to notify your insurance company
No matter the cause of the need for an insurance claim, it's important to contact your insurance company as soon as you realize that there's a need for one. You'll want to contact them either through their 24- hour hotline or mobile app or by speaking to an agent, whichever method is best for your situation.
The sooner you file a claim, the sooner you can get the financial help you need. It's a good idea to call your insurance company as soon as possible after an accident has occurred. This way, they can send someone out to survey the property damage and make some estimates to get your home fixed as soon as possible.
If you've been affected by a natural disaster, such as a hurricane, there's a chance other people in your neighborhood have had their property damaged too. Don't wait until everybody in the area tries to file a claim simultaneously.
It'll take ten times longer. You should call as soon as filing a claim has made it onto your to-do list and then be proactive about keeping on top of your claim.
3. Cleaning up before your insurance company's adjuster arrives
Think of it this way: your home is now a crime scene.
That might sound dramatic, but that's how you should treat your home and its items, no matter how dirty, damaged, or flat-out broken. Going in and cleaning up the property beforehand might make sense, but it's a big mistake.
The adjuster needs to ensure you get a good amount of money back, so the damage must be tallied up correctly. If you start tidying up the items, they might not be eligible for the full amount of your insurance claim.
4. Throwing out broken or damaged items and appliances
Record the brands and models of damaged items
Again, leave everything alone, even if they are broken. The adjuster can't inspect them if you've thrown them out. To be reimbursed for damages, you'll also probably need a list of brand names and model numbers. That way, you get reimbursed for the proper value of your personal property instead of generic, low-end appliances.
5. Not keeping your list of what's been destroyed or damaged – including photographs.
It's essential to keep your list so that you can get in touch with the insurance company if they missed something. Adjusting is difficult for workers. They have to account for a whole range of damage over a short period of time. If they're focused on fixing a broken wall, it might be easy for the adjuster to miss smaller damages.
This is especially true in cases where a natural disaster affects your entire area. If this happens, your insurance company could be very busy dealing with many claims simultaneously.
Make sure to note any additional details you want to provide about the item you're claiming for, including how much it cost and when you bought it. Having a home inventory before you need it is more beneficial than trying to write one in the middle of a natural disaster.
Photographs are the best evidence that something was damaged or taken. If you need to prove that something was damaged, a couple of good photos will solve the problem more quickly and more effectively than any other approach.
6. Waiting to repair immediate structural hazards
When you're starting repairs on your home, it's important to have priorities. If you have a hole in your roof or any other significant hazards, address them first. After this, inform your home insurance company about the damage and contact a local contractor for assistance.
Claim filing can be frustrating – it's long and complicated and often requires personal or sensitive information. However, with the right preparation and understanding of the claim filing process, you can save yourself a lot of headaches.
7. Paying too much for a temporary repair job
You should prioritize immediate hazards, but be careful not to spend too much money on a quick repair if it's only a short-term fix. Temporary repairs are a cost-efficient solution to minor defects. Still, if you spend too much on these temporary fixes, you'll reach the payout limits of your contract long before you get to the necessary long-term renovations. Save the big bucks for construction that you'll be happy with years later.
8. Not keeping receipts for the most expensive appliances and items in your home
With appliances in your house totaling a lot of money, it may seem daunting to think about how you would replace them all at once. A natural disaster or another unfortunate incident may mean that one or more of these items are broken simultaneously.
Your dishwasher, washing machine, dryer, refrigerator, and TV are all investments, and losing more than one at a time could cost you thousands. That's why it's a good idea to keep the receipts for your most expensive appliances when you buy them. 
It's important to keep track of your receipts when it comes to file a claim with your homeowners insurance company. Being able to easily show them when those items were purchased and how much you paid for them means you can prove the value and ensure you're compensated fairly.
9. Not keeping receipts from your temporary housing/living costs while your home is being repaired
Your insurance policy may cover your living expenses if your home undergoes a catastrophe while it's being repaired. When you're displaced from your home, many expenses come along with it.
This could include temporary housing, food, household goods, and medical expenses. So if you want to be reimbursed for those costs, keep receipts from your hotel, restaurants, and groceries while you wait for construction to finish.
Check your contract to see if your policy covers living expenses.
10. Underestimating the reimbursement you should get
Don't sell yourself short.
Even if you estimate your reimbursement a little high, you'll have to negotiate with the insurance company until they agree to the correct value. In this case, overestimating slightly is probably better than underestimating.
It's always worth glancing at the value you're being offered. It might be worth asking if they're willing to negotiate if it sounds too low. You'll need evidence of the purchase to present your argument, but it might still be worth your while.
11. Forgetting or not writing down your claim reference number
You're filing a claim, and the insurance company asks you to provide your reference number. What is it? The reference number is the most critical information you will take away from your first conversation.
The number allows the claims representative to locate any documentation related to your claim. If you don't have your case number, this will probably make your day more frustrating. It's an important piece of information and helps find related cases and request updates.
12. Not making copies of everything you send to your insurance company
If you're organized, it will ensure you get the best deal on all your insurance needs. Good organization skills also help with communication with your insurance provider and make it much easier to handle any important communication.
If you're wondering if you sent the person something or can't remember, just go to your records. Create a record whenever you talk to someone and send them any documents.
13. Settling for less with the initial claim estimate
If you think your insurance company missed something, have them come back.
It can indeed be hard to get a second estimate. After a natural disaster, homeowners might be reluctant to request another round of inspections from their insurance company. They may think it will be too much work, or they want to move on with the process.
However, if you feel that the original estimate didn't cover everything or there was an important factor left out, you might want to request a second visit. It might feel intimidating to ask an insurance adjuster to come a second time, but it could pay off in the long run.
You can speak to a lawyer or public adjuster if you feel something is wrong. Many offer free consultations. Most also work on a no-win-no-fee basis, meaning that only ask for payment if they win additional funds from your insurance company. In some states (Florida is one example), the laws favor policyholders over companies.
14. Not knowing whether you have a Replacement Cost or an Actual Cash Value policy
Understanding how your policy will pay out before an emergency is important.
Actual Cash Value (ACV) and Replacement Cost (RC) are the two most common property insurance policies. These are completely different, so you must know which policy you have.
With an Actual Cash Value policy, you will be reimbursed the value of a piece of equipment that accounts for how much it has been used.
This is known as depreciation. If you bought a $1000 dishwasher last year, but your home flooded and now it's broken, but it's only worth $700 this year, your insurance company will reimburse you based on the current value.
If you have a Replacement Cost policy, your insurance provider will pay for the original cost of any broken items. In other words, if you bought a $1000 dishwasher last year, your insurance company will reimburse you for $1000. It will pay the replacement value of your item.
15. Not doing thorough research on local contractors AND
16. Not getting estimates of repair costs from multiple contractors
You can ensure a smooth reconstruction effort by choosing a contractor wisely. An insurer will likely suggest a contractor to take care of repairs on your home. It may be a good choice but not worth ignoring other potential options.
Review the contractor's previous work and reviews before contacting a few contractors in your area. Find out which contractor offers the best rates, then if the company to recommend still seems like a good choice, you'll know you've made an informed decision.
17. Not knowing you can hire an independent adjuster
Not everybody will need to think about hiring an independent adjuster. But in this case, knowledge is power.
If you think the claims adjuster your insurance company provides won't be fair with your estimate, hiring an independent, licensed adjuster may be a good idea. Unfortunately, hiring these specialists to do your hard work will cost you a small fee. But, since they're not an insurance company, they won't be trying to keep costs for your insurance company as low as possible.
Hiring an independent adjuster could save you a lot of time and effort and be worth doing.
18. Not looking at the "exclusions" section of your contract beforehand
Before you call your insurance company and begin the claim process, take a second look at your contract. If you plan on reading the exclusion section of your policy, make sure you already have a grasp on what it does not cover. If it's not covered, avoid relying on something not in your contract for coverage.
19. Not filling out claims forms accurately or thoroughly
Claim forms are a necessary part of the process. They can sometimes be boring, but they require your full attention and aren't always easy to fill out. If you don't take the time to read through them, you could end up missing important information and making an embarrassing mistake.
All claims for property damage need to be fully documented. If someone has stolen or something has damaged your property, you will produce a more convincing claim if you put in the time to document the theft or damage.
20. Not returning claims forms quickly
Congratulations on completing your insurance-related paperwork! If you want, you can then recover and do anything that doesn't require engagement with insurance documents. But the better most would be to send the paperwork off.
All you need to do is head to your email inbox or local post office and send the necessary forms as soon as possible. The faster you do this, the sooner you'll receive the money that will give you another chance at fixing your property.
FAQs
What should I not do when filing an insurance claim?
One of the most common home insurance claim mistakes is making claims for small things. This can lead to you paying a higher premium and overall higher insurance costs. It also may not even be worth it if the claim's value is similar to your deductible, as you may not receive much in the way of a payout. You can save money in the long run by not claiming for small things.
What are three things that are not covered by homeowners insurance?
Home insurance covers many things but doesn't cover damage caused by general wear and tear, negligence on your part, or damage caused by infestations such as termites.
How do I get the most out of my home insurance claim?
Preparation and documentation are key to getting the most out of your homeowner's insurance claim. Homeowners insurance companies will want to offer you the lowest payout they can. Therefore by documenting everything you can, you have the best chance of getting the maximum payout available to you.
What are the negatives of making a house insurance claim?
Depending on how many home insurance claims you've made in recent years, making a claim could negatively impact your insurance rates. Insurance companies look at your claims history to determine your premium quotes.
What is the first step to take when filing an insurance claim?
Check your policy to make sure it covers whatever you're claiming for. For example, f you have experienced a flood, check that your coverage includes flood insurance. Most homeowners insurance policies cover water damage, but typically flood insurance is something you'd have had to add on.
What is the difference between a deductible and coinsurance?
A deductible is the fixed amount you must pay per claim or claim period before your insurance coverage kicks in. Coinsurance is the percentage of a claim your insurance will pay after the deductible is paid. Regarding home insurance, most types of insurance won't have coinsurance, so it will typically cover the full amount after your deductible.
What should I do if I find a water leak?
First, you need to find the source of the leak. If you can fix it yourself, ensure you do that before assessing damage to prevent further damage from occurring. Then, if required, notify your insurance agent so they can start processing your claim.
What should I do if my house is damaged?
Make sure that you and your family are safe and that there is no structural damage. If there is structural damage, contact local repair companies to get estimates. Then, let your homeowners insurance company know as soon as possible to get the ball rolling on a claim.
What is the best way to prepare for a home insurance claim?
Photograph everything. Even if something damaged isn't worth much, photograph the damage anyway, as these things can add up quickly. A picture is worth a thousand words, which is true in this situation. Document everything you can and take pictures to demonstrate the levels of damage to your insurance company.