UPDATED: AUGUST 25, 2023 | 3 MIN READ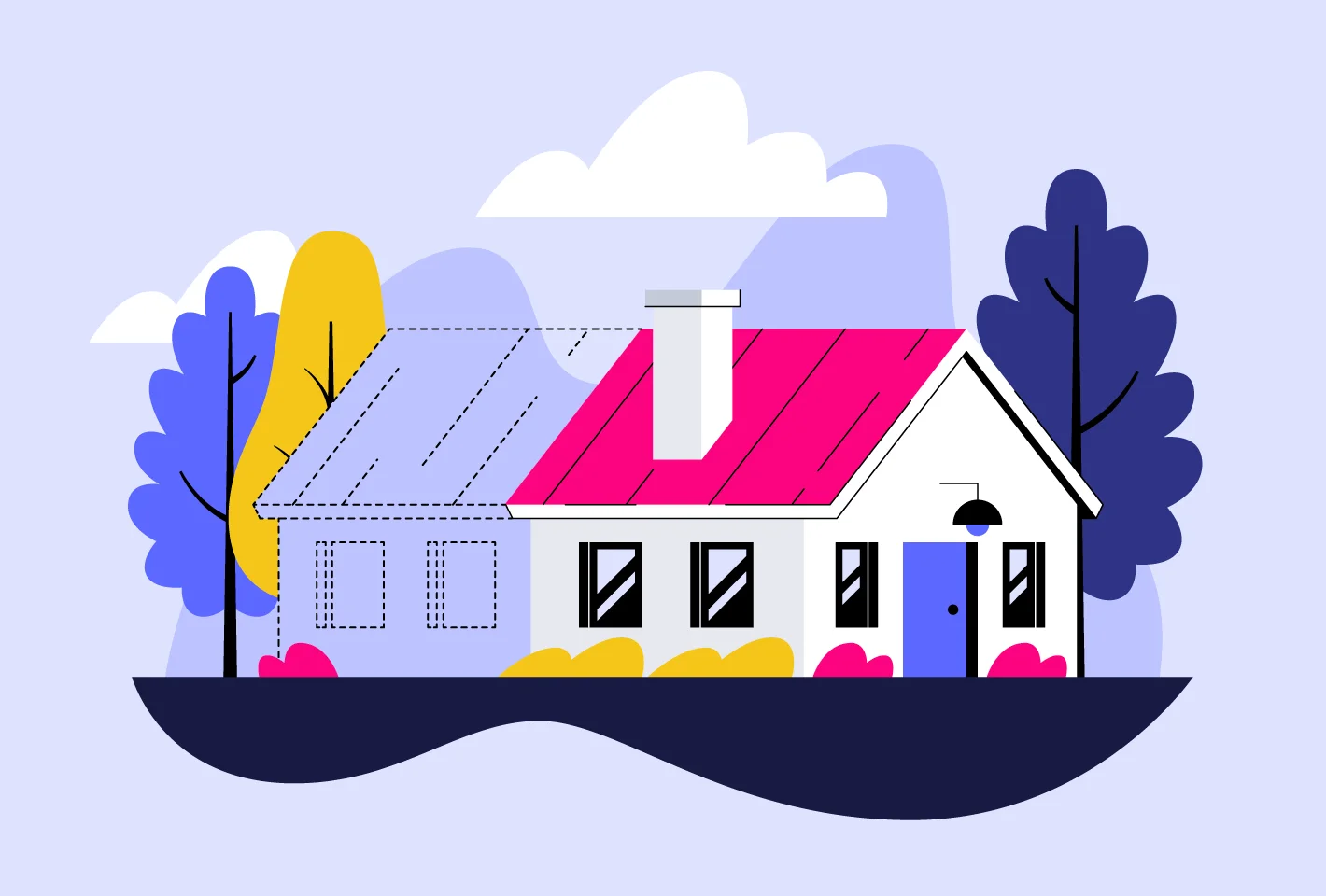 It's not unusual for homeowners to start to feel cramped in their homes. Maybe you've outgrown your space by adding to your family, or you started working remotely at home and now require office space. Or maybe you're just looking to add a new living area for you and your guests to enjoy.
Home additions are a great way to add more space to your existing home while increasing its value. They can be as large as adding a second story to your home or as small as adding a new guest bathroom.
Home additions cost between $30,000 and $100,0001.
Below you'll learn how much home additions cost on average, how house additions can affect your home insurance, and factors that determine costs to make budgeting easier.
Does home insurance cover additions?
Unfortunately, home insurance won't pay for home additions. However, most home insurance providers will cover remodeling and renovation costs due to prior damage, such as a fire or windstorm.
Do you need dwelling coverage for home additions?
If your home extension is adding square footage to your home, you'll be required to increase your dwelling coverage limit. If your home is damaged by a covered loss, your dwelling coverage will pay to repair or rebuild it. Discuss with your insurance provider how it will affect your insurance premium n before you start construction.
Factors that affect home addition costs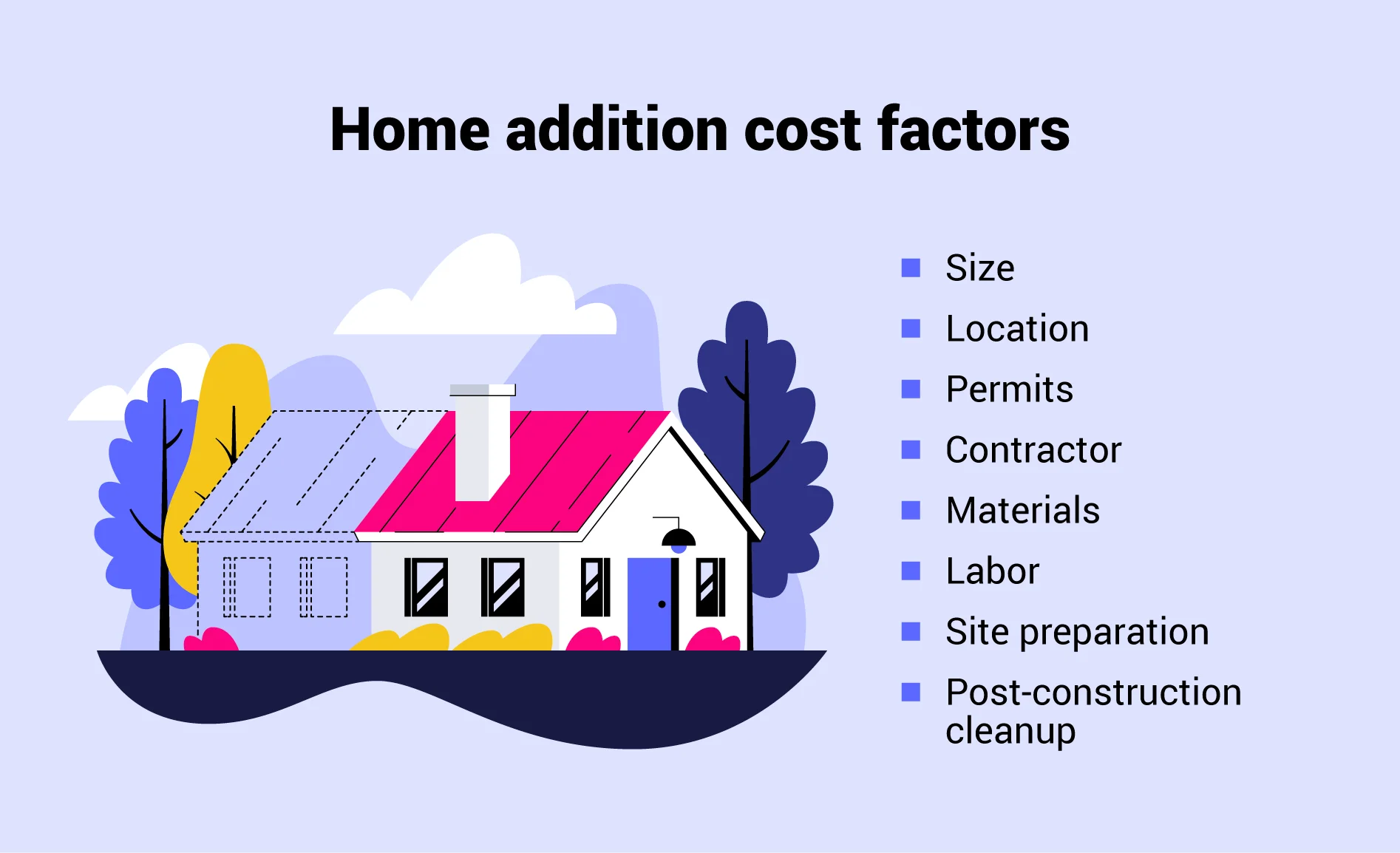 There are many variables that come into play when budgeting for a home addition. The factors below will contribute to the total cost of your home project.
Size
The cost of a home addition is largely determined by the size of the project. The more square footage, the higher the cost will be. For example, if the home addition is $100 per square foot, increasing the square footage with that rate will significantly raise the home addition cost.
Location
The location of your home addition will contribute to the scope of the project. If your project is outdoors, like adding a porch, you may have to think about landscaping and removing existing plants or structures before construction begins.
If the project is indoors, like an additional bathroom, you'll also have to account for plumbing, electrical wiring, and painting. You may even have to account for the cost of removing a wall for an entrance or adding new drywall.
Permits
Before starting a new home addition project, you must submit several permit applications required by your town or city. You'll also have to meet certain compliance standards and zoning requirements according to your municipality. These could include electrical, structural, and plumbing.
A building permit typically runs on average between $500 and $2,000, but this will depend on where you live.2 Find out more information on building permits by contacting your city through its official government website or by calling its main government office. If your contractor is experienced in your local area, they'll also know which permits you'll need to obtain before construction begins.
Contractor
A home addition is a major endeavor, so you want the job to be done correctly and safely. A contractor will oversee the scope of the project and the construction timeline. Typically, contractors will charge between 10% and 20% of the project's estimated cost.
Contact several contractors in your area and gather multiple quotes to better understand your options. Some contractors even offer free consultations or estimates.
Materials
Average cost of construction materials
Lumber
$150 to $250 per square foot
Exterior doors
$800 to $2,000 per door
Interior doors
$350 to $1,100 per door
Windows
$550 per window
Drywall
$1.50 to $3.50 per square foot
Flooring
$14 to $32 per square foot (hardwood)
Paint
$3 to $4 per square foot
Cement
$125 to $133 per yard
Insulation
$1.75 to $7.50 per square foot
Concrete
$5 to $25 per square foot
Depending on the extent of the home addition, it may require various construction materials. Above are the average costs for commonly used materials for additions — these will vary depending on the type of home addition and its location in your home.
Labor
Average cost of construction labor
Electrician
$90 to $120 per hour
Carpenter
$75 to $125 per hour
Painter
$25 to $100 per hour
Structural engineer
$100 to $500 per hour
Plumber
$75 to $150 per hour
HVAC technician
$150 to $300 per visit
Depending on the scope of the home addition, you'll most likely need more than just a contractor for the project. The more experienced or specialized the tradesperson is, the more expensive their services will be. Above are the average costs for professionals you may need to hire for your home addition.
Site preparation
To get the site ready for the new addition, you might need to do some land excavation or demolition. Site preparation for a home addition typically runs between $2,500 and $5,000, but it may be higher depending on the type of home addition.
Major additions like a second story or basement will significantly bump up the site preparation cost. However, you may be able to save money by doing some of the demolition work yourself, like tearing down walls.
Post-construction cleanup
Once your home addition is complete, there's one last step: cleanup. This could include hauling away debris or extra materials and cleaning the work area. If you hire a professional, post-construction cleanup can run on average between $500 and $800. However, if it's not a large cleanup job, you can do it yourself and save on that expense.
Average cost of home additions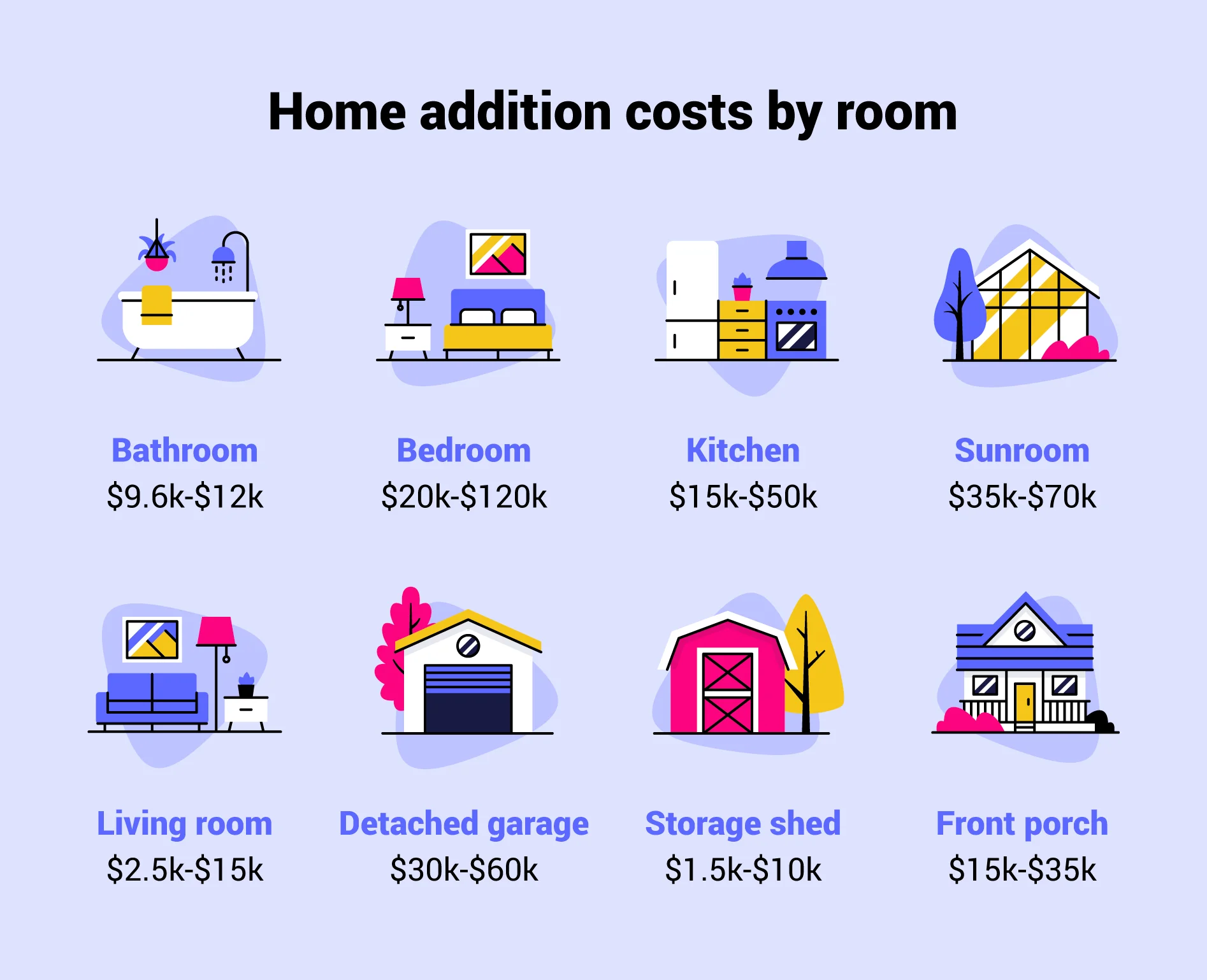 The cost of a home addition will vary depending on the size, location, and what you're looking to include. Below we've gathered the average costs of popular home additions and what may be required for the project.
Bathroom
Have multiple bedrooms in your house, but not enough bathrooms for guests to use? A bathroom addition scoped at 48 square feet runs on average between $9,600 and $12,000 to build. Plumbing, wiring, materials, labor, and other factors mentioned above will determine the overall cost of the new bathroom
Bedroom
Looking to add a new bedroom for visiting guests or new family members? A 100-square-foot bedroom runs on average between $20,000 and $120,000. If the room addition is a conversion of an old space that's already insulated and drywalled, you're looking at around $8,000 for the total cost.
Kitchen
A new kitchen addition runs on average between $15,000 and $50,000. Kitchens often require a lot of wiring for electrical outlets and appliances, so you'll definitely need to budget for electric wiring — which runs between $620 and $2,855.
Sunroom
Looking for additional living space? Sunrooms are a great option to bring natural light to your home with large windows and openness. The total cost of a sunroom will depend on the size, window choices, and other factors like electrical wiring and heating. A sunroom typically runs between $35,000 and $70,000.
Converting a deck, patio, or porch to a sunroom is typically cheaper than building a new addition since there are already existing materials to work with — like a foundation or wood.
Living Room
Living room sizes range from 250 to 400 square feet. A 250-square-foot living room runs between $2,500 and $15,000 on average. The cost will vary depending on electrical needs, painting, and the flooring choice.
Detached garage or shed
The cost of a detached garage or shed will vary depending on heating, size, and electricity. On average, building a detached garage costs between $30,000 and $60,000. For a storage shed, you'll likely see a cost between $1,500 and $10,000.
Front porch
A new front porch not only adds a new outdoor living space, but can transform the entrance to your home. Porches vary in style, size, and materials, so it's best to connect with a contractor to get a more accurate estimate. However, the national average for a front porch addition runs between $15,000 and $35,000.
Factors that can lower total home addition cost
You'll typically set a budget for a home addition project. However, unexpected expenses can quickly make your project go over budget. Below are a few ways to keep your project within budget while maintaining home construction best practices.
Be flexible: There are times when you may need to compromise on an aspect of the home addition. For example, you may want a specific type of wood for your patio addition, but a supplier issue prevents you from being able to purchase it. You'll need to be flexible and choose a material your supplier has available and is still within budget.
DIY any finishing work: You can leave the big jobs to professional contractors and tradespeople, but completing tasks like pre-demolition, landscaping, and painting yourself can help you save on additional labor.
Avoid unnecessary changes: Resist the temptation of making unnecessary or rash decisions in the midst of a home addition project. This can be costly and slow down progress. Only make changes when they're necessary.
Limit the size: Consider the scope of the project. Are there some square feet that can be removed and still allow you to have your ideal home addition space? Decreasing the size of the home addition will decrease the total cost.
DIY home addition cost vs. Hiring a contractor
Completing a home addition yourself is not recommended without professional experience in construction, building codes, demolition, and zoning. This route could lead to a structurally unsafe home addition.
It's recommended that you hire a local contractor with experience and expertise in home additions to ensure your home is safe, meets building codes, and stays within your allocated budget. Your contractor can also recommend skilled professionals for labor they don't cover, like plumbers and electricians.
FAQ
Below are commonly asked questions about the costs of home additions and added value.
Will home additions add value to my house?
A well-executed home addition can add value to your home. For example, additions like a deck or a new porch can greatly increase your home value — and allow you and your guests to enjoy an outdoor space. Certain home additions can bump up your selling price if you plan to sell your home in the future.
How much does adding a second story cost?
The average cost of a second-story addition runs between $100,000 and $300,000 or more. Before jumping into construction, your contractor should assess if your home's foundation can support a second story. If your home needs foundation repairs, see if your home insurance will cover them — depending on the circumstances.
Find the best dwelling coverage in case of future damage to your home addition by comparing home insurance companies and their packages.
Sources:
Related content: