UPDATED: AUGUST 24, 2023 | 1 MIN READ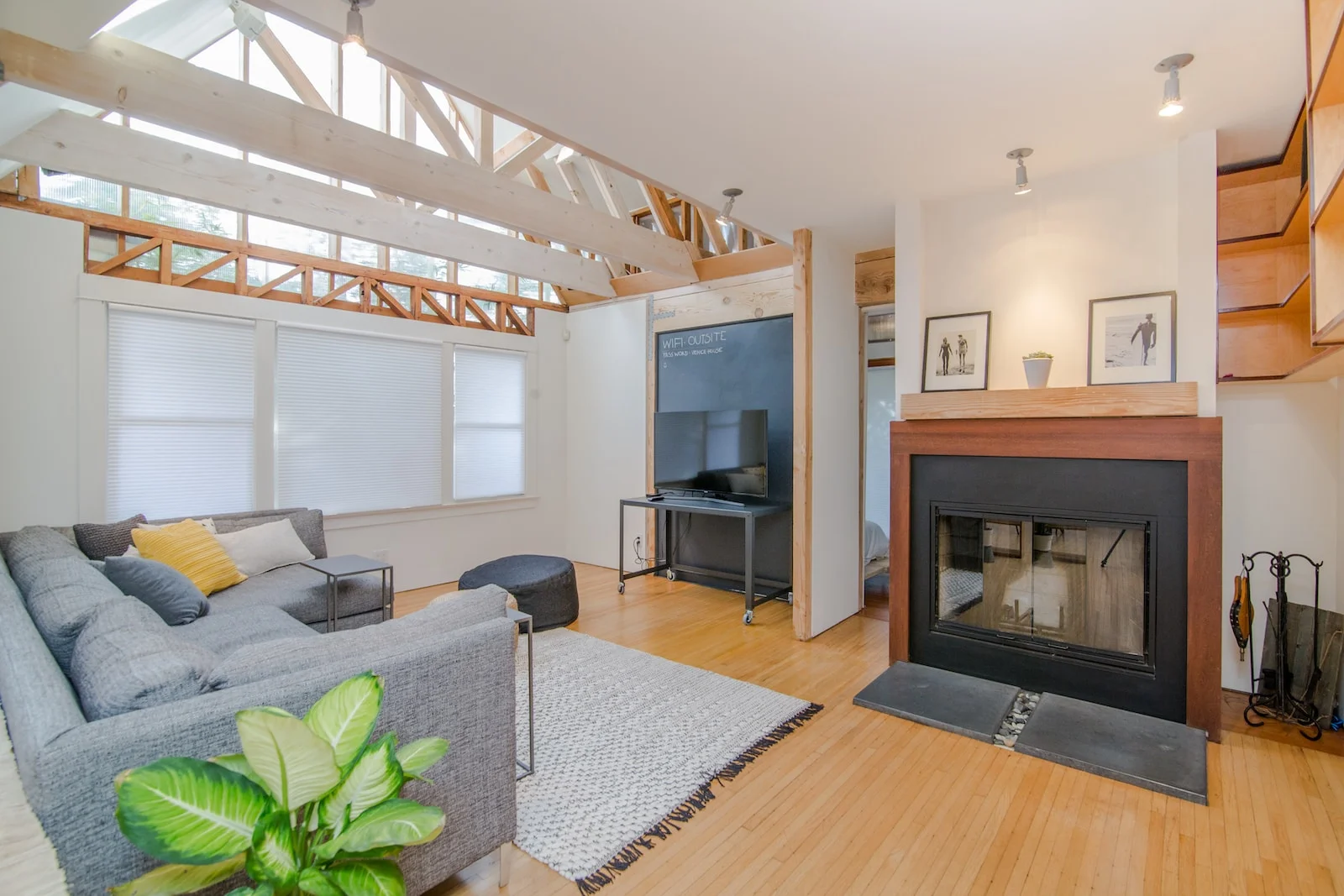 The housing market is in disarray as buyers scramble to find properties, mortgage rates climb, and the housing supply dwindles. In some areas of the country, housing valuations are dramatically up, and the dream of homeownership diminishes for many. These areas have homebuyers paying premiums of more than 50% of homes' values. 
Table of contents:
Top 10 overvalued housing markets
While housing is high throughout the United States, ten cities are the most overvalued markets. Researchers from Florida Atlantic University (FAU) and Florida International University (FIU) prepare a yearly report with data from real estate websites such as Zillow to examine how much buyers pay for homes in 100 metros nationwide.
For the report of the most overvalued housing markets in the US for 2023, 10 communities saw buyers paying over 50% over market value. The most overvalued markets are in the country's Western, Eastern, and Southern regions.
Boise City, Idaho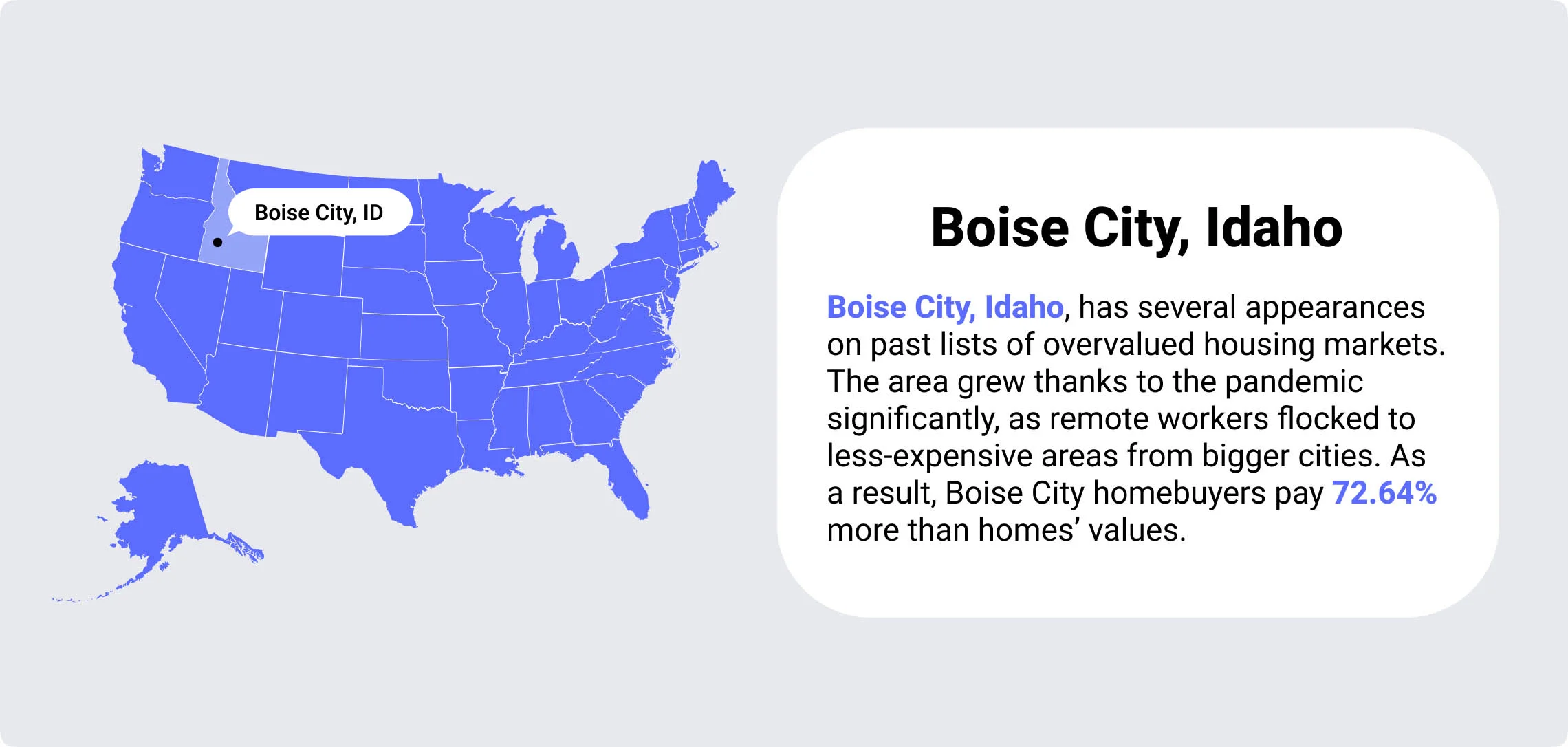 Boise City, Idaho, has several appearances on past lists of overvalued housing markets. The area grew thanks to the pandemic significantly, as remote workers flocked to less-expensive areas from bigger cities. As a result, Boise City homebuyers pay 72.64% more than homes' values.
Austin, Texas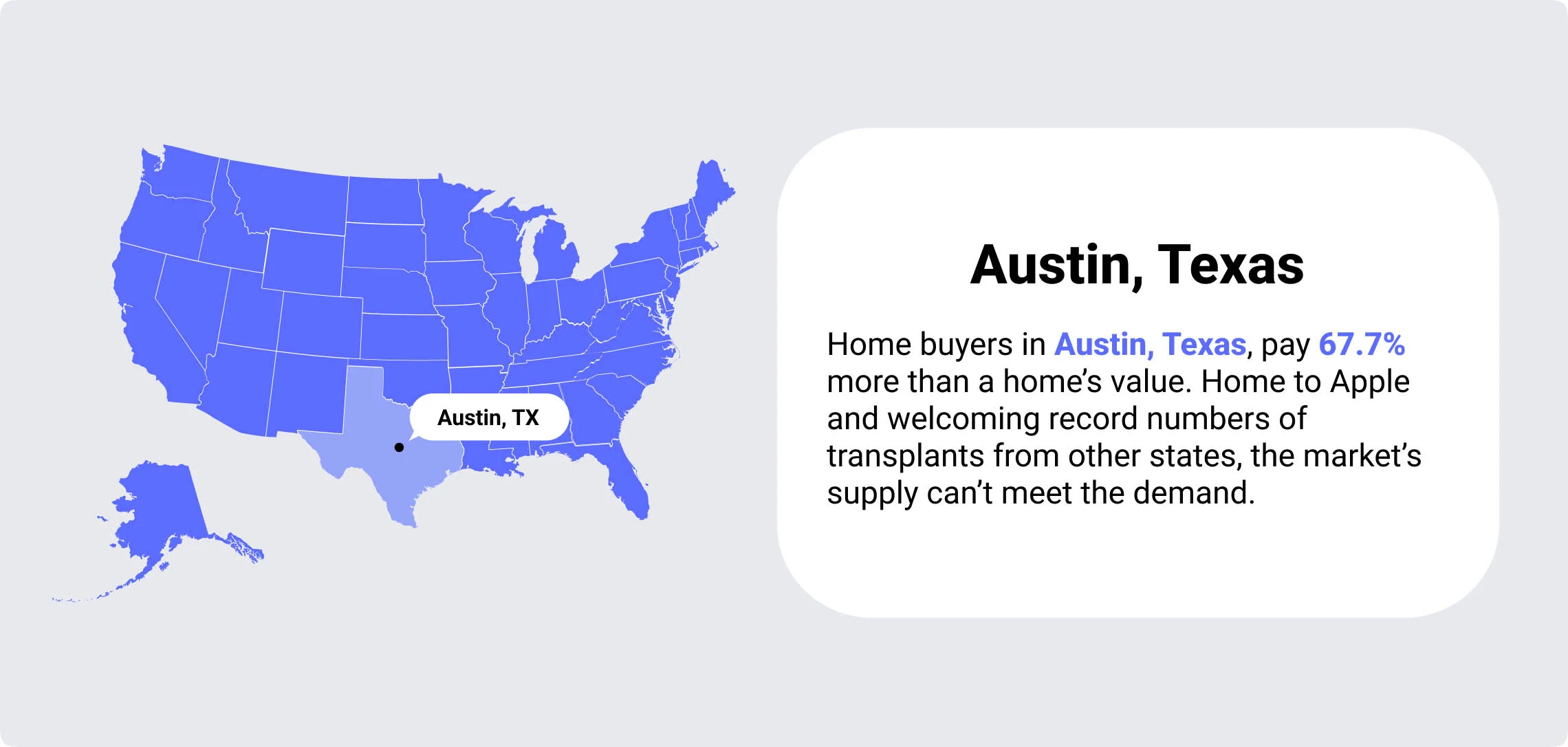 Home buyers in Austin, Texas, pay 67.7% more than a home's value. Home to Apple and welcoming record numbers of transplants from other states, the market's supply can't meet the demand.
Ogden, Utah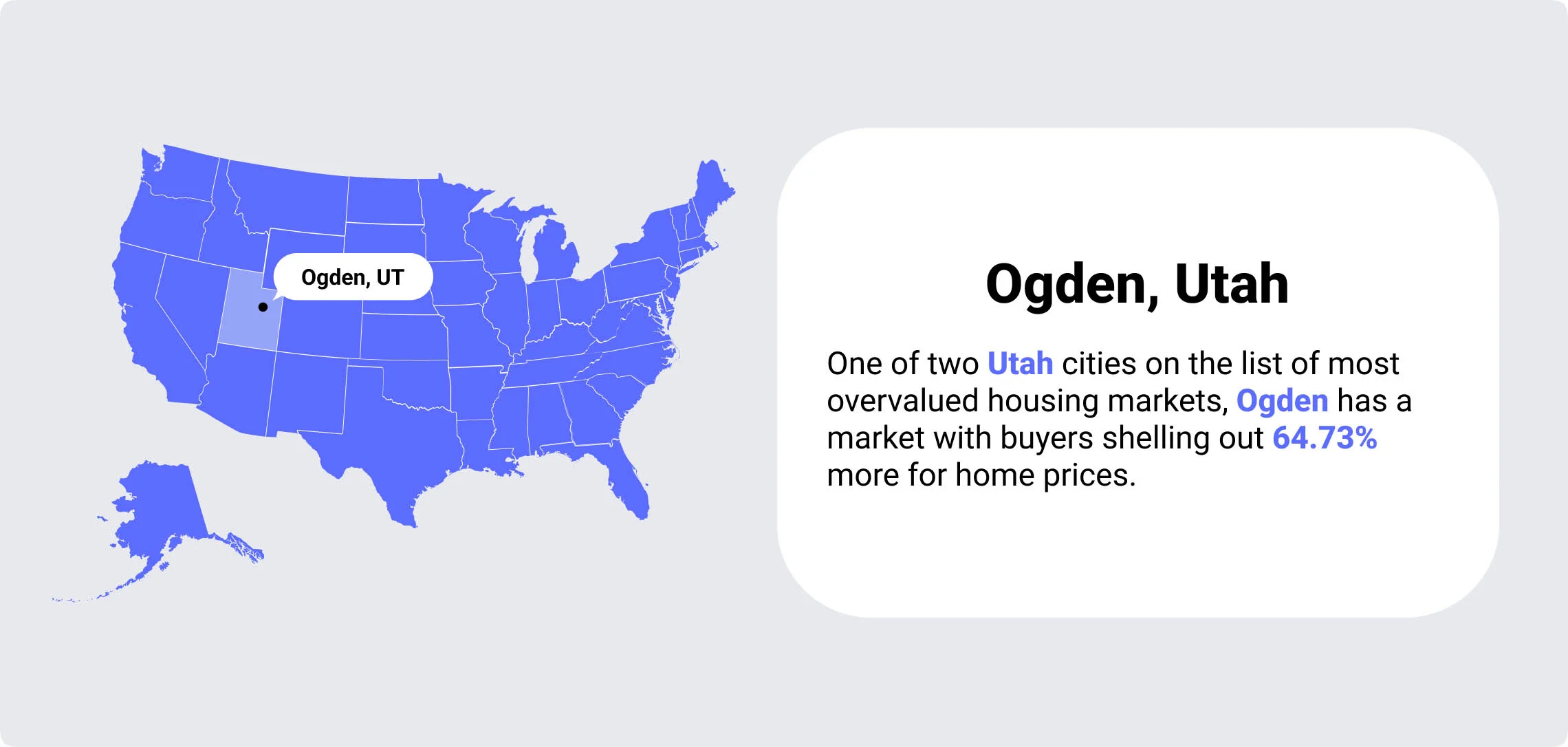 One of two Utah cities on the list of most overvalued housing markets, Ogden has a market with buyers shelling out 64.73% more for home prices. An increase in AirBNBs and other short-term rentals, a lack of available homes, and high competition contribute to the rising costs.
Las Vegas, Nevada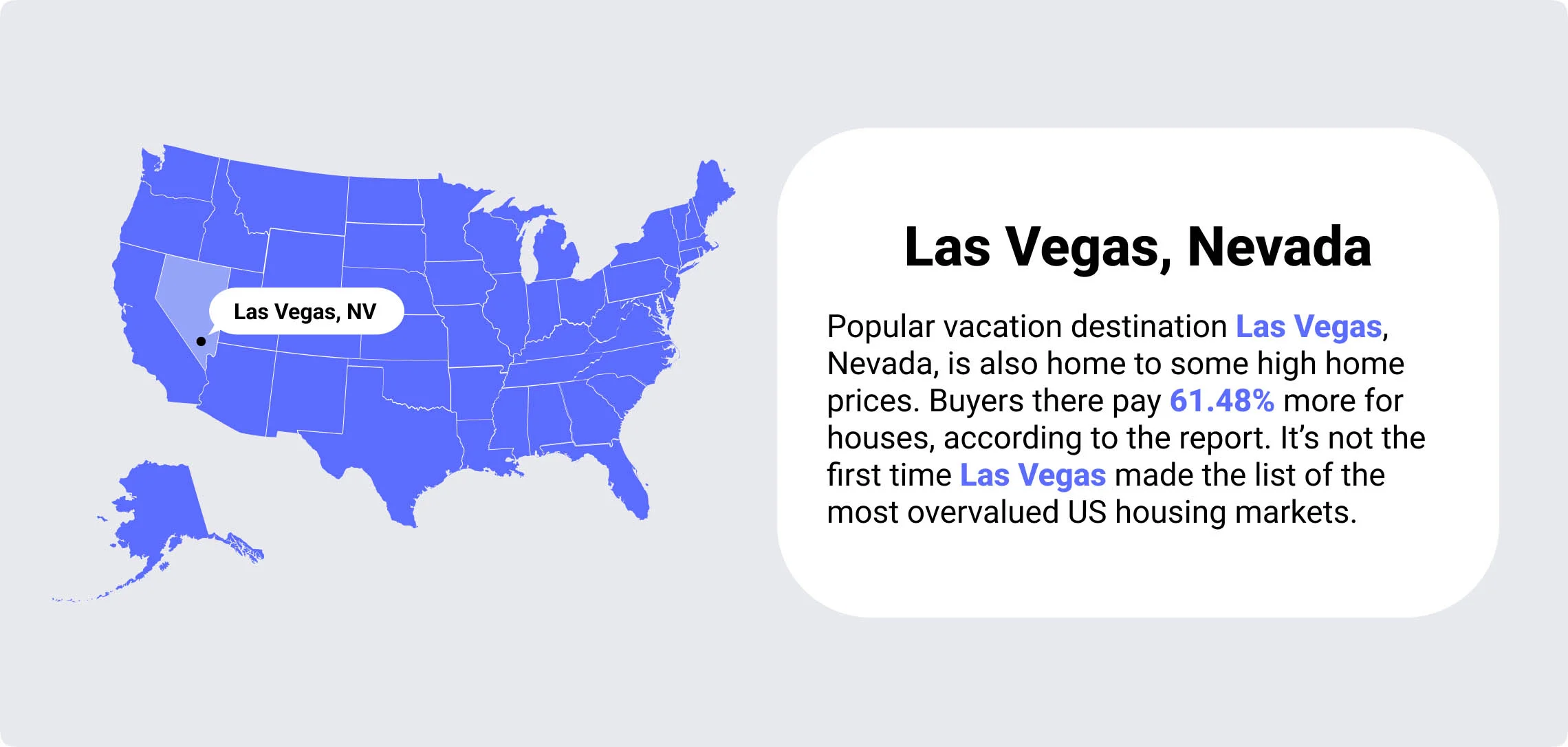 Popular vacation destination Las Vegas, Nevada, is also home to some high home prices. Buyers there pay 61.48% more for houses, according to the report. It's not the first time Las Vegas made the list of the most overvalued US housing markets.
Atlanta, Georgia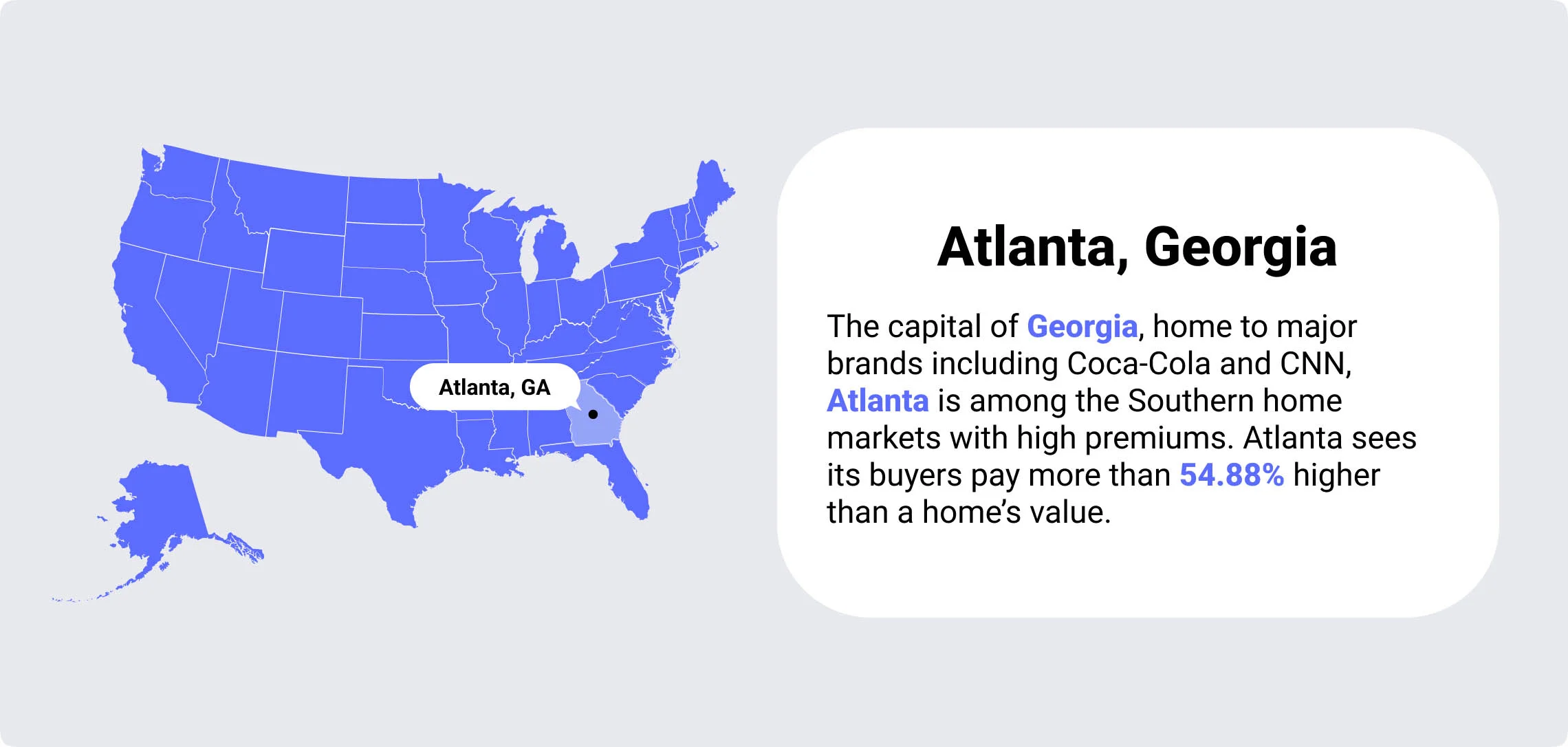 The capital of Georgia, home to major brands including Coca-Cola and CNN, Atlanta is among the Southern home markets with high premiums. Atlanta sees its buyers pay more than 54.88% higher than a home's value.
Phoenix, Arizona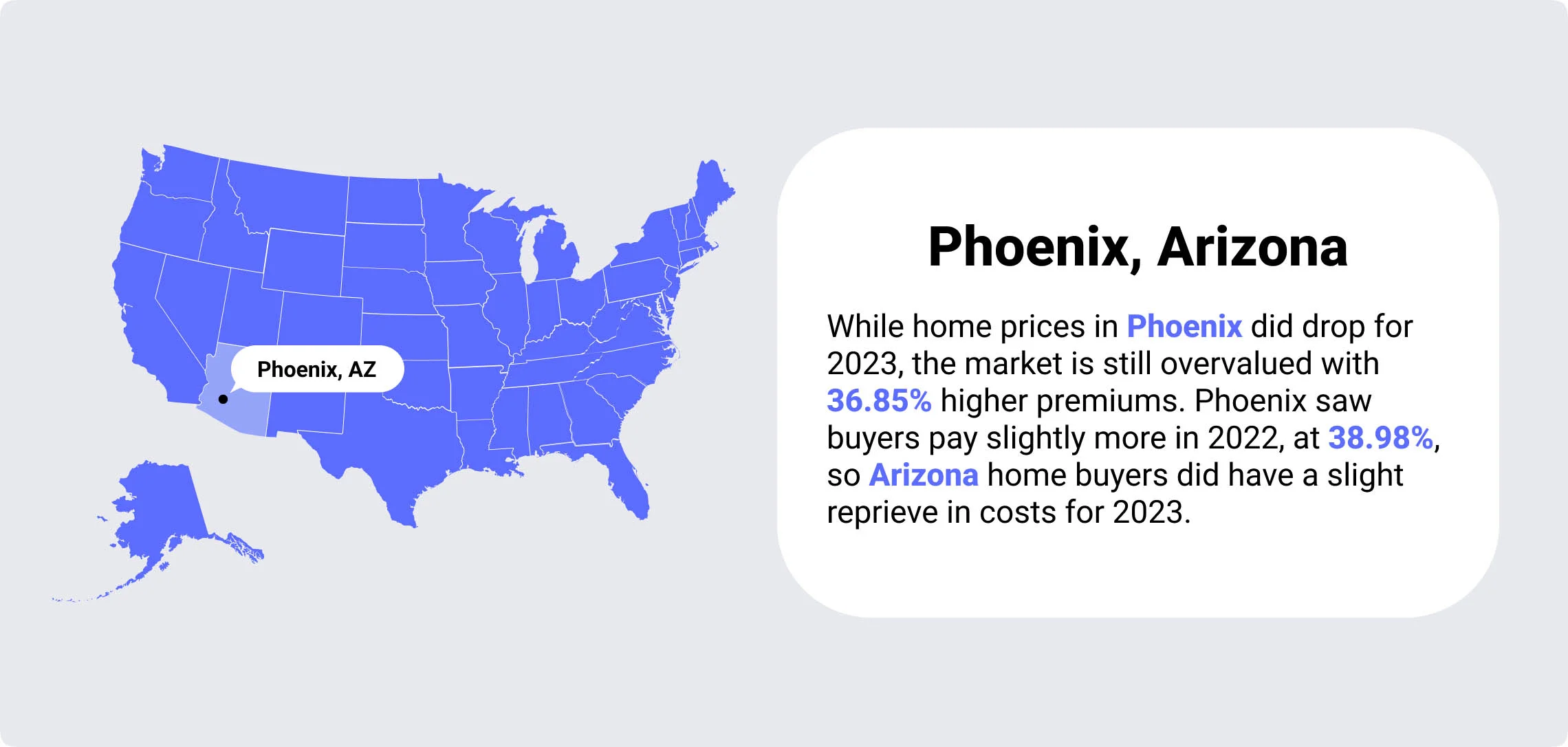 While home prices in Phoenix did drop for 2023, the market is still overvalued with 36.85% higher premiums. Phoenix saw buyers pay slightly more in 2022, at 38.98%, so Arizona home buyers did have a slight reprieve in costs for 2023.
Provo, Utah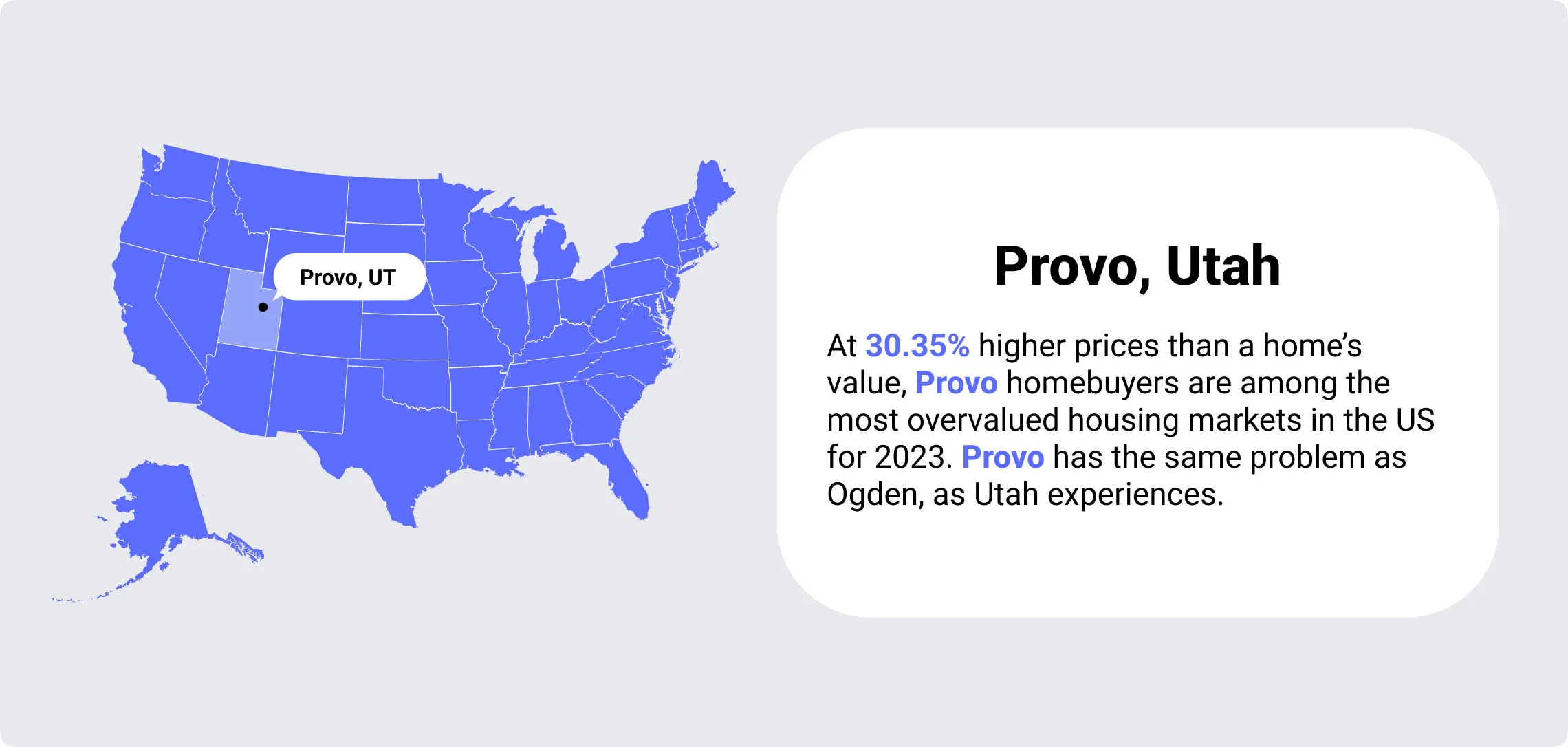 At 30.35% higher prices than a home's value, Provo homebuyers are among the most overvalued housing markets in the US for 2023. Provo has the same problem as Ogden, as Utah experiences a housing shortage overall.
Fort Myers, Florida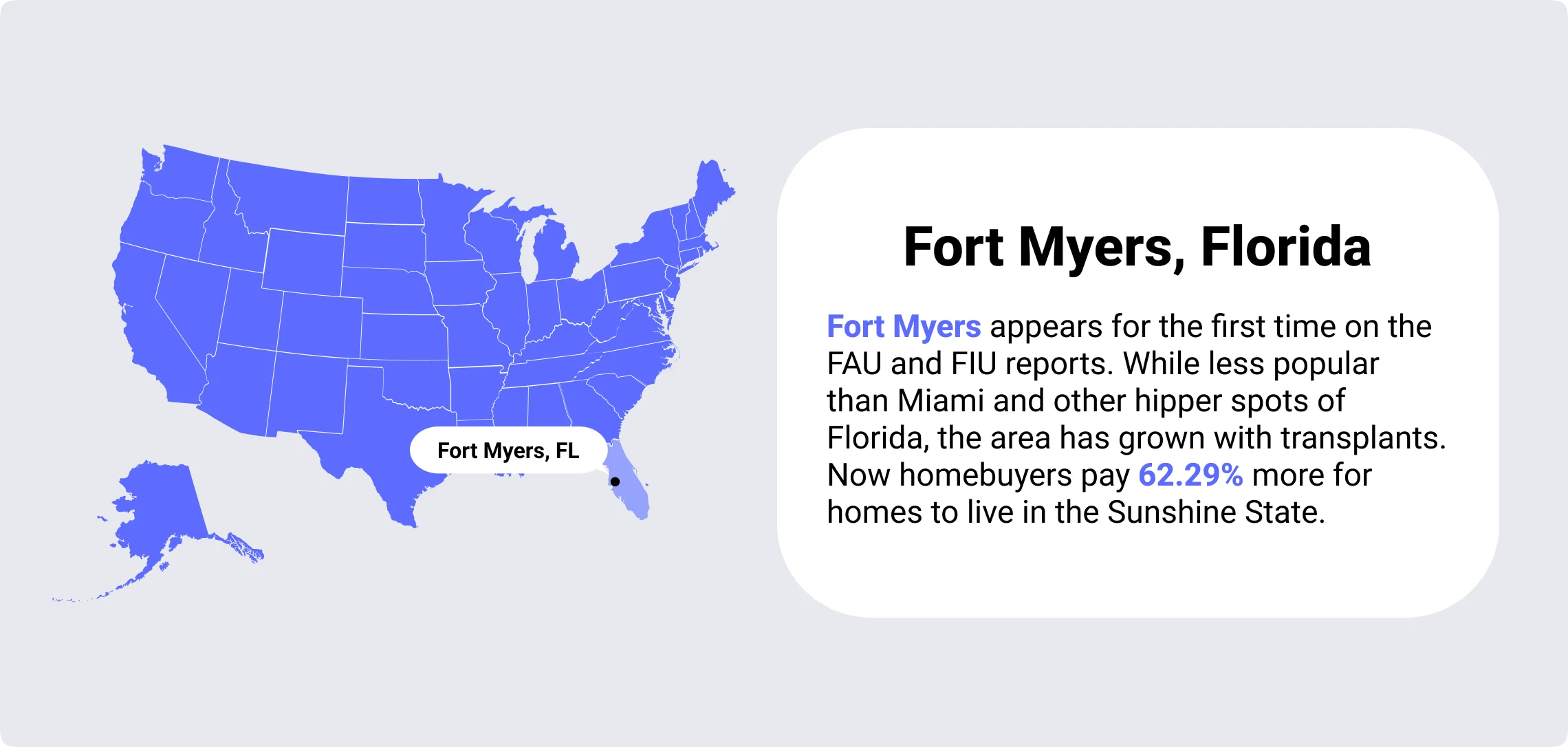 Fort Myers appears for the first time on the FAU and FIU reports. While less popular than Miami and other hipper spots of Florida, the area has grown with transplants. Now homebuyers pay 62.29% more for homes to live in the Sunshine State.
Spokane, Washington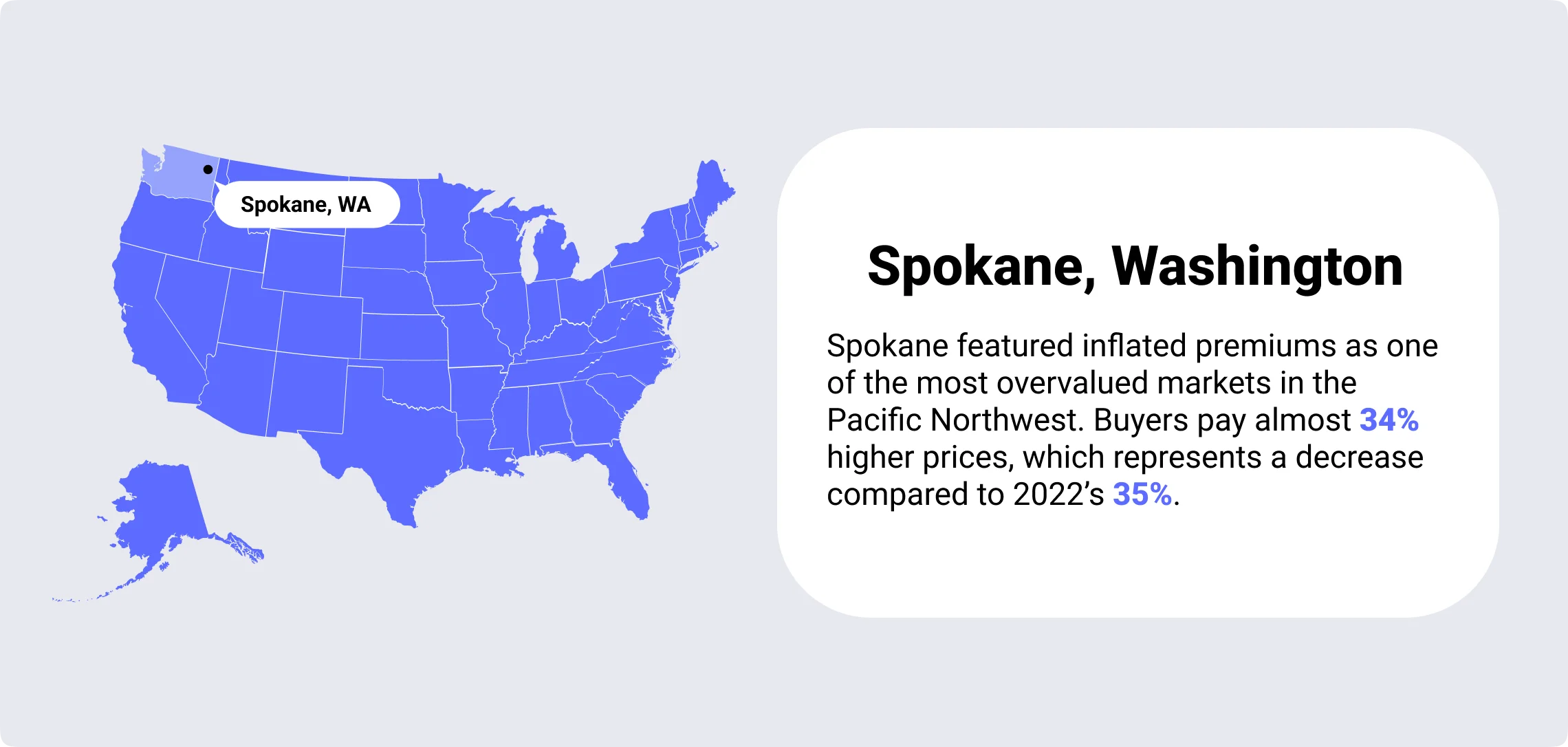 Spokane features inflated premiums as one of the most overvalued markets in the Pacific Northwest. Buyers pay almost 34% higher prices, which represents a decrease compared to 2022's 35%.
Salt Lake City, Utah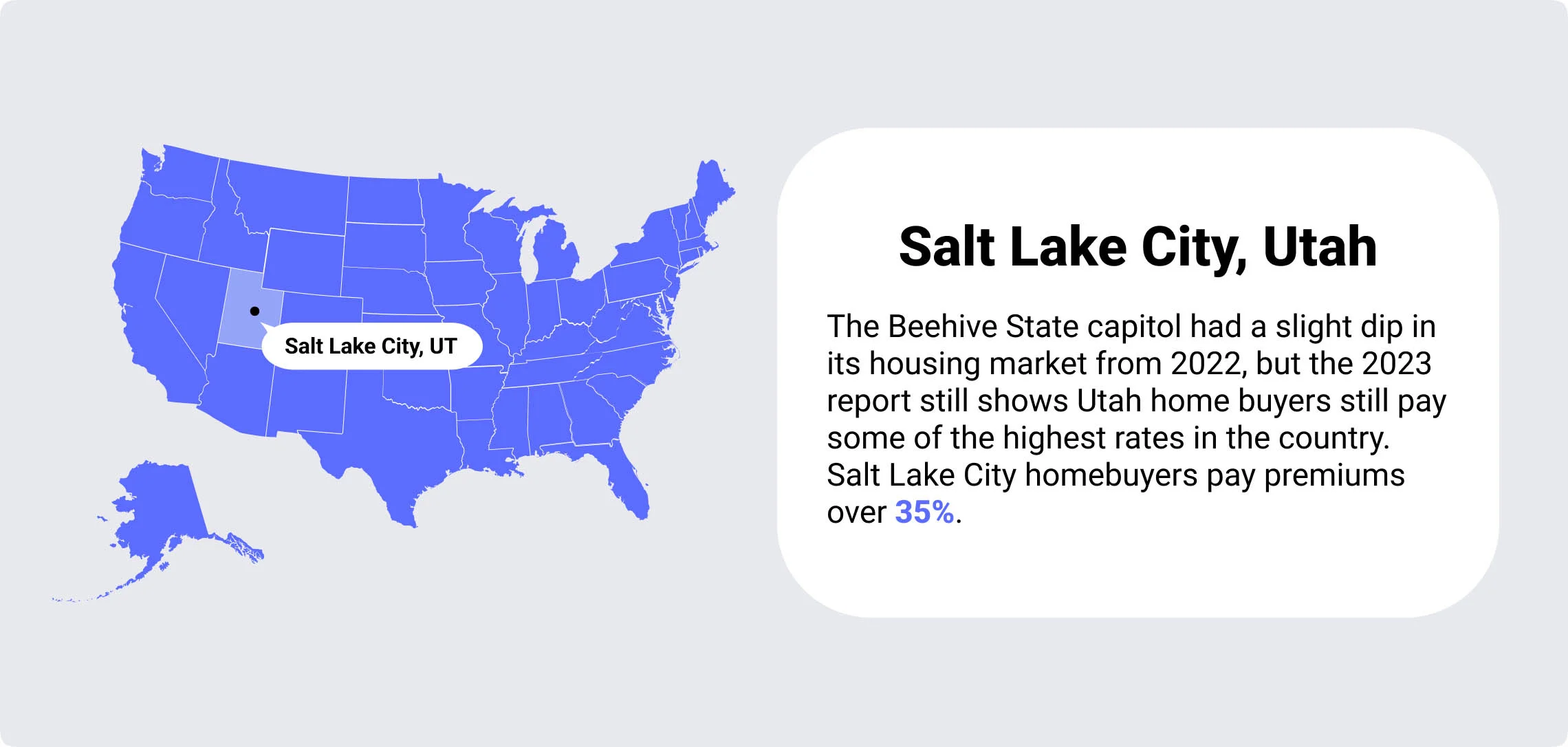 The Beehive State capitol had a slight dip in its housing market from 2022, but the 2023 report still shows Utah home buyers still pay some of the highest rates in the country. Salt Lake City homebuyers pay premiums over 35%.
Which states have the most overvalued housing market?
Four states feature homebuyers consistently paying inflated premiums for homes, and these states routinely appear on the list of overvalued markets.
Two of the states, California and Florida, also face higher natural disaster risk, which affects housing supply and costs.
California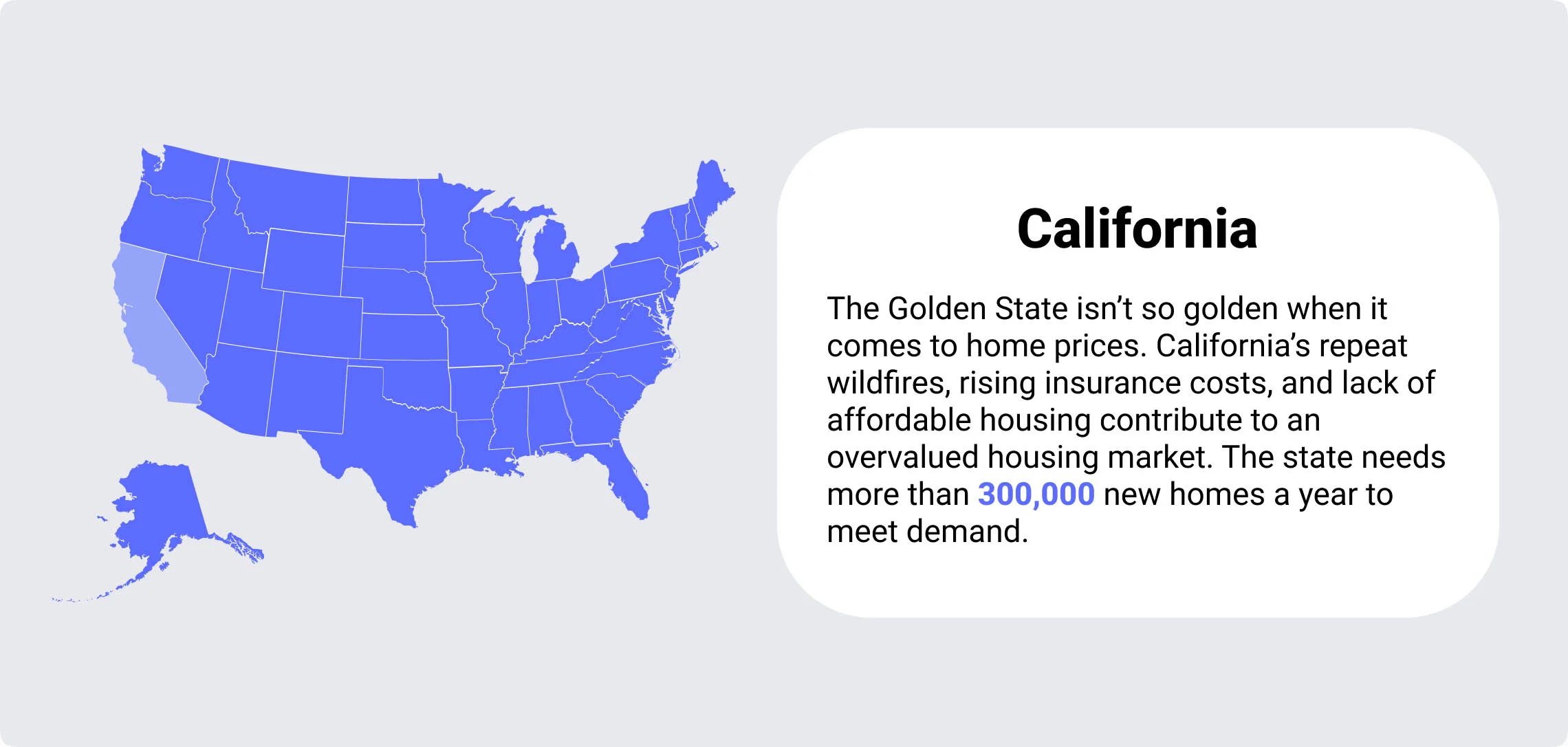 The Golden State isn't so gold when it comes to home prices. California's repeat wildfires, rising insurance costs, and lack of affordable housing contribute to an overvalued housing market. The state needs more than 300,000 new homes a year to meet demand.
Florida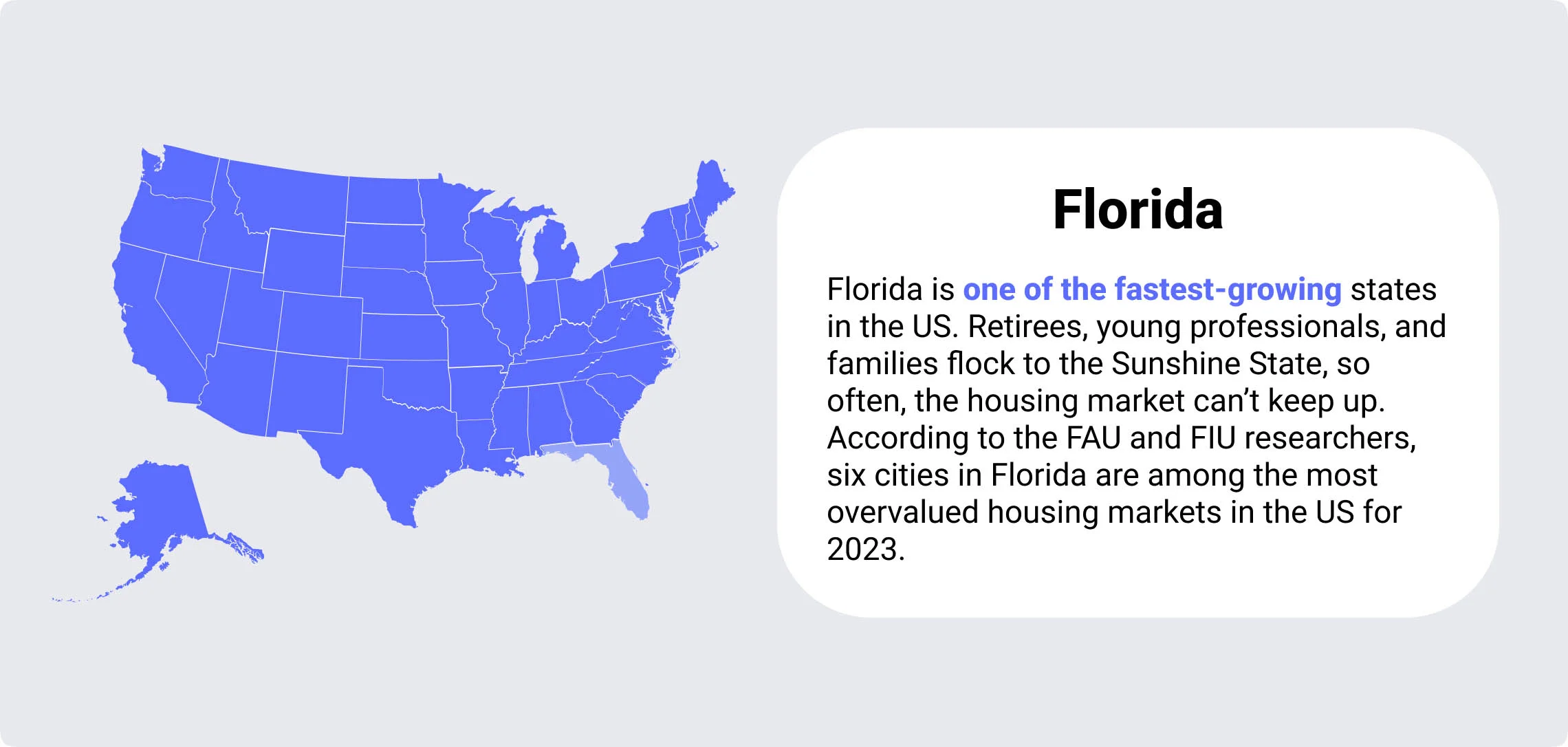 Florida is one of the fastest-growing states in the US. Retirees, young professionals, and families flock to the Sunshine State, so often, the housing market can't keep up. According to the FAU and FIU researchers, six cities in Florida are among the most overvalued housing markets in the US for 2023.
Washington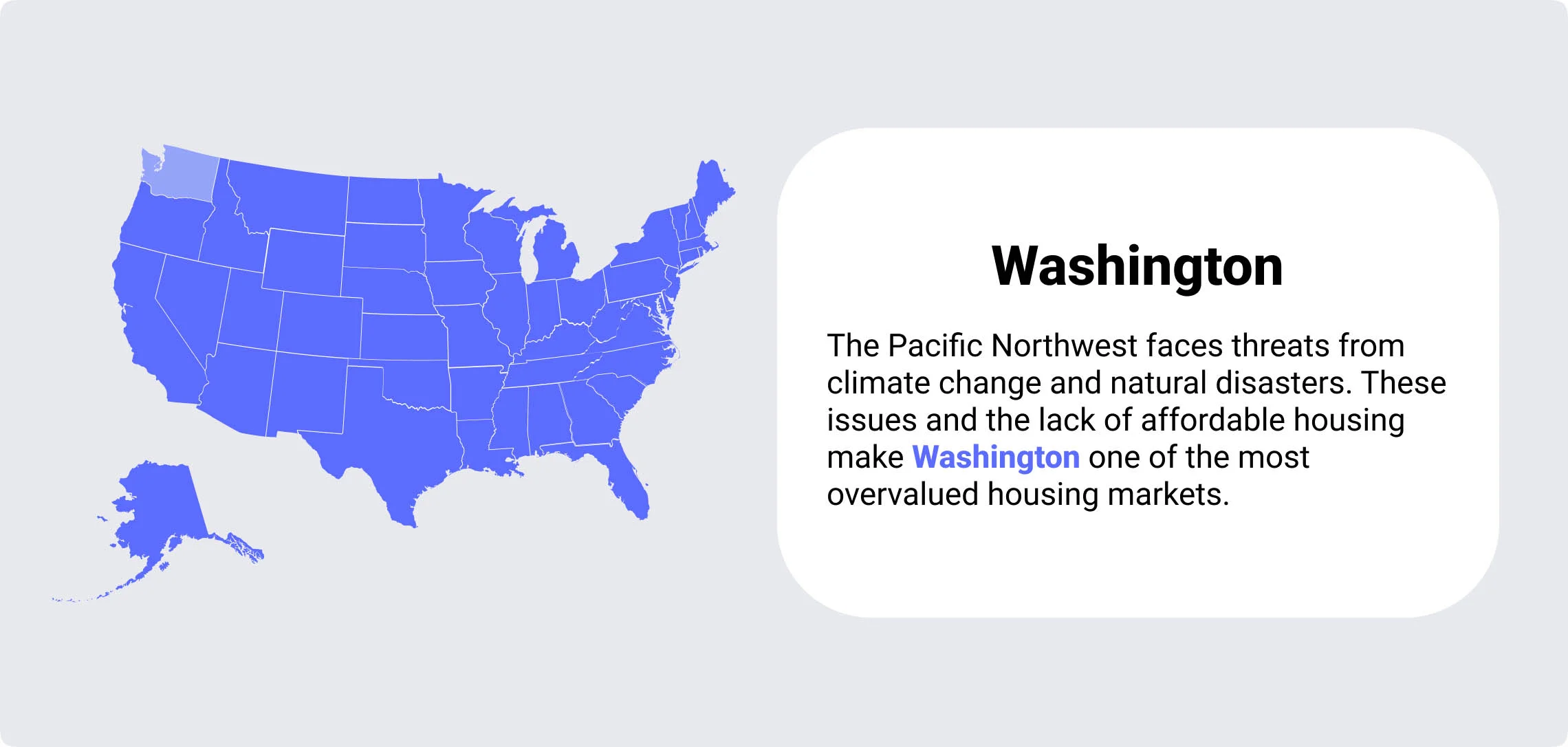 The Pacific Northwest faces threats from climate change and natural disasters. These issues and the lack of affordable housing make Washington one of the most overvalued housing markets.
Why do housing markets start becoming overvalued?
Various factors contribute to overvalued markets. Across the country, property companies snap up single-family homes and condos to turn into short-term rentals, but this is only one piece of the puzzle.
Increased demand, previously lower mortgage rates, and low supply also contribute. The pandemic inspired some New York City workers to migrate to cheaper cities, but as many remote workers descended on stressed markets, the housing supply shrank further.
Will home prices increase or decrease in the near future?
Real estate experts at Redfin and similar companies believe home prices may decrease slightly in the future. Some economic experts disagree, especially amid inflation and recession fears. As of early 2023, mortgage rates sit over 7%, higher than in previous years.
FAQs
What are the most undervalued housing markets?
Researchers found the most undervalued housing markets are in the Midwest and East Coast in the cities of Cleveland, Detroit, Philadelphia, and St. Louis.
Is Florida's housing market overvalued?
Yes. Florida appears several times in the report of the most overvalued housing markets in the US for 2023, and the Sunshine State makes up six of the ten metros on the list. Areas overvalued in Florida include Tampa, Lakeland, Deltona, North Port-Bradenton, Cape-Coral Ft. Myers, and Palm Bay, Melbourne.
Where are U.S. property values dropping?
The Western region of the U.S. sees the most dramatic decrease in property values. Cities like San Jose, Seattle, and Oakland are among those with reduced prices.
Will the U.S.'s house prices go down in 2024?
Real estate experts predict home prices in the U.S. will drop in 2024, with rising mortgage rates causing the decrease. Prices for buyers could drop by 4% by the end of 2024. 
Where is the biggest housing shortage?
California has the most significant housing shortage, with the state short an estimated 3 million homes. Some cities will see prices lower, but California has a drastic need for homes overall.
Protecting your investment
With an unstable housing marketing, it's even more important to protect your home at all costs. Review your home insurance policy thoroughly, and get quotes from several carriers to ensure you have the best coverage for the best price.
Related content: