UPDATED: JULY 06, 2023 | 2 MIN READ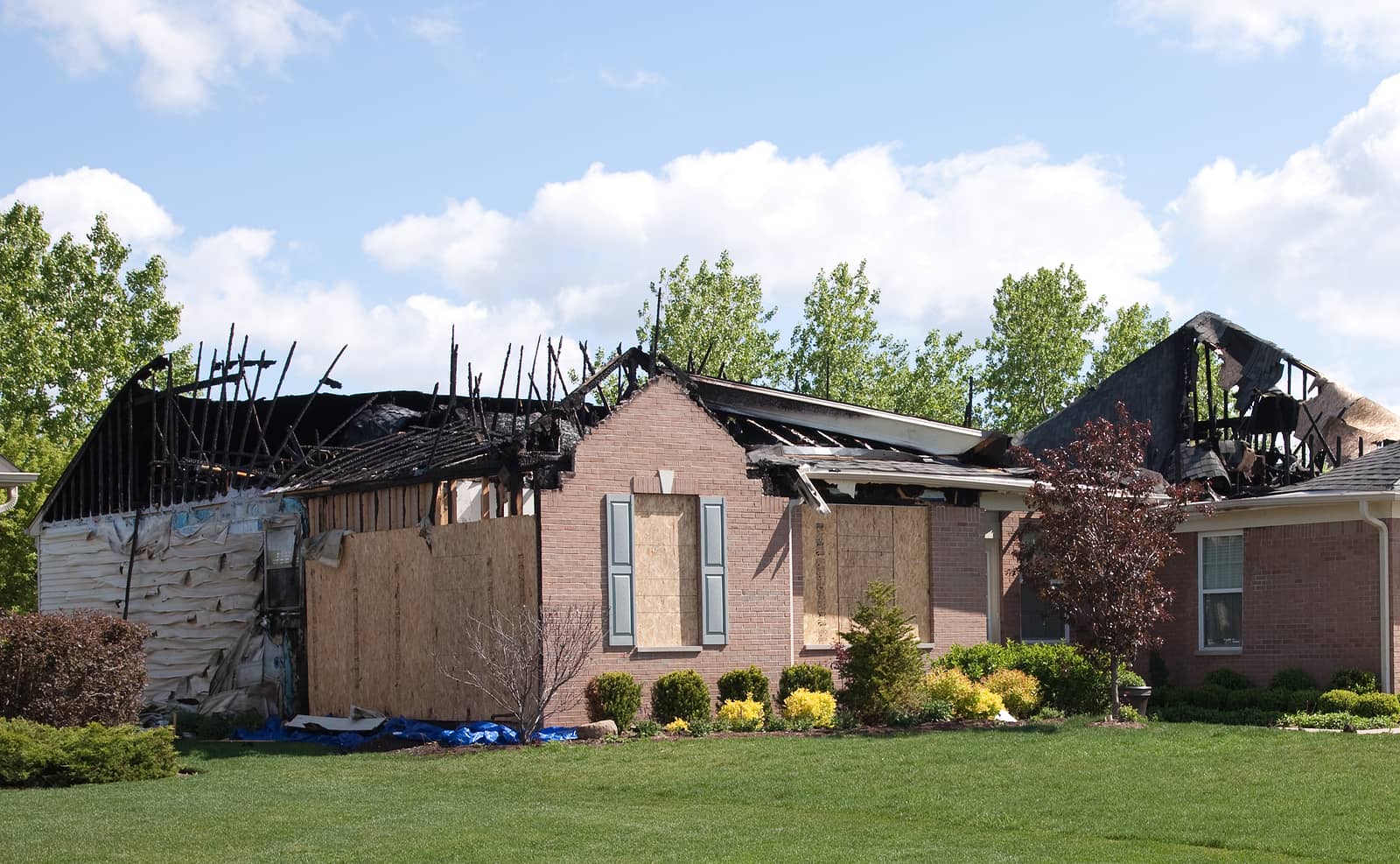 Homeowners insurance is a type of property coverage that protects your home and its contents. It's a form of liability insurance that helps to protect you from financial loss if a house fire or another disaster destroys your house. Read on to learn how fire insurance provides assistance for fire damage and mitigation.
How do you know if your homeowners insurance covers fire damage?
This is a question that many people ask themselves when they are looking to buy a home. It's essential to ensure you know the answer to this question before purchasing your home.
You'll want to ensure that your homeowners insurance covers fire damage and mitigation in the case of a fire.
The best way to know if your homeowners insurance policy covers fire damage is by contacting your insurance company and asking them directly.
How does fire insurance and mitigation work?
Fire insurance protects the insured from financial loss caused by fire damage up to the policy limits outlined in the insurance quote.
This type of insurance protects the insured from any financial loss in case of fire. The most common form of fire insurance is property coverage which pays for damage to or destruction of your home and its contents.
Fire Insurance can be purchased as a standalone or added to a standard homeowners insurance or renters policy.
Different types of home insurance for fire damage and mitigation coverage
There are three main types of home insurance coverage: structure coverage, liability, and personal property coverage.
Property coverage refers to the protection you receive for your house and its contents if a fire damages or destroy it.
Liability coverage relates to protection against lawsuits that may be filed against you due to injuries on your property or because someone was injured.
Personal property coverage provides protection against loss of or damage to covered items.
You'll need to get a copy of your policy and read it carefully. Some policies cover fire damage from any cause and some only cover fire damage from a natural disaster. You'll also want to know if it's an actual cash value policy or replacement cost coverage and any coverage limits that exist for your type of coverage.
What every homeowner should know about fire damage and mitigation
Fire damage is a type of damage caused by fire. It can be classified into four types:
Structural fire damage, which is the result of the fire's heat, smoke, and flames;
Contents fire damage, which is caused by the flames coming into contact with combustible materials inside a building;
Smoke and soot damage, which is caused by smoke and soot filling up a building after a fire has been put out;
Thermal shock or flashover damage is caused by the sudden temperature increase from a fire's heat.
Call your insurance company!
The first thing you should do after a fire is to call your insurance company. They will assess the damage and either send out an adjuster or give you a claim number so you can start filing your claim.
Fire damage cleanup
While fire damage is a severe and dangerous problem, it can be cleaned up. Many companies specialize in fire damage cleanup.
Companies specialize in different types of fire damage cleanup. Some companies focus on smoke removal, while others focus on removing water and other liquids from the property.
Fire damage cleanup is essential in restoring a property to its original state. So if you have had a fire at your home, contact a company specializing in this service to help you get started.
Fire restoration and rebuilding
Fire restoration and rebuilding restore your property to its original condition after the fire.
The process of fire restoration and rebuilding begins with evaluating the damage done by fire. The company will then remove all debris and soot from your property.
Next, they will start cleaning up any water or smoke damage due to the fire. Then, they will begin repairing any damage to your property, such as replacing drywall or carpets.
Lastly, they will paint your walls and replace any furniture lost in the fire.
What's included in fire restoration and rebuilding?
Fire damage can be devastating and can cause serious health and safety problems. When a fire damages your home's building materials and surfaces, it's important to contact a professional fire restoration and rebuilding company.
Fire restoration companies help rebuild damaged buildings and surfaces of homes. They use a variety of methods, including:
Debris removal
Water removal
Fire damage assessment
Mold remediation after a fire
Fires can cause a lot of damage and have the potential to create a lot of mold. Proper mold remediation is vital for preventing further damage and for the health of those who live in the affected area.
A fire can be devastating but can also lead to mold growth. Mold growth can cause health issues, so taking care of it as soon as possible is essential. It will also prevent further damage from occurring due to water or other substances that could cause mold growth.
Check your current insurance coverage for fire damage and mitigation
Homeowners insurance policies are designed to cover fire damage and mitigation, but they don't always cover the cost of cleanup. If your property is damaged in a fire, consider hiring a professional service to help clean up the mess.
Homeowners insurance policies don't cover the cost of cleanup for most damage from fire. However, if you have a policy that covers water damage or storm damage, it will also cover cleanup for fires.
Before hiring someone to help with cleanup, check your policy and ensure it covers the work that needs to be done. Any contractors you hire are licensed and insured in case of an accident while working on your property.
What to expect from homeowners insurance after a fire?
When your home is affected by a fire, it's helpful to know some basics of how the insurance process works. There are many companies to choose from, and each one will be different in the coverage it provides.
It's essential to know how your homeowners insurance coverage for fire damage and mitigation works. Most homeowner policies provide protection in the event of an unexpected loss, such as a fire or water damage.
An advance on a claim
Homeowners insurance policies typically provide a small amount of money after a fire and before your policy paperwork is filed to help you get back on your feet. These funds are meant to ease the financial strain that often accompanies immense personal loss.
If you need to ask for an advance on your expenses while filing a claim, save receipts and document the amount deducted. The value of the advance is typically removed from the overall compensation you will receive after filing the claim.
Filing a homeowners insurance claim
When you have a home insurance claim, filing the claim is one of the most critical steps. However, it can be overwhelming. After the fire, file an insurance claim with your insurance company as soon as possible. Please provide them with as much information as possible.
To file a claim, follow these steps:
Contact your insurance company
Provide them with detailed information about the loss
Provide them with the information for the proof of loss forms. This typically includes receipts, documents, and details for damaged items, such as brand names and model numbers.
Reimbursement for living expenses after a fire
You should be entitled to reimbursement for living expenses beyond the ordinary when your home is damaged. This is done through a "loss of use" clause in your homeowners insurance. You should read your policy carefully to see what expenses are covered and whether there is a limit on how long the coverage will last.
You could claim reimbursement for those expenses if you are required to stay at a hotel or with friends and family. Your policy might have stipulated dollar or percentage limits regarding the number of costs you can claim. Check your policy for details and keep a record of all out-of-pocket expenses you have paid.
Getting repair estimates after a house fire
An "actual cash value" homeowners insurance policy will only reimburse the amount it would take to return your home to its market value. In some cases, you may find that your house's "actual cash value" is less than what you paid for it.
A "replacement cost" policy entitles you to the amount of money it would take to replace the house as well as the contents of the home. This can have limits but does provide peace of mind in all situations.
These policies are created using the estimates of a home's value before the fire. Based on this information, policies can be negotiated. Working with an independent estimator or public adjuster is typically the best option for getting your own estimate to compare with the insurance company. Making sure you're appropriately compensated for your losses is important, but it's also important to know what's covered.
Avoid these mistakes after a fire
A fire can be devastating and cause damage to your home, property, and possessions.
You must take the proper steps to protect yourself after a fire in your house.
The following are common mistakes people make after a fire:
Not hiring a professional contractor to repair or rebuild the home
Not consulting with an insurance agent to help with the rebuilding process
Not taking pictures of damaged property before it's cleaned up or repaired
FAQs
What can happen if I don't have home insurance after a fire?
Suppose you don't have homeowners insurance coverage and can't afford to repair it out of pocket. In that case, the house will be considered a total loss. This means that your home can't be repaired, and it can't be sold as is.
Does a fireplace increase home insurance?
Having a fireplace can increase your home insurance premiums. Still, it depends on several variables, including your fireplace type.
How does house insurance work with fire?
A fire can be devastating for a homeowner, but it doesn't have to be! If you have home insurance, including dwelling coverage, you may still be reimbursed for your losses.
What kind of policy covers fire damage?
Homeowners insurance covers fire damage and mitigation of any cause, including wildfires, lightning, or power surges. It also covers damages caused by explosions or earthquakes unless explicitly excluded from your policy. Some home insurance companies require you to have a separate policy for fire damage, so you may need to purchase additional coverage in this case.
Your homeowners policy will typically cover your home's structure and content against accidental and intentional fires, including wildfire damage.
Is fire insurance different from homeowners insurance?
There are two types of insurance that you can buy for your home: fire insurance and homeowners insurance. Homeowners insurance protects your home, its contents, and any outbuildings (sheds, garages) against damage or loss from various events. Fire insurance is designed to protect your home against damage or loss from the fire only.
What is considered fire damage?
Fire damage is usually caused by a fire that has been contained to a building or other structure. It can also include the smoke and soot that was created by the fire. Fire damage can be caused by an accidental fire, arson, or a natural disaster such as a hurricane, tornado, or wildfire. The damage will depend on how severe the fire is and how much of the building is affected.
What does homeowners insurance cover?
Homeowners insurance covers the structure of the building and personal belongings in your home. It also provides liability protection for damage or injury to others in the event of a fire. It may also include loss of use coverage or additional living expenses should your home become inhabitable.
What are the most common causes of fire?
The most common causes of fires are smoking materials, candles, faulty wiring, unattended cooking fires, and electrical issues.
What is the difference between fire and water damage?
Fire damage is caused by the rapid oxidation of combustible materials, such as wood, paper, and other organic substances.
Water damage is caused by water seeping into a building and damaging its contents. It may be caused by the fire department responding to a fire in your home.
What is the average cost of home fire damage?
The cost of home fire damage will depend on the size and type of property. For example, a small house with minimal damage would be around $5,000. But if there is extensive water and smoke damage, it could reach up to $50,000.
How do you know if your homeowners insurance covers fire damage?
The best way to know if your renters insurance or home insurance policy covers fire damage is to speak to your insurance agent. Most home insurance companies will cover fire damage as standard. Still, if you live in a high-risk area for wildfires, for example, it may be on their list of exclusions.
How to find the best rates for fire insurance?
Homeowners insurance can cover fire damage, but it depends on the type of policy purchased, as well as the specific cause of the fire.
Most homeowners policies provide coverage for fire damage. However, there are exceptions to this coverage. For example, suppose a homeowner has an older home with wooden shingles and siding. In that case, they may not have coverage for fire damage and mitigation. The same goes for homes over 30 years old that have been remodeled extensively without getting a new policy from the insurance company.
The type of policy also affects whether or not a homeowner is covered for fire damage. For example, some policies may only cover certain types of fires (like kitchen fires). In contrast, others may only cover specific causes (like electrical fires).
Compare rates to ensure you get the best deal and the right coverage for your home. We make this process quick and easy for you. Simply fill out our online rate form, and you can review the rates of the top companies in your area.