UPDATED: AUGUST 07, 2023 | 3 MIN READ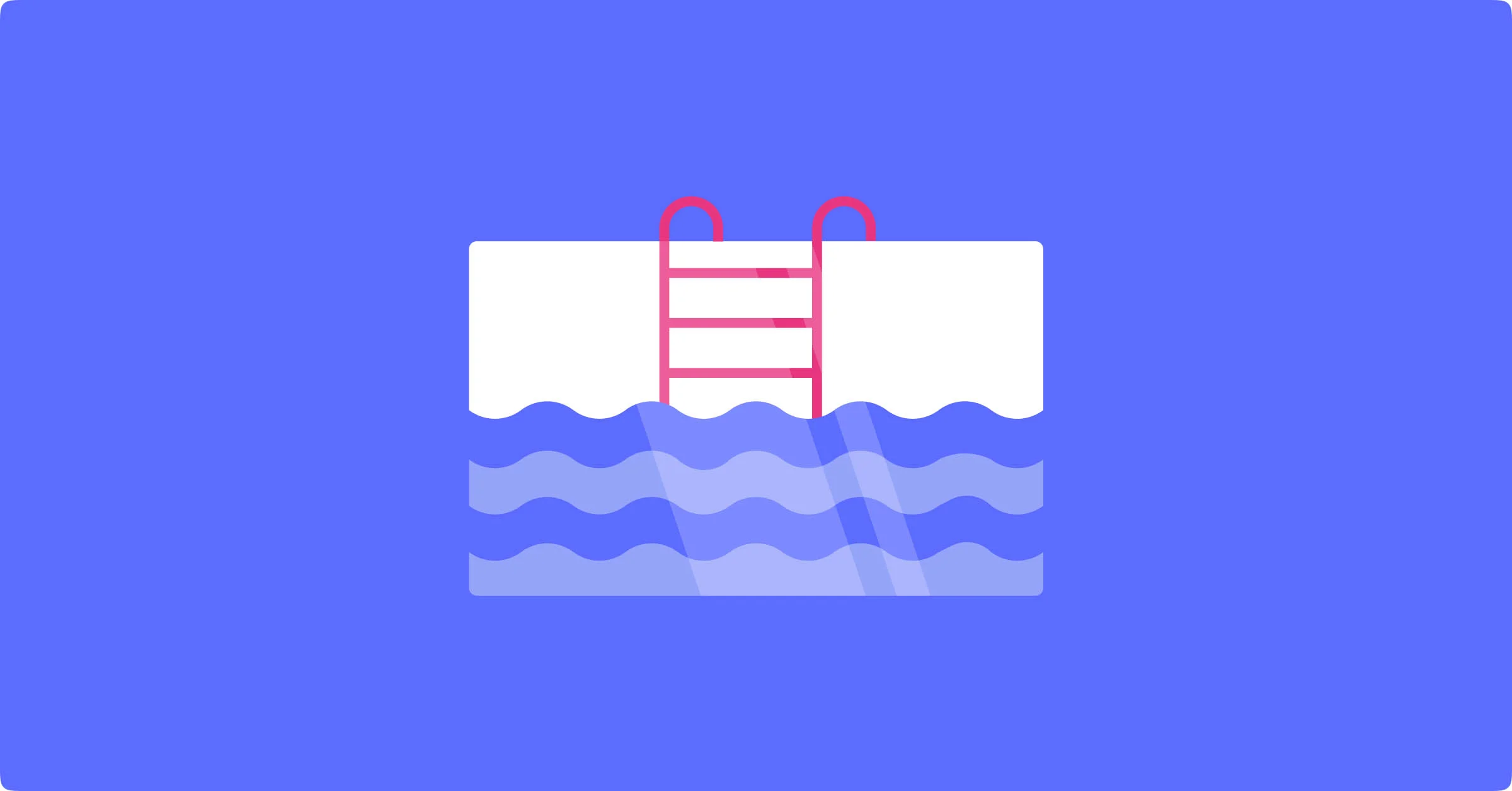 On average, homeowners with swimming pools pay $2,635 more annually for insurance. A pool raises your home insurance because pools are a liability. They're a potential hazard for children and adults alike. The more expensive the pool, the higher the premium.
The amount it will raise your home insurance depends on various factors such as type of coverage, location, and the number of claims filed in your neighborhood.
Factors affecting insurance premiums for pools
Diving boards
A diving board is another popular pool feature that can increase your insurance premium. Installing a diving board also brings additional risks. You must ensure there is enough water depth, the board is wide enough, and the board is positioned safely.
Attractive nuisances
It could become an attractive nuisance if you don't keep your swimming pool in good condition. Attractive nuisances are dangerous conditions that could attract children and risk their safety. Other examples may include a broken down or unused trampoline or tree house.
Medical bills
The risk of drowning or getting injured increases when you have a pool. You may be liable for covering anyone's medical bills if they get hurt on your property. This added liability could make an insurance provider wary of providing coverage, meaning they may charge you more for your premiums.
Best insurance companies for houses with swimming pools
If you have a swimming pool and you're looking for the most cost-effective home insurance option, Allstate is a good carrier choice, with rates averaging around $2,289 per year. Travelers have similar rates, so it's also worth getting a home insurance quote from them too.
Liberty Mutual and Farmers home insurance for homes with a swimming pool average around the middle, with average annual rates at $2,560 and $2,662, respectively. State Farm tends to cost more than other providers, but it does have a reputation for excellent customer service and an easy claims process.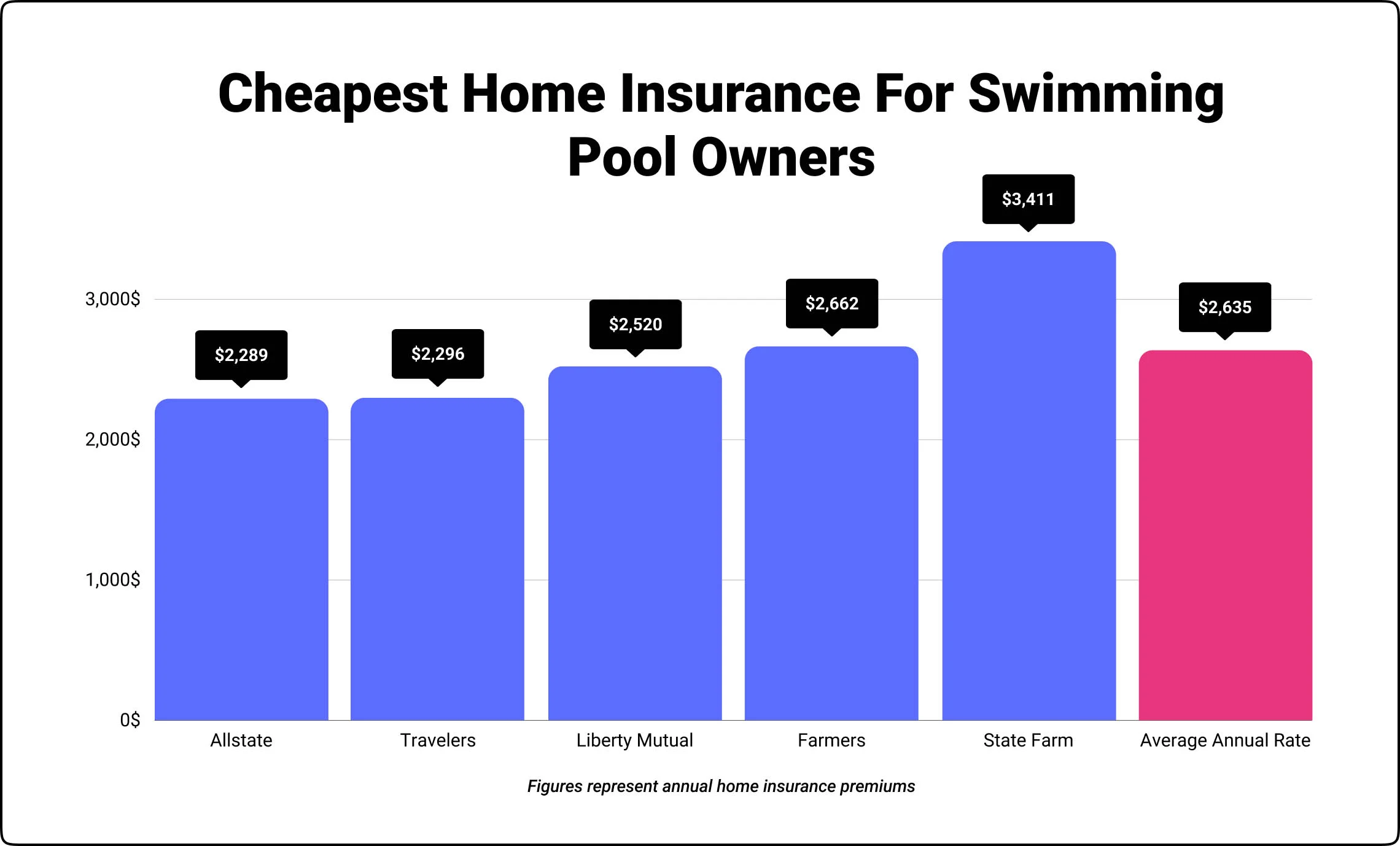 How a pool increases your homeowners insurance premiums
Your minimum liability coverage requirements will likely increase if you own a pool. That's one of the main reasons pool insurance cost is higher. In short, installing a pool increases the possibility that someone will drown on your property.
Because of this, your insurance company could request you increase your minimum liability coverage to at least $500,000. While that might seem like a huge jump, the premium cost shouldn't be too high.  
Influence of safety measures on insurance costs
While they may be a hassle, installing simple safety precautions can help offset almost all the extra premium costs associated with your pool.
One way to reduce your premium is by installing a pool alarm. This device detects movement in the pool and sounds an alarm if someone falls in the water.
It also alerts the authorities and your family members if something goes wrong. The device can be installed for less than $100, and it could lower your insurance premiums.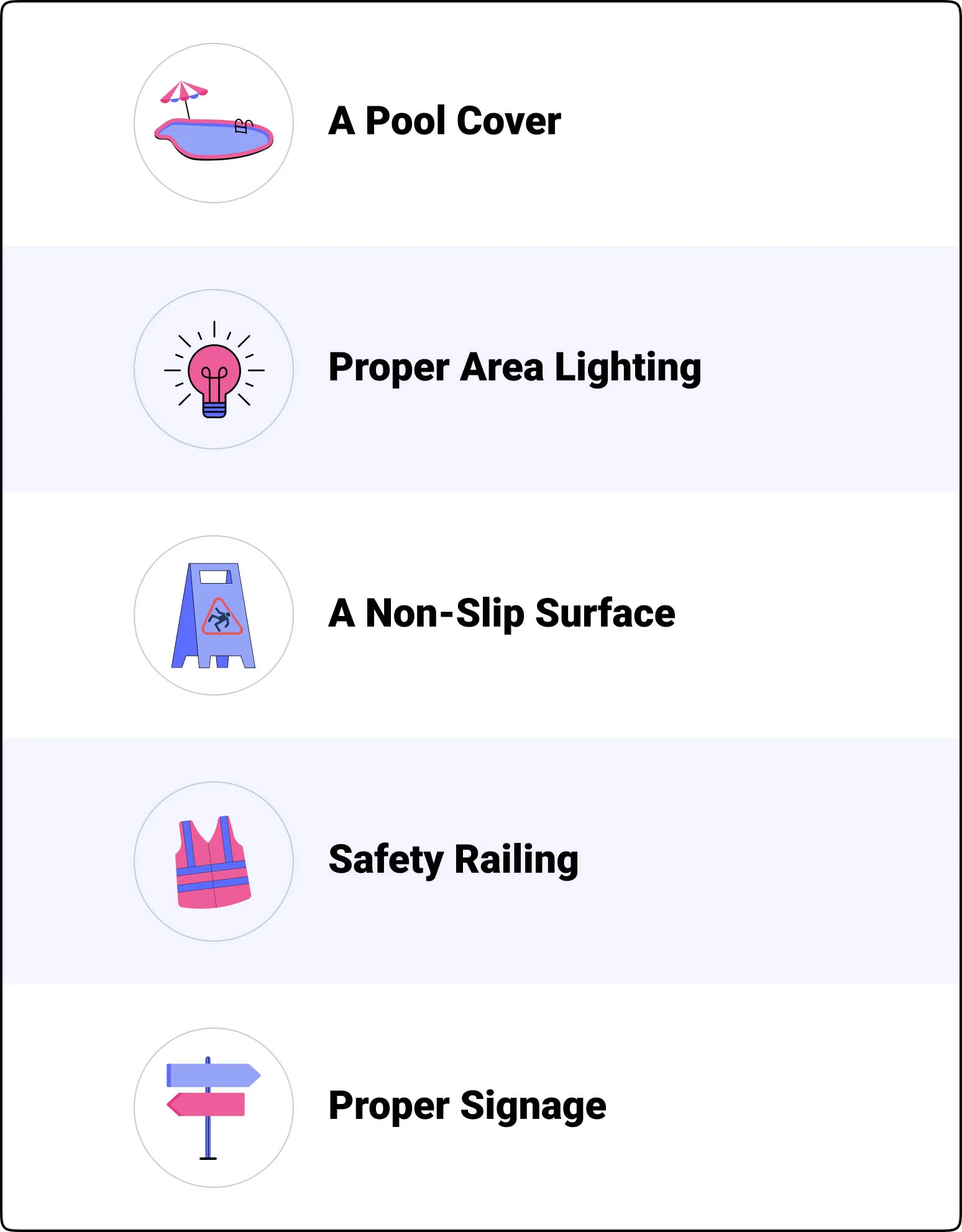 Another way to reduce your premium is by having a fence around the pool or patio area. A fence keeps people out of the pool and prevents animals from getting in.
These cost-saving safety features include:
A pool cover
Proper area lighting
A non-slip surface
Safety railing
Proper signage
All of the above help limit your liability exposure and reduce your likelihood of insurance claims. Home insurance companies are less likely to see you as a massive risk.
Impact of pool size, type, and features on premiums
The size and style of your pool affect the cost of your home insurance directly. The more expensive a pool is to repair or replace, the higher your premium. Here are some things that could affect your policy's price.
Above-ground pools
It's cheaper to purchase and install an above-ground pool than an in-ground one. However, that doesn't mean your insurance will be cheaper. The risk of injury and/or drowning is the same as with an in-ground pool, so you probably won't see much difference in premium price.
However, it's worth noting that because an above-ground pool isn't considered part of your dwelling or other structures coverage, it's much easier for your insurance company to exclude it from the policy.
Special features
Other pool features that may influence your premium include:
Waterfalls
Steep steps
Dramatic drop-offs
Depths over standard for your area
FAQs
Is home insurance more expensive with a pool?
When you have a pool, homeowners insurance is more expensive due to the increased liability risk. As of November 2022, the average cost of home insurance for a $250,000 house is $1,383. However, the average cost of home insurance for a $250,000 house with a pool is $1,823.
How much does a pool increase home value?
There are mixed opinions on how much a swimming pool can contribute to the value of your home. On average, it's reported that an in-ground pool can add between 5 and 8 percent to the value of your home.
Does having a pool increase property value?
If you have a swimming pool, it could increase the value of your property by between 5 and 8 percent. However, if you want to install a backyard pool on your property, you should consider whether the cost to install the pool will outweigh the small gain in property value you might have.
Does a house lose value with a pool?
While having a pool can increase your home value by up to 8 percent, that slight boost may not be worth the cost of installing the swimming pool, the long-term maintenance, and the additional safety measures.
How much does a pool raise insurance rates?
A standard homeowners insurance policy usually comes with $100,000 of liability coverage. If you're installing a pool on your property, it's typically recommended that you up your liability insurance to $500,000. A liability coverage increase could add between $50 and a couple of hundred dollars to your homeowners insurance premiums.
What is the average cost of home insurance for a pool?
The average cost of home insurance for a $250,000 house with a pool is $1,823 per year. The exact rate you pay will significantly depend on the size and type of pool you have, the amount of additional liability protection you opt for, and your location.
Does a pool raise homeowners insurance rates?
A pool on your property will likely raise your homeowners insurance rates. A pool will increase the chance someone might be injured or drown on your property. The personal liability coverage on your home insurance policy will need to be increased to protect against this higher risk.
What are some of the benefits of having a pool?
One pro of having a swimming pool on your property is that it can increase your property value and be a fun area to spend time with family and friends.
How to lower your pool insurance costs.
Swimming pools can increase the cost of home insurance because they are a liability for many homeowners. Don't let this stop you from getting the pool of your dreams. It doesn't have to be hard to find good insurance rates. Use our handy home insurance quote tool to ensure you get the best available deal.
Related content: