UPDATED: AUGUST 11, 2023 | 2 MIN READ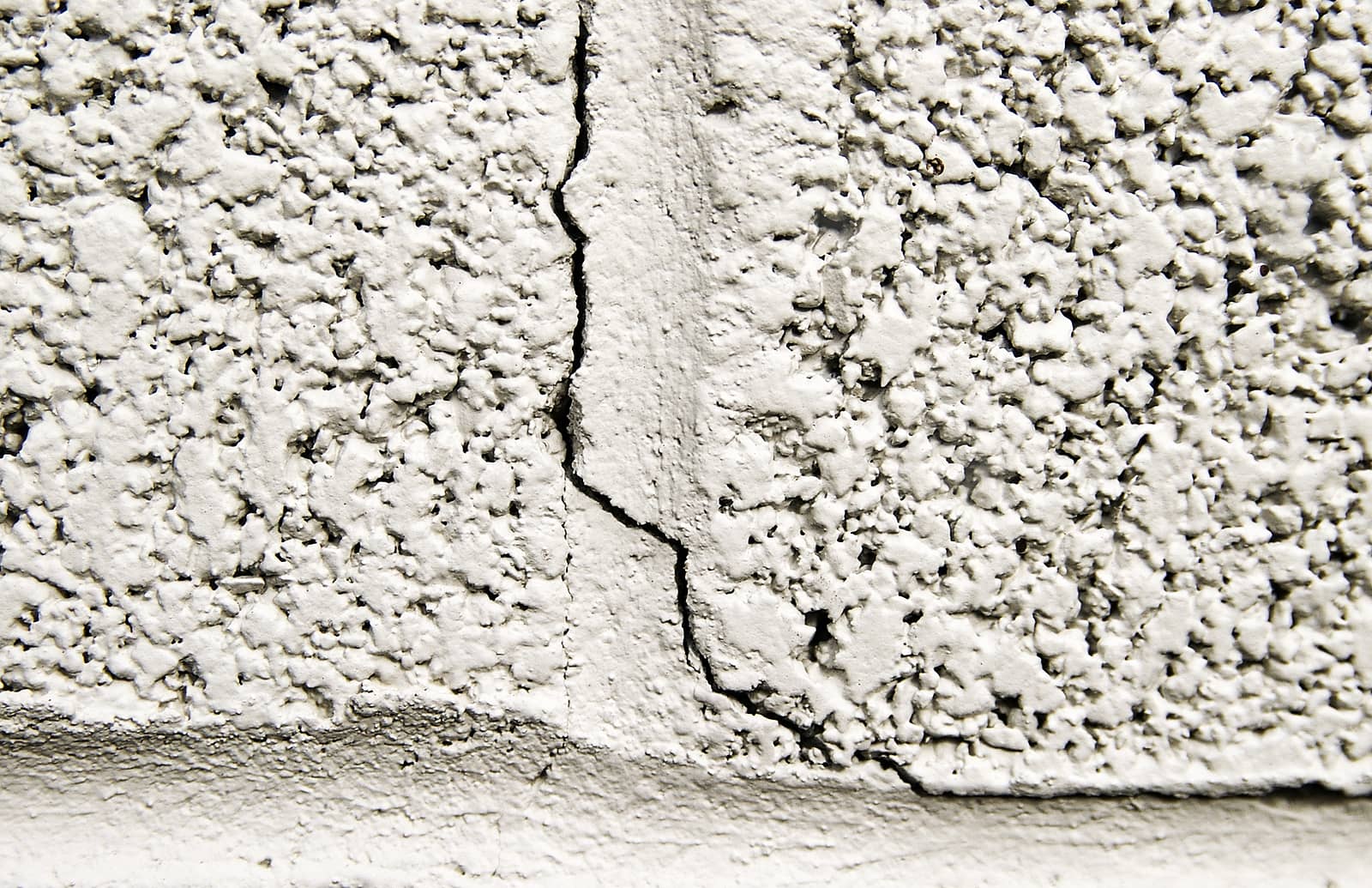 The foundation of a house is by far its most important component. It provides the base that keeps the house safe, and any damage to it — even minor — can negatively affect the entire structure.
When dealing with foundation repair, homeowners often look to their home insurance policy to help cover the costs.
While a foundation may seem like the type of thing automatically covered under a home insurance policy, in many circumstances, it's not.
So, does home insurance cover foundation repair? Here's what you need to know about foundation damage and how your home insurance policy can help.
When does home insurance cover foundation repair?
Does cover when caused by:
Doesn't cover when caused by:
Fire and smoke
Vandalism
Lightning strikes
Accidental and sudden water damage
Tornadoes
Hailstorms
Windstorms
Explosions
A collapse caused by snow, sleet, or ice
Damage caused by a vehicle
Falling objects
Neglect or lack of maintenance
Floods
Earthquakes
Faulty construction
Tree root damage
Normal wear and tear
Homeowners insurance doesn't automatically cover foundation repairs. 
As with any other claim, the insurance company will look for the underlying reason for the damage. If the foundation damage was caused by negligence or subpar construction, your insurance provider will likely not cover foundation damage, but they could direct you to pre-vetted contractors who can complete the repairs.
Below are more examples of foundation damages that are covered and not covered by homeowners insurance.
When does home insurance cover foundation damage?
Your homeowners insurance policy often covers foundation damage that's sudden and accidental and caused by the following perils:
Accidental and sudden water damage
Tornadoes
Hailstorms
Windstorms
Explosions
A collapse caused by snow, sleet, or ice
Damage caused by a vehicle
Contact your agent or insurance provider to find out which perils your house insurance covers.
When doesn't home insurance cover foundation damage?
Not all situations of foundation damage are covered by homeowners insurance. Typical scenarios when foundation damage isn't covered by home insurance include:
Neglect or lack of maintenance
Faulty construction
Tree root damage
Normal wear and tear
Depending on where you live and your insurance company, you may have the opportunity to purchase a separate earthquake or flood policy. Some insurance companies even provide sinkhole and landslide coverage. Separate deductibles may apply to these policies.
10 signs of foundation damage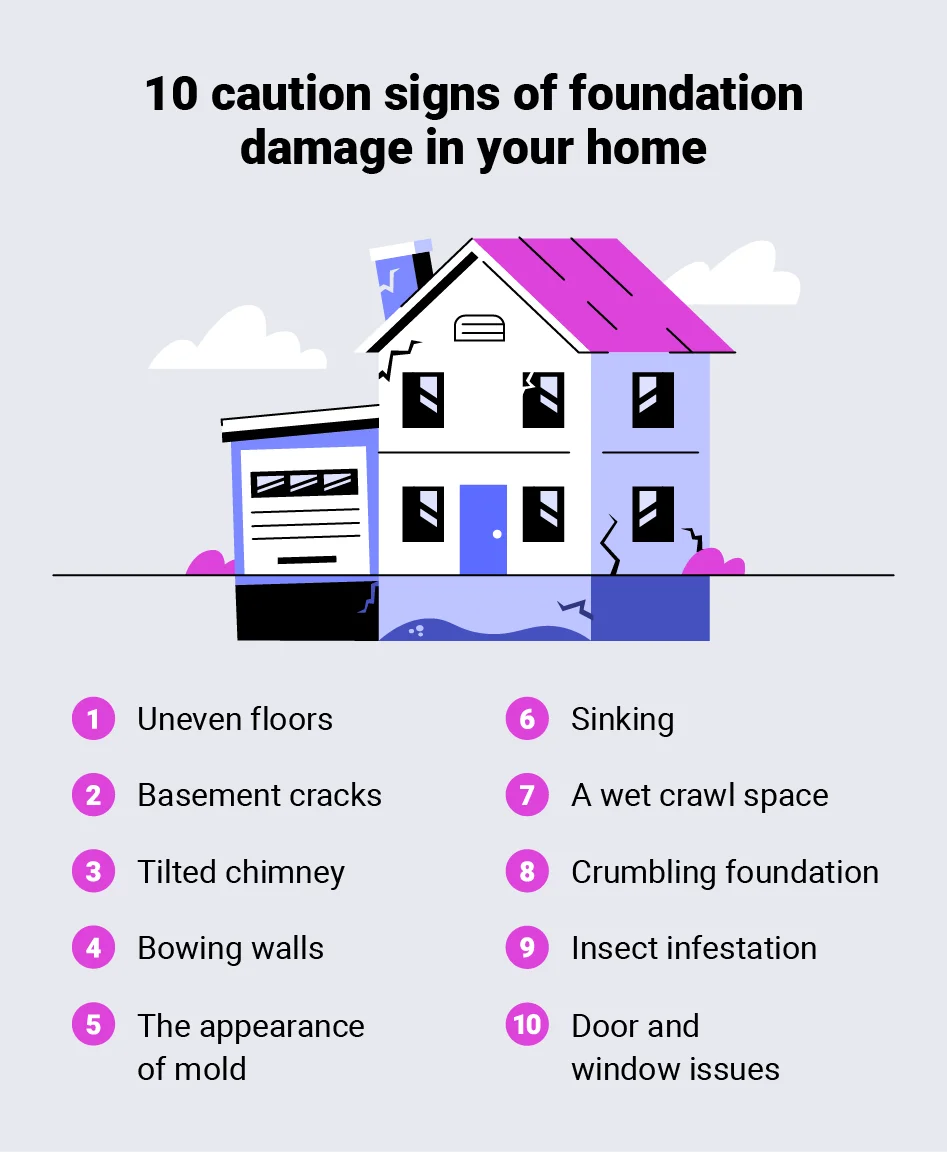 Here are several indicators that the foundation of your home may be damaged:
Slanted or uneven floors
Floor or basement cracks
Appearance of mildew or mold
Tilted chimney
Walls bowing inward
Sinking
Door and window issues
Wet crawl space
Crumbling of the foundation
Insect infestation
Make an appointment with a structural engineer to confirm and evaluate any concerns regarding foundation issues.
How to file an insurance claim for foundation repair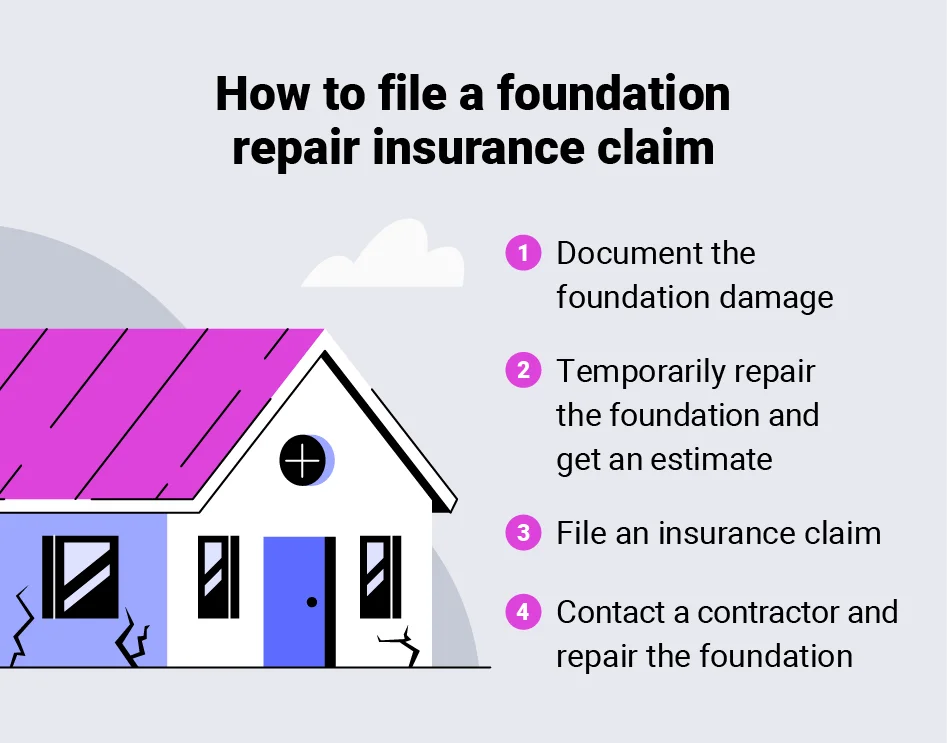 If you believe your foundation damage will be covered by your home insurance, the next step is to file an insurance claim. The process may vary between providers, but you'll typically follow the steps below:
1. Document the damage
Compile a complete list of damages and record it with pictures or video. Upon filing the claim, you could be required to provide some supporting information.
2. Make necessary repairs to avoid further damage
Make any initial repairs to the foundation through a contractor to avoid further damage. Keep any receipts so you can be reimbursed for out-of-pocket expenses.
3. File a claim
Contact your insurance provider to begin the process. You may be able to file a claim online or by phone. You'll need to provide information like the date the damage occurred, repairs you've made, documentation of damage, and the cause of damage.
Your agent or representative will then discuss your deductible and coverage with you. The insurance claims department will send out an adjuster to examine the damage.
4. Find a contractor
Your insurance provider may have a list of contractors they prefer to work with. If not, ask for recommendations from friends and family or start contacting local companies. Compare estimates from multiple contractors to find the best one for the job.
How to prevent future foundation damage
While your home insurance can provide coverage for certain cases of foundation damage, it's better to avoid the situation if possible. Here are some tips to prevent future foundation damage.
Monitor soil moisture levels: Too-dry or too-wet soil can cause your foundation to accumulate stress and/or crack. It's important to recognize your environment and act accordingly. For example, if you live in an area that tends to get heavy rainfall, check the ground around your home and make sure the water is effectively draining away from your foundation. If you live in a drier climate, you may need to water the soil around your home on occasion.
Avoid planting trees near the foundation: If you're unsure of the growth patterns of the trees on your property, hire a specialist to teach you more about them and provide guidance about possibly cutting some down. Also, ensure the trees are properly watered so their roots don't need to bore deeper into the ground. When planting new trees or plants, keep them a good distance away from the foundation. A general rule of thumb is to allow at least a foot for root growth based on the estimated tree trunk thickness. 
Don't ignore cracking: Interior and exterior cracks are common signs of damage. If you see them, contact a structural engineer or home-building expert who can perform a professional inspection.
Maintain consistent home temperature: This can prevent the concrete slab under the home from expanding and contracting too much.
When completing roof maintenance, be sure to clear your gutters of any debris or sitting water. Clogged gutters can cause water to overflow and spill into the soil below, creating extra moisture.
FAQs
Does home insurance cover foundation cracks or settling?
Your insurance's dwelling coverage will cover foundation cracks or settling if it's caused by a covered peril, like sudden or accidental water damage — such as a pipe burst.
However, your home insurance won't cover foundation damage if it was caused by an uncovered risk like negligence. As a homeowner, it's your responsibility to maintain your foundation and take the proper precautions to prevent structural and moisture damage.
What is a slab or foundation leak?
A slab is the concrete foundation of a home. The home's sewer and water pipes run underneath the foundation. If the lines break or deteriorate, the sewer or water is released underneath the home, causing a slab leak.
Does home insurance cover foundation movement or sagging floors?
Homeowners insurance often doesn't cover foundation damage caused by shifting or settling earth or sagging floors caused by rotten floor joists. You'll likely need additional coverage if the damage was caused by a flood or an earthquake.
How much does foundation repair cost?
The cost to repair your foundation will depend on the specific issue and the severity of the damage. The national average cost for foundation repair ranges between $5,000 and $10,000.1
It's essential to keep an eye on your home's foundation for potential problems and take steps to prevent avoidable foundation damage, as repairs can be expensive. If you live in an area prone to flooding or earthquakes, you should consider purchasing an earthquake and/or flooding insurance policy to protect your foundation. 
Get the right coverage for your home
As the name suggests, a home's foundation is the most important element because it serves as the foundation for the rest of the home, providing safety and security for the homeowner and their family. No matter how minor, damage to the foundation can cause significant problems throughout the house.
Homeowners should be proactive in checking their foundations and ensuring they've the correct homeowners coverage for foundation repairs. Call us or complete our quote form to see rates in your area.
Sources: 
1Fixr
Related content: