UPDATED: FEBRUARY 08, 2023 | 1 MIN READ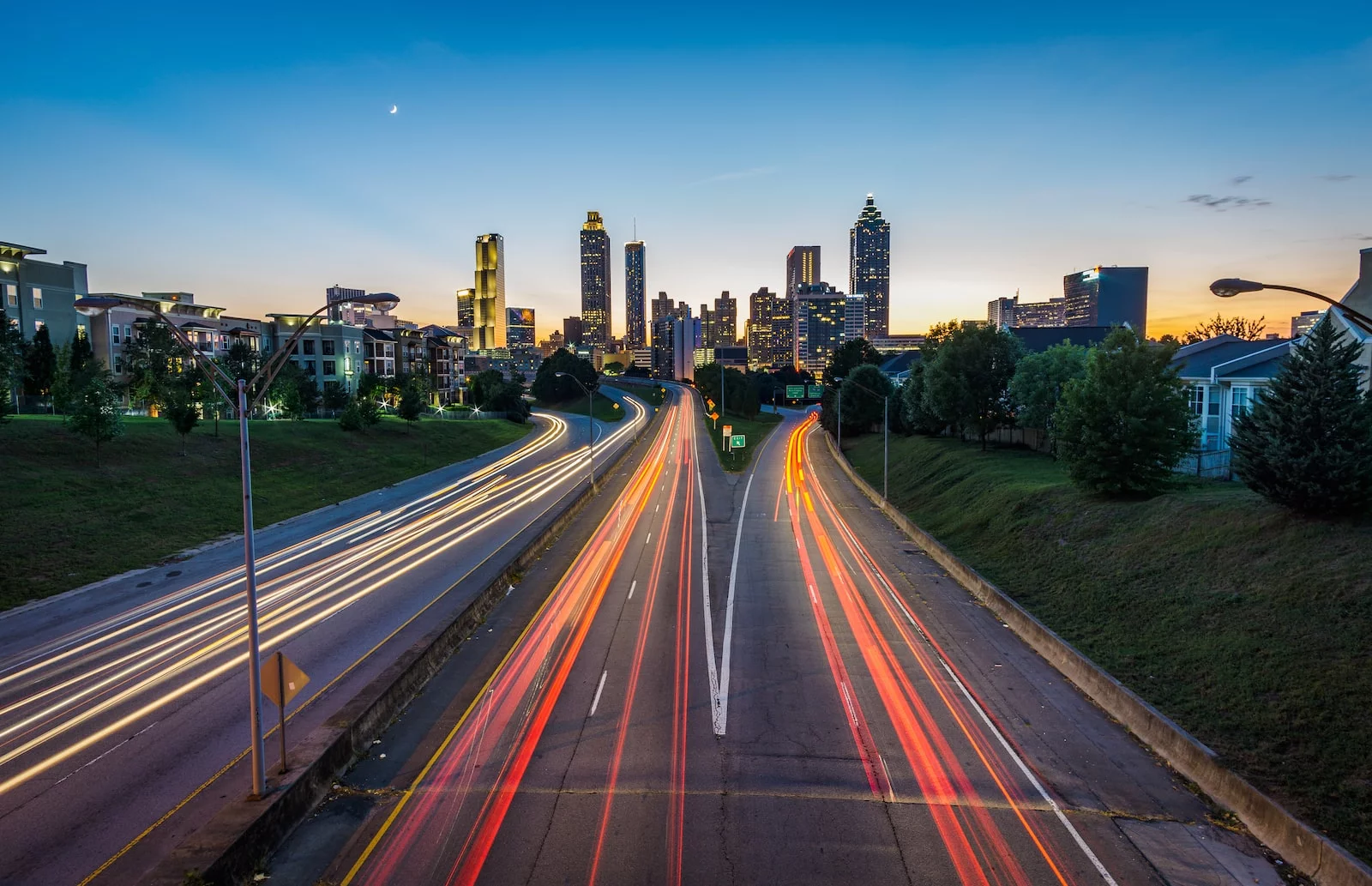 Residents in the state of Georgia must carry the state's mandated minimum car insurance if they own a registered motor vehicle. Without proof of liability insurance, driving is considered illegal, and the consequences are high. This is why it's pertinent that those who wish to drive throughout the state be aware of Georgia's penalties for driving without auto insurance.
Penalties for driving without insurance in Georgia
If you're caught driving by law enforcement without proof of car insurance, you'll need to pay the consequences of fines, possible license and registration suspensions, and possible jail time. Below is a breakdown of what you can expect if you fail to follow Georgia's car insurance laws.
| Type of Offense | License and/or Registration Suspended? | Jail Time | SR-22 Requirements | Maximum Fines |
| --- | --- | --- | --- | --- |
| No Proof of Insurance (Can Prove Coverage) | No | No | No | $25 mandatory fee |
| 1st Offense With No Coverage | Yes, both | Up to 1 year | Yes | $200 to $1,000 |
| Repeat Offense (No Coverage) | Yes, both | Yes, 12 months or less | Yes | $200 to $1,000 |
License and/or registration suspensions for the type of offense
First offenses of driving without proof of car insurance don't have to have steep penalties if you can prove that you carry the minimum required insurance limits that Georgia requires. You won't face license or registration suspensions, but you'll need to furnish proof of coverage.
However, this changes if it's your first offense and you have no insurance coverage. In this case, you'll have both your license and registration suspended. And the same follows suit for subsequent offenses.
Jail time for each type of offense
Although it may sound harsh, jail time is a reality for those caught driving without proper vehicle insurance. Of course, if you can provide proof of car insurance, you won't need to worry about serving any jail time.
But, if it's your first offense and you can't provide proof of active insurance coverage, you could face up to one year behind bars. Furthermore, if caught a second or third time, you'll also be subject to jail time of up to one year.
SR-22 requirements
Georgia's SR-22 requirements are not just for those convicted of drinking while driving or similar offenses. SR-22 requirements are a stark reality for those without insurance coverage in Georgia. 
If you can prove you have car insurance coverage, you won't need to worry about any requirement to carry SR-22 coverage. However, if you have no insurance and it's your first offense, you'll be required to carry SR-22 insurance.
The same goes for a repeat offense; you'll need SR-22 coverage. Remember that if you're required to have SR-22 insurance, you'll likely see a significant increase in your monthly insurance premiums, as you'll be deemed a high-risk driver to insurance carriers.
Fines and fees for each type of offense
Unfortunately, you can plan on significant fines and fees if you decide to drive without insurance coverage and are involved in a car accident or pulled over by a police officer. If you can provide proof of insurance, you'll only be required to pay a fine of $25 to the Georgia Department of Driver Services.
However, if it's your first or second infraction and you have no proof of coverage, your fines will be far greater than the mandatory $25. You'll end up paying fines ranging from $250 to $1,000.
Georgia auto insurance minimum requirements for insurance
Georgia requires a certain level of auto insurance to drive on the roads legally. Motorists are required to carry at least 25/50/25 in personal liability coverage. This includes the following minimum insurance limits:
$25,000 in bodily injury liability coverage per person.
$50,000 in bodily injury liability coverage per accident.
$25,000 in property damage liability coverage per accident.
Georgia law requires drivers to carry insurance within their cars at all times. If you don't keep proof in your vehicle at all times and are pulled over or in an accident, you'll, at the minimum, face a $25 fine.
This is, of course, if you can furnish proof of insurance when you pay your penalty to Georgia's Department of Driver Service. Nowadays, most insurance carriers offer proof of insurance electronically via your phone, or you can always supply your provided insurance card.
Avoiding license suspension after an accident
The best way to avoid license suspense resulting from an accident is to ensure you carry the proper vehicle insurance. At the very minimum, you'll need to have the state-mandated limits.
After getting into an auto accident, your mind will inevitably be racing with to-dos, expenses, and more. And if you don't have insurance, the state will suspend your driver's license.
To reinstate your license, you'll need to wait for the waiting period (generally a 30-day period) to finish with the state before applying to reinstate the license. On top of that, you'll need to satisfy all fines and fees and secure auto insurance before applying.
Scenarios of when you can still get insurance in Georgia
Even though you may have been caught driving without insurance, it doesn't mean you can't obtain insurance to satisfy state law and regain driving privileges. Let's look at some of the most common scenarios where drivers can still get insurance in Georgia below.
Uninsured
When a driver has a significant lapse in insurance, carriers tend to shy away from offering insurance coverage to them. Most carriers relate lapses in coverage to driving records that aren't sufficient and as a liability to the company.
If you allow your insurance to lapse for at least 60 days, you can expect to pay far more in insurance premiums when compared to drivers without any lapses in coverage. The most popular companies that will accept drivers with a negative record due to lapses in coverage include GEICO, State Farm, and USAA.
High-Risk
High-risk drivers in Georgia tend to find that traditional insurance companies deny them. They typically consist of motorists convicted of traffic violations like DUIs, driving while on a suspended license, those involved in an at-fault accident, and more. 
The Georgia Farm Bureau is the most affordable company for high-risk drivers to take out a policy. Motorists should know that when they are deemed high-risk drivers, they can expect insurance rates to skyrocket.
Driving someone else's car
In Georgia, car insurance follows the vehicle. So, even if you don't have your own insurance but borrow a friend's car, you'll still be covered in a car accident.
However, if you need to borrow a vehicle quite frequently or even lease a car often, getting your insurance for extra coverage may be in your best interest. Drivers can buy non-owner insurance coverage in Georgia.
For most drivers, the average cost of non-owner car insurance in Georgia is around $640 annually. Georgia's best carrier options for non-owner policies include State Farm, GEICO, and Nationwide insurance.
FAQs
How much is car insurance in Georgia?
The average car insurance policy in Georgia will run drivers around $1,388 per year. This is 2.8% less expensive than the U.S. average.
How much does it cost to reinstate a driver's license in Georgia after a suspension?
A driver must pay a reinstatement fee when ready to reinstate a driver's license following a suspension. The reinstatement for first-time offenses is $60. And if you're a subsequent offender, your reinstatement fee is $160.
How many points will drivers get on licenses for driving without insurance?
Drivers in Georgia will receive 3 points on their license for driving without insurance. On top of points, drivers may also get their licenses suspended.
How to get Georgia insurance after you've been caught driving without it
Have you been caught driving without proper insurance? If so, don't fret.
We can get you back on the road in no time with great coverage and auto insurance rates that are affordable. We can generate multiple quotes in moments and get you back out on the road as soon as possible.