UPDATED: MARCH 14, 2023 | 2 MIN READ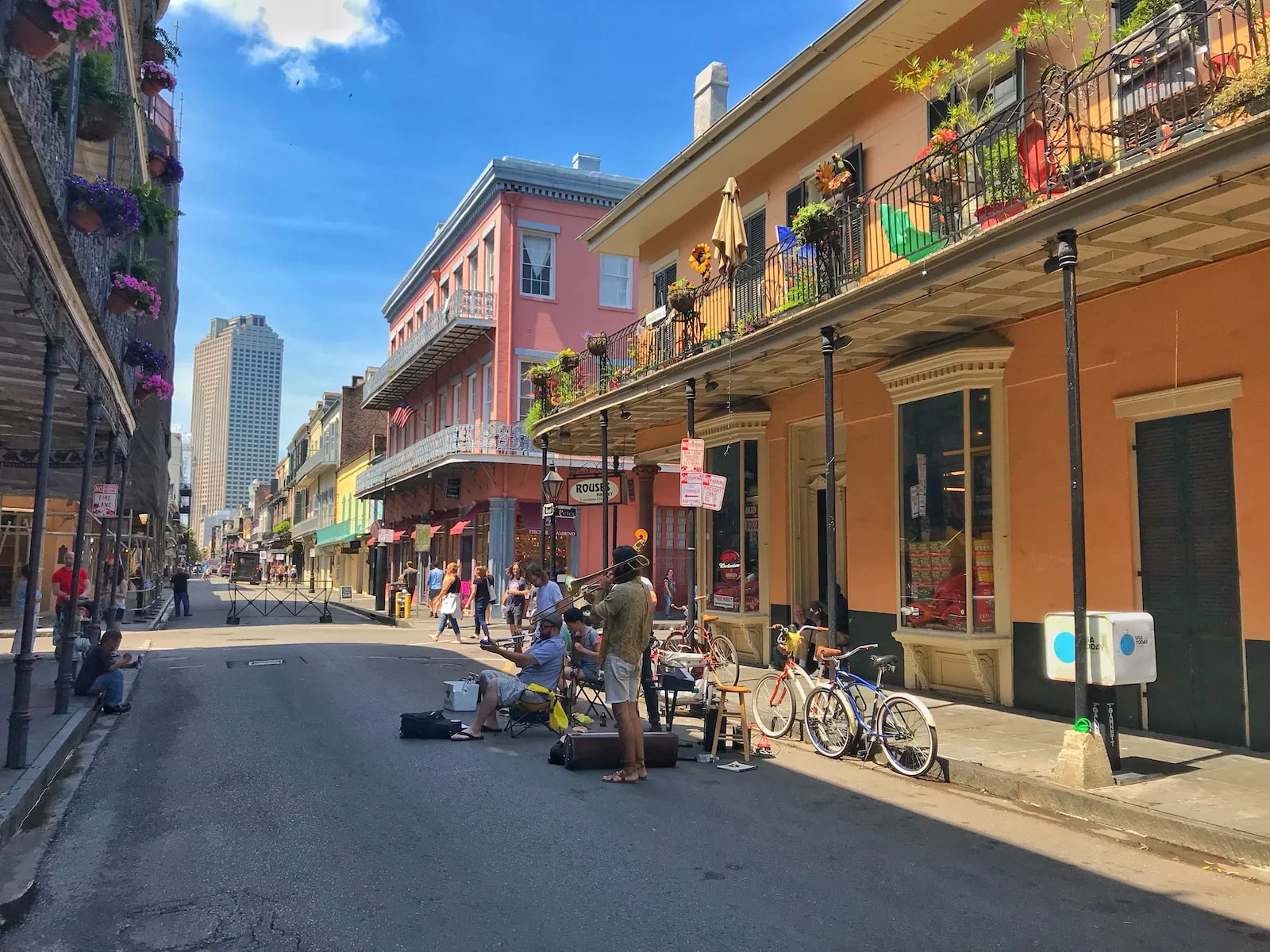 Looking for cheap car insurance in Louisiana? The state has several carriers ready to write you a policy that fits your needs and budget. Read on to find out how to get comprehensive coverage at a great rate.
Best Louisiana Car Insurance Companies
The Louisiana auto insurance sector has plenty of choices to choose from. These are some providers to choose from, including:
USAA
GEICO
Progressive
Tennessee Farm Bureau Insurance
Erie Insurance
Cheapest Louisiana Car Insurance Company
For full coverage, USAA provides the cheapest rate. The cost is $149 per month or $1,789 per year. The company offers car insurance to current and former military families.
If you don't qualify for USAA car insurance, consider State Farm or Allstate. Both offer several discounts to lower your rates.
Company With the Best Customer Service
A study done by MoneyGeek showed that GEICO has the highest satisfaction rate when it comes to customer service. It ranked 4 out of 5. The company, which is commonly known thanks to its beloved mascot, the GEICO gecko, also offers a variety of discounts and decent rates.
Company With the Best Premium-Reducing Programs
State Farm offers reductions for car insurance in Louisiana to drivers who have driven safely for three consecutive years. This means, if you've been insured with State Farm and you're accident-free for three consecutive years, you're insurance rates decrease.
They also offer reductions on medical payments coverage if the driver insures a new car.
Company With the Best Discounts
Allstate offers a variety of discounts. In their policy, vehicles that are fitted with anti-theft technology and airbags can be eligible for a reduced price. Another premium-reducing incentive is available to drivers who complete defensive driving training.
Local and Regional Insurance Carriers
Safeway
Safeway Insurance is a regional insurance provider for Louisiana and other nearby states. Rated A by industry analysts, the insurer is the largest private family-run insurance company in the country.
Louisiana drivers insured with Safeway enjoy the personal touch of agents invested in their vehicles' safety and protection. Their extensive coverage applies to repair, replacement, medical payments, and other situations resulting from a crash or accident.
If you want the minimum car insurance Louisiana requires, Safeway Insurance has a policy for you. They offer discounts for multiple policies, continuous coverage, pre-paid policies, and safe driving.
Louisiana Farm Bureau
The Louisiana Farm Bureau offers car insurance to its members as a membership benefit. The company is based in Baton Rouge, Louisiana, and features dedicated professionals who provide superior customer service.
Because their car insurance products are limited to members, Louisiana Farm Bureau offers low, affordable rates. Coverages include mandatory Louisiana car insurance, medical payments, death indemnity, collision, comprehensive, and roadside assistance.
Louisiana Farm Bureau also provides auto insurance to ATVs, motorcycles, and fifth wheels, such as camping trailers and RVs. Use the company's DriveSafe app, and based on your driving, you may receive a discount on your premium.
USAgencies Insurance
USAgencies specializes in low-cost auto insurance for Louisiana residents. The company's history dates back two decades and features an unwavering dedication to your vehicle's protection.
USAgencies offers car insurance to all Louisiana drivers, including residents with a DUI, SR-22, or low credit. Whether you want to meet the Louisiana state minimum for car insurance or completely protect your car from hood to trunk, USAgencies has an option for you.
You may enjoy good discounts from an insurance bundle, auto-pay, military affiliation, anti-theft devices, and driving a car with low mileage.
Louisiana Insurance Demographics
In 2022, Louisiana state has a population of 4.6 million people. This equates to a growth of 0.27% since 2021. Many factors can influence insurance rates, including the following:
Crime Rates: The crime rate per 1,000 residents is 6.38% for violent crime and 28.77% for property crime. The chances of being a victim of a violent crime in Louisiana is 1 in 157.
Average Household Income: The overall average income in the state is $38,718. For men it's $48,549 and $30,700 for women.
Median Age Range: The overall median age is 37 years. For men, it's 35.9, while for women, it's 38.4.
Education: The largest proportion of the population (1.04 million) are high school graduates. This equates to 33.26% of the population. Twenty-one percent have some college while 15% have a bachelor's degree.
Common Risk Factors In Louisiana
Common risk factors that can increase premiums include:
Age
Having a previous driving offense
Having a poor driving record
Auto Insurance Laws In Louisiana
Louisiana car insurance laws are similar to other states. It requires drivers to have a minimum level of liability insurance. The requirements of all drivers include that:
Drivers must show proof of insurance to receive a driver's license
Drivers must show proof of insurance at all times while behind the wheel
Drivers must purchase at the least a minimum liability coverage plan that includes bodily injury and property damage.
What are the minimum car insurance requirements in Louisiana?
Auto insurance in Louisiana requires that drivers have minimum liability coverage. These limits include:
$15,000 for bodily injury per person
$30,000 for bodily injury per accident
$25,000 coverage for damage to another vehicle or other property
Am I required to carry uninsured motorist coverage in Louisiana?
The state doesn't make it mandatory to have uninsured motorist coverage; however, they require that insurance companies have it as part of their packages. The driver must reject this part of the policy in writing.
Louisiana SR-22 policies
SR-22 is a form that shows that the driver who caused a serious traffic violation has the appropriate insurance coverage to meet the minimum required in the state. Normally, the insurance provider files it. Louisiana car insurance requires a driver to obtain this form for high-risk road offenses. Southern Farm Bureau offers the cheapest SR-22 insurance premium. Its average premium is $1,031 per year.
Is Louisiana a no-fault state?
No, it's not a no-fault state. Auto insurance in Louisiana follows an at-fault system. The court identifies who was legally at fault in an accident, and that driver will be held accountable. Whatever driver causes the accident, they are deemed responsible for the payment of damages and any medical treatments required by those injured in the crash.
What happens if my vehicle isn't properly insured in Louisiana?
Car insurance is a legal requirement in the state. You may face several penalties for driving without auto insurance in Louisiana. 
You may face a fine of between $500-$1,000.
You may also have to pay a fine if you aren't carrying proof that you have insurance when asked by police
Your vehicle may be impounded
Licenses may get canceled.
If you are involved in an accident without insurance, you face having your license suspended, and registration is taken for 180 days.
You may lose your right to drive for one year to 18 months if you state that you had insurance and it's discovered that you hadn't.
Does Louisiana accept digital insurance cards?
Yes. Louisiana accepts proof of auto insurance in a digital format. Drivers can present their insurance policy via their phone or another digital device. Some providers have digital insurance cards.
How Much Does Car Insurance In Louisiana Cost?
An average auto insurance policy in Louisiana averages $1,002 per year or $84 per month. This is for a policy with minimum coverage as required by the state. A full-coverage policy averages $3,720 per year or $310 per month.
Average Cost of Car Insurance By City
Prices vary per city, with New Orleans the most expensive, costing an average of $4,234 per year. This is 55% more expensive than the Louisiana average. Shreveport is the cheapest city to insure your car. At $2,436, it's 11% lower than the state price average.
| City | Average Louisiana Car Insurance Cost | Difference From Louisiana Average |
| --- | --- | --- |
| Baton Rouge | $3,091 | 13% |
| Lafayette | $2,819 | 3% |
| Metairie | $3,271 | 20% |
| New Orleans | $4,234 | 55% |
| Shreveport | $2,436 | -11% |
Average Cost of Car Insurance By Company
Annual full coverage policies vary with each insurance company. Geico offers the cheapest coverage at $575. AAA offers the most expensive rates, with $1,336 per year for full coverage.
| Car Insurance Company | Average Liability-Only Premium (Annually) | Average Full-Coverage Premium (Annually) |
| --- | --- | --- |
| AAA | $1,336 | $4,197 |
| Allstate | $1,324 | $3,341 |
| Geico | $575 | $2,211 |
| Louisiana Farm Bureau | $1,009 | $2,651 |
Average Cost of Car Insurance By Age
If you're 18, expect to pay more for your car insurance in Louisiana. Full coverage for an 18-year-old is $8,300. It drops dramatically to $5,922 when a driver turns 20 and continues to fall slowly as a driver gets older.
| Age | Average Full-Coverage Premium (Annually) |
| --- | --- |
| Age 16 | $4,333 |
| Age 18 | $8,300 |
| Age 20 | $5,922 |
| Age 25 | $3,426 |
| Age 30 | $3,007 |
| Age 40 | $2,724 |
| Age 50 | $2,609 |
| Age 60 | $2,600 |
| Age 70 | $2,816 |
Average Cost of Car Insurance By Gender
There's a $35 difference between the price of average policies offered to men and women. Men pay on average $2,145 while women pay $2,180.
| Gender | Average Full-Coverage Premium (Annually) |
| --- | --- |
| Male | $2,145 |
| Female | $2,180 |
Average Cost of Car Insurance By Credit Score
Drivers with a very poor or fair driving record can expect to pay over $3,000 for their auto insurance in Louisiana. You'll need an exceptional driving record to pay less than $2,000 for your coverage.
| Credit Score | Average Annual Rate |
| --- | --- |
| Poor | $3,380 |
| Fair | $3,200 |
| Good | $2,670 |
| Very Good | $2,265 |
| Great | $1,850 |
Average Cost of Car Insurance By Driving Record
A DUI/DWI can dramatically increase the price of Louisiana car insurance. Drivers can expect to pay, on average, $5,435 for full coverage. A speeding ticket or an accident can increase premiums to over $3K.
| Driving Incident | Average Full-Coverage Premium (Annually) |
| --- | --- |
| Speeding Ticket | $3,341 |
| Accident | $3,802 |
| DUI/DWI | $5,425 |
What Optional Louisiana Auto Insurance Coverages Should You Consider?
Collision: This coverage can help cover the cost of repairs after a crash with another car or a physical object.
Comprehensive: This covers the costs of any physical damage to your car that does not result from a crash, like a break-in.
Medical Expenses: This covers the expenses involved in medical bills or if there are any funeral expenses as a result of a traffic accident.
Roadside Assistance: This covers the cost of getting a tow truck to help you if you break down, need help changing a tire, or jump-start your vehicle.
What Auto Insurance Discounts To Look For In Louisiana
There are several ways to get discounts when you're looking for cheap car insurance in Louisiana. If you have a clean record or have driven safely for three consecutive years, you may be entitled to a reduction. Look for discounts if you pool policies together, like your car and home. If your vehicle is fitted with anti-theft technology and airbags, you may be eligible for a reduced price in their policy. Another premium reducing incentive is available to drivers who complete defensive driving training.
FAQs
Is car insurance expensive in Louisiana?
Louisiana car insurance is in the country's top three most expensive states. The reasons for this include the high urban population, high amounts of lawsuits, and vehicle theft rate above the national average. It is also expensive due to the number of highways. Younger drivers also pay more in Louisiana as the state sees younger drivers as having minimal experience, so they are at a higher risk on the roads.
Does Louisiana require car insurance?
Yes, drivers must have car insurance in Louisiana.
Can you get insurance without a license in Louisiana?
It's possible to get auto insurance in Louisiana without a license. However, the law states that the person must state they are an excluded driver and put down a licensed driver as the primary person driving the vehicle who must also be the co-owner of the car.
Does insurance follow the car or the driver in Louisiana?
Louisiana driving laws state that the insurance follows the car in most cases. The types of auto insurance that follow the vehicle include:
Bodily injury
Personal injury
Collisions
Comprehensive policies
Drivers are required to have bodily injury and property damage liability in the state.
Is there a grace period for car insurance in Louisiana?
A grace period lasts between two and 30 days in the state for most cases. This applies to new cars bought by insured drivers who have not yet added them to an existing auto insurance policy.
How To Find Cheap Car Insurance In Louisiana
If you're looking for cheap car insurance, Louisiana, has several good options. Use our rate comparison tool to get matched with policy options that fit your needs and budget.