UPDATED: JANUARY 27, 2023 | 2 MIN READ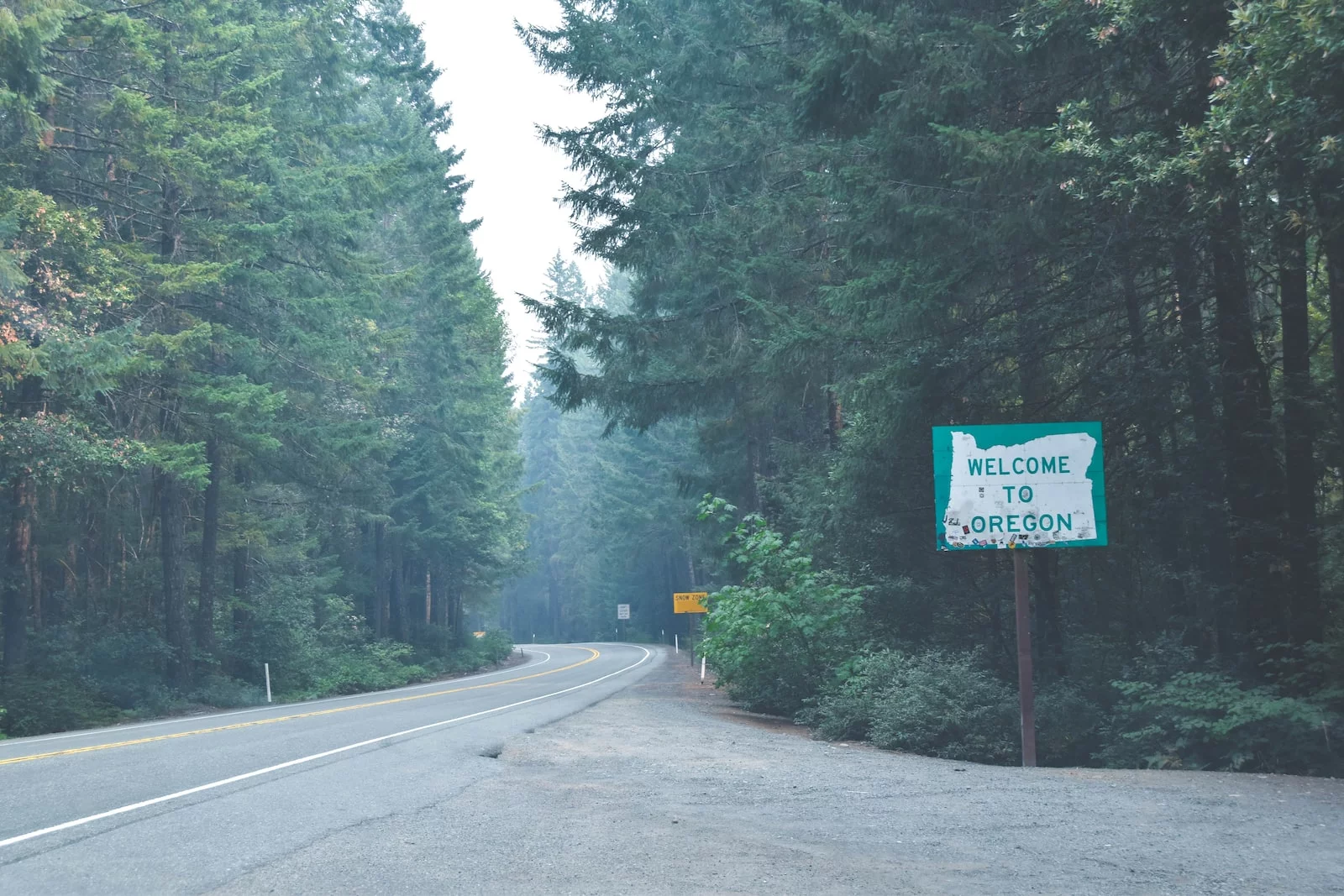 Oregon car insurance rates for full-coverage are 15% lower than the US average. However, it must be noted that drivers in Oregon do pay a little more for minimum coverage. Vehicle owners in the state are required by law to have auto insurance and must have at least the minimum level of coverage.
Best Oregon Car Insurance Companies
Four insurance companies in Oregon are rated among the best. However, rates do depend on the city you live in and your driving history. The four best in Oregon are:
USAA
State Farm
PEMCO Insurance
GEICO
Cheapest Oregon Car Insurance Company
Insurance provider State Farm has the cheapest minimum-coverage insurance premiums in Oregon state. For minimum coverage, expect to pay $503 a year, which is almost half the state average price. This works out to $83 per month.
Company With the Best Customer Service
Oregon state provides several options, from State Farm to GEICO to PEMCO. However, for the best customer service, USAA is the clear winner, scoring 884 in J.D. Powers' 2021 US Auto Insurance Study for the state.
Company With the Best Premium-Reducing Programs
Insurance rates are determined based on several factors like age, years driving, and if you have any previous violations. Drivers in Oregon can get various discounts on their premiums by doing a defensive driving course, installing an airbag, or installing anti-lock brakes. State Farm offers the best home and car insurance bundles. It provides a huge bundle discount for those who insure their home and car.
Company With the Best Discounts
If you have a good driving record, you should be able to avail of numerous discounts. American Family is an insurance carrier that supplies standard premium-reducing bundles and others. It has a generational discount. This allows young drivers to save if they have a parent who is already insured with them. It also has a premium-reducing incentive that states you'll pay less if you move to them from a competitor.
Local and Regional Auto Insurance Companies in Oregon
Oregon Mutual
A long-standing trusted source for car insurance in Oregon, Oregon Mutual has a proud history of excellence. The regional insurance carrier features a record of service that dates back more than 125 years.
Auto insurance that meets your needs ranges from Oregon's minimum requirement to full coverage with valuable extras. Oregon Mutual stands out with coverages such as accident forgiveness, child safety seat replacement, diminishing deductible, and enhanced glass.
The standard coverages collision, comprehensive, liability, and personal injury protection fortify your car against any major incidents. Oklahoma drivers also can choose a custom package for losses such as injured pets, damage to property inside the vehicle, and electronic lock replacement.
Discounts may be available for credit union drivers, 55+ drivers, students with a 3.00 GPA, and low mileage drivers. Oregon Mutual also offers two evaluations for totaled vehicles and pays the customer the higher quoted amount.
Capital Insurance
Capital Insurance Group makes it clear what's protected and meets your unique needs with your auto insurance.
Flexible options help you get the coverages you need and clear any you don't. liability, property damage, and other auto insurance options are available.
You may also purchase RV insurance to protect your home away from home. Capital Insurance Group packs big savings into your policy when you combine it with an auto or renters insurance plan.
Oregon Insurance Demographics
Oregon is the 27th largest state, with a population of 4.3 million, up by 0.95 in 2021. While insurance rates are amongst the lowest in the country, some things like high population density and the level of theft can affect their premiums.
Crime Rates: The crime rate in Oregon per 1,000 residents is 2.92 for violent crime and 26 for property crime. The chances of being a victim of violent crime in the state are 1 in 342 people.
Average Household Income: $40,789 is the average earned by a resident in the state. For males, it's more at $47,340 on average, while for women, it's significantly less at $34,247.
Median Age Range: The median age in the state is 39.5. For men, it's 38.5 years, and for women, it's 40.6 years.
Education: Twenty-two percent of people have a high school graduate level of education. Twenty-five percent have some college while 21% have a bachelor's degree.
Common Risk Factors In Oregon
Common things that impact car insurance in Oregon include the type of vehicle, driving history, where you live in the state, and demographics like age.
Auto Insurance Laws In Oregon
If you have a registered vehicle in Oregon, you're responsible for having it insured. To meet legal requirements, you must carry a minimum level of auto insurance in Oregon. Driving without car insurance in Oregon is illegal, and you will face penalties if you can't produce it when asked by the police.
What are the minimum car insurance requirements in Oregon?
The minimum level of coverage is what's called 25/50/20 liability insurance. This means that the insurance policy must have the following:
$25,000 in bodily injury coverage per person,
$50,000 in bodily injury coverage per accident
$20,000 in property damage coverage per accident.
Am I required to carry uninsured motorist coverage in Oregon?
It's mandatory in Oregon to carry auto insurance for uninsured motorist coverage. The state has strict laws around this and limits coverage levels. When buying coverage, you need to be aware of these limits. 
Oregon SR-22 policies
Getting an SR-22 is a little easier if you currently hold a policy. Ask your current carrier to fill out the SR-22 form, which should be straightforward. If you're uninsured, you may be asked to pay a fee before your insurance carrier files the SR-22 for you. However, needing an SR-22 may result in some insurance companies refusing to insure you and cover your high-risk driving record.
Is Oregon a no-fault state?
Oregon is an at-fault state. This means that the driver at fault is responsible for any resulting damages. The driver's insurance carrier usually pays for this up to the policy's limits.
What happens if my vehicle isn't properly insured in Oregon?
It's against the law to drive uninsured in Oregon, and you'll face hefty consequences if found doing so. All drivers are required to have liability coverage with a minimum split of 25/50/20.
Also, the coverage of Personal Injury Protection and Uninsured Motorists must be part of the policy. Driving privileges will be curtailed, and you'll be monitored monthly by Oregon's Department of Transportation for three years if you break the law.
Does Oregon accept digital insurance cards?
Oregon is one of several states that accepts auto insurance on digital insurance cards. Several insurance carriers offer this also.
How Much Does Car Insurance In Oregon Cost?
For the most part, drivers in Oregon can expect to pay less than the national average. The average cost of car insurance in Oregon is $83 per month. This is for the minimum coverage required by driving laws in the state. For full coverage, drivers can expect to pay $154 per month.
However, things are different depending on the city you live in. In Portland, drivers can expect to pay 24% more than the state's average for a full coverage policy. With some premiums costing over $2K a year, making Portland more expensive to insure a car.
Average Cost of Car Insurance By City
Portland comes out on top with the most expensive average insurance cost of $1,640. While Eugene came out with the lowest policy costs at $1,235.
| City | Average Oregon Car Insurance Cost |
| --- | --- |
| Eugene | $1,235 |
| Gresham | $1,765 |
| Hillsboro | $1,450 |
| Portland | $1,640 |
| Salem | $1,420 |
Average Cost of Car Insurance By Company
Full coverage is most expensive with GEICO. A policy with them will cost you $1,355. Look to Nationwide or State Farm for cheaper options with costs at $1,070 and $1,095, respectively.
Average Cost of Car Insurance By Age
Oregon car insurance views drivers aged 18 as being very high risk. An average full coverage policy for an 18-year-old costs $4,160 for the year. Those in their 60s can expect to pay the least at $1,265.
| Age | Average Full-Coverage Premium (Annually) |
| --- | --- |
| Age 16 | $2,135 |
| Age 18 | $4,160 |
| Age 20 | $2,955 |
| Age 25 | $1,720 |
| Age 30 | $1,540 |
| Age 40 | $1,455 |
| Age 50 | $1,320 |
| Age 60 | $1,265 |
| Age 70 | $1,390 |
Average Cost of Car Insurance By Gender
Women can expect to pay more for auto insurance in Oregon than men. Women will pay, on average, $1,405 for a policy, while men expect to pay $1,360.
| Gender | Average Full-Coverage Premium (Annually) |
| --- | --- |
| Male | $1,360 |
| Female | $1,405 |
Average Cost of Car Insurance By Credit Score
Many factors influence car insurance rates, including a poor credit score. Those with a poor credit score can expect to pay over $1K more for the premium than someone with a great credit score.
| Credit Score | Average Premium (Annually) |
| --- | --- |
| Poor | $2,665 |
| Fair | $2,180 |
| Good | $1,755 |
| Very Good | $1,430 |
| Great | $1,180 |
Average Cost of Car Insurance By Driving Record
Having a DUI will cost you heavily when buying Oregon auto insurance. It will result in a 74% increase in your full-coverage premium cost. A policy's average price for a DUI driver is $2,295.
| Driving Incident | Average Full-Coverage Premium (Annually) | % Increase In Average Full-Coverage Premium |
| --- | --- | --- |
| Speeding Ticket | $1,655 | 23% |
| Accident | $1,995 | 47% |
| DUI | $2,295 | 74% |
What Optional Oregon Auto Insurance Coverages Should You Consider?
Drivers in Oregon have the option to include other elements of coverage to enhance their full-coverage policy further. Here are two to consider:
Uninsured Motorist Property Damage (UMPD): Drivers can include this in their policy. UMBI covers medical bills if the driver at fault doesn't have proper insurance. The added benefit of having UMPD is that it will cover damage done to your car due to an accident.
Physical Damage: This can be included in two policies – collision and comprehensive. This helps to cover repairs to a vehicle.
What Auto Insurance Discounts To Look For In Oregon
Some common discounts to consider include ones for a good driving record and for having safety features installed in your vehicle. Several insurance carriers offer discounts. State Farm has a comprehensive list of discounts that it offers, including:
Accident-Free Discount
Defensive Driving Course Discount
Drive Safe & Save Discount
Driver Training Discount
Good Driving Discount
Good Student Discount
Motorcycle Training Course Discount
Multiple Automobiles Discount
Multiple Line Discount
Student Away at School Discount
Vehicle Safety Discount
FAQs
How much is car insurance monthly in Oregon?
For state minimum coverage, the average cost is $83 per month. For full coverage, $154 per month.
What kind of car insurance do I need in Oregon?
Drivers are required to have 25/50/20 minimum liability coverage. The policy covers $25,000 for bodily injury per person and $50,000 per accident, and $20,000 in property damage coverage per accident.
Is car insurance expensive in Portland, Oregon?
Yes, drivers in Portland can expect to pay more for car insurance in Oregon. It's 24% more expensive to insure a car than in other cities. This is due to the high level of car theft.
Does car insurance follow the car or the driver in Oregon?
Car insurance in Oregon states that auto insurance follows the vehicle, not the driver. If, for example, you were driving a relative's car and you were in an accident, their insurance carrier would be responsible for the compensation and damage repairs, not yours.
How long do you have to insure a car in Oregon?
The state has a grace period of between two and 30 days. This grace time applies to insured drivers who've bought a vehicle. They are allowed this grace period to get the new car insured under an existing policy.
How To Purchase Oregon Car Insurance
Having your driving history ready and knowing your insurance requirements can help you get the best quote. Comparing insurance carriers can help you find a policy that offers the minimum required by the state's laws but also offers benefits that help to increase your coverage while not significantly increasing your premium cost.