UPDATED: AUGUST 07, 2023 | 2 MIN READ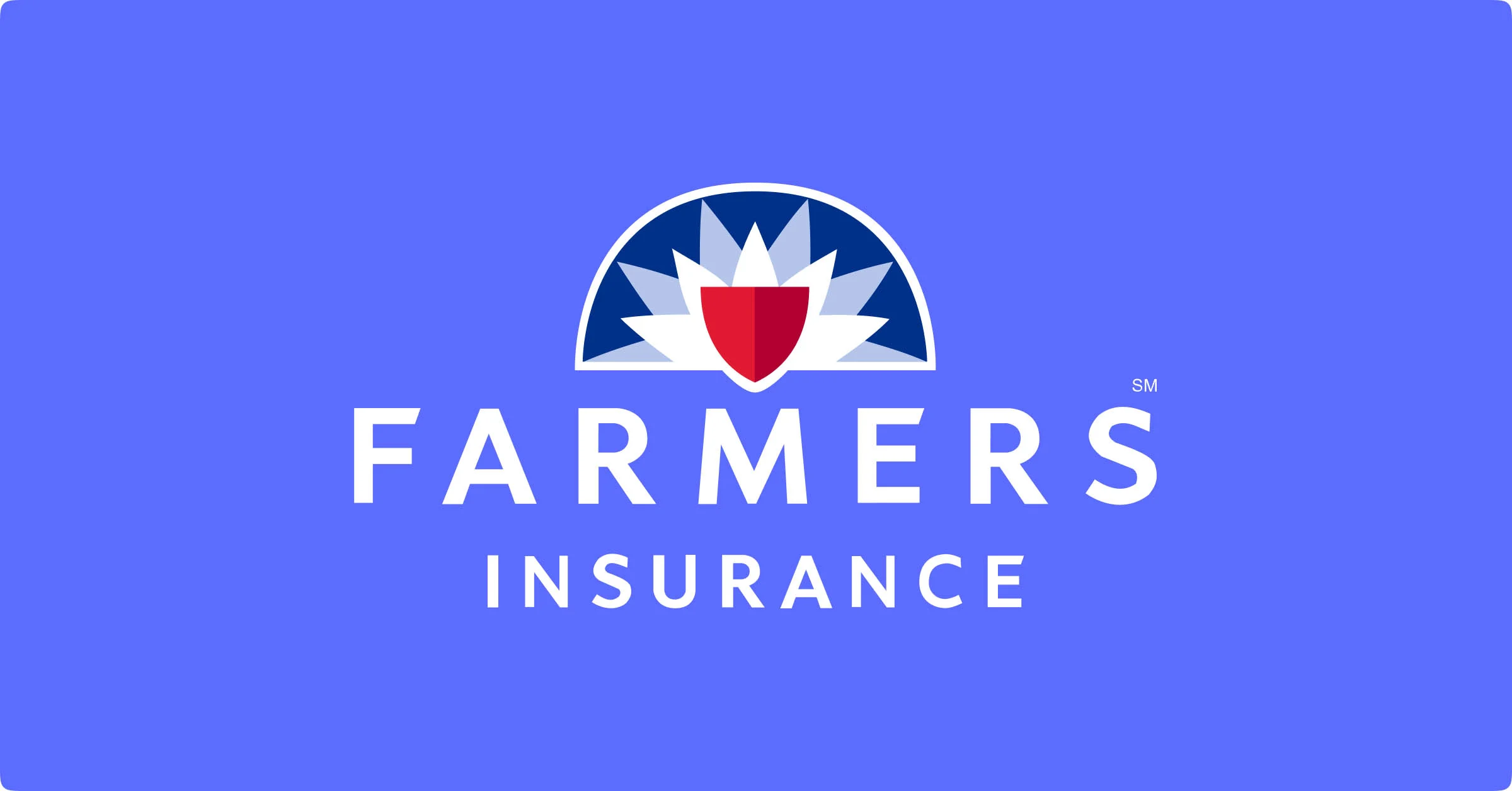 About Farmers Insurance Group
Headquartered in Woodland Hill, California, Farmers Home Insurance Group was founded in 1928 by a pair of farmers determined to insure drivers living in rural areas.
Originally, the company only offered simple auto and home policies to farmers. However, since its inception, it's grown to offer more complex policies. It even has a partnership with FEMA and offers an array of life insurance policies too.
Satisfaction ratings
BBB Rating: A+ (AND accredited)
Consumer Reports Rating: Very Satisfied
JD Power Rating: 3 / 5
Farmers Insurance pros and cons
PROS
Offers comprehensive coverage for your home and personal belongings, protecting you against damage or loss due to natural disasters, theft, fire, and other unforeseen events

Allows you to customize your policy to fit your specific needs, so you only pay for the coverage you need

Offers a variety of discounts and rewards, such as bundling policies, loyalty rewards, and safe homeowner discounts, which can help you save money

Has a straightforward claims process, making it easy to file and process claims quickly
CONS
Not available in all states, so if you live in an area where it is not offered, you will need to look for another provider

Can be more expensive than other home insurance providers, particularly for those who live in high-risk areas

Some customers have reported poor customer service experiences, including difficulty getting in touch with representatives and delayed claim processing
Farmers home insurance review
Farmers Insurance offers high-quality home and auto insurance policies to its customers. It's a reputable company that's been around for nearly a century.
However, Farmers insurance products can be a bit pricey compared to their competitors, and in some instances, customers haven't been completely satisfied with the service they received.
Overall, we feel the company offers slightly above-average products. Customers who can bundle their home and auto policies with Farmers and still qualify for decent rates should consider Farmers a good option.
Home insurance policies offered through Farmers Insurance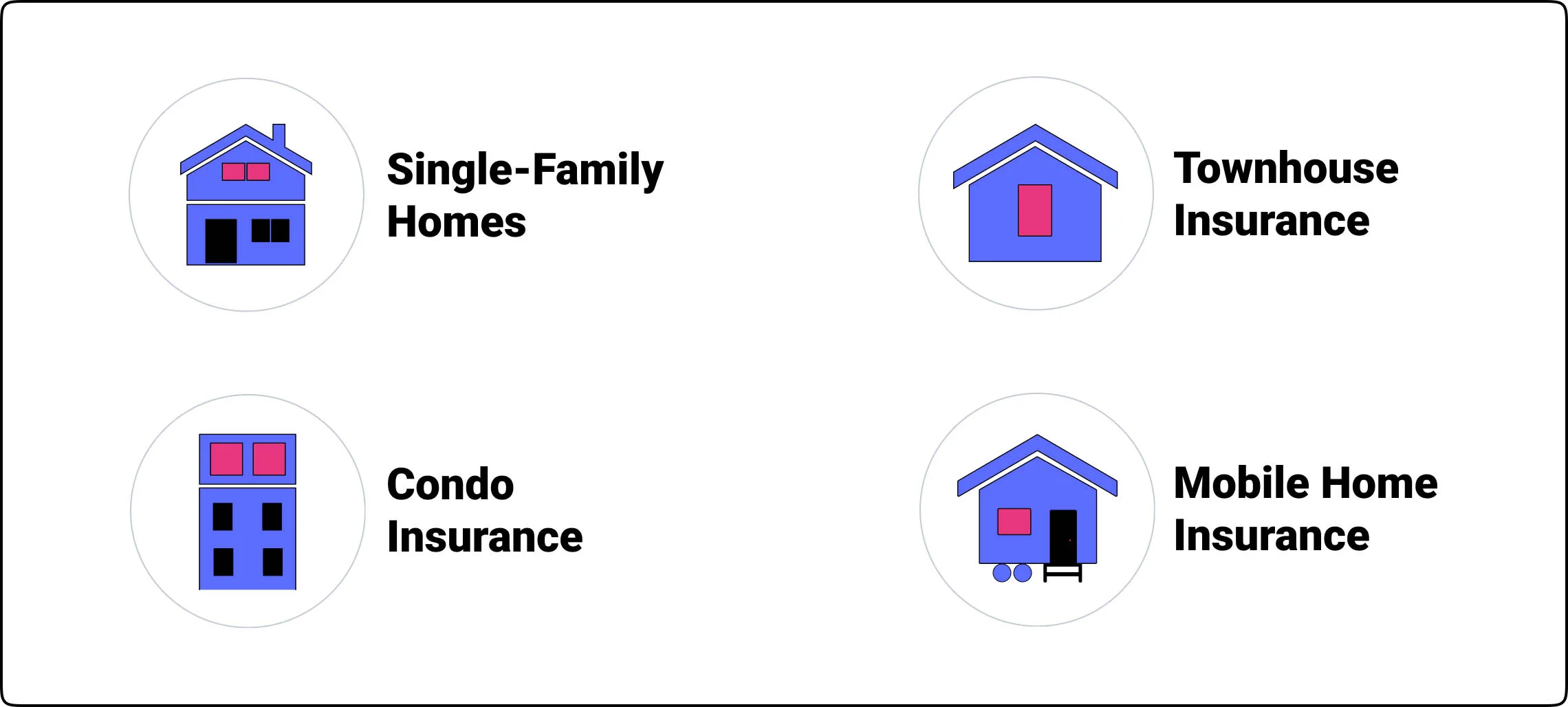 Farmers Insurance Group insures a variety of property types, including:
Single-family homes
Townhouse insurance
Condo insurance
Mobile home insurance
Upgrades and addons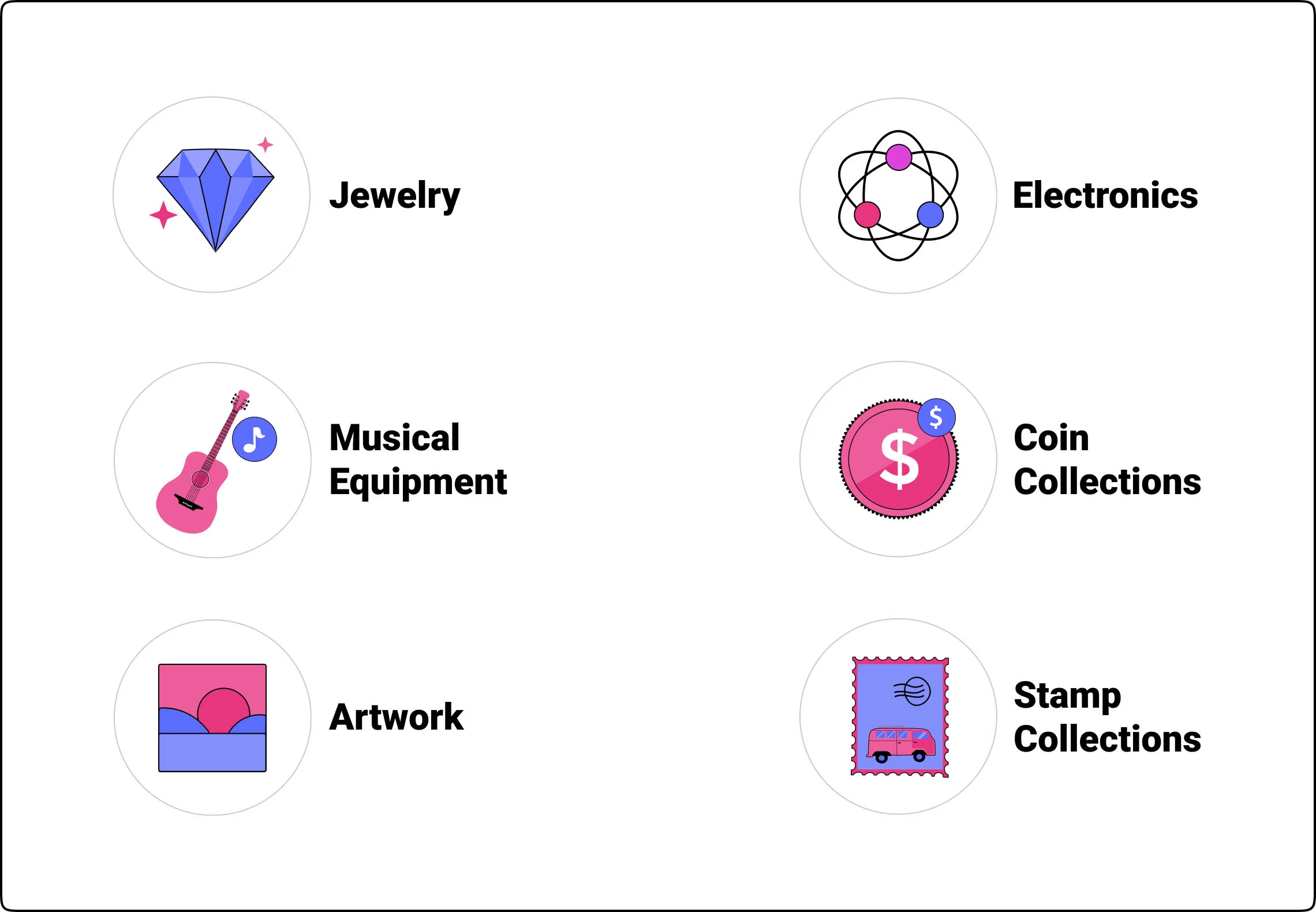 While all home policies offer protection for your personal belongings, there are some items you may want to add additional coverage to so that they're covered for their full valued amount.
Musical equipment
Artwork
Electronics
Coin and stamp collections
Farmers Insurance's available home insurance discounts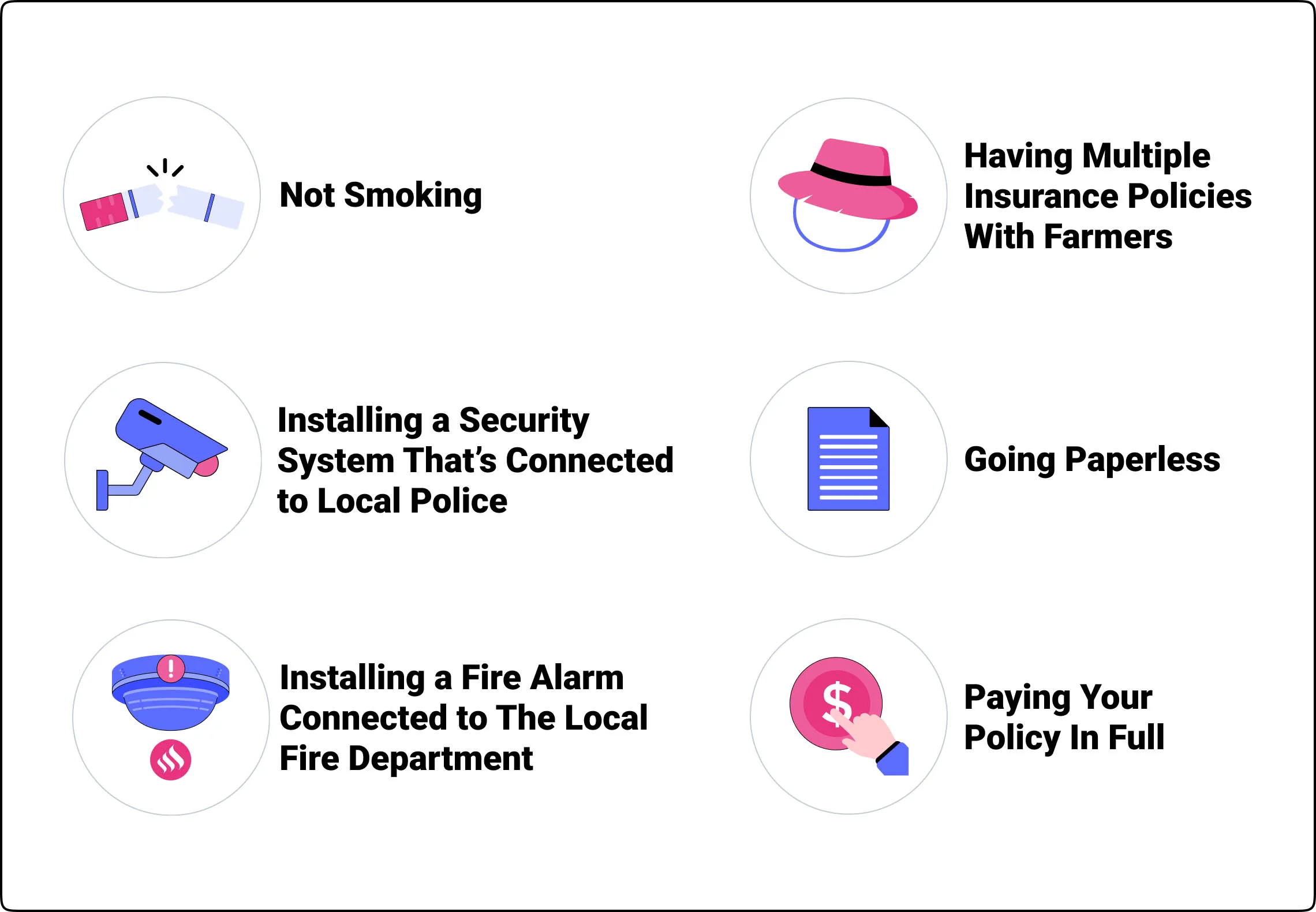 Farmers offers policyholders several discounts, including those for:
Not smoking
Installing a security system that's connected to local police
Installing a fire alarm connected to the local fire department
Having multiple insurance policies with Farmers
Being a police officer, firefighter, or active military member
Being a teacher or engineer
Being a doctor, nurse, or dentist
Enrolling in ePolicy and going paperless
Paying your policy in full
What you need to apply for a Farmers home insurance policy
To apply for a home insurance policy through Farmers Insurance Group, you need:
Your name, Social Security number, and birthdate
Your home address
Information about your house such as building materials and square footage
Estimated value of personal property
Exact value of any valuable personal property that needs additional coverage
FAQs
Does Farmers Insurance have a good reputation?
Overall, Farmers Insurance has a generally positive reputation within the insurance industry. It is a well-established company that has been providing insurance for over 90 years and is known for its comprehensive coverage options, customizable policies, and discounts.
However, like any insurance company, there are positive and negative customer experiences. Some customers have reported issues with customer service or claim processing, while others have had positive experiences and praised the company for its coverage and rates.
Is Farmers good at paying claims?
Farmers Insurance has a reputation for paying claims fairly and efficiently. They have a straightforward claims process, and their adjusters work to investigate and resolve claims as quickly as possible.
The company has a large network of agents and adjusters nationwide, allowing them to handle claims quickly and effectively. Additionally, Farmers has a high financial strength rating, which means they have the financial stability to pay claims.
Are people happy with Farmers Insurance?
Overall, people have mixed opinions about Farmers Insurance, but there are many customers who are satisfied with the company and the coverage they provide.
Farmers Insurance has a solid reputation in the industry, and they offer a wide range of insurance products and services, including home, auto, life, and business insurance. Many customers appreciate the flexibility of their policies, customizable coverage options, and the availability of discounts and rewards.
However, some negative customer reviews and complaints exist like any insurance company. Some customers have reported difficulty with claims processing or issues with customer service.
What are the benefits of Farmers home insurance?
Farmers Home Insurance offers several benefits, including:
Comprehensive coverage
Customizable policies
Discounts and rewards
24/7 claims service
Optional add-ons, such as identity theft protection, umbrella insurance, and equipment breakdown coverage
Good financial strength
Is Farmers home insurance more expensive than Progressive?
The cost of Farmers Home Insurance and Progressive Home Insurance can vary depending on several factors, such as your home's location, the home's age and condition, the coverage limits you choose, and your claims history.
In general, neither company is consistently more expensive than the other, as insurance rates can vary widely based on individual circumstances.
Get a quote for a Farmers home insurance policy
In conclusion, Farmers Home Insurance offers comprehensive coverage, customizable policies, and excellent customer service, making them a top choice for homeowners looking to protect their homes and personal belongings.
While individual experiences may vary, many customers have reported positive experiences with Farmers Home Insurance, citing their competitive rates, flexible coverage options, and efficient claims processing.
If you're in the market for home insurance, consider getting an online quote from Farmers Home Insurance today.
Related content: