UPDATED: NOVEMBER 02, 2022 | 1 MIN READ
If you want to buy affordable health insurance in Missouri, this guide will inform you of everything you need to know. Learn more about Missouri's ACA plans, Medicaid, and Medicare so you can get the coverage you need.
Missouri Open Enrollment Dates For Health Insurance
In Missouri, the Open Enrollment period for health insurance runs from November 1st through January 15th.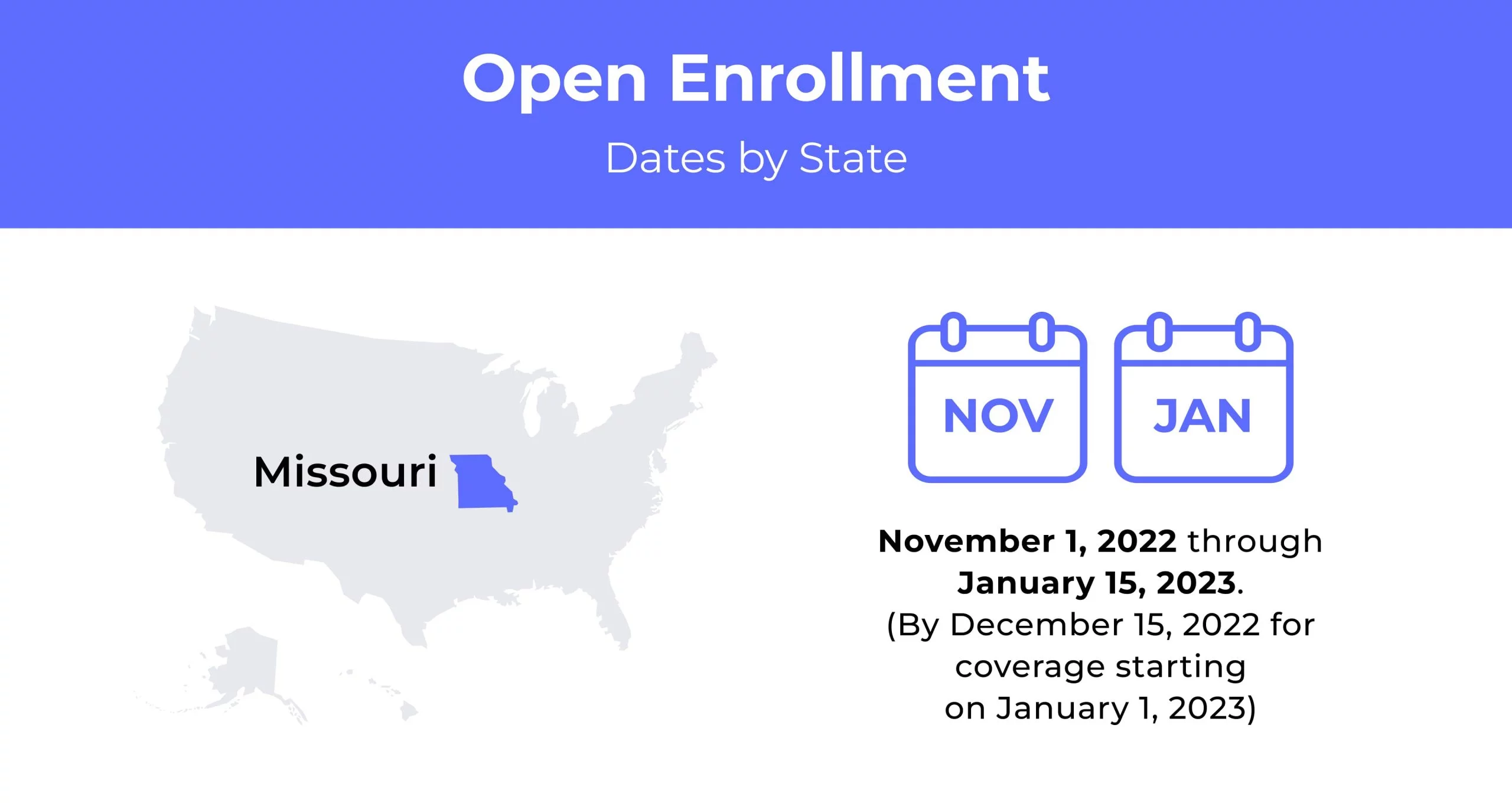 Missouri Health Insurance Demographics
The demographics of Missouri's population shape the state's health insurance cost. Educated individuals tend to have insurance through their employers, while low-income individuals lack health coverage and seek it through the ACA.
Average Household Income: The average household income in Missouri is $78,194, and the median household income is $57,290.
Median Age Range: The median age in Missouri is 38.3 years old, or 37.4 male and 40.2 female. People aged 18 to 64 make up 61% of the population.
Education: Missouri's population includes 18.44% of individuals with a Bachelor's degree and 11.50% with an Associate's degree.
What Type Of Health Insurance Marketplace Does Missouri Have?
Missouri uses the federal health insurance marketplace. Residents enroll for coverage through Healthcare.gov.
How many people are insured through Missouri's Marketplace?
Missouri saw 215,311 people enroll for 2022 coverage. Enrollment dropped slightly in 2021, but each year, the state's enrollment numbers are over 200,000.
Did Missouri implement the ACA's Medicaid expansion?
Missouri expanded Medicaid under the Affordable Care Act in 2021. The expansion added Medicaid eligibility to 275,000 Missourians and improved their access to quality healthcare.
When can you purchase ACA health insurance?
Missouri follows the federal timetable for Open Enrollment, which begins on November 1 and ends on January 15. You may purchase Missouri health insurance in the exchange during this period. Outside of Open Enrollment, you may be eligible for Special Enrollment if you have a special circumstance and life change.
These changes are:
A child born, adopted, or placed for foster care, thereby increasing your dependents
Marriage or divorce
Legal separation with loss of healthcare
Death of a household member covered on the Marketplace
Relocation to a new state, county, or zip code (varies)
Moving for school or seasonal employment
Leaving jail
Recognition as a member of a federally-recognized tribe
Becoming a U.S. citizen
You will need proof of the qualifying event and need to enroll up to 60 days before or 60 days after the event.
Types of ACA Plans In Missouri
Missouri has five metal tiers. They are Bronze, Expanded Bronze, Silver, Gold, and Catastrophic.
Bronze: Often the cheapest Missouri health insurance plans, Bronze plans have low premiums but higher deductibles.
Expanded Bronze: Expanded Bronze plans offer lower prices for health benefits, such as doctor visits, even if you haven't met your deductible.
Silver: Silver Plans feature moderate costs for monthly premiums and care, plus lower deductibles than most Bronze plans
Gold: Gold plans have high monthly premiums but low care costs and lower deductibles.
Catastrophic plans are only available to those under 30 or who can't afford health insurance.
What carriers offer ACA health insurance?
The Missouri health insurance marketplace has nine carriers, including two that returned to offer 2022 coverage. Of these carriers, several had expanded their county coverage.
Aetna
Anthem Blue Cross and Blue Shield
Celtic
Cigna
Cox
Medica
Oscar
Wellfirst Health (SSM Health Insurance)
How Much Does Health Insurance Cost In Missouri?
Missouri health insurance costs vary, but the average price is $550 a month for a Silver ACA plan.
Cheapest Health Insurance By Metal Tier
Choosing a metal tier before you get insurance quotes is important because it dictates the type of policy you want. Below are the cheapest plans in the state broken down by metal tier.
| Metal Tier | Cheapest Plan | Monthly Premium | Deductible | Maximum Out-of-Pocket |
| --- | --- | --- | --- | --- |
| Catastrophic | WellFirst Catastrophic | $280 | $8,700 | $8,700 |
| Bronze | WellFirst Bronze | $320 | $8,650 | $8,650 |
| Expanded Bronze | WellFirst Bronze | $325 | $8,650 | $8,650 |
| Silver | WellFirst Silver | $420 | $4,500 | $7,000 |
| Gold | WellFirst Gold | $485 | $3,700 | $3,700 |
Cheapest Health Insurance By County
Where you live also plays a huge role in the cost of your health insurance. Here are the cheapest individual health plans and family insurance plans available in the largest counties in Missouri.
| County Name | Cheapest Plan | Individual, Age 21 | Couple, Age 40 | Couple, Age 40 & Child |
| --- | --- | --- | --- | --- |
| Greene | Ambetter Balanced Care 129 | $535 | $1,069 | $1,389 |
| Jackson | Silver Simple- Specialist Saver | $458 | $916 | $1,190 |
| St. Charles | WellFirst Silver HSA-E 4500X | $419 | $838 | $1,089 |
| St. Louis | WellFirst Silver HSA-E 4500X | $419 | $838 | $1,089 |
| St. Louis City | WellFirst Silver HSA-E 4500X | $419 | $838 | $1,089 |
Health Insurance Subsidies Available?
You can save on your Missouri health insurance plan with subsidies. Missouri residents receive valuable subsidies in the state, with 88% of individuals enrolled eligible for tax credits and 57% qualified for cost-sharing reductions. Estimates for 2017's tax credits alone came to around $9 million.
Can You Purchase Off-Exchange Health Insurance Coverage In
the

State?

Yes, you can purchase off-exchange health insurance plans in Missouri.
Can You Purchase Short-Term Health Insurance?
Yes, you can purchase short-term health insurance. Missouri's guidelines limit short-term plans to six months or fewer. Some plan types are renewable; this depends on the carrier.
Health Insurance Options For Low-Income People
Missouri health insurance options for low-income individuals include Medicaid and Medicare. When you apply for health insurance, your income determines Medicaid eligibility. If you're 65 or older or meet other requirements, you may be eligible for Medicare. Each of these programs helps low-income people get the healthcare they need for free or at a reduced price.
What Medicare Options Are Available In Missouri?
Over 1 million Missouri residents are enrolled in Medicare, and the state has several plan options. These are:
Part A: Hospital insurance that pays for hospital care such as inpatient services, nursing facilities, home health care, and hospice
Part B: Medical insurance for doctors visits, medical equipment such as wheelchairs, and outpatient health care
Part C: Also known as Medicare Advantage, these plans are a hybrid of A and B, and prescription drug coverage into a single plan
Part D: Prescription drug coverage
If you don't have Medicare Advantage, you can buy Medigap policies to help with coverage Part A and B may lack.
If you're not 65 or older, you may be eligible for Medicare if any of the following describes you:
You have end-stage renal disease or kidney failure
Are diagnosed with Amyotrophic Lateral Sclerosis (ALS)
Receive Social Security disability for 24 months
Medicaid In Missouri
Medicaid in Missouri is known as MO HealthNet and makes medical costs free or more affordable for low-income individuals. If you're pregnant, under 18, disabled, or a senior citizen, you may be eligible for MO HealthNet.
You can apply for Missouri Medicaid through their online portal. The income limit for Medicaid begins at $17,774 for individuals and $24,039 for a family of two.
Cheapest Health Insurance Plans In Missouri
If browsing for the cheapest Missouri health insurance plans, you should consider how much you want to pay monthly, out of pocket, and what coverage you need.
Cheapest health insurance plan with low out-of-pocket maximums
A low out-of-pocket maximum plan is good if you anticipate visiting the doctor often. Your premium will be high, but the out-of-pocket maximum will be lower and quicker to reach.
Your insurance carrier can start covering your costs once you've spent the limit of your out-of-pocket. The cheapest plan that fits is WellFirst Health's WellFirst Gold Value Copay 3700X, which has a low out-of-pocket maximum of $3,700 a year.
Cheapest health insurance plan with high out-of-pocket maximums
High out-of-pocket maximums are reasonable if you want an affordable Missouri health insurance plan with a low premium. Your care costs will be more expensive than other plans, but you'll have a monthly premium of around $200 and an out-of-pocket of $8,250.
Cheapest health insurance plan with an HSA option
You might want to choose a health savings account (HSA) if you're generally healthy and only visit the doctor for preventative care. These plan types allow you to save for health expenses. If you spend your savings on health costs, it's tax-free. There are several HSA plans in Missouri and WellFirst offers the cheapest. For Bronze, the cheapest HSA is WellFirst Bronze HSA-E at $319 monthly; for Silver, it's WellFirst Silver HSA-E 4500X at $445 monthly.
FAQs
What's the average cost of health insurance in Missouri?
The average cost for Missouri health insurance is around $538 a month. The price you'll pay varies by your plan, carrier, age, gender, and location.
Does Missouri offer health insurance?
Missouri has a health exchange where you can purchase individual insurance and family health insurance plans.
How do I get free health insurance in Missouri?
You may get free or cheap health insurance in Missouri based on your income. If you make less than $18,075 a year, you may be eligible for Medicaid. Tax income-based subsidies may cause your premiums to be free or low-cost through the marketplace.
What's Obamacare called in Missouri?
Obamacare is also known as the ACA, or Affordable Care Act, in Missouri.
Who qualifies for Mo HealthNet?
Residents of Missouri qualify for MO HealthNet, the state Medicaid program, if they're between the ages of 19-64 and live in Missouri. They're also eligible if 65 or older, pregnant or the caretaker of a child under 19, or if blind or disabled. They must also make less than $18,075 annual income before taxes.
If you're a woman under 65, living in Missouri, diagnosed with breast or cervical cancer, and don't have insurance that can cover it, you may be eligible for MO HealthNet.
How To Buy Affordable Health Insurance Plans In Missouri
It doesn't take long to find affordable health insurance in Missouri. Use our online comparison tool to get multiple rates and compare coverages today.