UPDATED: JANUARY 24, 2023 | 2 MIN READ
Nevada, the Silver State, will soon be one of a few U.S. few states to require a public option health insurance plan on the Marketplace. There are already over 100 health insurance plans in Nevada, and figuring out which is best can be confusing. If you want to sign up for Nevada health insurance, here's what you'll need to know about coverage options, premiums, and other details.
Nevada Open Enrollment Dates For Health Insurance
Nevada's Open Enrollment period for health insurance runs annually from November 1st to January 15th.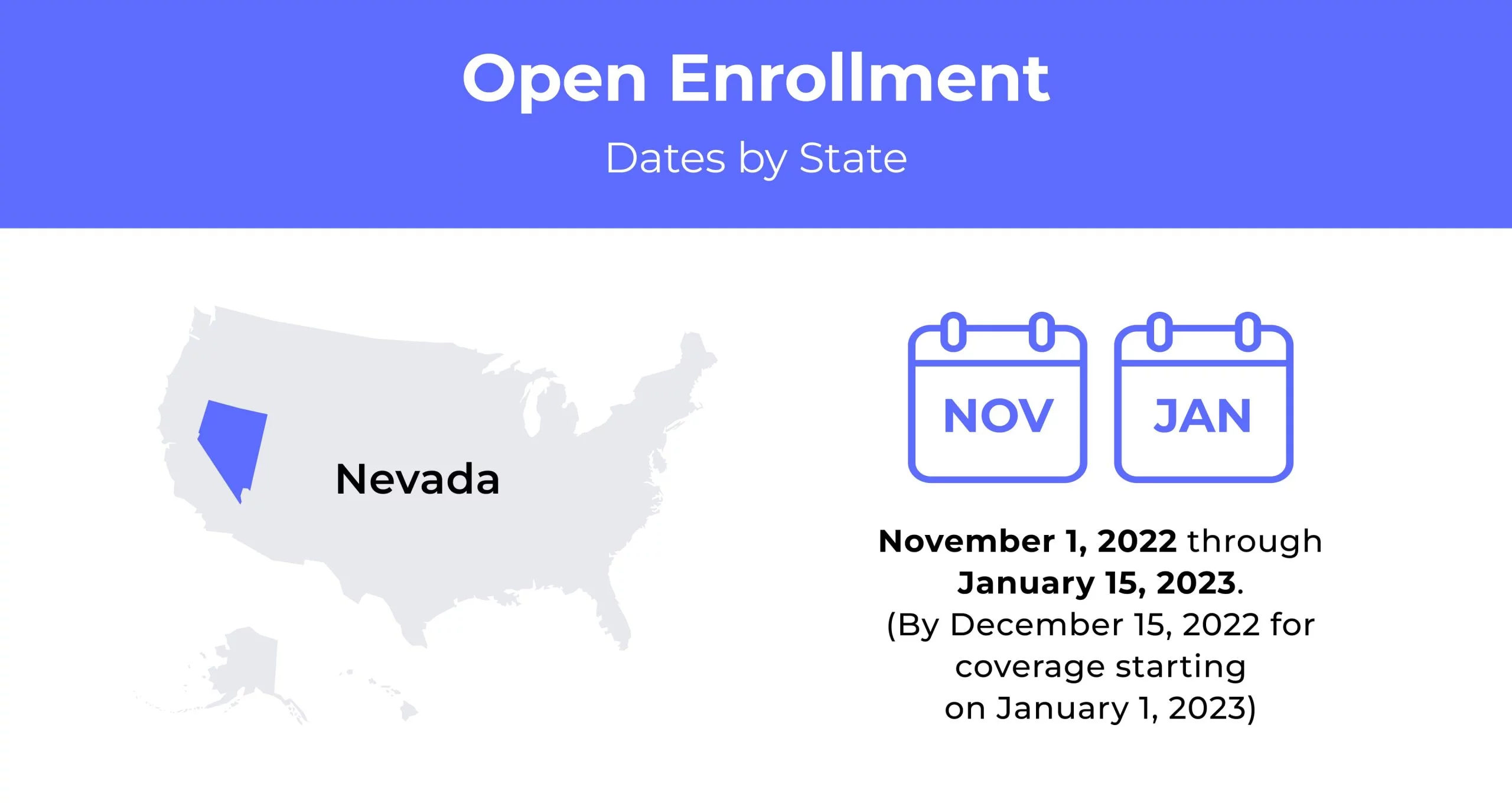 Nevada Health Insurance Demographics
The state's demographics, such as age, income, and education, influence the costs of Nevada health insurance. Lower-income residents often have barriers to adequate health insurance or healthcare, making healthcare more expensive when they do seek it. College-educated individuals are more likely to have insurance through their work.
Average Household Income: The average household income is $80,885, and the median income is $61,186.
Median Age Range: The median age for the state is 38.2. with people 18-64 representing 62% of Nevada's population.
Education: Of Nevada's residents, 16.64% have a Bachelor's degree, while 8.41% hold an Associate's degree.
What Type Of Health Insurance Marketplace Does Nevada Have?
The Nevada health insurance marketplace, Nevada Health Link, is state-run. With the insurance marketplace, individuals and families can purchase private insurance plans.
In 2021, Nevada passed legislation for a public option, with a 2026 target. Once the public option is available, Nevada will be only one of a few states offering it.
How many people are insured through the Nevada health insurance marketplace?
In total, 101,409 Nevadans signed up for health insurance through the Nevada health insurance marketplace. This enrollment number represents a sizable increase since Nevada began its state-run marketplace.
Did Nevada implement the ACA's Medicaid expansion?
Nevada expanded Medicaid in 2014, and as of 2021, more than 700,00 Nevada residents are covered by Medicaid. The state greatly underestimated the enrollee numbers with its projection of fewer than 80,000 eligible people. Medicaid coverage for Nevadans grew by over 150% and offered affordable low-cost care to adults and children.
When can you purchase ACA health insurance in Nevada?
You may purchase ACA health insurance in Nevada during Open Enrollment, which lasts from November 1 to January 15. If you have special circumstances or life changes, you may be eligible for Special Enrollment outside of this period. These changes are also known as "qualifying events" and include:
Gaining a dependent through childbirth or adoption
The death of a family member covered through the marketplace
Marriage or divorce
Legal separation that resulted in coverage loss
Becoming a legal United States citizen
Loss of coverage after turning 26 and aging off parents' plans
Moving to a new state or zip code
Moving to the US
Residence change due to starting college or a seasonal job
Loss of employer healthcare
If you want to sign up for an ACA plan with a Special Enrollment Period, you must sign up within 60 days or 60 days after the qualifying event.
Types of ACA Plans In Nevada
Nevada Health Link offers ACA plans in four metal tiers: Bronze, Silver, Gold, and Catastrophic. Nevada doesn't have Platinum ACA plans like other states.
Bronze – High care costs but low monthly premium, high deductibles
Silver – Moderate costs and monthly premium, somewhat lower deductibles
Gold – High monthly premium, low care costs, low deductibles
Catastrophic plans are only for individuals under 30 or anyone with a hardship granted by Nevada Health Link.
What carriers offer ACA health insurance in Nevada?
There are currently seven carriers for ACA health insurance in Nevada. Two insurers, Aetna Health and Hometown Health Plan, are new in 2022. Anthem Blue Cross Blue Shield returned to the marketplace after exiting in 2017.
Anthem Blue Cross Blue Shield (HMO Colorado/HMO Nevada)
Friday Health Plans
Health Plan of Nevada
SelectHealth
Silver Summit
Aetna Health
Hometown Health Plan
Nevadans have a robust marketplace with a diverse selection of over 100 ACA healthcare plans.
How Much Does Health Insurance Cost In Nevada?
Health insurance costs $578 for a Silver plan in Nevada. This figure is for a 40-year-old Nevada resident. Health insurance premiums vary according to the applicant's age, gender, location, health plan, and carrier. Older Nevadans often pay more for health insurance in Nevada.
Cheapest Health Insurance By Metal Tier In Nevada
Nevada offers three metal tiers – Bronze, Silver, and Gold. The table below highlights the cheapest plan for each option.
| Metal Tier | Cheapest Plan | Monthly Premium | Deductible | Maximum Out-of-Pocket |
| --- | --- | --- | --- | --- |
| Bronze | MyHPN Plus Bronze 1 | $255 | $8,700 | $8,700 |
| Silver | Ambetter Value Silver 31 | $350 | $5,450 | $6,450 |
| Gold | Ambetter Value Gold 20 | $405 | $750 | $7,500 |
Cheapest Silver Health Insurance By County
Health insurance in Nevada also varies between counties. Use the table below to review the cheapest Silver-tier plans for the five largest counties in the state.
| County Name | Cheapest Plan | Individual, Age 40 |
| --- | --- | --- |
| Carson | FRIDAY Silver | $560 |
| Clark | Ambetter Value Silver 31 | $350 |
| Elko | Ambetter Balanced Care 31 | $565 |
| Lyon | FRIDAY Silver | $560 |
| Washoe | FRIDAY Silver | $450 |
Are Subsidies Available In Nevada
Health insurance subsidies are available through Nevada Health Link. The financial assistance is income-based, with cost-sharing reductions and premium tax credits available to eligible individuals. The American Rescue Plan expanded eligibility to more Nevadans, and 17,094 Nevada residents received subsidies.
Can You Purchase Off-Exchange Health Insurance Coverage In Nevada?
You may purchase individual off-exchange health insurance in Nevada only during Open Enrollment or if you have a qualifying event that makes you eligible for Special Enrollment.
Can You Purchase Short-Term Health Insurance In Nevada?
Yes, you can purchase a short-term health insurance plan in Nevada; however, it's limited to 185 days. Unlike other states, short-term health insurance in Nevada is nonrenewable.
Health Coverage Options For Low-Income People In Nevada
What Medicare Options Are Available In Nevada?
Medicare is available in Nevada, and there are nearly 570,000 Nevadans registered. Nevadan Medicare has four parts, with Parts A and B also referred to as "Original Medicare":
Part A: Hospital insurance, Part A applies to inpatient and outpatient hospital services, nursing facilities, hospice, and home health care
Part B: Medical insurance, Part B, is for doctor visits, medical supplies, preventative care, outpatient care
Part C: Also called Medicare Advantage, Part C combines Part A and B. 
Part D: Prescription drug coverage is the basis of Part D
Nevada residents who want more care coverage can also purchase a Medigap policy, which covers services Part A and B don't.
Medicaid In Nevada
Nevada Medicaid is available in Nevada for those who can't afford medical care. Eligibility is income-based, with an annual household income below $18,075. The applicant must also be:
Pregnant or a caretaker for a child 18 years or younger
Blind or disabled
65 years or older
Nevadans on Social Security are often automatically eligible for Medicaid.
Cheapest Health Plans In Nevada
Nevada Health Link has many affordable health insurance plans. As you look for cheap health insurance in Nevada, consider how often you go to the doctor, your budget for the monthly premium, and what coverage options you need. Then weigh your options by looking at each plan's offerings.
Cheapest health plan in Nevada with low out-of-pocket maximums
Nevada residents who frequently visit the doctor and have expensive care needs will likely want a plan with low out-of-pocket maximums. The plan with the lowest out-of-pocket max in Nevada is Ambetter Balanced Care 25 (HSA), which has a $4,800 deductible for an individual and $9,600 for a family.
Cheapest health plan in Nevada with high out-of-pocket maximums
Nevada health insurance carriers offer high out-of-pocket maximums but under $10,000. If you want a cheap insurance plan with a high out-of-pocket, so you have a low monthly premium, the SelectHealth Value Expanded Bronze 8550 – No Deductible for Office Visits is a good choice. It features a maximum of $8,500 for an individual's out-of-pocket. The premium will be around $250-$300, depending on your age.
Cheapest health plan in Nevada with an HSA option
Nevada health insurance plans include Health Savings Account (HSA) options and vary in price. HSA plans have high deductibles but let you put savings into a tax-free account for your deductible or copay.
The cheapest Bronze HSA plan is SelectHealth Value Expanded Bronze 6950 HSA Qualified, which is around $313 monthly. For Silver plans, the cheapest HSA is Ambetter Balanced Care 25 HSA.
Cheapest HMO/PPO/POS health plans in Nevada
Nevada features Health Maintenance and Organization (HMO) and Exclusive Provider Organization (EPO), and Point of Service (POS) plans. PPO plans aren't sold on the marketplace.
The cheapest HMO is the SelectHealth Value Silver 6500 – No Deductible for Office Visits at $375 a month. The cheapest EPO is also Silver and is Friday Silver by Friday Health. It costs $512 monthly on average.
FAQs
How much is health insurance in Nevada per month?
The average cost for Nevada health insurance plans is $475 at the lowest metal tier, Bronze. Your premium will vary and depends on your age, gender, location, and carrier.
What health plans are available in Nevada?
Nevada health insurance includes individual and family plans, with HMO, EPO, and POS plans. Some residents may be eligible for Medicaid or Medicare.
Does Nevada have free healthcare?
Nevadans who are low-income may be eligible for Medicaid. Nevada Medicaid offers free or affordable health coverage.
Is Blue Shield available in Nevada?
Anthem Blue Cross and Blue Shield is available in Nevada. Anthem left in 2017 but returned to Nevada's marketplace in 2022. Anthem Blue Shield is offered throughout Nevada.
Who is eligible for Medicaid in Nevada?
Medicaid Nevada eligibility requires applicants to be a resident of Nevada who is pregnant or responsible for a child under 18. Eligible applicants may also be 65 or older, have a disability or blindness, or have a household member with a disability. They must also have an income under $18,075 for a household size of one or $24,353 for a family of two.
How To Buy Cheap Health Insurance Plans In Nevada
Nevada Health Link has multiple options for individual and family health insurance plans. If you go through the marketplace, you may be eligible for subsidies to help reduce your monthly premium. Compare plan types to see what fits your needs and budget.