Yes, you should expect an increase in your monthly homeowner's insurance premium when you install a backyard swimming pool. It could be anywhere from $50 to a few hundred dollars. The size of your pool, the safety precautions that you plan to take, and even your location all have an effect on your potential rate hike. But don't worry! There are still ways to save.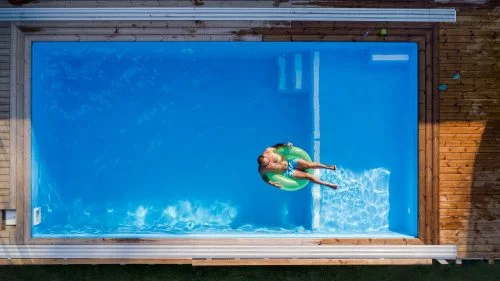 A backyard pool can increase the value and enjoyment of your home. There's no reason to miss out on these benefits because of insurance premiums. We'll explain why insurance companies charge more for a pool and what features you can add to reduce risk and keep your premiums low.
Why Does a Pool Increase your Homeowners Insurance Premiums?
What Safety Features Can You Add to Your Pool to Lower Your Insurance Payments?
How can the Size and Style of Your Pool effect Homeowners Insurance?
Where You Live Can Affect How Much Liability Coverage You Need for Your Pool
Why Does a Pool Increase your Homeowners Insurance Premiums?
If you own a pool, your minimum Liability Coverage requirements are what is likely to increase.
What is Liability Coverage?
Homeowners expect insurance companies to cover a physical disaster. Many may not realize that homeowners insurance covers certain kinds of financial disasters as well. Specifically, most standard home insurance policies include something called Liability insurance.
If someone is injured on your property, you may be liable for their medical expenses. If another party sues you for causing them bodily injury either physically or emotionally, Liability insurance protects you from these costs. Standard Liability Coverage is usually set at a payout of $100,000, but it can be raised or lowered depending on your risk and your plan.
How Does a Pool Increase Your Liability Risk for Home Insurance?
In short, installing a pool increases the possibility that someone will drown on your property.
In fact, insurance companies consider pools an attractive nuisance. This is defined as any feature of a home that attracts children but has the potential to cause them harm. Examples of other attractive nuisances to watch out for are backyard jungle gyms, rope swings, treehouses, and any outdoor staircase without proper railings.
When you hire a contractor to install a pool at your home, nine out of ten times your insurance company is going to call to have a conversation about your new risk. They will likely inform you that your minimum liability coverage is going to need to be increased from the standard payout of a hundred grand up to $500,000 or even higher depending on the size and style of your pool. While this may seem like a lot, a $500k increase in minimum liability coverage may only lead to $100 dollars a month in increased premiums.
What Safety Features Can You Add to Your Pool to Lower Your Insurance Payments?
While they may be a hassle, installing simple safety precautions can actually reduce almost all of the extra premium costs that are associated with a new pool.
These cost-saving safety features include:
A perimeter fence with a gate
A pool cover
Proper area lighting
A non-slip surface
Safety railing
Proper signage
For some homeowners, a gate and fence or screen enclosure are not visually appealing but there are ways to get creative. The fence doesn't have to be tall, and using wood or iron railings can class up the look of an average metal fence line. Go through the extra work of installing a fence can deter young kids or other individuals who should not be near the pool, and could even save a life. It's important to note, however, that the fence or pool cage will not necessarily be covered by your insurance policy.
Check with Your Contractor About Pool Safety
If keeping your premiums low is important to you, then you'll definitely want to look into safety precautions you can take during installation! Pool contractors will be familiar with local building codes and have a lot of valuable experience to apply to your insurance premium concerns. Likely they will have been asked about installing safety features before and will be able to guide you in the direction of a few products or materials which may even be recognized as safe.

How can the Size and Style of Your Pool Affect Homeowners Insurance?
All pools are not created equal. The size and style of your pool can directly affect the magnitude of insurance premium increase you should be expecting. Backyard pools can vary from Olympic-length rectangular pools to peanut-shaped pools that weave in and out of the landscaping. There are even modern infinity pools that stretch right up to a bar, something we can all agree is a tripping hazard!
A Luxury Pool May Increase Your Risk
If the wavy edge of your pool is disguised among planters, bushes, a trellis, or a group of trees, then your insurance premium will increase more than if the circular pool is located in the center of your existing lawn.
While owning a fancy pool with all of the accessories may be your dream, it's worth considering the costs associated with different upgrades and modern styles of pool! There may still be a way to own your dream pool and still mitigate the safety risks posed by children or individuals who don't know how to swim.
You'll Pay More for a Diving Board
Another popular pool feature that can increase your insurance premium is a diving board! While there are accepted requirements for installing a diving board such as depth, width, and location, your assumed risks in owning a pool with a diving board will significantly increase.
Other Risky Features
Other pool features that may influence your premium include:
waterfalls
steep steps
dramatic drop-offs
depths over standard for your area
Where You Live Can Affect How Much Liability Coverage You Need for Your Pool
Where you live can change how much you'll pay for installing a pool. In communities on lakes and oceans, many people know how to swim. Insurers factor this in and may not raise rates as much for a pool. In areas of the country where the majority of the population doesn't visit pools or hasn't grown up swimming, premium increases can be higher. This is because companies consider drowning to be a greater risk. For example, if your home is the only house in the neighborhood that has a pool, insurance companies may begin to assume that local residents may be more likely to struggle in the water.
Could Your Pool Be Safer?
It is always smart when beginning a pool installation to consider any potential risks that you could be exposed to. Posing the question "How could someone be injured at the pool and why would it be my fault?" can help to put you in the shoes of a potential guest who is injured poolside due to an uneven surface or cracked tile. If you're ever in doubt as to whether installing a safety railing or extra step up out of the pool is a good idea, do it! All it takes is one accident to make you wish that you had done everything possible to mitigate any liability exposure.