UPDATED: MAY 01, 2023 | 3 MIN READ
If you're a homeowner in Maryland, you're probably paying close to the national average cost for homeowners insurance. At $1,454 per year, the average home insurance policy in Maryland costs about $50 more than the national average of $1,406.
To help you find the best home insurance for your needs, here are the best Maryland homeowners insurance companies based on customer service, coverage options, bundling, and more.
Best Maryland Home Insurance Companies
The best way to ensure you're getting maximum coverage at the right price is to compare quotes, possible discounts, and customer service ratings. J.D. Power's research shows that the top five Maryland homeowners and renters insurance companies are Allstate, American Family, Chubb, State Farm, and USAA.
Overall Best Maryland Homeowners Insurance Company
As with many other states, USAA is at the top of the list for home insurance companies in Maryland. However, membership eligibility restrictions apply. If you can't enroll in a USAA homeowners policy, look to State Farm. The average annual cost for $250K dwelling coverage is $1,007, with a J.D. Power Score of 835/1,000.
Best Value Maryland Home Insurance Company
Travelers offer the most affordable homeowners insurance in Maryland, with coverage for $808. The company also gives you opportunities to reduce your cost even further. You may be able to lower your premium if you:
Have a loss-free insurance history
Bought your home less than a year ago
Own a home that's been LEED-certified green
Bundle with another form of coverage
Install protective devices in your home, like sprinklers and smoke detectors
Maryland Home Insurance Company With the Best Customer Service
In addition to topping the list of the best homeowners insurance companies in Maryland, State Farm also has the best customer service. The National Association of Insurance Commissioners (NAIC) reports that State Farm receives about 80% fewer complaints than expected based on its size.
Maryland Home Insurance Company With the Best Coverage Options
The home insurance company with the best coverage options in Maryland is Chubb. Electronic data restoration, tree removal coverage, and lock replacement are standard with this company. Chubb's choices are mostly tailored to luxury homeowners, so this company may be a good fit if you have a high-value home.
Local and Regional Homeowners Insurance In Maryland
Chubb
Chubb is one of the top choices in Maryland for high-value homes and personal property. A premier home insurer, Chubb's standard policy includes coverages other companies make optional.
Their replacement cost uses real-time labor, building materials, and time calculations, not a random formula, and pays you the amount it takes to restore a home. Chubb insures million-dollar homes and offers various services other companies may lack.
Their discounts include bundle savings with an auto insurance policy and savings for homes with fire, safety, and security systems. You may also save if your home is mortgage-free.
Penn National Insurance
With comprehensive home insurance products, Penn National Insurance offers Maine homeowners protection against natural disasters.
Maryland residents can purchase coverage for dwelling, Other Structures, Personal Belongings, Medical payments to others, and a range of other coverages.
If you have an expensive collection of firearms, jewelry, paintings, or other valuables, you can purchase valuable insurance from Penn National. Insuring your car with Penn National offers a discount, as do nonsmoking households, roof replacement, fire protective devices, and smart home integration.
State Auto Insurance
According to Forbes, State Auto Insurance is a branch of Liberty Mutual and one of the best insurance companies. The insurer offers home insurance for Marylanders in Baltimore, Hyattsville, and all throughout the state.
Homeowners in Maryland choose from three levels of coverage: Standard (Basic), Protection Plus (Basic plus extras), and Premier (High-level coverage). State Auto Insurance also sells renters insurance and Dwelling Fire coverage. Discounts from safe auto insurance include advance quotes, prior carrier, fortified home, and protective devices.
What Impacts Home Insurance Rates in Maryland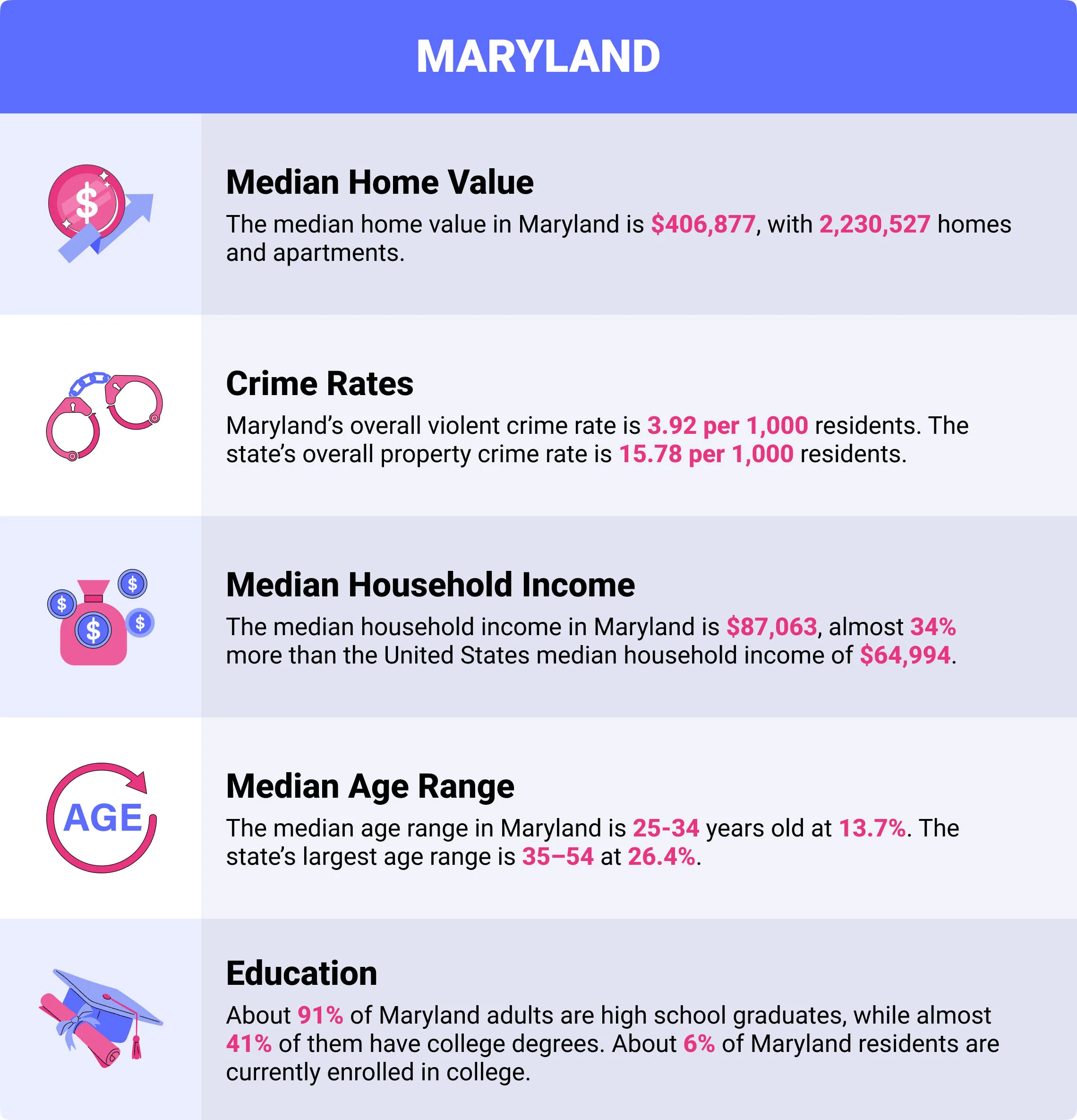 The cost of home insurance in Maryland varies based on where you live. For example, you will pay more for home insurance if you live in an area near the coast or if the number of local claims are filed. Below are demographics that may affect your rate:
Median Home Value: The median home value in Maryland is $406,877, with 2,230,527 homes and apartments.
Crime Rates: Maryland's overall violent crime rate is 3.92 per 1,000 residents. The state's overall property crime rate is 15.78 per 1,000 residents.
Median Household Income: The median household income in Maryland is $87,063, almost 34% more than the United States median household income of $64,994.
Median Age Range: The median age range in Maryland is 25-34 years old at 13.7%. The state's largest age range is 35–54 at 26.4%.
Education: About 91% of Maryland adults are high school graduates, while almost 41% of them have college degrees. About 6% of Maryland residents are currently enrolled in college.
Is Maryland Home Insurance Required?
Homeowners insurance is not required with your mortgage in Maryland. However, your lender may need it if you have a mortgage. While it's not required by law, it's still wise to have the proper coverage in place to cover costs you'd otherwise have to pay on your own.
What Does Maryland Home Insurance Cover?
Standard Maryland home insurance policies include fire damage, theft, and hail damage coverage. However, other causes of injury, like water-related perils, may not be included and will require an additional policy.
Common Home Risk Factors In Maryland
As Maryland is a seaboard state, it's subject to more flooding and hurricanes. The center and western parts of the state have a lower flood risk but a higher risk of damage from snowfall.
Regardless of where you're located in the state, knowing how your insurance will protect you from covering the total cost of any damage is vital.
What Type of Homeowner's Insurance Coverages Are Recommended In Maryland?
In addition to standard home coverage, homeowners in Maryland should consider flood insurance, identity theft coverage, and water backup coverage.
Flood insurance
Most counties in Maryland are at an increased risk of experiencing a flood event, according to the Federal Emergency Management Agency (FEMA). Unfortunately, standard homeowners insurance does not cover flood damage, so you'll need to purchase a separate policy.
Identity theft coverage
As this is becoming increasingly common throughout the country, it may be wise to add this option, as it covers the cost of restoring a stolen identity.
Water backup coverage
This coverage pays for the damages to your structure and/or property if you experience water damage due to sewer or drain line backup.
How Much Does Homeowners Insurance In Maryland Cost?
Like many other states, home insurance rates in Maryland are determined based on city-specific variables, like the crime rate, the number of filed claims in your area, and more.
Baltimore is the most expensive city in Maryland for home insurance, with an average price of $1,802 per year. The cheapest home insurance rates are in North Bethesda, where a typical term costs around $1,088.
Use the table below to compare the costs of Maryland home insurance by city. Average costs range from $1,088 to $1,802.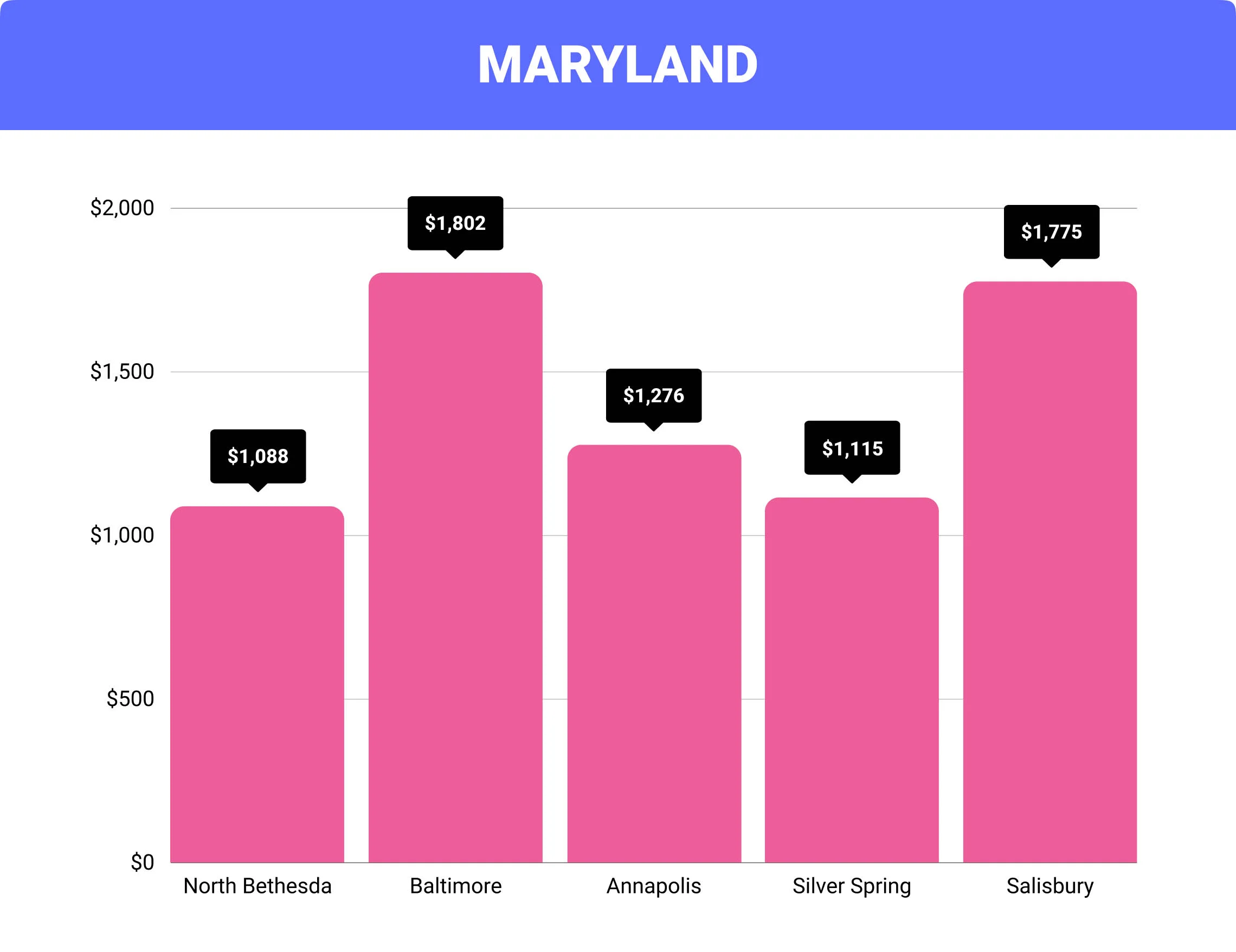 Cost of Home Insurance In Maryland By City
| City | Average Maryland Home Insurance Cost | Difference From Maryland Average |
| --- | --- | --- |
| North Bethesda | $1,088 | -25% |
| Baltimore | $1,802 | 24% |
| Annapolis | $1,276 | -12% |
| Silver Spring | $1,115 | -23% |
| Salisbury | $1,775 | 22% |
FAQs
What's the average cost of home insurance in Maryland?
On average, homeowners in Maryland pay $1,454 per year for home insurance.
Is home insurance required in MD?
Maryland doesn't require hazard insurance, although your lender may require it.
How much does flood insurance cost in Maryland?
Just like standard home insurance, costs will vary. You can acquire insurance through a private insurer or FEMA's National Flood Insurance Program (NFIP).
How much is homeowners insurance in Baltimore?
Baltimore is the most expensive Maryland city for home insurance, with an average price of $1,802 per year.
What's the cheapest homeowners insurance in Maryland?
Travelers currently offer the most affordable homeowners insurance in Maryland, with coverage for $808. The company also offers many ways to reduce costs, like bundling your home and auto and obtaining LEED green certification.
How To Purchase Maryland Homeowners Insurance
The best Maryland homeowners insurance companies offer a variety of coverage options, as well as excellent customer service. By completing our rate comparison form, you can quickly compare quotes from the top providers in your area and find the right policy for you.