UPDATED: JULY 06, 2023 | 2 MIN READ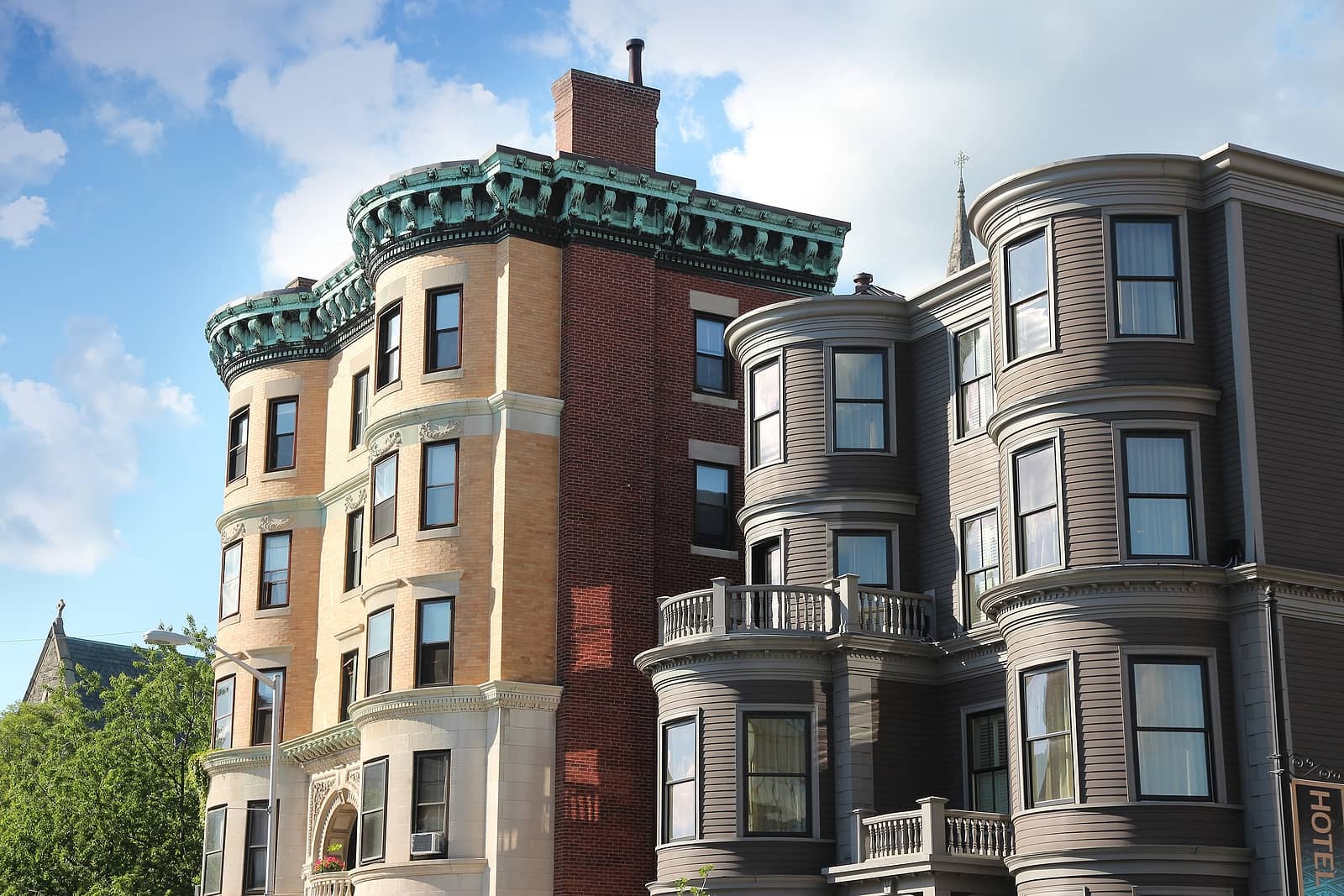 On average, homeowners insurance in Massachusetts is cheaper than the national average. At $1,261 per year, the average policy in Massachusetts is slightly less expensive than the national average of $1,406. To help you find the best coverage in your state, we've compiled information on several Massachusetts homeowners insurance companies based on customer service, bundling, and value.
Best Massachusetts Home Insurance Companies
The smartest way to ensure you're getting the best coverage at the right price is to compare rates, possible discounts, and satisfaction ratings. Based on research gathered from AM Best and J.D. Power, the top five Massachusetts homeowners and renters insurance companies are Amica, Allstate, Chubb, Travelers, and USAA.
Overall Best Massachusetts Home Insurance Company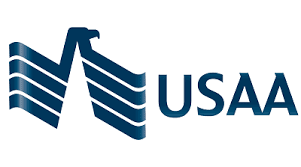 USAA ranks at the top of Massachusetts home insurance companies, but membership eligibility restrictions apply. If you can't enroll in a USAA homeowners policy, consider Amica. The average annual premium for $250K dwelling coverage is $1,356, and the company carries a J.D. Power Score of 854/1,000.
Remember that Massachusetts's best homeowners insurance companies may not be the same for everyone due to coverage needs, budgets, and preferences. Amica's coverage is higher than the state's average home coverage cost, so you may be able to find a less expensive option elsewhere.
Best Value Massachusetts Home Insurance Company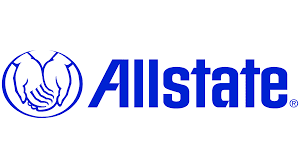 Budget-conscious shoppers should look to Allstate for the lowest average premium. At $877, this is less than the state average cost of $1,261 per year. The company also features a solid range of discounts and includes a Claim Rateguard that ensures your premium won't climb after filing a claim. If you place a high value on dependable customer service, consider Allstate's J.D. Power customer satisfaction rating is just a few points higher than average.
Insurance Company With the Best Customer Service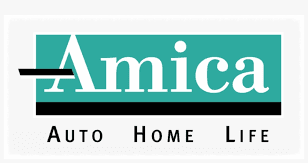 Homeowners prioritizing top-ranked customer service should consider Amica, with a J.D. Power Score of 861/1,000. The company also sells auto, life, small business, flood, motorcycle, and marine insurance. The average coverage is higher than the state average but more affordable than Chubb ($1,753/year).
Insurance Company With the Best Bundling Savings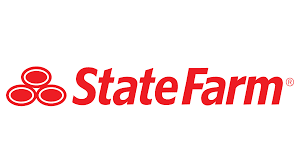 State Farm is the best insurance company for Massachusetts residents who want to bundle their auto and home policies together for a discount. The company offers a multi-policy discount of up to 17%. That's in addition to other savings, such as a discount for home security and safe driving. The company also has an app, so it's simple to update your policy and file claims.
Massachusetts Home Insurance Company With the Best Coverage Options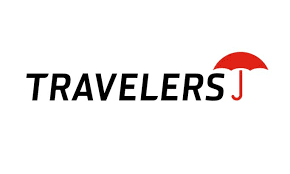 Travelers is the homeowners insurance company with the best coverage options in Massachusetts. The company offers several choices, including contents insurance, scheduled personal property insurance, and additional replacement cost protection. Travelers's J.D. Power ratings aren't the highest among the others mentioned above, but the coverage is more affordable than the state average.
Local and Regional Home Insurance Carriers In Massachusetts
Arabella Insurance
Arabella Insurance is a regional carrier for Massachusetts and throughout New England. They understand the unique stress and danger New England weather may put on a home.
Arabella Insurance offers multiple home insurance options for protection against fire, hail, theft, and other events.
Their insurance policies also include Liability coverage and protect you from lawsuits. The company features 24/7 claim response and offers custom-fit policies for unexpected expenses.
Homeowners save on premiums with discounts for new homes, renewals, safety features, and more.
Plymouth Rock Insurance
Plymouth Rock Insurance offers Massachusetts residents home insurance. Commonwealth residents protected their homes with Plymouth Rock's home coverages, including Dwelling, Other Structures, Personal Property, Loss of Use, Personal Liability, and Medical Payments.
Massachusetts residents throughout the Commonwealth, including Cape Cod and Boston, trust Plymouth Rock for home protection even during Nor'easters.
Automatic discounts apply for new customers, several claim-free years, and new homes. Home protection discounts, fire discounts, and connected home discounts help Massachusetts homeowners expand their savings.
Safety Insurance
Regional carrier Safety Insurance provides property insurance throughout the Commonwealth of Massachusetts, with service in Boston, Cape Code, and other locales. Insurance products include typical home coverages for Dwelling, Damage, Liability, and Patents.
Safety Insurance includes broad coverage as well as cyber protection and customized policies. Discounts for customers include multi-policy bundles, e-billing, new home discounts, and fire/burglar alarm savings.
Massachusetts Insurance Rates By Company
Each insurance company has its formula for determining policy premiums. Here are the average annual premiums for several home insurance companies in Massachusetts. These calculations are based on a dwelling coverage amount of $250,000.
| Insurance Company | Average Annual Rate |
| --- | --- |
| Amica | $1,360 |
| Allstate | $880 |
| Chubb | $1,755 |
| Travelers | $1,300 |
| USAA | $920 |
Massachusetts Insurance Demographics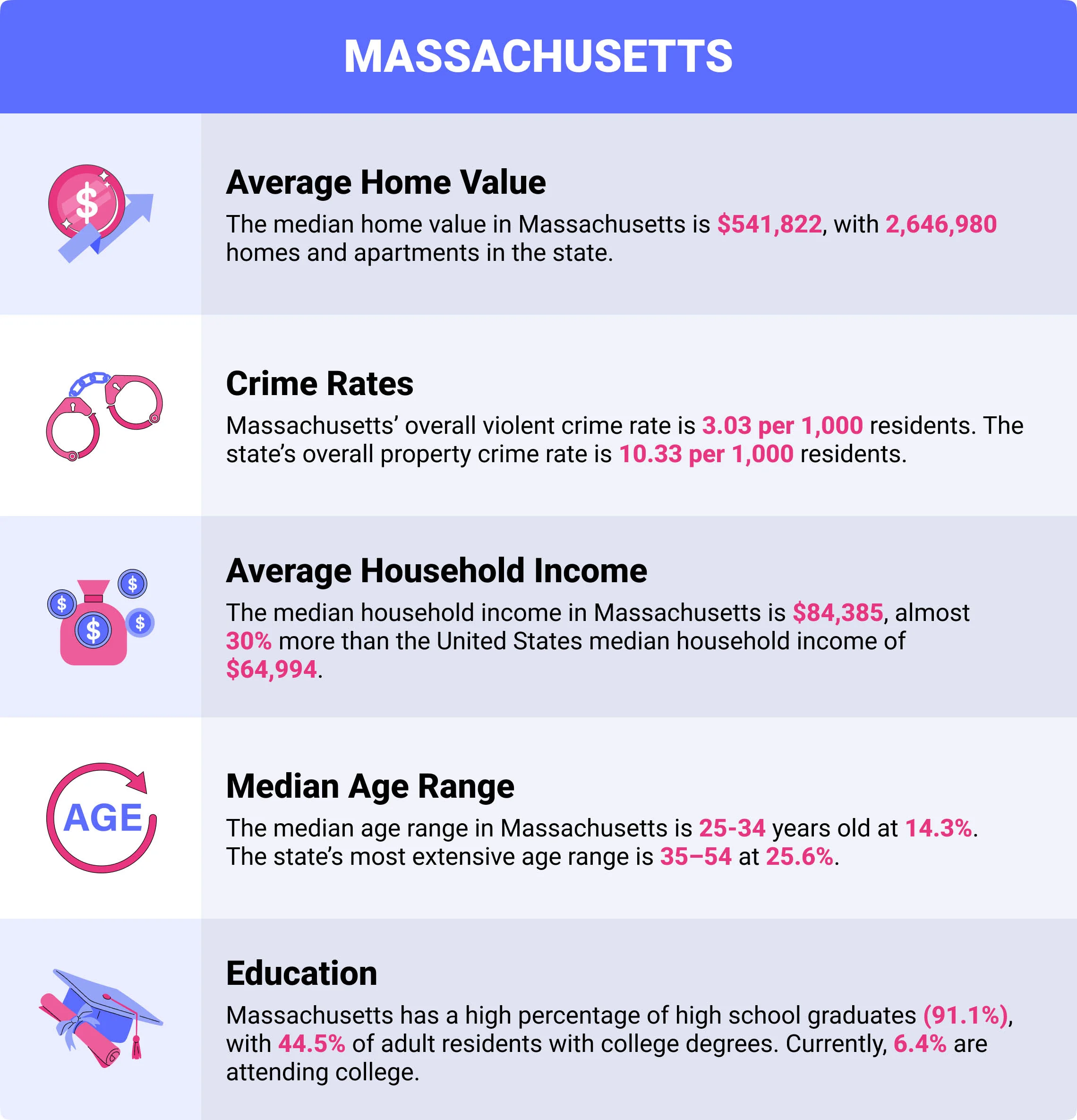 The cost of home insurance in Massachusetts will depend on where you reside. For example, you will pay more for homeowners insurance if you live near the coast. There are other demographics listed below that may also affect your rate:
Average Home Value: The median home value in Massachusetts is $541,822, with 2,646,980 homes and apartments in the state.
Crime Rates: Massachusetts' overall violent crime rate is 3.03 per 1,000 residents. The state's overall property crime rate is 10.33 per 1,000 residents.
Average Household Income: The median household income in Massachusetts is $84,385, almost 30% more than the United States median household income of $64,994.
Median Age Range: The median age range in Massachusetts is 25-34 years old at 14.3%. The state's most extensive age range is 35–54 at 25.6%.
Education: Massachusetts has a high percentage of high school graduates (91.1%), with 44.5% of adult residents with college degrees. Currently, 6.4% are attending college.
Is Massachusetts Home Insurance Required?
No, homeowners insurance is not a requirement in Massachusetts. However, your lender may require it if you have a mortgage.
Home insurance may seem unnecessary, but if you can't repair or replace anything damaged, you may consider purchasing coverage to suit your needs.
What Does Massachusetts Home Insurance Cover?
Standard home insurance coverages in Massachusetts include hail, theft, and fire damage. However, other causes of damage (from flooding and hurricanes, for example) aren't included and require additional coverage.
Common Home Risk Factors In Massachusetts
Massachusetts has some common causes of loss, like ice storms, blizzards, and storm surges. Some people enroll in flood insurance if their home is in a high-risk flood zone.
Homes near the Massachusetts coast also have an increased risk of suffering hurricane damage. 11,048 single-family homes are vulnerable to hurricane damage, according to the NOAA National Weather Service.
Average Insurance Rates By Popular Dwelling Coverage Amounts
Home insurance premiums vary depending on the amount of coverage included. Below are average annual premiums in Massachusetts based on the most popular dwelling coverage amounts.
| Coverage Amount | Average Annual Premium |
| --- | --- |
| $100,000 | $615 |
| $200,000 | $915 |
| $250,000 | $1,050 |
| $400,000 | $1,470 |
What Type of Homeowner's Insurance Coverages Are Recommended In Massachusetts?
A standard Massachusetts home policy includes theft, fire damage, and hail damage, but you may want to add coverage beyond that. Some options include flood insurance, identity theft, and sewer backup coverage.
Flood insurance
Within the next 30 years, homes in Massachusetts are projected to become significantly more susceptible to flooding. This coverage helps pay for damage to your home's belongings and interior due to flooding.
Identity theft insurance
With nearly half of Americans experiencing identity theft in 2020, it's a wise choice for added financial protection.
Sewer backup coverage
This insurance helps cover damages arising from standing sewage in your bathtub, toilet, basement, or any other affected areas in the house. Depending on the cause, this pays for repair costs to your sewer line (up to the city's sewer line) and removing sewage and water from your home.
How Much Does Homeowners Insurance In Massachusetts Cost?
Like other states, your home insurance rate in Massachusetts is determined based on city-specific variables, like the number of filed claims in your area.
The most expensive city in Massachusetts for homeowners insurance is Chilmark, with an average price of $5,065 per year. Williamstown offers the cheapest home insurance rates, where a typical term costs around $728.
The below table shows the cost of Massachusetts home insurance by city, with average prices ranging from $728 to $5,065.
Cost of Homeowners Insurance In Massachusetts By City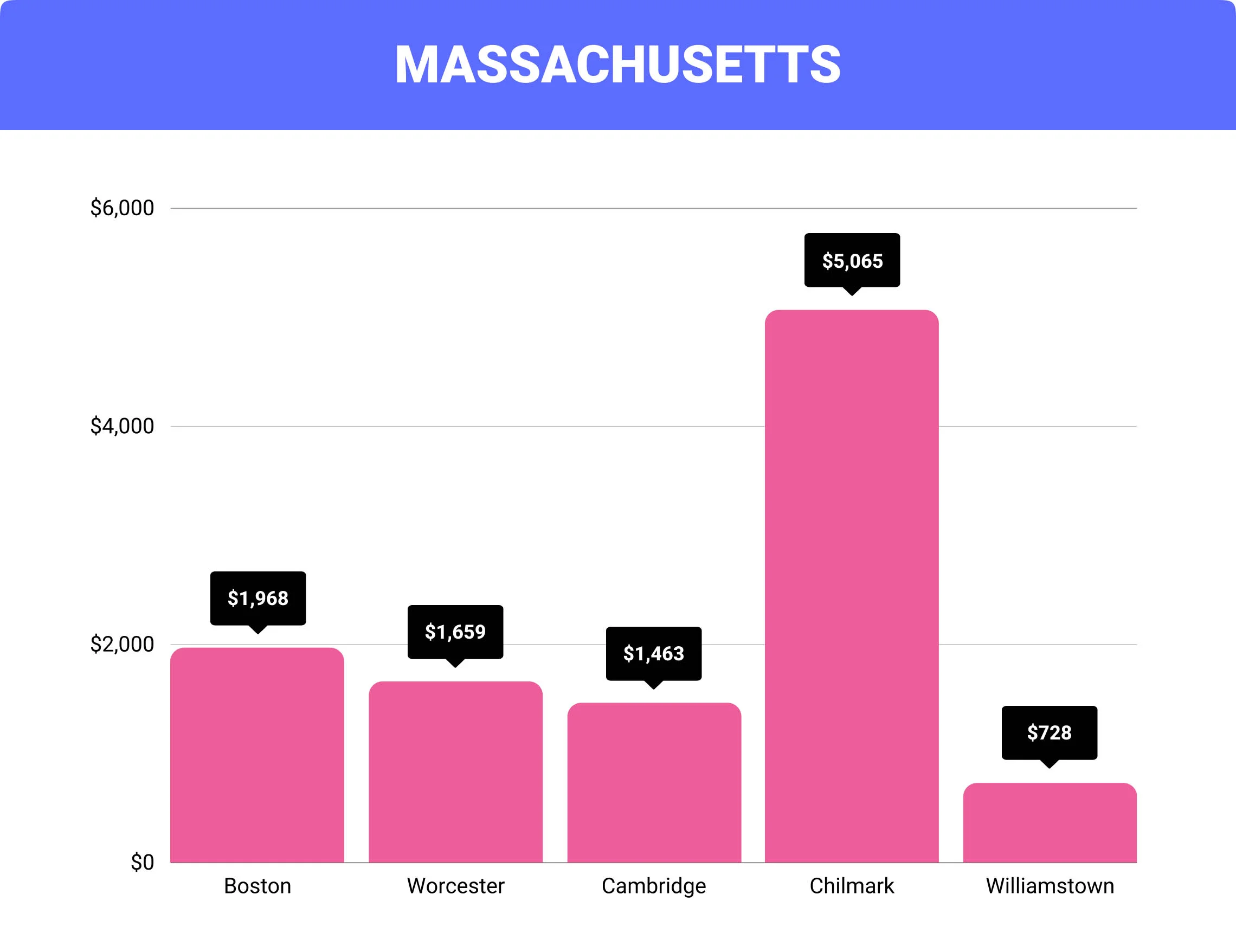 City
Average Massachusetts
Home Insurance Cost
Difference From
Massachusetts Average
Boston
$1,968
57%
Worcester
$1,659
32%
Cambridge
$1,463
16%
Chilmark
$5,065
302%
Williamstown
$728
-42%
FAQs
What's the average cost of home insurance in Massachusetts?
The average home insurance policy in Massachusetts is around $1,261 per year.
Is it mandatory to have home insurance in Massachusetts?
On average, homeowners insurance in Massachusetts costs around $105 per month.
Is hazard insurance required in Massachusetts?
Massachusetts doesn't require hazard insurance, although your lender may require it.
Is homeowners insurance based on property value in Massachusetts?
No, homes in Massachusetts aren't insured based on their property value but rather the cost of replacing the house and its contents.
How do I get homeowners insurance in Massachusetts?
Shop around for quotes (at least three) and compare costs and coverage. If you're still unsure, speak with a licensed agent to guarantee you purchase coverage that suits your budget and needs.
How To Purchase Massachusetts Home Insurance
Before you purchase home insurance in Massachusetts, shop around for quotes. It's best to get a minimum of three to compare costs and coverage. Fortunately, it's simple to get home insurance quotes online.