UPDATED: JULY 06, 2023 | 3 MIN READ
Mississippi is one of the more expensive locations within the United States to purchase homeowners insurance since, unlike car insurance, homeowners insurance isn't priced based on state laws.
However, when you're shopping for home insurance, price is not the only factor. Here is an in-depth evaluation of the best Mississippi homeowners insurance companies by price, service, coverage, and risk factors when living within the state.
Best Mississippi Home Insurance Companies
When shopping for home insurance, it's crucial to consider a company's overall reputation, including price, reliable customer service, and customized or discounted offerings. Below is an extensive breakdown of home insurance companies in Mississippi.
Overall Best Mississippi Home Insurance Company,
The overall best option for home insurance in Mississippi for most people is Allstate Insurance. It offers multiple coverages to suit differing lifestyles, and a standard policy is about 10% less expensive than the statewide average.
Additional discounts such as bundling, having claim-free history, and security devices within your home are also available.
Best Value Mississippi Homeowners Insurance Company
The most affordable homeowners insurance in Mississippi is Travelers Insurance. Their average price per year for a policy is around $1,239, which is $200 less than the typical cost.
You can also lower your premiums with specialized discounts for purchasing a new home or moving in, anti-theft devices, bundling, and earning certification from the Leadership in Energy and Environmental Design (LEED).
Mississippi Home Insurance Company With the Best Customer Service
The best customer service in Mississippi comes with USAA Insurance, which cate more to military families. As a member of active-duty or retired service, USAA scores a 5/5 top rating for customer satisfaction on J.D. Power.
However, it's not the cheapest option, with an average cost of about $1,690 annually, making it one of the most expensive policy premiums in the state.
Mississippi Home Insurance Company Best For Bundling
Nationwide Insurance in Mississippi makes it ridiculously easy to bundle your policies together and save significantly. They offer customers a multi-policy discount when combining:
Home and auto insurance
Auto and renters insurance
Home, auto, and life insurance
Home and motorcycle or boat insurance
Savings are offered up to 20% and provide you with all of your policies in one place.
Mississippi Home Insurance Company With the Best Coverage Options
Depending on where you live, you may need other available coverage options for your home insurance. State Farm insurance can provide home insurance and offers condominiums, modular homes, farm, and ranch, manufactured homes, property and renters insurance, and options for life insurance.
The provider also provides banking services such as checking and money market accounts so you can consolidate all of your financials.
Local and Regional Home Insurance Carriers In Mississippi
Acceptance Insurance
Acceptance Insurance provides home insurance for Mississippi residents with some of the best insurance products in the South. The agency works with top home insurers and offers homeowners a wide range of choices.
Homeowners' insurance policies include Dwelling, Other Structures, Liability, and other coverages. Homeowners in Mississippi's biggest cities, such as Jackson and Biloxi, trust Acceptance Insurance to protect their property.
Mississippi Farm Bureau
Based in Mississippi, Mississippi Farm Bureau stands out among other state insurance providers thanks to its 70-year history of quality insurance products and easy claim process. Their home insurance offerings are vast and include Dwelling, Other Structures, Personal Property, Additional Living Expenses, and other options.
Mississippi is vulnerable to floods, but Mississippi Farm Bureau offers comprehensive flood policies to mitigate the damage. If you have a manufactured or mobile home, they provide specific policies tailored to these buildings' needs.
You can save on your policies with Mississippi Farm Bureau thanks to their discounts as a new customer, for a new home, and a claim-free history.
ALFA Insurance
ALFA Insurance is a notable home insurance provider for Mississippi homeowners. The state is vulnerable to hurricanes, tropical storms, and other severe weather, so homeowners trust ALFA Insurance to protect their property.
ALFA Insurance features standard home insurance policies plus optional coverages such as Scheduled Personal Property, Home Systems Protection, and Personal Property Replacement Cost.
The company also offers Home-Sharing coverage for anyone who uses their property as a short-term rental. Bundle discounts, legacy discounts, and other savings help keep premiums affordable for ALFA Insurance customers.
Mississippi Insurance Demographics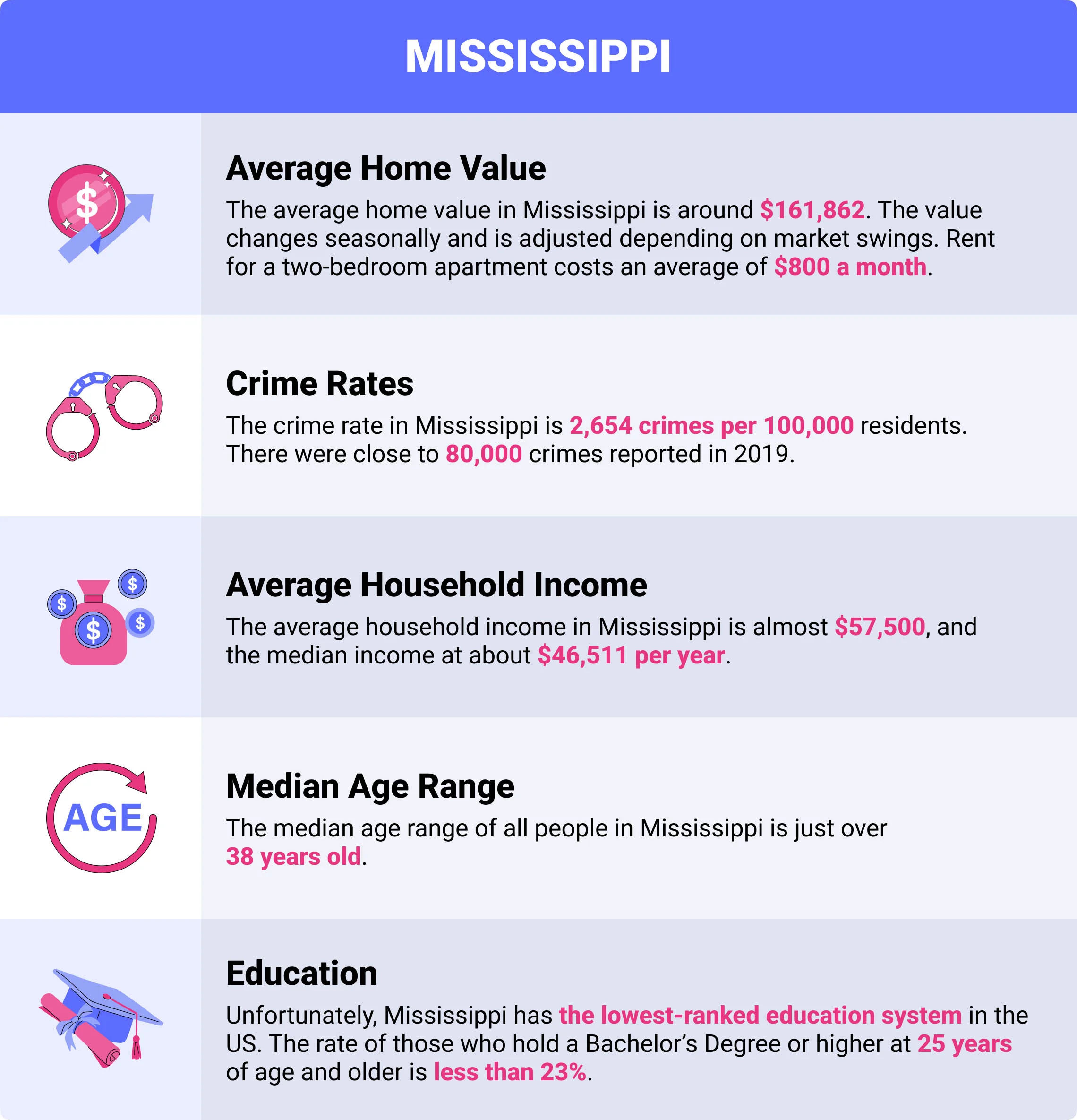 Insurance companies price their premium depending on several factors, including location, home age, and the likelihood of theft or disaster damage. Below are the average amounts across Mississippi's homeowners insurance demographics.
Average Home Value: The average home value in Mississippi is around $161,862. The value changes seasonally and is adjusted depending on market swings. Rent for a two-bedroom apartment costs an average of $800 a month.
Crime Rates: The crime rate in Mississippi is 2,654 crimes per 100,000 residents. There were close to 80,000 crimes reported in 2019.
Average Household Income: The average household income in Mississippi is almost $57,500, and the median income at about $46,511 per year.
Median Age Range: The median age range of all people in Mississippi is just over 38 years old.
Education: Unfortunately, Mississippi has the lowest-ranked education system in the US. The rate of those who hold a Bachelor's Degree or higher at 25 years of age and older is less than 23%.
Is Mississippi Home Insurance Required?
Homeowners insurance is not required by law in Mississippi. However, many mortgage lenders make you purchase at least a minimum-coverage policy before providing a home loan. And it is a good idea to ensure your property and belongings are protected by purchasing a homeowner's insurance policy.
What Does Mississippi Homeowners Insurance Cover?
Homeowners insurance policies in Mississippi are put in place to protect your home against natural disasters or theft so you can get coverage to repair or replace the damage or losses. The main areas covered are:
Your structure (dwelling)
Other dwellings on your property (detached garage, shed)
Personal property (belongings)
Liability for injuries or damage to another's property.
These coverages are for standard policies, and you can opt for additional coverage for more protection and higher limits for more valuable belongings.
Common Home Risk Factors In Mississippi
Since Mississippi sits near the Gulf of Mexico, it is prone to more hurricanes. Many homeowner's insurance policies include wind damage caused by hurricanes, but you may want to examine the limits to see if you need additional coverage. Floods are another risk factor in Mississippi; a standard policy doesn't cover flood damage.
What Type of Homeowner's Insurance Coverages Are Recommended?
Depending on your location, the cost of your home, or your belongings, a standard policy doesn't cut it when you need to make repairs or replacements. Here are some recommended additional coverage types on your homeowner's insurance you should consider when living in Mississippi.
Flood Insurance
Hurricanes create wind and water damage, and flood insurance is highly recommended as an additional (but separate) policy to go with your home insurance. Since a standard policy doesn't cover damage from floods or heavy rainfall, and it is a likely peril when you live in Mississippi, it's beneficial to protect your home with this additional coverage.
Sewer Backup Rider
Many homes in Mississippi have septic systems, and clogged drains can become nightmares with sewage buildup and damage inside and outside of your home. For more protection, you should consider additional coverages to your homeowner's policy, such as a sewer backup rider. You can also look for sump pump insurance if your home has one or see if it is included in your policy.
Hurricane Insurance
Tropical storms and hurricanes are too common in Mississippi, so it would be most beneficial to purchase additional hurricane insurance or extend the limits of your homeowners policy in the event of a hurricane. Hurricanes can lead to extremely expensive damage to your home and belongings.
How Much Does Home Insurance In Mississippi Cost?
The average homeowners insurance policy is around $1,727 annually in Mississippi. Depending on the city you live in. However, this average can vary. Below is a breakdown of home insurance costs by city.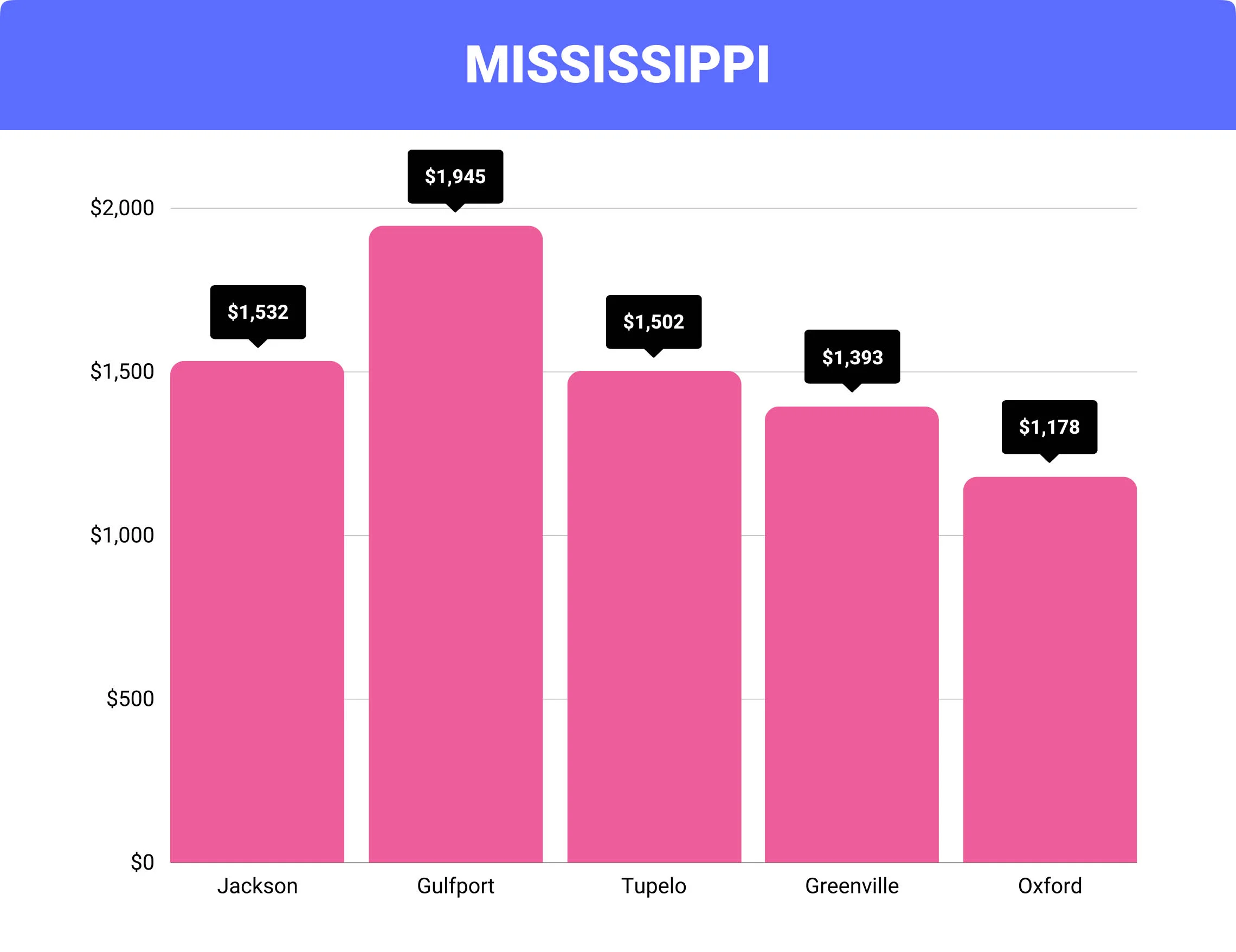 Cost of Homeowners Insurance In Mississippi By City
| | | |
| --- | --- | --- |
| City | Average Mississippi Home Insurance Cost | Difference From Mississippi Average |
| Jackson | $1,532 | $195 |
| Gulfport | $1,945 | -$218 |
| Tupelo | $1,502 | $225 |
| Greenville | $1,393 | $334 |
| Oxford | $1,178 | $549 |
FAQs
What's the average cost of homeowner's insurance in Mississippi?
The average price for a homeowner's insurance policy for a $200,000 dwelling is approximately $1,727 per year. This amount varies depending on where in the state you reside.
How much is hurricane insurance in Mississippi?
Standard homeowner's insurance policies protect your home from wind damage due to a hurricane. However, getting additional hurricane insurance with a special endorsement or rider is recommended to extend your coverage. The cost of your premiums depends on the coverage you're purchasing, so the price varies.
How long do you have to file a homeowner's insurance claim in Mississippi?
Homeowners insurance providers in Mississippi must acknowledge a claim within 15 days of filing. However, there is no specified timeline for when denial or approval of the claim needs to occur.
Is flood insurance required in Mississippi?
Flood insurance is not required by law in Mississippi. However, those purchasing homes in a high-risk flood zone purchase additional flood insurance to obtain their mortgage loan.
What three types of homeowner's insurance are recommended in Mississippi?
The three main types of homeowners insurance in Mississippi include
HO-1: The most basic and limited policy for single-family homes, so it is rarely used.
HO-2: upgrade from the HO-1 and more commonly utilized policy.
HO-3: The most common type of homeowners insurance policy, with broader coverage than the HO-2.
How To Purchase Mississippi Home Insurance?
When shopping for Mississippi home insurance, it's important to compare rates and coverage. However, it's also essential to consider the company you're doing business with.
Our evaluation of the best Mississippi home insurance companies by price, service, coverage, and risk factors will help you choose the right company for your needs. Have you found a policy that meets your needs? Complete our rate comparison form to get started.