UPDATED: JUNE 01, 2023 | 2 MIN READ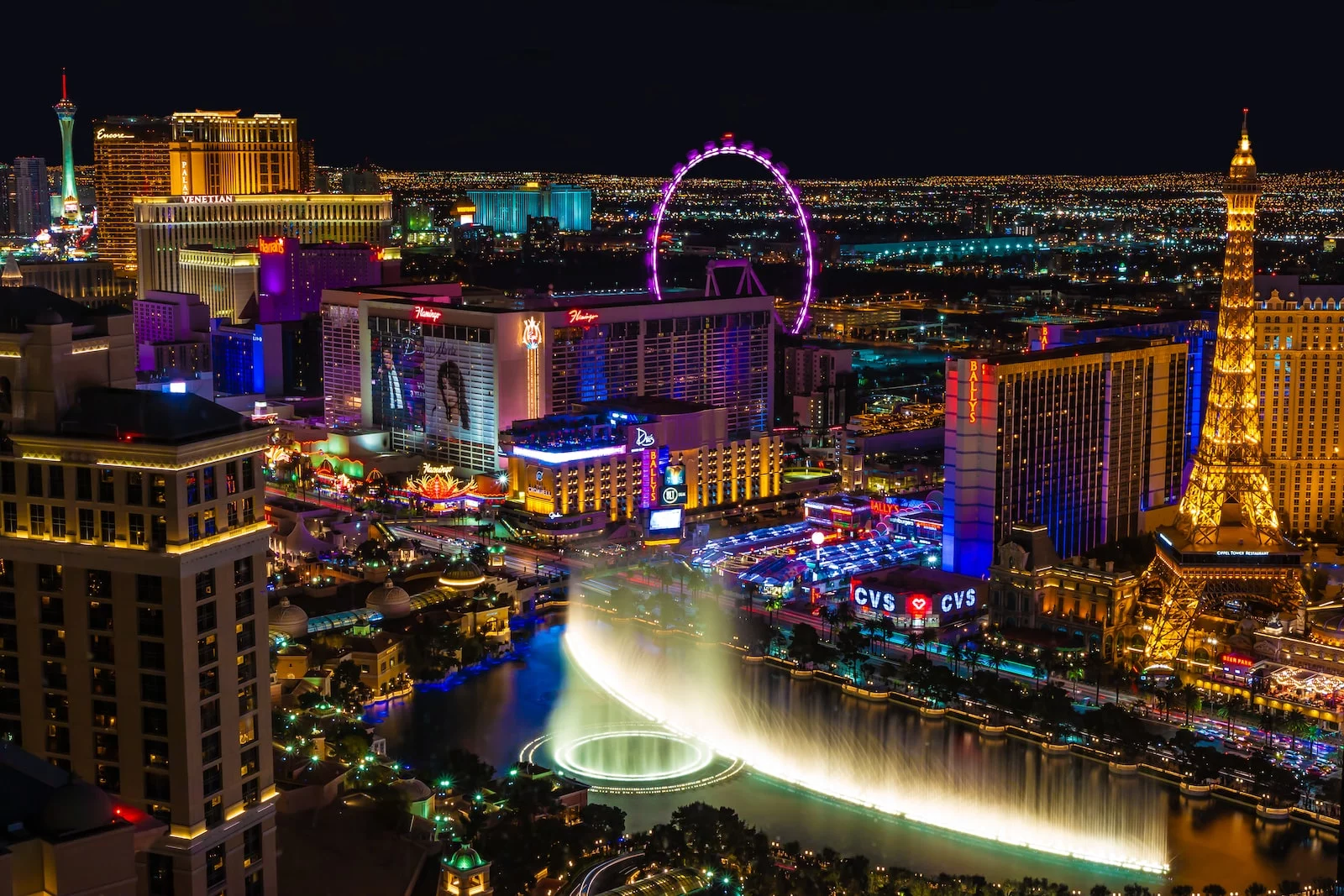 Nevada residents who want to protect their homes from wind, fires, theft, vandalism, and other damages have many insurance options. At an average cost of $822 per year, Nevada homeowners insurance costs 37% less than the national average, though some policies offer even more savings.
To help you pick the best option, our team at AgileRates pulled together the top house insurance providers in Nevada for value, bundling rates, customer service, and coverage options.
Best Nevada Home Insurance Companies
Before selecting the right Nevada homeowners or renters insurance, you should compare what the different competitors offer.
According to the J.D. Power 2021 U.S. Home Insurance Study, the best home insurance companies in Nevada are American Family, Country Financial, Farmers, State Farm, and USAA. One of these companies might offer the perfect homeowners' insurance policy for you, depending on your budget and coverage needs.
Overall Best Nevada Home Insurance Company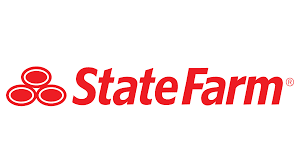 Nevada's best homeowners insurance company is State Farm, offering below-average rates, easy-to-use resources, discount bundles, helpful customer service channels, and positive reviews. The average cost for a Nevada State Farm policy is 16% below the state's average.
In 2020, the National Association of Insurance Commissioners (NAIC) found zero complaints from Nevada State Farm customers, which is relatively rare for such a large organization.
Best Value Nevada Home Insurance Company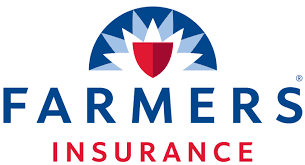 Farmers is the cheapest Nevada homeowners insurance company. Farmers' policies average $598 per year, which is $224 below the average homeowners insurance premium in the state. They offer additional services if you have a new home, an impact-resistant roof, smart home devices, or energy-efficient modifications.
Company with the Best Customer Service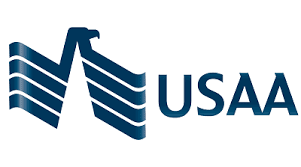 USAA offers the best customer service out of all home insurance companies in the state, covering only active military members, veterans, and their families. The company's J.D. Power customer satisfaction score reflects how USAA values each customer relationship. Customers complain about USAA half as much as they do with other large insurance organizations.
Company Best for Bundling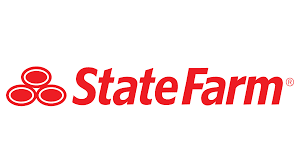 Consolidating your different insurance policies into one saves you money. Nevada residents save $201 annually by bundling their home and auto policies. The best home insurance in Nevada for bundling is State Farm.
State Farm also has a reputation for providing great customer service and resolving claims quickly.
Company with the Best Coverage Options

Cost isn't everything when picking a policy; you also need adequate coverage. The Nevada home insurance company with the best coverage options is Country Financial. This company lets you personalize your policy by adding specific coverage inclusions, like theft or sump pump failure.
Nevada residents face high risks of earthquakes, floods, wildfires, droughts, and chemical hazards. Country Financial allows you to create a policy for your top concerns.
Local and Regional Home Insurance Carriers In Nevada
Hallmark Insurance
Hallmark Financial offers home insurance specifically for Nevada renters. The top-rated insurer will offer the best protection for your belongings if you live in a rental property, an apartment or a manufactured home.
Coverages include Broad Form and Personal Liability, with options for Medical Payments to Others, Equipment Breakdowns, and Loss Settlement. Hallmark ensures you have the discounts you deserve, including savings for multiple policies, protective devices, and increased deductibles.
American Modern Insurance Group
American Modern Insurance Group offers specialty home insurance for Nevada residents. The company features insurance for homeowners, condos, rental properties, mobile homes, and vacation homes.
Each policy addresses the specific needs associated with the property, and the insurer also insures homes other companies may reject due to the property's age, location, or size.
Coverages vary by policy, including Dwelling, Personal Property, and other essential protections. American Modern Insurance gives discounts for features such as multiple policies, paperless billing, and homes with fire alarms.
Allstate
Allstate sells home insurance products for Nevada residents. Nevadans trust the carrier because Allstate features a long history of excellence since 1967. Allstate's home protection options include homeowners, renters, and condo insurance.
Coverages from Allstate include Dwelling, Other Structures, Liability, Personal Property, and much more. With their affordable rates and quick claims process, Allstate insures thousands of homes in Nevada.
You may save on your policy with one or more of Allstate's discounts, including their bundle discount, claim-free discount, and loyalty discount.
Nevada Insurance Demographics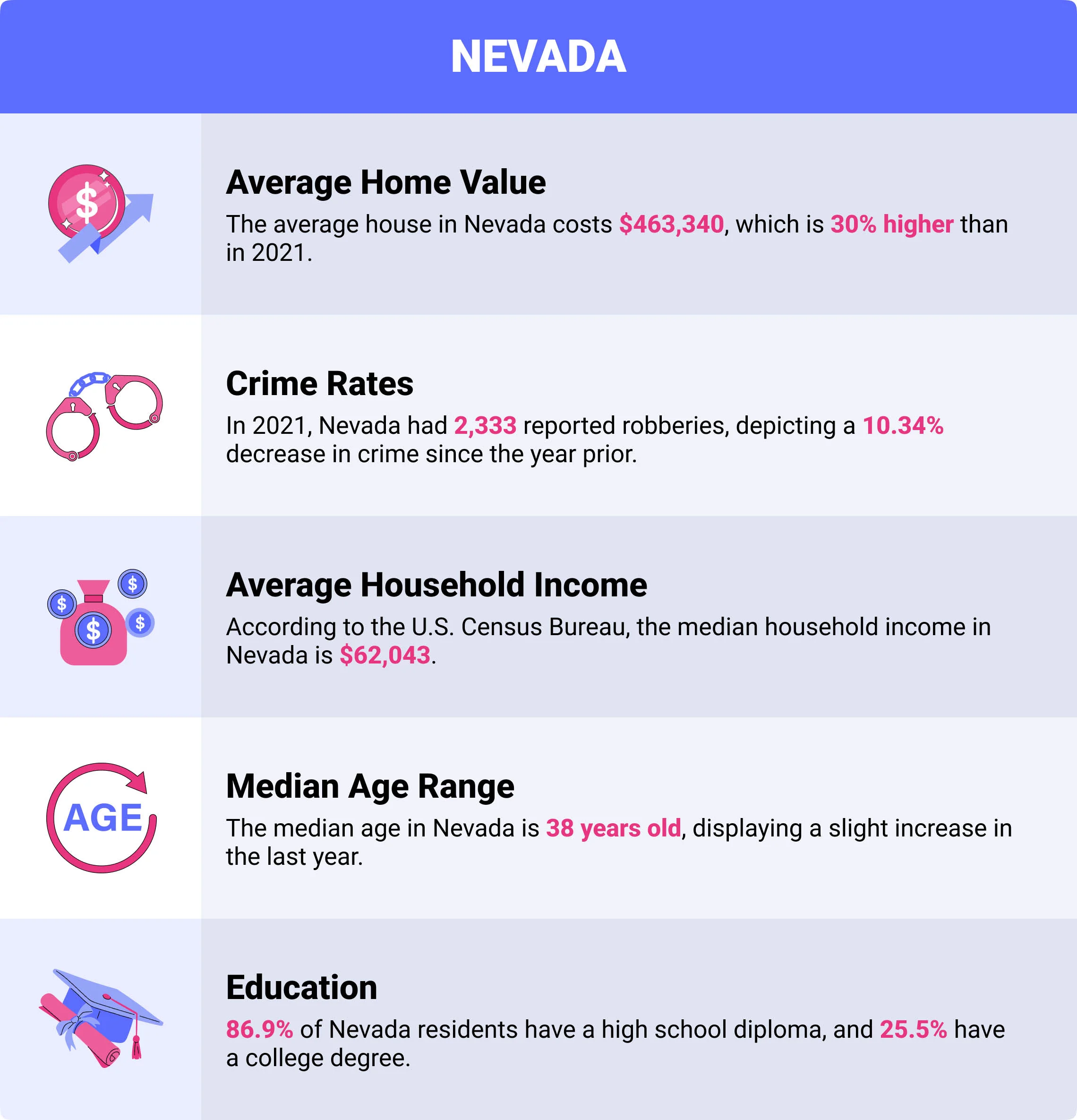 Where you live in Nevada affects your homeowners insurance costs. Expensive homes in high-risk areas cost more to insure than cheap properties in safer locations. For example, if your house sits near a fault line, you have an increased earthquake risk and might have to pay more.
Average Home Value: The average house in Nevada costs $463,340, which is 30% higher than in 2021.
Crime Rates: In 2021, Nevada had 2,333 reported robberies, depicting a 10.34% decrease in crime since the year prior.
Average Household Income: According to the U.S. Census Bureau, the median household income in Nevada is $62,043.
Median Age Range: The median age in Nevada is 38 years old, displaying a slight increase in the last year.
Education: 86.9% of Nevada residents have a high school diploma, and 25.5% have a college degree.
Is Nevada Home Insurance Required?
No, you don't have to have a home insurance policy in Nevada. However, most lenders require you to purchase insurance. Even without this requirement, it's wise to insure your property investment.
What Does Nevada Home Insurance Cover?
Most companies cover the basic scenarios and hazards, including fire damage, with options to upgrade coverage. Policies don't typically include flood or earthquake insurance. Considering the dry climate and average of 85 earthquakes per year, you may want to upgrade.
Common Home Risk Factors in Nevada
Nevada homes experience high risks for wildfires, smoke damage, thunderstorms, hail, earthquakes, waterline backups, and floods. Disasters like these destroy homes, leaving the owners hundreds of thousands of dollars worth of damage. Your home insurance cost might feel large up front, but it saves you a lot in the long run.
What Type of Homeowners Insurance Coverages Are Recommended?
When building your policy, consider the recommended types of coverage in Nevada. Nevada residents might benefit from investing in the insurance coverages below.
Flood Insurance
Most policies do not include flood insurance. If you need coverage, purchase an additional flood insurance policy from a third party if your Nevada homeowners insurance doesn't offer one. Purchase through the National Flood Insurance Program for $250,000 in structural and $100,000 in personal property coverage.
Earthquake Insurance
Like many west-coast states, Nevada residents experience severe earthquakes frequently. Residents in high-risk locations may wish to add earthquake coverage to their policy. Expect your deductible to increase by around $253 annually if you add this coverage to your policy.
Water Backup Insurance
If a drain line or sewer beneath your property bursts, you'll get water damage. Properties with crawl spaces and basements experience higher risks for these accidents. You may add water backup coverage to your policy for an extra cost.
How Much Does Home Insurance in Nevada Cost?
Reno is one of the cheapest cities for homeowners insurance, while Las Vegas and Spring Creek exceed the average. For $250,000 of property coverage, the average costs an annual $822. The costs also increase near higher crime or earthquake-prone areas.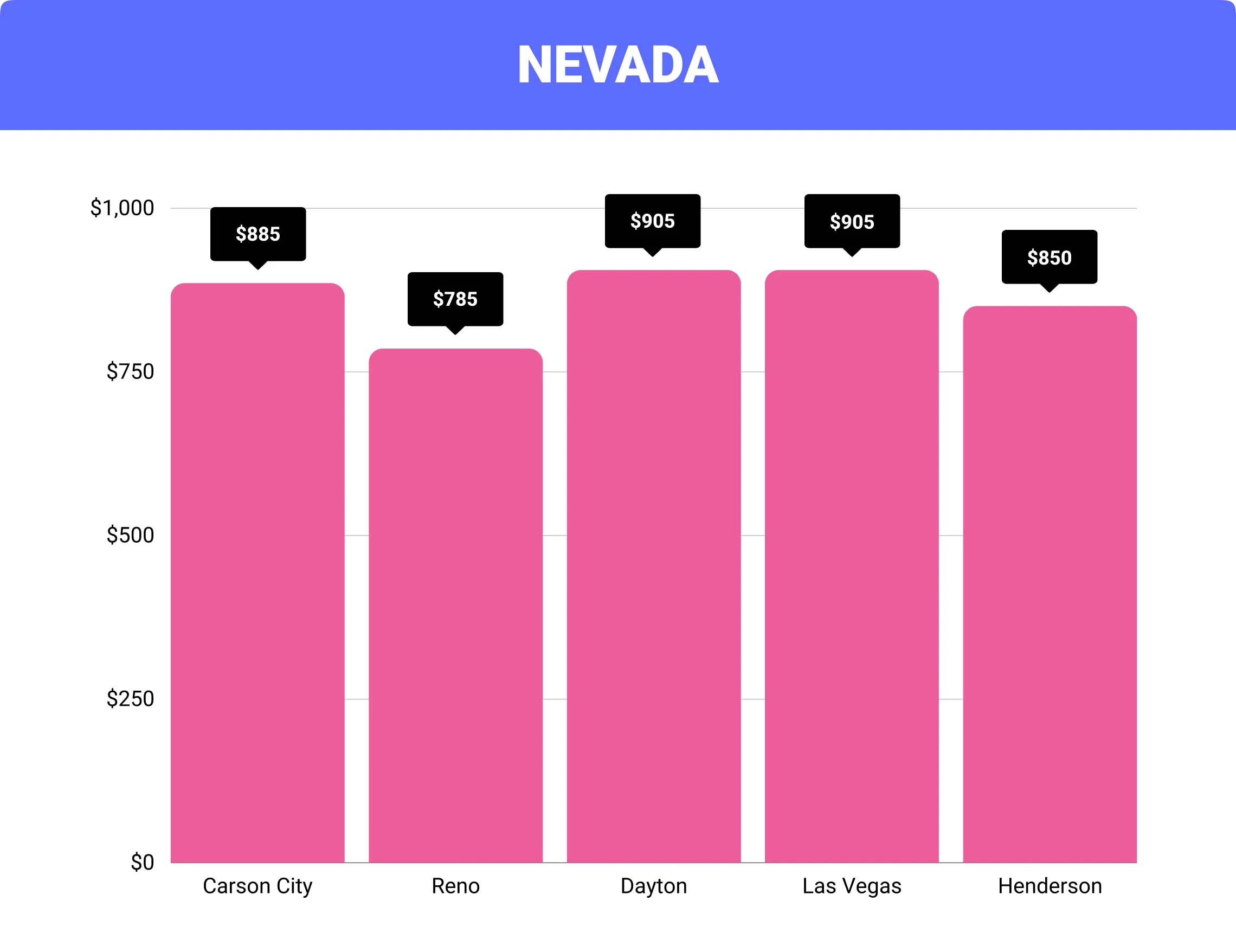 Cost of Home Insurance in Nevada by City
City
Average Nevada Homeowners
Insurance Cost
Difference From Average
Nevada Premium
Carson City
$885
7%
Reno
$785
-5%
Dayton
$905
9%
Las Vegas
$905
9%
Henderson
$850
3%
FAQs
Is home insurance required in Nevada?
No, the state of Nevada does not require home insurance though most lenders do.
How much is home insurance a month in Nevada?
Nevada's average home insurance policy costs $68.50 monthly for a twelve-month policy.
How much is house insurance in Nevada?
Nevada home insurance costs average $822 per year, which is $490 below the national average.
How much is homeowners insurance in Las Vegas?
The average cost for homeowners insurance in Las Vegas is $904, which is 9.1% above the state average. North Las Vegas policies cost a bit less, averaging $876 annually.
How much is earthquake insurance in Nevada?
Earthquake endorsements add an average of $253 to your existing policy expenses. Nevada earthquake policies range from an average of $604 to $962 per year, depending on your chosen company.
How To Purchase Nevada Home Insurance?
When choosing a provider, our team can help you compare quotes and find the best option for your needs. We've simplified the process by providing an online form that allows you to compare rates quickly and easily.
So what are you waiting for? Compare providers today and find the best rate for your home insurance in Nevada.