UPDATED: JUNE 01, 2023 | 1 MIN READ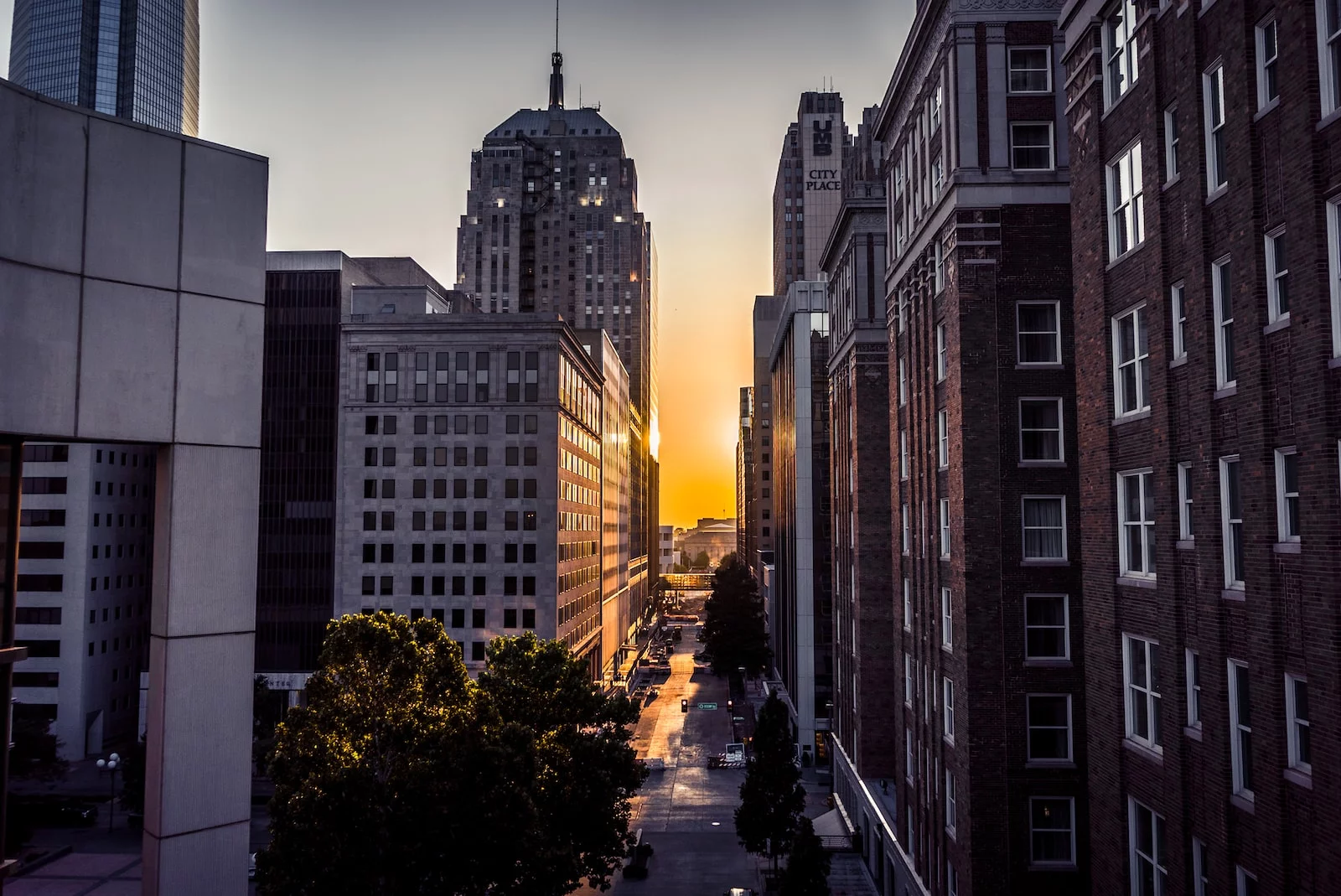 Oklahoma homeowners insurance is relatively expensive due to the high frequency of tornadoes in the state. Oklahoma's average homeowners insurance premium is around $3,519 for dwelling coverage of $250,000. This amount is almost 170% of the national average.
This article lists the best homeowners insurance in Oklahoma according to value, coverage options, and customer service to help you make an informed decision.
Best Oklahoma Home Insurance Companies
As a homeowner in Oklahoma, choosing the right home insurance policy can be challenging. Before you can select the right company, you must do extensive research.
To help you find the best policy for your needs, we came up with the best Oklahoma home and renters insurance companies according to consumer research data and our criteria.
Oklahoma's leading homeowners insurance companies are State Farm, Allstate, American Farmers and Ranchers, Farmers, and Oklahoma Farm Bureau.
Overall Best Oklahoma Home Insurance Company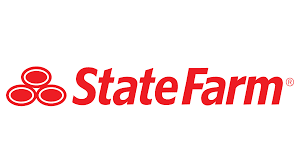 As one of the largest and most financially stable insurance companies in the United States, State Farm is also the leading home insurer in Oklahoma. This company's standard policies provide coverage against disaster damage, which is ideal for Oklahoma homeowners. These policies protect dwellings, outbuildings, and possessions in your home.
State Farm offers policies in Oklahoma at an annual average of $2,580. The average yearly premium for dwelling coverage worth $250,000 is around $3,930, which is relatively high.
Best Value Oklahoma Homeowners Insurance Company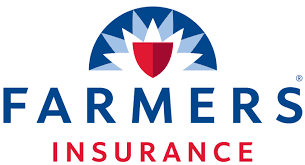 Considering home insurance rates is critical when choosing a policy. Farmers is the best-value Oklahoma homeowners insurance company, thanks to competitive premiums.
The average annual cost for $250,000 dwelling coverage is around $1,840. Farmers also offer discounts for structure upgrades, including window and roof reinforcements.
Company with the Best Customer Service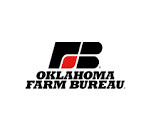 Oklahoma Farm Bureau is a regional insurer offering a comprehensive range of insurance options for all property types. This company strikes the optimal balance between quality coverage and affordability, with policy costs 30% lower than the state average. Oklahoma Farm Bureau has an excellent customer satisfaction rating from the National Association of Insurance Commissioners (NAIC).
Company Best for Bundling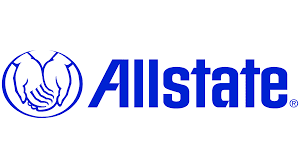 Buying home and car insurance from the same company can be an effective way to reduce costs. Allstate is the best insurance company for bundling, and it offers car and home insurance at relatively affordable rates to customers who enroll in multiple policies. You might also be eligible for various benefits, including home buyer or early signing discounts.
Local and Regional Home Insurance Carriers In Oklahoma
American Farmers and Ranchers
Oklahomans trust American Farmers and Ranchers for their insurance needs and have done so since 1905. They built their company on a foundation of quality products, caring service, and fast claims processes.
Residents can get secure home insurance, including dwelling coverage, private structures, additional living expenses, personal property, and water backup coverage. Further protection of their home and assets is possible with the insurer's liability and medical coverages. Claims-free discounts, a combination auto-home bundle, and protection system discounts help customers save.
Oklahoma Farm Bureau
Your home is as essential to Oklahoma Farm Bureau (OKFB) as it is to you. OKFB began in 1949 to protect the interests of farmers and families, and today it serves Oklahomans throughout the state.
OKFB delivers peace of mind and security with their home insurance coverages such as dwelling, other structures, personal property, personal liability, and medical payments to others. You may receive great discounts if you have a fire alarm, a home less than ten years old, or an OFKB auto policy.
Home State Insurance Group
Home State Insurance Group is a regional insurance carrier that sells home insurance for Oklahoma residents. With a 60-year history, the insurer offers quality service and competitive rates for its customers.
Home State Insurance Group operates within the area, so it understands the vital parts of Oklahoma homeowners insurance. Oklahoma homeowners have various protection options when purchasing insurance from the carrier, including dwelling and other structures coverages.
Discounts for eligible homeowners may include a home-auto bundle or savings based on the home's features.
Oklahoma Insurance Demographics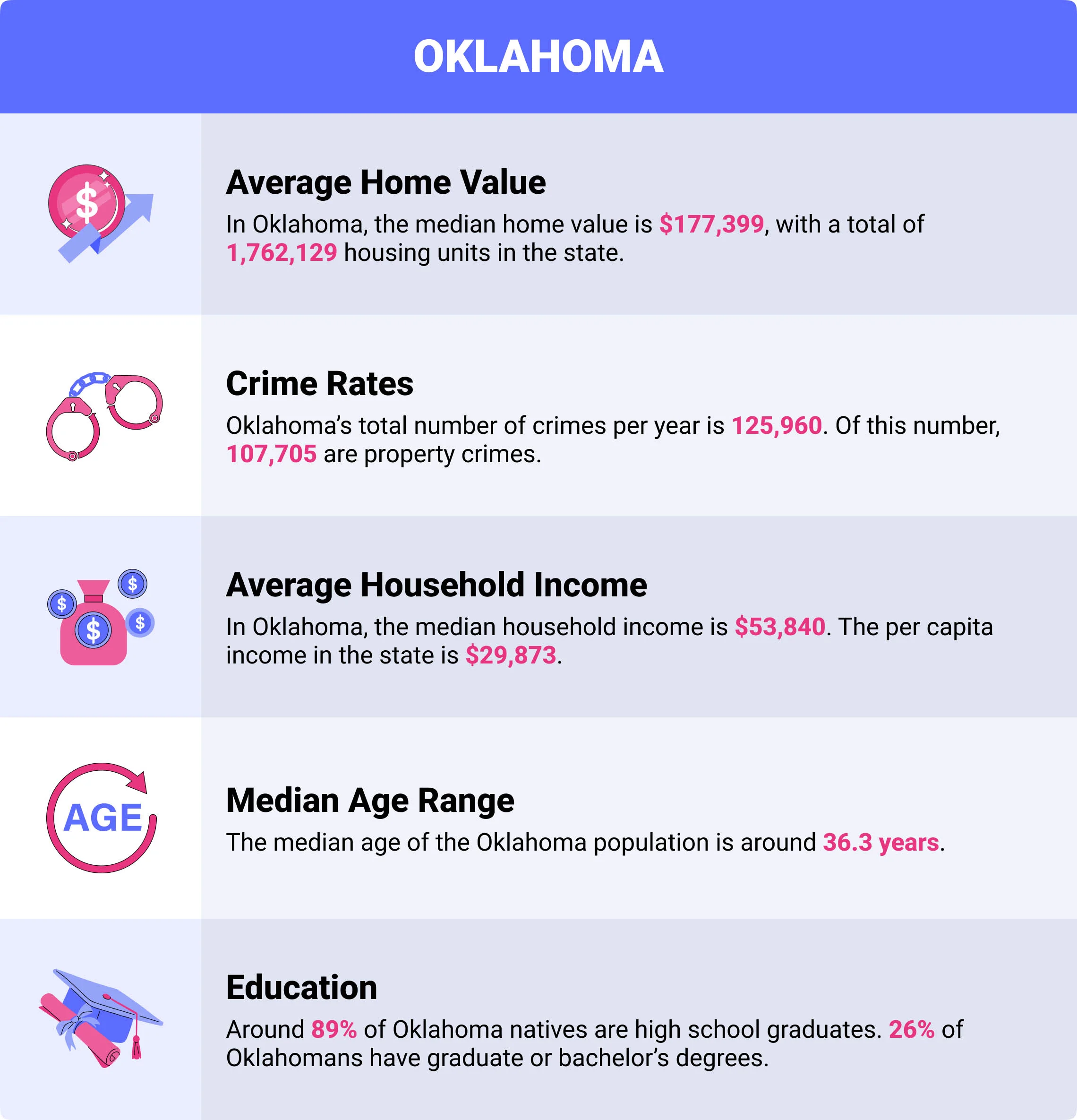 Various factors determine the prevailing insurance rates in your area. Generally speaking, the two significant factors determining your homeowners insurance costs include your property's location and the cost to rebuild it. Below, we discuss the key demographics influencing home insurance rates:
Average Home Value: In Oklahoma, the median home value is $177,399, with a total of 1,762,129 housing units in the state
Crime Rates: Oklahoma's total number of crimes per year is 125,960. Of this number, 107,705 are property crimes.
Average Household Income: In Oklahoma, the median household income is $53,840. The per capita income in the state is $29,873.
Median Age Range: The median age of the Oklahoma population is around 36.3 years.
Education: Around 89% of Oklahoma natives are high school graduates. 26% of Oklahomans have graduate or bachelor's degrees.
Is Oklahoma Home Insurance Required?
Oklahoma state law doesn't require you to carry homeowners insurance. However, almost all mortgage lenders require homeowners insurance to protect the property as the collateral for their loans.
If you've already paid off your mortgage, you can choose if you want to keep home insurance. In Oklahoma, maintaining a policy is critical to mitigating your risks.
What Does Oklahoma Homeowner's Insurance Cover?
Oklahoma's standard homeowners insurance policy typically provides dwelling coverage for damages due to fire, explosions, lightning strikes, crime, and ice weight damage. Your home insurance policy should also cover your possessions and provide personal liability exposure protection.
In Oklahoma, you must consider tornadoes and earthquakes when choosing a policy. Additional coverage options include flood damage, wind-driven rain damage, and sewer backup.
Common Home Risk Factors in Oklahoma
Oklahoma's common property risk factors include wind damage from winter storms, tornadoes, and hurricanes. This risk factor includes shingle damage when airborne tree limbs hit roofs. The wind can also lift roofing materials, warranting extensive repairs or a roof replacement.
Water damage is another prominent risk factor requiring home insurance in Oklahoma. Pipe damage due to earthquakes or deterioration can damage your walls and other structural components. Moisture accumulation in your home can also cause mold growth.
What Type of Homeowners Insurance Coverages Are Recommended?
Choosing the right coverage is crucial to mitigate your risk in the case of property damage. In Oklahoma, you need insurance coverage protecting you against disaster damage in the event of a tornado, flood, or earthquake.
Windstorm and Hail Coverage
Tornadoes and hurricanes are common due to Oklahoma's location in the Tornado Alley. An average of 52 tornadoes hit Oklahoma per year. During a summer storm, hail can damage your windows, roof, and siding.
Earthquake Coverage
The gas and oil drilling activities cause an increasing number of earthquakes yearly in Oklahoma. Property damages resulting from an earthquake include structural damages, loss of personal property, and flooding. Sufficient earthquake coverage minimizes your losses after an earthquake.
Flood Coverage
Severe storms and flooding are common in Oklahoma. However, most standard home insurance policies in Oklahoma don't cover flooding damages. Choose a policy covering structural damage, cabling issues, and groundwater contamination.
How Much Does Home Insurance in Oklahoma Cost?
The cost of insurance varies between zip codes within Oklahoma. Factors determining the home insurance costs in a specific location include the overall property values and the likelihood of natural disasters.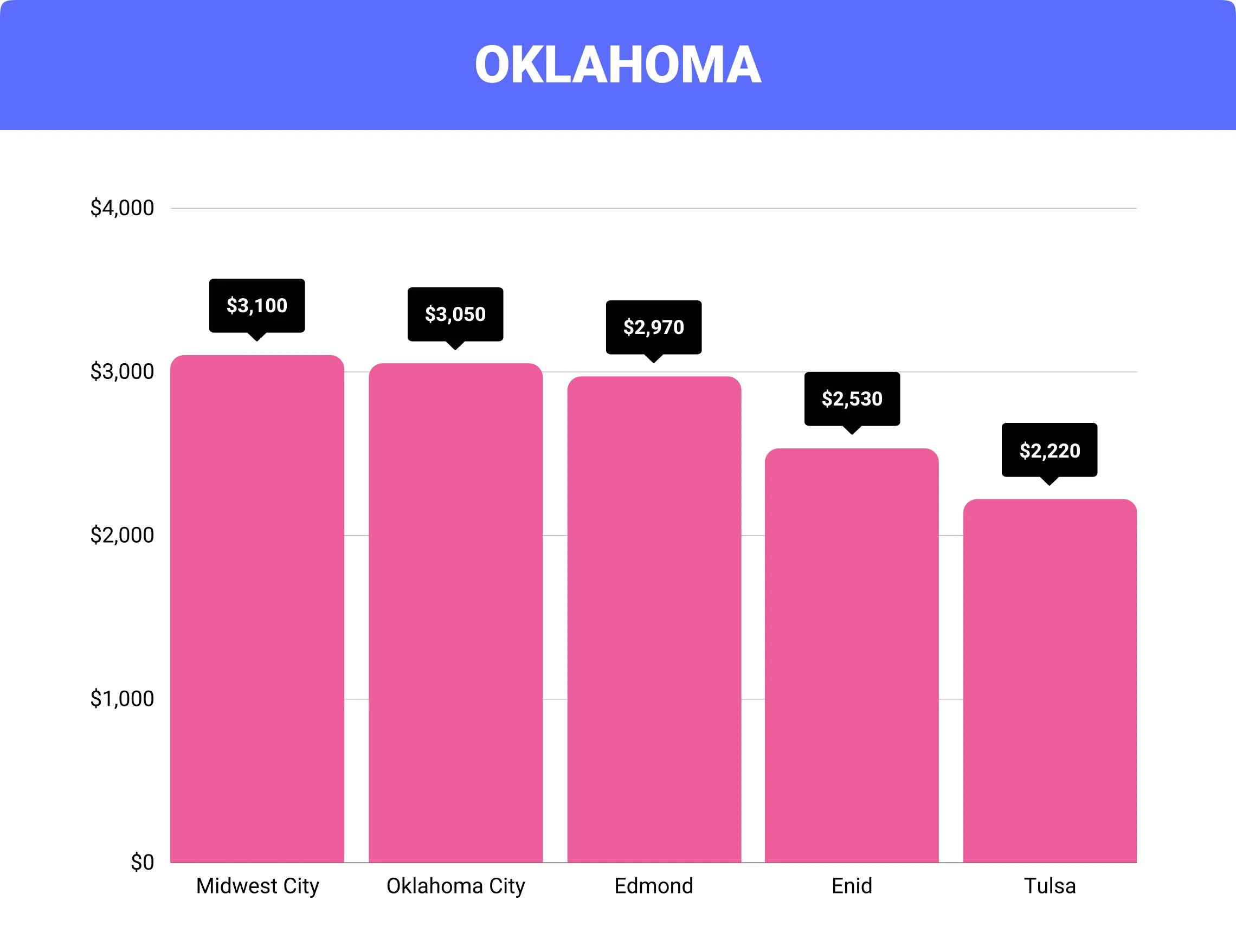 Cost of Home Insurance in Oklahoma by City
| City | Average Oklahoma Home Insurance Cost | Difference From Oklahoma Average |
| --- | --- | --- |
| Midwest City | $3,100 | 21% |
| Oklahoma City | $3,050 | 18% |
| Edmond | $2,970 | 16% |
| Enid | $2,530 | 1% |
| Tulsa | $2,220 | -13% |
FAQs
What's the average cost of homeowner's insurance in Oklahoma?
Homeowners insurance in Oklahoma costs, on average, around $2,500.
Why are homeowners insurance costs so high in Oklahoma?
The high Oklahoma home insurance costs are due to the frequency of natural disasters in the state.
Is house insurance more expensive in Oklahoma?
Oklahoma is one of the states with the highest insurance rates, along with Kansas, Florida, and Arkansas.
How much is home insurance in Oklahoma City?
The average home insurance rate in Oklahoma City is $3,050.
Is tornado insurance required in Oklahoma?
Tornado insurance is not mandatory in Oklahoma, though some mortgage lenders might require this insurance.
How To Purchase Oklahoma Home Insurance?
Now that you better understand Oklahoma's top homeowners insurance companies, we encourage you to take the next step and compare rates.
By completing our rate comparison form, you can get free, personalized quotes from each insurer. We wish you the best of luck as you shop for the perfect policy to protect your home and family.