UPDATED: JULY 25, 2023 | 1 MIN READ
The statement "everything's bigger in Texas" includes the state's homeowner's insurance costs. The average Texas home insurance costs $2,532 per year, which is $1,149 above the national average. We want to help homeowners find excellent policies without breaking their budgets, so we've created a list of the top Texas Homeowner's insurance companies below.
Best Texas Home Insurance Companies
Finding the best house insurance provider for your needs involves many considerations, including price, coverage options, bundling offers, customer service, and reviews. According to the J.D. Power 2021 U.S. Home Insurance Study, the best Texas homeowner's insurance companies are USAA, State Farm, Nationwide, Allstate, and Farmers.
Overall Best Texas Homeowners Insurance Company
Farmers offer the best overall balance of price, coverage, and customer experience. The average Farmers customer pays $1,443 annually, 43% below the state's average. Farmers offer three tiers of customizable homeowners insurance plans, ample discount options, claim forgiveness, and the Declining Deductibles program.
The premier coverage option has zero price cap limitations, meaning Farmers rebuilds your entire home, regardless of the damage costs. The National Association of Insurance Commissioners (NAIC) found only a few customer complaints surrounding Farmers.
Best Value Texas Home Insurance Company
If you want cheap Texas homeowners insurance, consider Chubb. The average Chubb homeowner's insurance premium is $1,362 per year, which is $1,170 below the state average. Aside from low prices, Chub also offers attentive customer service and extensive plans for expensive high-end homes.
Texas Home Insurance Company with the Best Customer Service
According to the J.D. Power customer satisfaction survey and the NAIC, Amica has the best customer service out of all Texas home insurance companies. The average Amica policy costs $2,643 annually, which exceeds the state's average. Consider Amica if you're willing to sacrifice low costs for an outstanding customer experience.
Texas Home Insurance Company Best for Bundling
Texas home insurance companies reward customers for bundling home and auto insurance together. The average Texas homeowner saves $117 annually by combining their home and auto policies. Texas Farm Bureau is the best company for bundling rates, offering a 15% discount for consolidating plans.
Texas Home Insurance Company with the Best Coverage Options
You have unique needs, so you need an option for covering your risks without any excessive features. Nationwide offers the most robust and customizable coverage options, allowing customers to personalize their homeowner's insurance policy easily. Create bundling plans with Nationwide, add insurance policies to cover all your valuables, and use the company's discounts to save money.
Local and Regional Home Insurance Carriers
Mercury Insurance
Mercury Insurance started in 1962 with a single policy. Today the insurance company covers a variety of homes in Texas. Texans trust Mercury Insurance with home insurance coverages such as dwelling, personal property, extended replacement costs, additional living expenses, and personal liability protection.
Discounts abound with Mercury Insurance as well. You may save with protective devices if your home is new or you live in a gated community. The bundle for home and auto also gives a valuable discount.
Texas Farm Bureau Insurance
Texas Farm Bureau insures homes throughout the Lone Star State and offers a friendly approach to its process. Agents help you find the best home insurance with three customer plans: homeowners, tenant/renters, and landlord.
Homeowners insurance includes dwelling, personal property insurance, liability insurance, and loss of use insurance. However, tenants insurance omits the dwelling and other structures.
It doesn't matter whose name is on the deed of your home; Texas Farm Bureau has a way to protect it and everything you hold dear.
Nationwide Car Insurance
Nationwide's 90-year history features unwavering customer service for the homeowners of Texas from Dallas to Austin.
Nationwide features dwelling coverage, personal liability, medical payments to others, loss of use, other structures, and contents. Other optional coverages include flood insurance, earthquake, and water backup.
Policy savings may be possible with discounts for living in a gated area, purchasing a new home, or insurance for years without a claim. Save too, when you combine your Nationwide home and auto policy.
Texas Insurance Demographics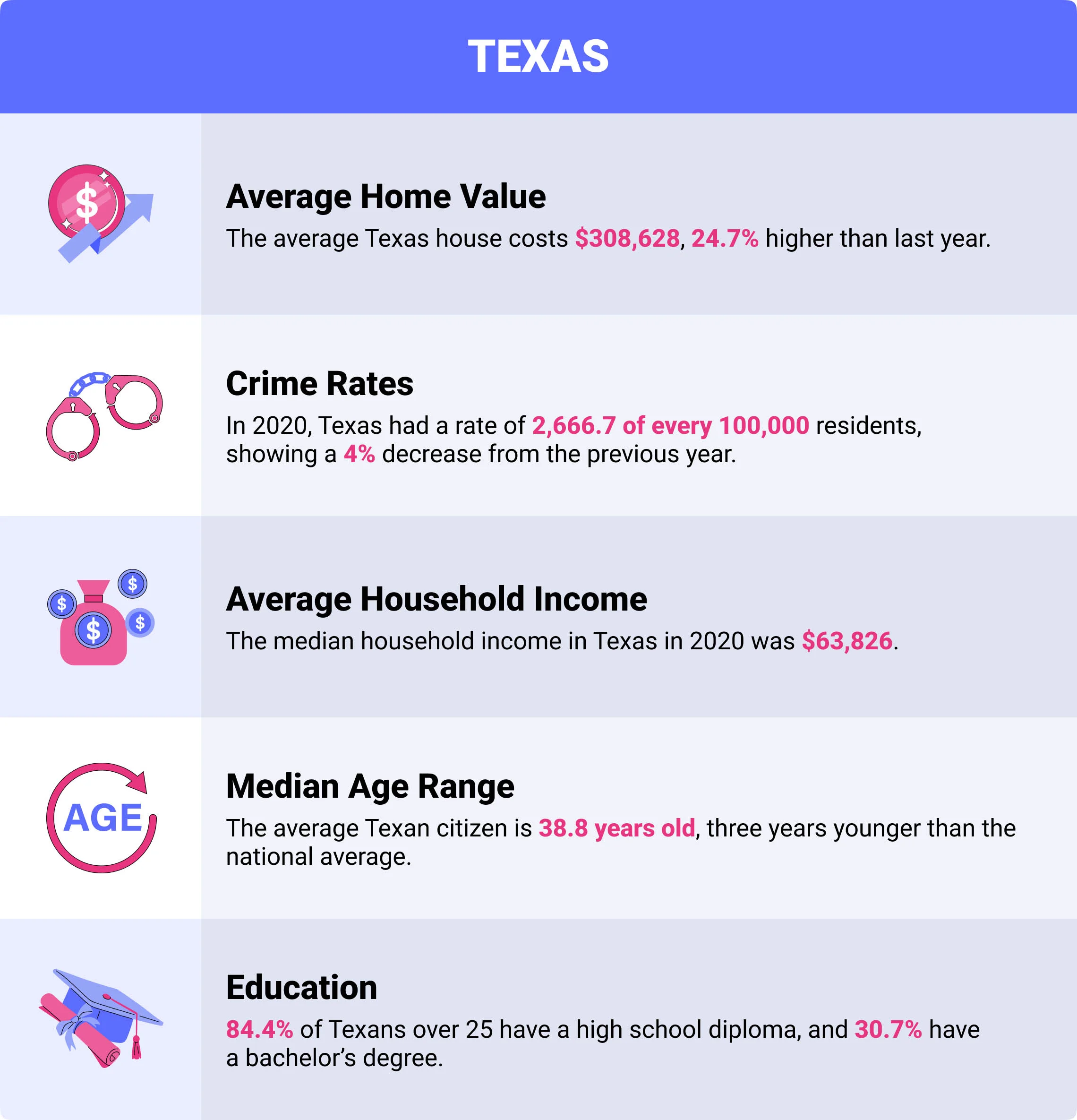 Texas home insurance companies charge based on where you live and your property value. For example, Texas frequently experiences wildfires, so your home insurance cost might increase if your home isn't near a fire station. Here are some basic Texas demographics:
Average Home Value: The average Texas house costs $308,628, 24.7% higher than the last year.
Crime Rates: In 2020, Texas had a rate of 2,666.7 of every 100,000 residents, showing a 4% decrease from the previous year.
Average Household Income: The median household income in Texas in 2020 was $63,826.
Median Age Range: The average Texan citizen is 38.8 years old, three years younger than the national average.
Education: 84.4% of Texans over 25 have a high school diploma, and 30.7% have a bachelor's degree.
Is Texas Home Insurance Required?
No, state laws don't force homeowners to purchase home insurance in Texas. When you buy your house, most lenders require coverage. Home insurance policies protect your investment in case of natural disasters or other unforeseen events.
What Does Texas Home Insurance Cover?
Texas home insurance usually covers $250,000 worth of damage, though certain premium plans or upgrades exceed this amount. Most policies include wind damage coverage but not floods. When you open a policy, speak with a representative to create a plan with everything you need.
Common Home Risk Factors in Texas
The location of Texas puts its residents at risk for a unique combination of natural disasters. Homes near the gulf coast experience hurricanes, floods, and tornados, while the dryer desert areas must deal with wildfires. Over 717,000 homes in Texas sit in fire-prone areas, making this state the second most dangerous in the nation for fires.
What Type of Homeowner's Insurance Coverages Are Recommended?
Basic policies include minimum coverage levels, which you may upgrade for increased protection. Texas homeowners insurance companies recommend adding coverage to your plan to prepare for the disasters mentioned above. The most common policy additions are flood insurance, wind and hail coverage, and leakage insurance.
Flood Insurance
Flooding causes severe structural damage to homes, sometimes costing hundreds of thousands of dollars. If a hurricane hits, your Texas home insurance company covers wind damage, not water. Add flood coverage to your homeowner's insurance in Texas by purchasing a policy upgrade.
Wind and Hail Coverage
While policies usually include wind damage coverage, some Texas home insurance companies don't cover this damage for coastal homes. If your house sits in a tornado or hurricane-prone area, you might need to add additional wind insurance to your policy. Consider including hail coverage for severe thunderstorms as well.
Leakage Insurance
When your roof or windows age, your home might leak. Water leakage causes severe structural and interior damage to your home. Add leakage insurance to your Texas home insurance policy for optimal protection.
How Much Does Home Insurance in Texas Cost?
The city you live in also affects the cost of your Texas house insurance. Cities with higher crime rates or natural disaster risks cost more than safer areas. Out of the state's largest cities, Austin has the cheapest home insurance at 33% below the state average, and Fort Worth costs the most at 22% above the state average.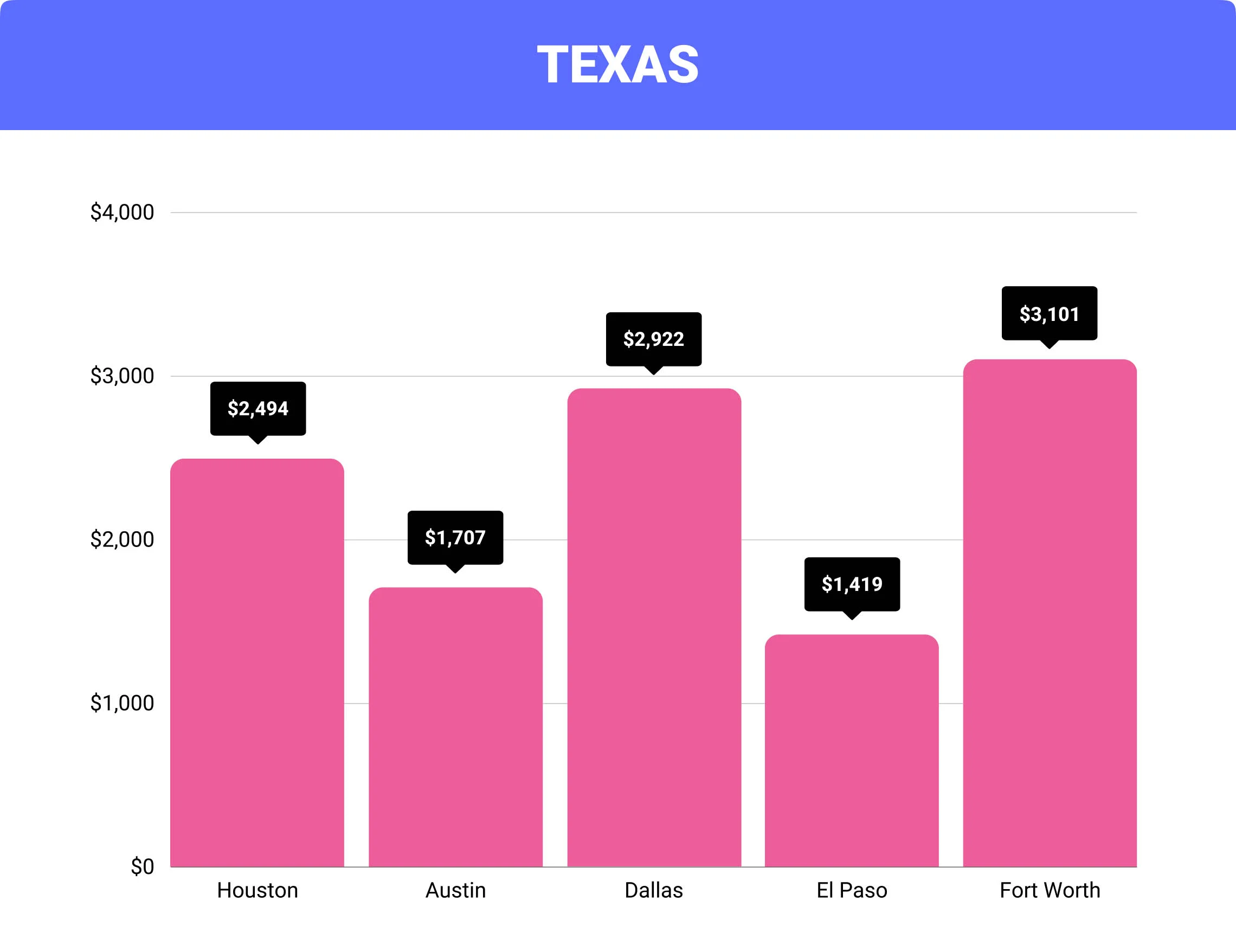 Cost of Home Insurance in Texas by City
| | | |
| --- | --- | --- |
| City | Average Texas Home Insurance Cost | Difference From Texas Average |
| Houston | $2,494 | -2% |
| Austin | $1,707 | -33% |
| Dallas | $2,922 | 15% |
| El Paso | $1,419 | -44% |
| Fort Worth | $3,101 | 22% |
Texas FAIR Plan
If you're denied homeowners insurance, you might qualify for the Texas FAIR plan. The state's legislation designed these plans to ensure all homeowners have adequate coverage, including those who can't get traditional insurance.
FAQs
What's the average cost of homeowner's insurance in Texas?
Homeowner's insurance in Texas costs an average of $2,532 per year, or $196 each month.
What's the most common homeowner's policy in Texas?
The most common homeowner's policies cover your dwelling, personal property, other structures, loss of use, personal liability, and medical payments.
Is Texas homeowner's insurance higher?
Texas home insurance is $1,149 above the national average because of the state's susceptibility to various natural disasters.
Who is the biggest home insurer in Texas?
Based on market share data, the biggest home insurer in Texas is State Farm.
How much is home insurance in Dallas?
Dallas is one of the more expensive Texas home insurance cities, costing an average of $2,922 per year, which is 15% above the state average.
Do I need to purchase home insurance if I'm a renter in Texas?
You don't need to have homeowners insurance as a renter in Texas. However, you can purchase renters insurance to protect your personal items.
How To Purchase Texas Home Insurance?
By gathering quotes from reputable homeowners insurance companies, you can be sure that you are getting the best coverage at the best price. Comparison shopping is the key to finding a policy that fits your needs and budget.
Have you compared rates recently? If not, we encourage you to take advantage of our rate comparison form and see how much you could save on your homeowners insurance.
Related content: