UPDATED: JULY 10, 2023 | 3 MIN READ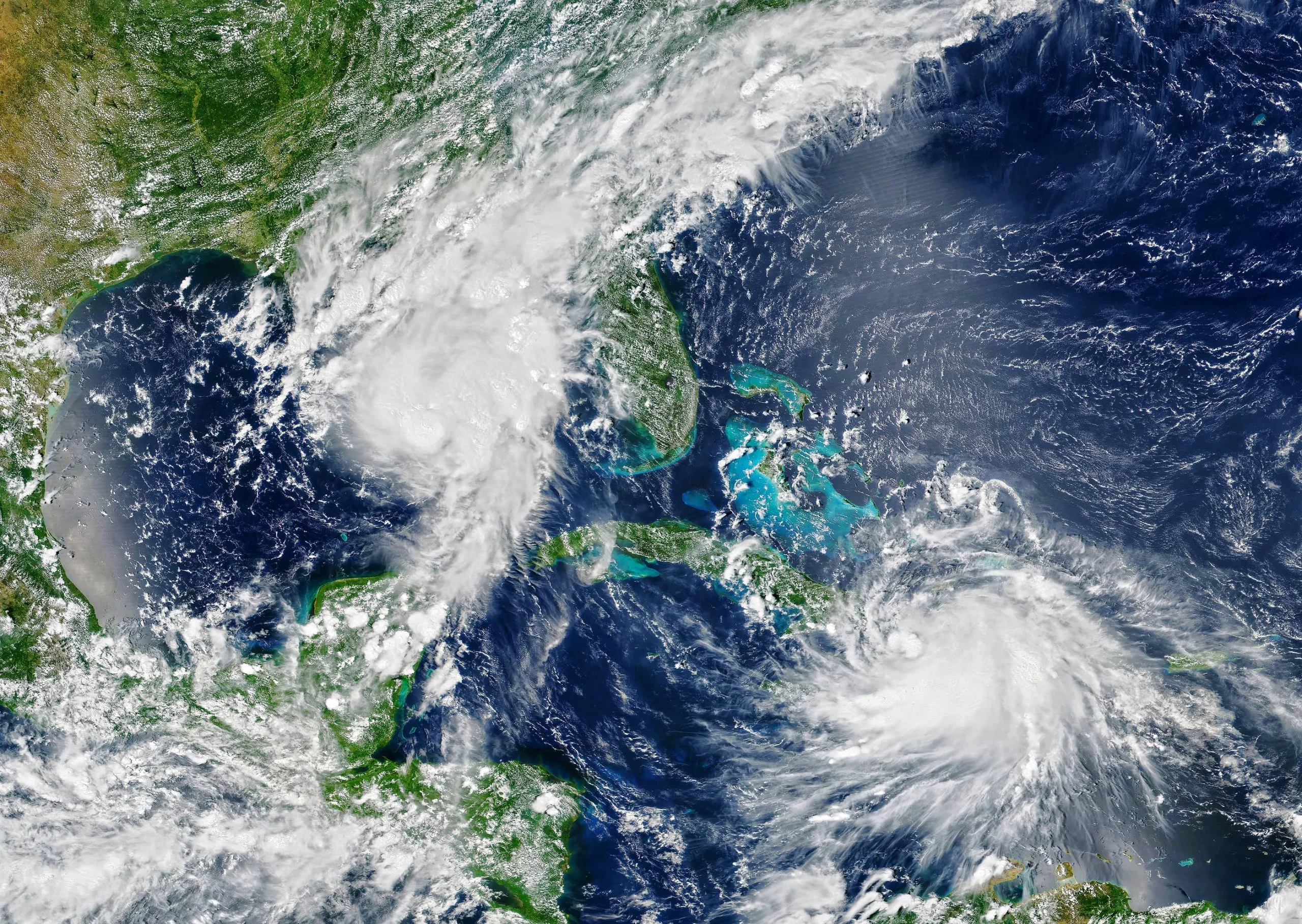 Hurricane season in Texas is most active from mid-summer to late fall. August is the most popular month for landfall hurricanes in Lone Star State. Atlantic hurricane seasons start on June 1 to November 30 annually, with peak tropical storm activity occurring the most in August and September.
Since 1851, 301 hurricanes have made landfall in the United States, and 64 have hit Texas; only Florida has experienced more hurricanes. Texans expect a landfall hurricane every six years along their fifty miles of the Texas coast. Texas has more than 300 miles on the Gulf Coast. It's best to be well-prepared for hurricane season.
What Month Does Texas Have The Most Hurricanes?
Hurricanes happen during any point of the summer and fall, but August is the most active time for hurricanes in Texas. Tropical storms tend to be frequent in September as well. The National Oceanic Atmospheric Administration (NOAA) predicted above-normal activity for 2022, meaning there is a greater frequency of storms than the century average.
NOAA's forecast for the 2022 Atlantic hurricane season is as follows:
Around 14 to 21 named storms
About six to 10 of those become hurricanes
About three to six major hurricanes—Category 3, 4, or 5
Where do hurricanes hit the most in Texas?
Areas like Brownsville and northern hubs like Port Arthur are vulnerable to hurricanes. The most severe hurricanes, however, have been in cities such as Galveston and Houston more than any Texas city over the last century.
According to NOAA, the deadliest natural disaster in United States history was the Great Galveston Hurricane of 1900, where 6,000 to 12,000 people died. Hurricane Harvey in 2017 was the last to land in Galveston, causing billions in damages to Houston and Galveston.
Common types of hurricane damage
Hurricane winds and heavy rain causes flood damage, which results in extensive damage and repairs to the home. If you're in the path of the storm, there's likely wind damage to your home and structural damage to your siding and roof.
Hurricanes often cause high winds and flash flooding, which in the past has cost billions of dollars of damage.
How to Prepare For Hurricane Season in Texas
Texans must prepare for Texas hurricane season to protect themselves and their families. Hurricanes mean down power lines, flooding, thunderstorms, power outages, tornadoes, and even tropical cyclones. Hurricane preparedness and having the right insurance coverage to pay for extensive damage are essential.
Before the storm
Put together an emergency supply kit, including a first-aid kit
Plan an evacuation route
Have a communication plan with your family
Sign up for community emergency storm alerts
Purchase flood insurance, as homeowners insurance doesn't cover flood damage
Store important documents in waterproof containers
During the storm
Follow weather alerts
Stay clear of areas affected by the hurricane winds or flooding
Dial 2-1-1 for food, shelter, and disaster relief
Find an open shelter through the Red Cross
After the storm
Be sure to listen to local officials for information about returning home safely.
Wear protective clothing if you're attempting to clean up your residence. Wear a face covering and gloves while you clean debris and mold.
Contact your home or flood insurance agent to file a claim if there is wind or water damage.
Document any property damage with photos and video
How to Prepare Your Home For Hurricane Season
The most important part of preparing your home for major storms is to have a hurricane preparation checklist. There are things you must do to prepare your home in advance.
Review your insurance policy
It's a great time to review your homeowners insurance policy to ensure you're protected against the storm. If you're unsure whether your home is fully protected, contacting your insurance company with any questions puts your mind at ease.
This way, you'll know what is covered if you file a claim. You might want to add flood insurance if you don't already have it, as flood damage isn't covered by homeowners insurance.
Inspect and maintain your roof before hurricane season
Hurricane winds often cause roof damage, and there are steps to take to minimize damage. Inspect your roof before hurricane season to look for missing or damaged shingles, and ensure your roof is in good condition. Check your roof's pitch to ensure it's steep enough to direct water away from your home.
Secure any loose items on the exterior of your home
Loose or hanging items cause damage to your home during a tropical storm. Taking patio furniture, wind chimes, and birth baths inside is best, so you don't permanently lose them. If possible, secure any loose items on the exterior of your home.
Have a working generator
Hurricane season sometimes brings power outages, so it's helpful to have a working generator on hand to help power your refrigerator. Generators should be in an open space away from your home, such as a shed or garage.
FAQs
What month has the most hurricanes in Texas?
August has the most hurricanes in Texas, with September coming second.
Where do most hurricanes hit Texas?
Any area along the Texas coast is vulnerable, but cities such as Houston and Galveston see more action.
What was the hurricane prediction for 2022?
The National Hurricane Center predicted that 2022 would have 14 to 21 named storms, but Houston has seen no hurricanes.
What is the name of the hurricane that hit Texas in 2017?
Hurricane Harvey in 2017 was the last to land in Galveston, causing billions in damages to Houston and Galveston.
How long does hurricane season last in Texas?
Hurricane season in Texas lasts from June 1 to November 30.
What are the chances of a hurricane in Texas in 2020?
According to Colorado State University, Texas has a 54% chance of a hurricane making landfall this year.
How many hurricanes are there in a season in Texas?
Typically there are three to six significant storms during hurricane season in Texas.
Can a Texas renters insurance policy protect me from hurricane damage?
A renters insurance policy in Texas can help protect your personal items should they be damaged, stolen, or lost during a hurricane.
What are the steps to prepare for a hurricane?
Get your home ready by:
Clearing your yard. Make sure there's nothing that blows around during the storm.
Cover up doors and windows
Be ready if your power goes out
Fill clean water containers with drinking water
Check your carbon monoxide detector's battery
Make Sure Your Home Is Protected From a Hurricane in Texas
Purchasing cheap homeowners insurance through a reputable home insurance company is simple and easy. Ensuring you have the right coverage in case a hurricane happens is essential. We hope this article has helped you understand your options.
If you're ready to get insurance quotes for your home, it's as simple as comparing rates as amounts vary by company. We have a helpful tool to find the best home insurance.