UPDATED: JUNE 01, 2023 | 2 MIN READ
Utah is a unique state, offering a melting pot of geographical features, including the Great Basin, Colorado Plateau, and the Rocky Mountains. Aside from the natural beauty, residents enjoy lower homeowners insurance costs, averaging only $711 per year, which is $672 below the national average.
Below, our homeowners insurance experts cover the best Utah home insurance companies based on price, coverage, bundling options, and customer experience.
Best Utah Home Insurance Companies
You want to protect your valuables and reduce risks without spending a fortune. To find the best homeowners insurance in Utah, we analyzed J.D. power scores, AM Best reviews, customer ratings, coverage options, and costs. The top-ranking Utah home insurance companies are Allstate, Auto-Owners, Farmers, State Farm, and USAA.
Overall Best Utah Homeowners Insurance Company
The overall best homeowner's insurance in Utah comes from Allstate. Allstate offers incredible customer satisfaction rates, easy online user experiences, discount offers, and premium upgrade options. With an AM Best financial strength rating of an A+, Allstate always has your back, even during economic downturns.
Allstate is one of the pricier options on this list, costing an average of $617 per year, though this homeowner's insurance premium still falls below the state's average.
Best Value Utah Home Insurance Company
The cheapest Utah home insurance company is Farmers, offering an average rate of only $421 per year. At $290 below the state's average, Farmers features low rates, robust coverage variety, and additional discount opportunities.
The mediocre customer reviews for Farmers display how the company provides just enough online support but doesn't excel in customer service.
Utah Home Insurance Company with the Best Customer Service
Auto-Owners is the best Utah home insurer when searching for a personalized and exceptional customer experience.
The company pairs you with a local agent who walks you through the purchasing process and helps you create a custom plan tailored to your unique needs. J.D. Power customer satisfaction ratings display the company's extensive customer care
Utah Home Insurance Company Best for Bundling
Combining your car insurance plan with your house insurance saves you money. Utah homeowners save an average of $145 each year by bundling plans, which equals a 14% discount. The best Utah homeowners insurance company for bundling is State Farm.
Utah Home Insurance Company with the Best Coverage Options
Each Utah homeowner's insurance policy covers various damages, though the company with the best coverage is Mutual of Enumclaw. Some insurers don't provide fire coverage, but Mutual of Enumclaw includes it with every plan. Wildfires are a big concern for many Utah residents, so you should consider your coverage options before selecting a home insurance provider.
Local and Regional Home Insurance Carriers
Kemper Insurance
Kemper Insurance insures homeowners throughout Utah and designs coverage for your needs. With three different package levels of coverage, Kemper Insurance ensures you have the proper protection if disaster strikes.
The Prime Home Essentials policy offers the necessary coverages like dwelling, while the Home Enhanced option adds water backup coverage.
The Home Elite policy is the broadest package and spans all of the standard coverage but with higher limits. Kemper's home insurance discounts come with bundles, home safety items, and protective devices.
Bear River Mutual
Bear River Mutual insures only homes within Utah. Their approach keeps their policies affordable and customized to meet the state's unique conditions.
Utah homeowners can select coverages such as primary residence, secondary residence, personal liability, condo, and earthquake. The company also offers equipment breakdown coverage and buried utility line coverage.
Auto-Owners Insurance
With service throughout Utah, Auto-Owners Insurance is a top home insurance provider. Their homeowners insurance helps protect your home with coverages such as dwelling, other structures, personal property, medical payments, and even additional living expenses. Homeowners may receive discounts for paperless billing, advance quote, protective devices, and full payment.
Utah Insurance Demographics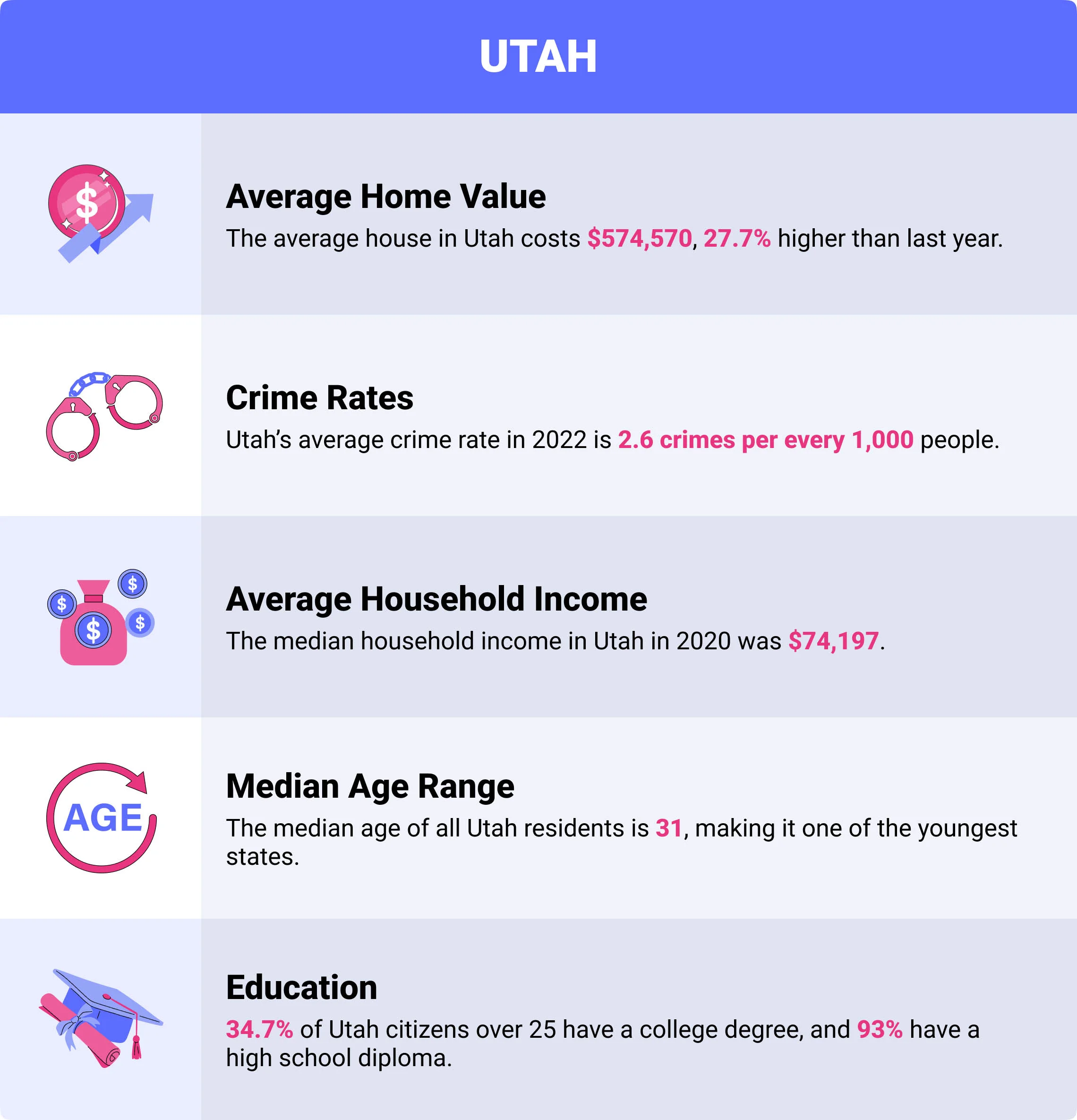 Utah's demographics largely affect home insurance costs. Your premium might fluctuate based on property value, location, proximity to high-crime areas, and natural disaster probabilities. Consider the demographics below when comparing home insurance cost quotes.
Average Home Value: The average house in Utah costs $574,570, 27.7% higher than last year.
Crime Rates: Utah's average crime rate in 2022 is 2.6 crimes per every 1,000 people.
Average Household Income: The median household income in Utah in 2020 was $74,197.
Median Age Range: The median age of all Utah residents is 31, making it one of the youngest states.
Education: 34.7% of Utah citizens over 25 have a college degree, and 93% have a high school diploma.
Is Utah Home Insurance Required?
According to Utah state laws, you don't need homeowner's insurance to own property. Most mortgage lenders require you to purchase coverage to receive their loan. Regardless of mandates, policies protect your financial investments.
What Does Utah Home Insurance Cover?
Most Utah homeowners insurance policies pay you up to $250,000 for home damages. Increase your premium if you want to protect the total cost of your home. Due to the excessive fire risks in the state, most policies include wildfire insurance.
Common Home Risk Factors in Utah
Utah's geographical features divide the state into three sections with unique natural disaster risks. Your exact location in the state greatly determines what type of coverage you need.
Homes on the east side of the country near the Colorado river have high flood risks, central areas, like Salt Lake City properties, experience earthquakes, and the state's sizeable western desert areas frequently suffer wildfires.
What Type of Homeowner's Insurance Coverages Are Recommended in Utah?
Home insurers recommend you purchase additional policies to cover all your bases in a disaster. In Utah, you might need flood coverage if you live in a wetter area, earthquake insurance if you're near a fault line, or additional fire coverage to match the value of your home. Consider adding the policies below to your plan.
Flood Coverage
Utah homeowners insurance companies don't cover flood damage. If a bad storm leaves your home with water damage, your policy won't provide any funds. Luckily, you may upgrade your Utah home insurance plan to include flooding insurance.
Earthquake Insurance
Earthquakes and other earth movement disasters (like rockslides or landslides) cause serious destruction to any properties in the area. Only 20% of Utah homeowners have earthquake insurance, though many insurers recommend it. Most Utah home insurance companies allow you to add earthquake coverage to your plan for an extra cost.
Wildfire Coverage
Many Utah home insurance companies cover wildfire damage since it's a common issue, though it might not always cover the total expenses. Insurers recommend upgrading your wildfire coverage to match the value of your home. If your home costs more than $250,000, you won't receive enough money to rebuild after a fire unless you purchase a premium plan.
How Much Does Home Insurance in Utah Cost?
The table below shows how insurance rates don't fluctuate much between Utah cities. Most major cities in Utah sit only a few percentages away from the state's average. One of the cheapest options for Utah house insurance is Clearfield, while Salt Lake City is one of the most expensive.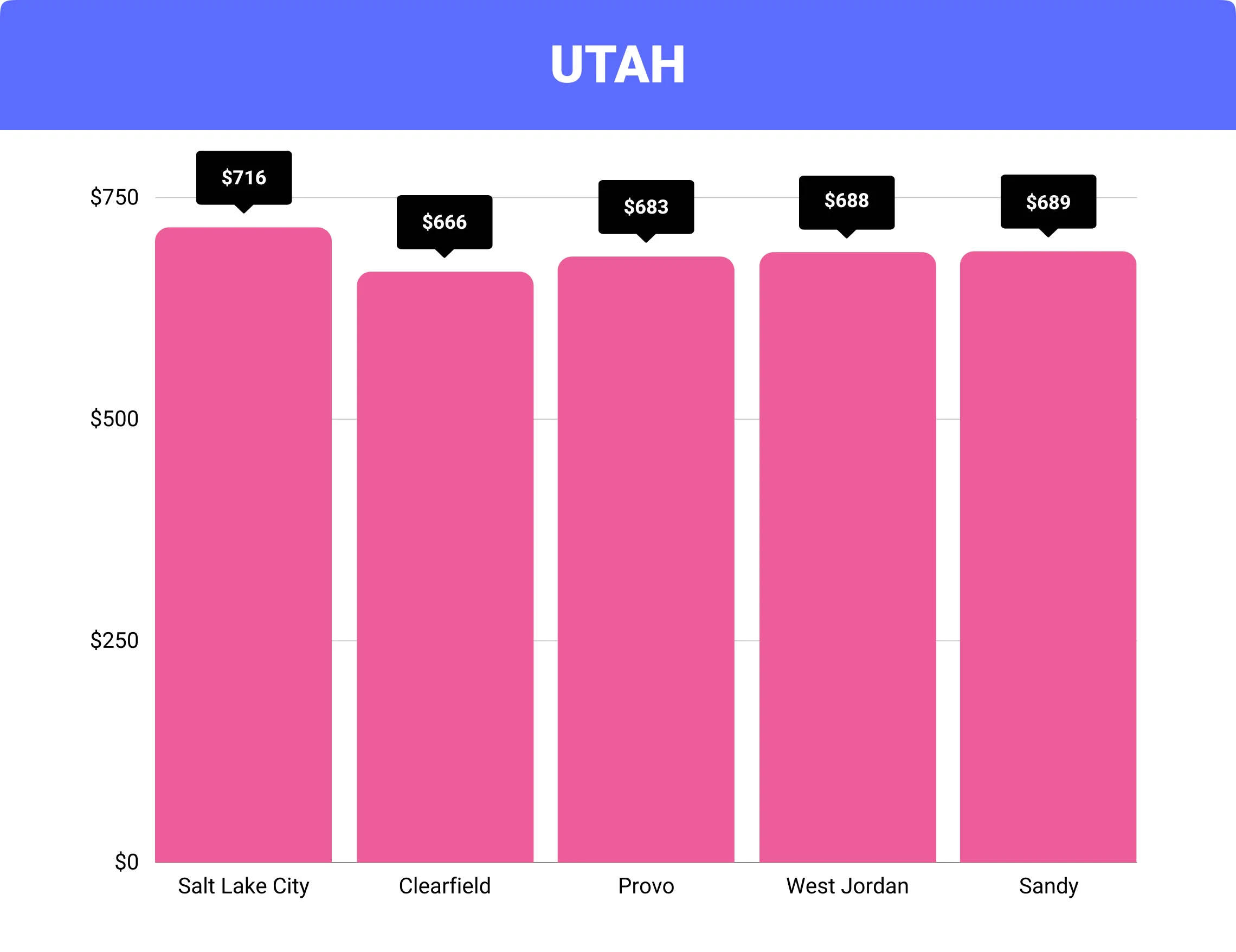 Cost of Home Insurance in Utah by City
| | | |
| --- | --- | --- |
| City | Average Utah Home Insurance Cost | Difference From Utah Average |
| Salt Lake City | $716 | 0.7% |
| Clearfield | $666 | -6.3% |
| Provo | $683 | -3.9% |
| West Jordan | $688 | -3.2% |
| Sandy | $689 | -3.1% |
FAQs
How much is home insurance in Utah?
Home insurance in Utah costs an average of $711 per year for a basic $250,000 coverage plan.
Is homeowner's insurance required in Utah?
Utah doesn't require homeowner's insurance, though most lenders do.
How much is homeowner's insurance in Salt Lake City?
Salt Lake City homeowner's insurance costs an average of $716 per year, which is $5 over the state's average.
How much is home insurance in Utah per month?
The average Utah home insurance policy costs $59.25 per month.
What's the cheapest homeowner's insurance in Utah?
The cheapest homeowner's insurance company in Utah is Farmers, with policies costing an average of only $421 per year.
How To Purchase Utah Home Insurance?
Purchase Utah home insurance by visiting the company's website, following the prompting steps, or speaking with a representative. Before picking a plan, compare quotes from your top choices to find the best option. We recommend calling a salesperson to ask for the best deals, coupons, and rates.