UPDATED: AUGUST 07, 2023 | 1 MIN READ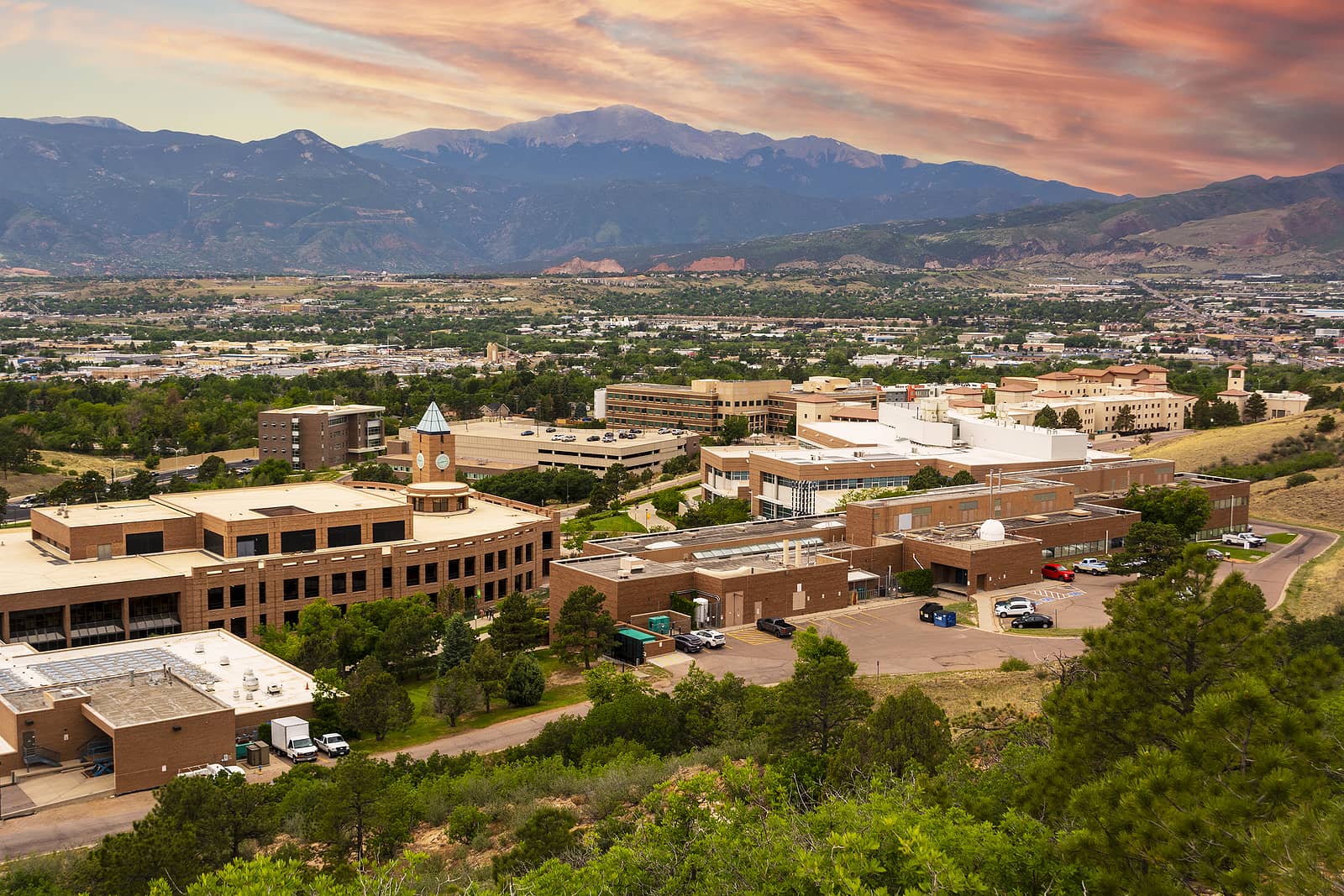 Homeowners in Colorado typically pay more than most Americans for home insurance. At $2,412 per year, the average policy premium in Colorado costs over $1,000 more than the national average of $1,406. To help you find great coverage and rates, we've compiled the best options for home insurance in Colorado based on value, customer service, and bundling.
Best Colorado Home Insurance Companies
Due to the price of homes, population, and the year-round threat of wildfires, Colorado home insurance tends to be higher than the national average. The best way to ensure the proper homeowners insurance policy in Colorado is to shop around and compare rates and customer ratings.
Based on research gathered from the 2021 J.D. Power U.S. Home Insurance Study, the state's top five homeowners insurance companies are USAA, State Farm, American Family, Allstate, and Auto-Owners Insurance.
Overall Best Colorado Home Insurance Company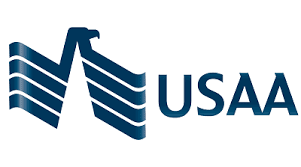 USAA is at the top of the list for home insurance companies in Colorado, but membership eligibility restrictions apply. If you cannot enroll in a USAA homeowners policy, consider State Farm. The average annual premium for $250K dwelling coverage is $2,555, with a J.D. Power Score of 835/1,000 and an "excellent" rating from AM Best.
Best Value Colorado Home Insurance Company

Home insurance rates in Colorado vary depending on the company. Auto-Owners Insurance Company sells the cheapest home insurance policies in the state — almost $1,100 per year. This is less than the state average cost of $2,340, for a $1,240 price break on Colorado's average rate.
Insurance Company With the Best Coverage Options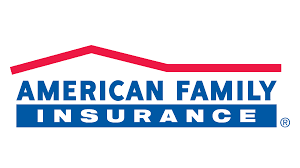 American Family is the home insurance company with the best coverage options in Colorado. It offers a downloadable home inventory worksheet, and you can choose from numerous coverages like those for service lines, water backup, and credit theft. Because hail damage to vinyl or metal siding is more common in Colorado, American Family's matching siding coverage is beneficial. It replaces the damaged and undamaged siding (if the original siding is discontinued).
Best Insurance Company For Bundling Savings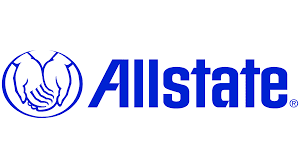 If you're trying to save on insurance costs, consider purchasing your homeowner's and auto policies from the same company. Allstate offers up to a 25% discount for customers who bundle their auto and home policies. This is in addition to any other discounts you qualify for.
Insurance Company With the Best Customer Service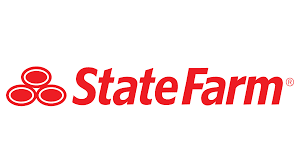 Homeowners who prioritize top-tier customer service should look at State Farm. In addition to its high customer service rating, it also has a mobile app that makes it easy to file a claim. It has also received high rankings from A.M. Best and S&P Global Ratings, which rate insurance organizations based on their ability to pay claims and financial security.
Local and Regional Homeowners Insurance In Colorado
Acuity Insurance
Acuity Insurance recognizes that your Colorado home is your most expensive purchase. The company provides unique coverages to protect your property and your liability.
For example, the company offers Guaranteed Home Replacement Coverage, which covers the full cost of a rebuild. It also offers Matching Siding Coverage, an endorsement to ensure consistency in home siding materials after a covered loss.
Acuity also allows add–ons to protect personal property and your home business. Colorado homeowners can save up to 20% by bundling home and auto coverages.
American National Insurance
American National's standard Colorado homeowners policy covers four main areas: dwelling, other structures, personal property, and liability. The policy protects your home if it's damaged by theft, fire, smoke, or weather events.
The company also protects your home's contents, including repairing and replacing appliances, furniture, and heating and cooling systems. Denver, Colorado Springs, and Aurora residents can add coverage for unattached outbuildings, swimming pools, and other recreational structures.
An American National agent will review your policy each year to ensure you're earning discounts and rewards for things like bundling policies.
Colorado Farm Bureau
Colorado Farm Bureau offers home and renters insurance policies with coverage options for every type of home. The standard policies include dwelling protection, protection for other structures, personal property, personal liability, medical payments to others, and loss of use.
Keeping valuables inside your Colorado Springs, Denver, or Aurora home can add additional coverages for jewelry, guns, fine arts, silverware, stamps, coins, watercraft, RVs, and computers.
Colorado Farm Bureau gives discounts for loyal customers, multiple policies, discounts for homes with up-to-date building materials, and more.
Colorado Insurance Demographics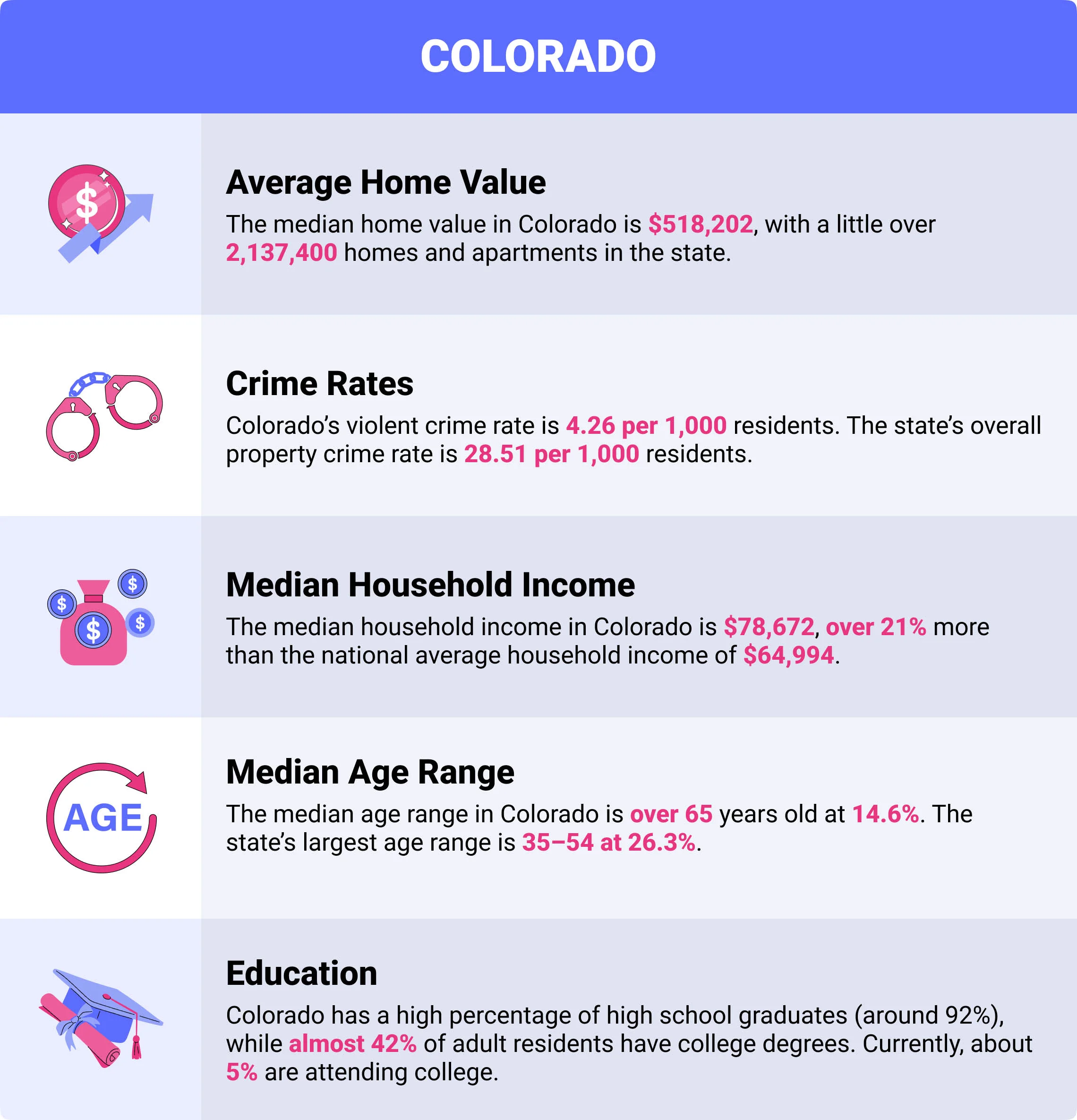 The cost of homeowners insurance in Colorado varies based on where you live. For example, you will pay more for home insurance if you live in an area with a high crime rate. Below are demographics that may affect your rate:
Average Home Value: The median home value in Colorado is $518,202, with a little over 2,137,400 homes and apartments in the state.
Crime Rates: Colorado's violent crime rate is 4.26 per 1,000 residents. The state's overall property crime rate is 28.51 per 1,000 residents.
Median Household Income: The median household income in Colorado is $75,231, almost 16% more than the United States median household income of $64,994.
Median Age Range: The median age range in Colorado is over 65 years old at 14.6%. The state's largest age range is 35–54 at 26.3%.
Education: Colorado has a high percentage of high school graduates ( around 92%), while almost 42% of adult residents have college degrees. Currently, about 5% are attending college.
Average Annual Premiums By Company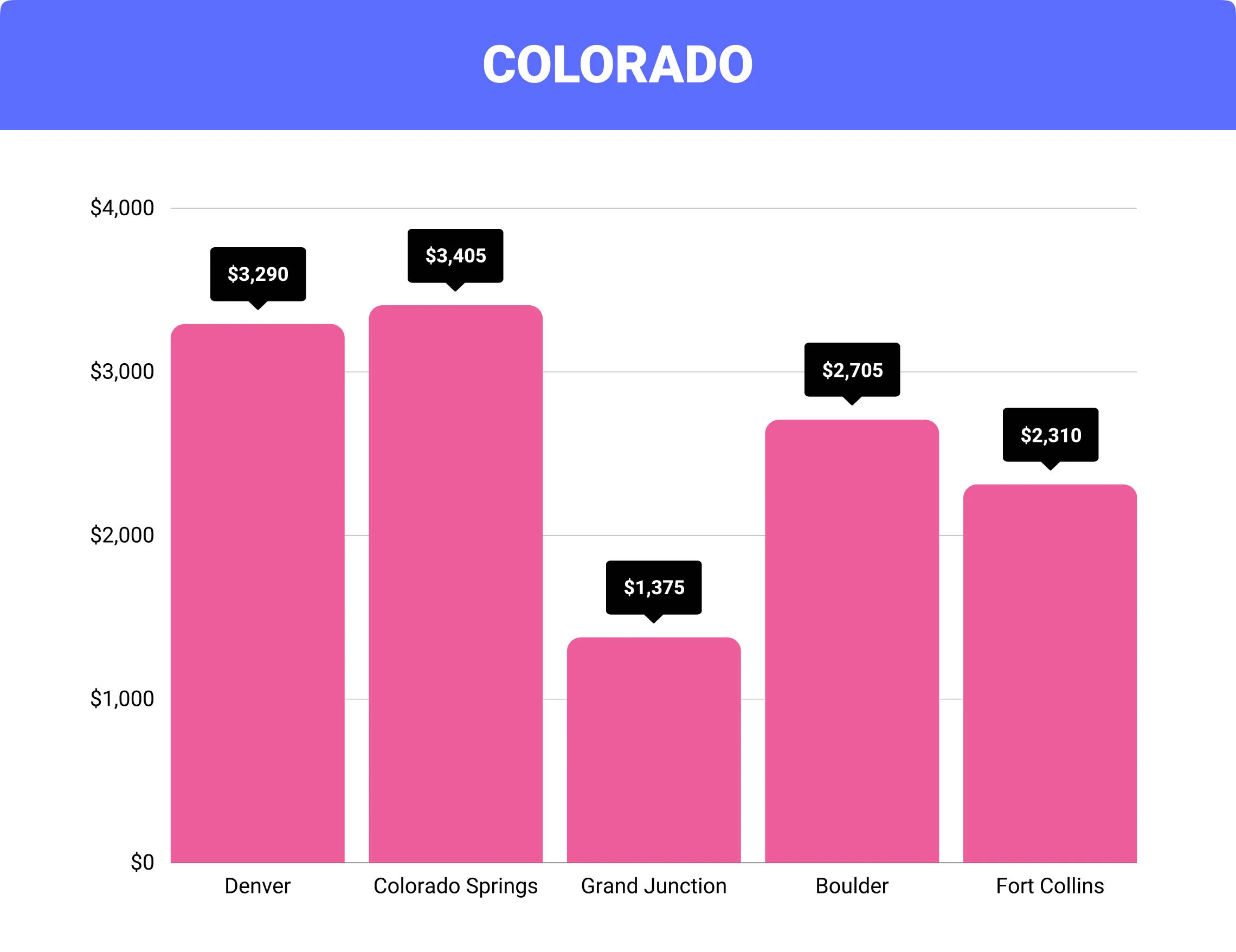 Each insurance company has its own method of determining annual rates. The chart below shows how rates differ between insurance companies in Colorado.
| Company | Average Annual Premium |
| --- | --- |
| Allstate | $2,975 |
| MetLife | $2,570 |
| State Farm | $2,635 |
| Nationwide | $2,270 |
| Liberty Mutual | $2,460 |
Is Colorado Home Insurance Required?
Home insurance is required with your mortgage in Colorado. But even if you don't have a mortgage, it's wise to insure your home and your items. If you want to save money, consider raising your deductible.
What Does Colorado Home Insurance Cover?
Standard Colorado home insurance policies include theft, hail, and fire damage coverage. However, other causes of damage may not be included and will require an additional policy.
Common Home Risk Factors In Colorado
While Colorado doesn't typically experience seasonal storms or earthquakes, the state's high elevation in the Rocky Mountains still presents some risk factors for homeowners. The state's most common home insurance risk factors are fires, snowstorms, and flooding.
Average Insurance Rates By Popular Dwelling Coverage Amounts
Your home insurance premium is partially based on the amount of dwelling coverage you have. Here are the average annual premiums for Colorado home insurance by popular dwelling coverage amounts.
| Coverage Amount | Average Annual Premium |
| --- | --- |
| $100,000 | $1,335 |
| $200,000 | $1,810 |
| $250,000 | $2,280 |
| $400,000 | $3,100 |
What Type of Homeowner's Insurance Coverages Are Recommended In Colorado?
While your standard home insurance policy includes fire damage, theft, and hail damage, it may be worth adding coverage beyond your standard policy. Some options include flood insurance, water backup, and musical instrument coverage.
Flood insurance
Flooding is common in the spring months in Colorado when melting snow causes rivers, ponds, and lakes to overflow. This coverage helps pay for damage to your home's interior or belongings due to flooding.
The National Flood Insurance Program, backed by FEMA, sells flood insurance policies to anyone living in a high-risk area. Some insurance companies also carry them.
Water backup coverage
Sewer and sump pump backups can happen without warning. While this coverage is optional, you should weigh the premium cost against your potential out-of-pocket expenses.
Musical instrument coverage
Resident musicians in and around these cities may find adding coverage for their instruments helpful. Many home insurers, including Nationwide and Allstate, allow you to schedule your personal property to ensure it's covered up to the replacement value.
How Much Does Home Insurance In Colorado Cost?
In Colorado, your home insurance rate is determined based on city-specific variables, like the crime rate and the number of filed claims in your area. Burlington is the most expensive city in Colorado for home insurance, with an average price of $4,501 per year. The cheapest home insurance rates are available in Grand Junction, where a typical term costs around $1,269.
The below table shows the cost of insurance by city, with average prices ranging from $1,375 to $3,404.
Cost of Home Insurance In Colorado By City
The cost of home insurance in Colorado varies depending on your location. The chart below shows the average annual cost in the five largest cities compared to the state average.
City
Average Colorado
Home Insurance Cost
Difference From
Colorado Average
Denver
$3,290
20%
Colorado Springs
$3,405
24%
Grand Junction
$1,375
-50%
Boulder
$2,705
-1%
Fort Collins
$2,310
-16%
FAQs
What's the average cost of homeowners insurance in Colorado?
The average home insurance policy in Colorado is around $2,412 per year.
How much is home insurance monthly in Colorado?
On average, homeowners insurance in Colorado costs around $201 per month.
Why is home insurance so expensive in Colorado?
In Colorado, the price of homes, wildfire risk, population, etc., make home insurance premiums more expensive than the average rate.
Does homeowners insurance cover wildfires in Colorado?
If your home were destroyed or damaged by a fire, your insurance would cover the damage up to your policy limits.
Do you need homeowners insurance in Colorado?
Yes, if you have a mortgage in Colorado, you're required to purchase home insurance.
How To Purchase Colorado Home Insurance
Purchasing home insurance in Colorado is simple. To get a policy that fits your needs at the best price, get multiple homeowner's insurance quotes. Then, review each one to determine which option is best for you.