UPDATED: JULY 06, 2023 | 2 MIN READ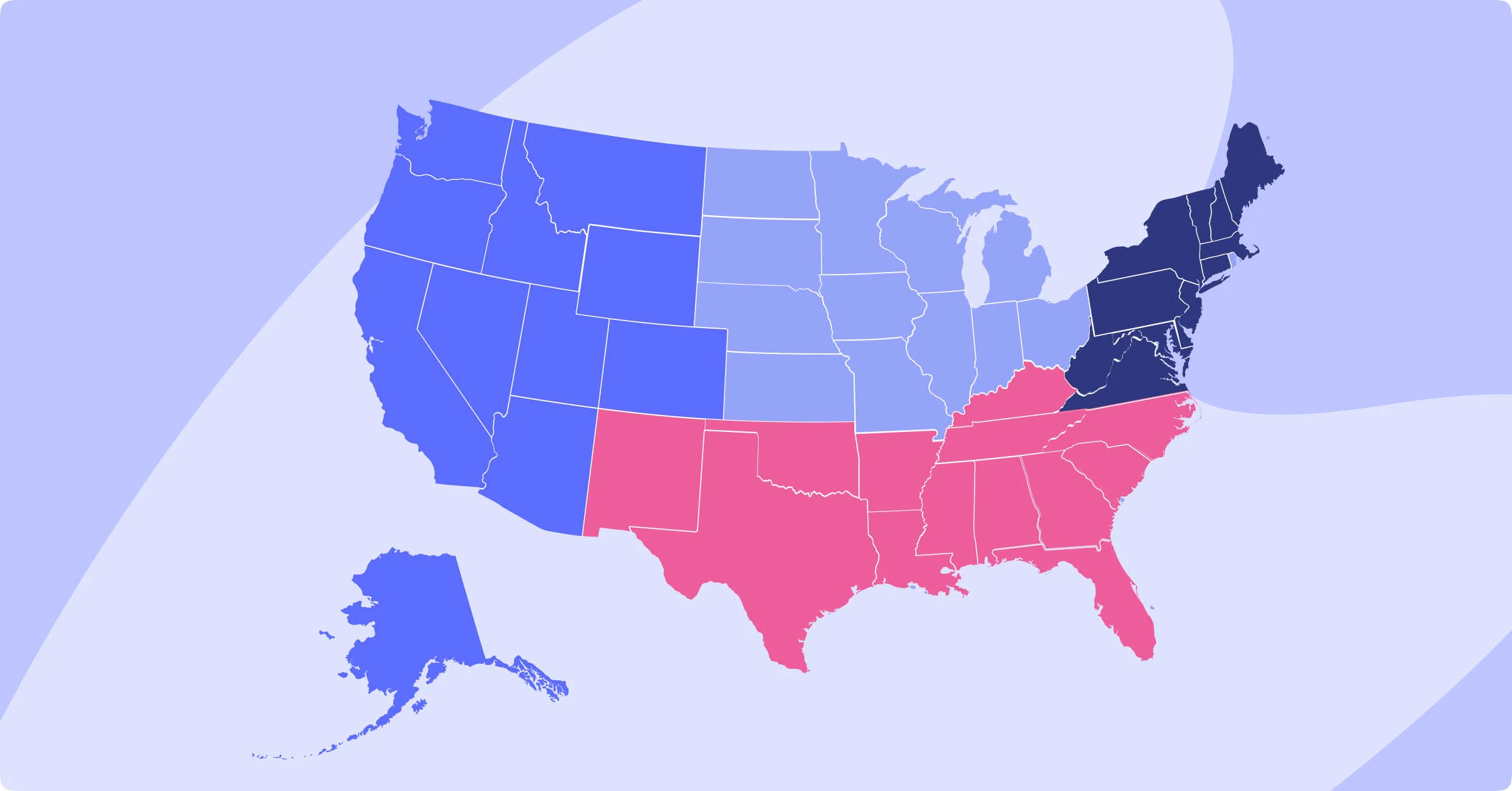 Home break-ins can be a traumatic and expensive experience for homeowners, and unfortunately, they are a common occurrence in many cities across the United States. Knowing which cities have the highest rates of home break-ins can help residents take steps to protect their homes, try to prevent burglaries, and make sure they have enough home insurance coverage to cover any theft-related loss.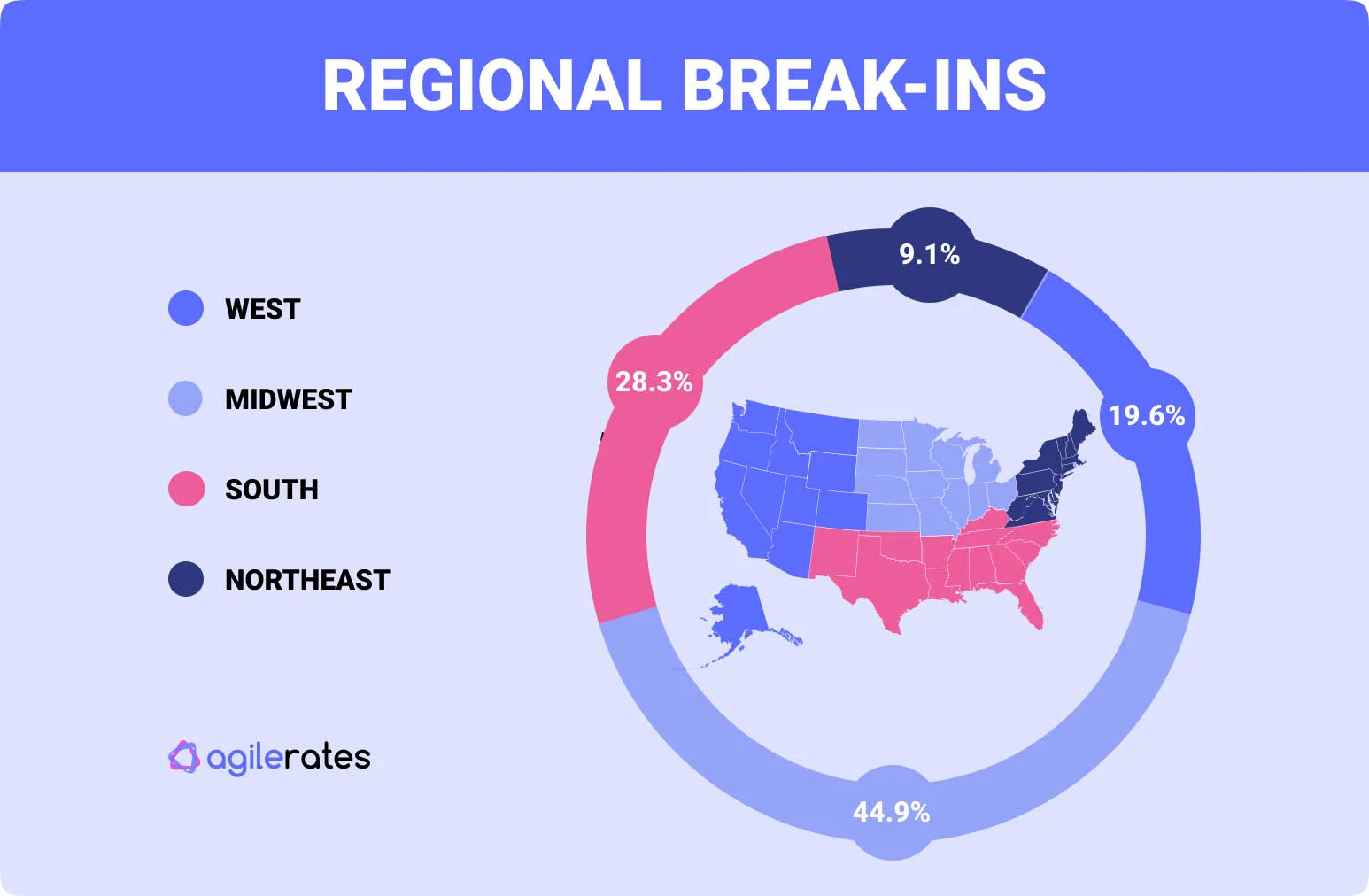 Did you know that one home burglary happens approximately every 28 seconds in the United States? According to a 2019 report completed by the Federal Bureau of Investigation (FBI), it's true. That's 3,062 home break-ins every day.
That's 3,062 home break-ins every day.
But it's more likely to happen in certain cities and states. For example, home break-ins occur more in the south-central portion of the U.S., with New Mexico – the Albuquerque area especially – topping the area's list.
However, the cities with the most home burglaries aren't necessarily in the U.S.'s south-central region. Instead, they tend to be areas with declining economies and high poverty levels.
Top 10 cities with the highest home break-ins
We used information from NeighborhoodScout to compile a list of the cities with the highest home burglary rates in the United States.
Seattle, Washington
Tulsa, Oklahoma
Oklahoma City, Oklahoma
Memphis, Tennessee
Cleveland, Ohio
Detroit, Michigan
Houston, Texas
Bakersfield, California
Kansas City, Missouri
Milwaukee, Wisconsin
Seattle, Washington
Overall crime in Seattle is at a 15-year high, according to a February 2023 article in the Seattle Times. Of course, this includes the number of burglaries in the city, which sits at a whopping 9,993 for 2022.
Houston, Texas (which sits at number seven) has more total burglaries, but because it's a much larger area, its per capita burglary rate is significantly lower than Seattle's 13.62 per 1,000 people. Seattle-area residents have a one in 18 chance of becoming property crime victims.
Tulsa, Oklahoma
In Tulsa, you have a one in 20 chance of being the victim of a property crime. While Oklahoma City (ranked 3rd place) has a slightly higher risk for property crime, Tulsa has a higher risk of home break-ins. There were 4,063 home burglaries in Tulsa in 2022, which is 9.88 for every 1,000 people.
Oklahoma City, Oklahoma
Residents in the Oklahoma City area have a one in 27 chance of becoming the victim of a property crime, which is better than all of the cities on our list. However, with 6,385 total burglaries, the city sees 9.28 robberies for every 1,000 people.
Memphis, Tennessee
Among cities with populations over 500,000, Memphis ranks second for overall poverty, so it's not surprising to see it on our list.
Memphis residents have a 1 in 18 chance of being the victim of a property crime, which includes theft, robbery, and vandalism. In 2022, the city had a total of 5,419 home break-ins, averaging 8.63 robberies for every 1,000 people.
Cleveland, Ohio
In 2019, Cleveland overpassed Detroit as the poorest big city in the United States, so seeing it on our list isn't a huge surprise. The city has faced huge economic losses, resulting in large levels of poverty and increased crime rates.
As of 2022, there's a one in 26 chance Cleveland residents will become victims of property crimes. The city saw a total of 2,997 home break-ins, which averages out to 8.14 per 1,000 people.
Detroit, Michigan
Poverty is also a problem in Detroit but for different reasons than in Memphis. Over the past decade, Detroit's population has declined, leaving many residents living in concentrated poverty areas. Approximately 30% of people in Detroit live below the poverty level, and because of this, crime rates in the area are elevated.
Area residents have a 1 in 28 chance of being the victim of a property crime. In 2022, the city had 4,184 burglaries, which averages 6.62 per 1,000 people.
Houston, Texas
Texas has the highest overall burglary rate in the nation, and Houston has more 2022 incidents than any city on our list. However, even with 14,818 burglaries reported, the city's vast size means there are 6.28 robberies for every 1,000 people, much lower than most of the cities listed.
Bakersfield, California
With a one in 23 chance of becoming a victim of a property crime, Bakersfield is a hot spot for home burglaries. The city also tops our list of the worst cities for auto theft.
Kansas City, Missouri
In 2022, Kansas City, Missouri, saw 2,835 burglaries overall, which means there were 5.58 home break-ins per 1,00 0 residents. Area residents have a one in 23 chance of becoming the victim of a property crime, which is the same as Milwaukee.
Milwaukee, Wisconsin
Like Kansas City residents, those in Milwaukee have a one in 23 chance of becoming a property crime victim. Milwaukee has a slightly higher number of overall burglaries, at 2,873 for 2022. However, its per capita rate is lower. There are 5.05 burglaries in Milwaukee for every 1,000 people.
Statistics of home break-ins in the United States
Knowing some of the main statistics for home break-ins helps you prepare your home to deter or prevent theft. For example, 34% of home burglars enter the home through the front door. So you should always have your front door secured and shouldn't answer the door to people you don't know.
Also, approximately 50% of homeowners know the person who robs their home. Because of this, it's wise to keep things like cash, jewelry, and even electronics out of sight when you have company (within reason, of course).
Below are some more home burglary statistics you might find interesting.
Where do burglars look for things to steal?
Burglars don't typically start in your living room and work through your house. On average, 75% of burglars search your bedroom first. Then, move on to other places.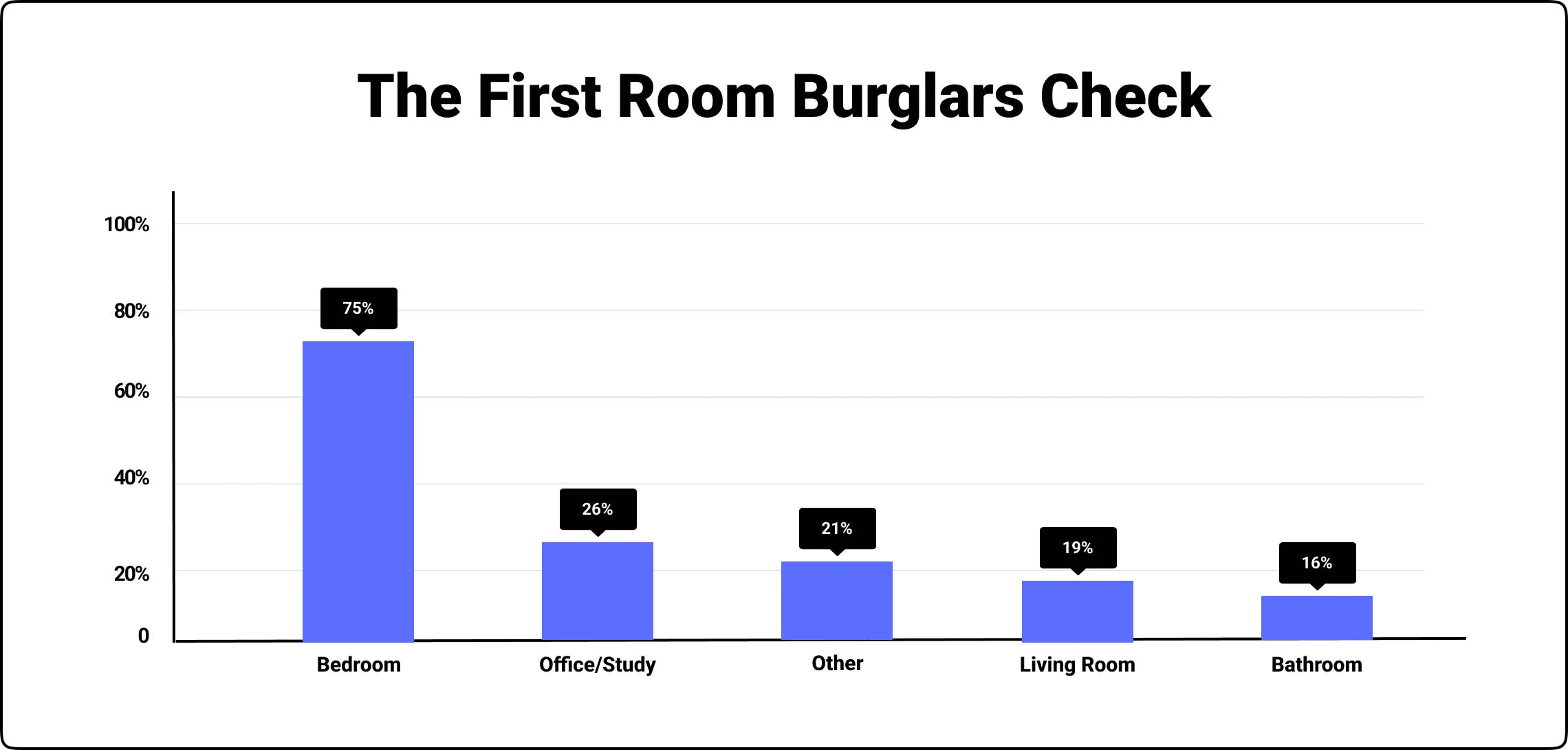 Home break-in statistics by state
As mentioned above, the southern portion of the U.S. is more prone to home break-ins. But home burglary statistics are typically compiled by determining the number of break-ins pre 100,000 people.
Since populations vary, you might not expect some states to have a higher total number of annual break-ins, and some are much lower than expected.
Below is the total number of burglaries reported in 2021 by state – from highest to lowest. (Statista compiled the data and comes from the FBI.)
State
Number Of Burglaries
Reported In 2021
Texas
91,628
Washington
39,475
North Carolina
36,508
Ohio
27,867
Colorado
22,988
Tennessee
22,517
Oklahoma
20,469
Michigan
19,990
Georgia
18,452
South Carolina
18,353
Missouri
17,370
Louisiana
15,497
Minnesota
14,430
Arkansas
14,101
Oregon
13,278
Kentucky
12,659
Alabama
12,491
Nevada
12,406
Indiana
11,661
Illinois
11,465
Virginia
10,464
Massachusetts
9,582
Wisconsin
9,298
Arizona
8,762
Iowa
7,659
New Mexico
7,249
California
7,103
Utah
6,968
Kansas
6,364
Mississippi
6,125
New York
5,305
Connecticut
5,100
Pennsylvania
4,690
Maryland
3,691
Hawaii
3,463
West Vriginia
3,344
New Jersey
3,114
North Dakota
2,983
Idaho
2,811
Montana
2,530
Delaware
2,371
Nebraska
2,342
South Dakota
2,024
Maine
1,713
Rhode Island
1,542
Vermont
1,129
Wyoming
1,056
New Hampshire
957
Alaska
786
Washington D.C.
760
Florida
22
Trends in home break-ins
Unsurprisingly, about half of all residential break-ins occur when most people are out of their houses during the day.
Remember that theft can happen at any time. Statistics only show you when it's most likely.
Here are some more home break-in trends homeowners should be aware of:
67% of burglaries were residences
At least 50% of residential break-ins took place during the day
At least 44% of business break-ins took place at night
57.5% of burglaries involved forcible entry
The top five states are located in Central or Mountain time zones
Two of the states with the highest break-ins are in the Eastern time zone
The seven metro areas with the highest rates are in Arkansas & Louisana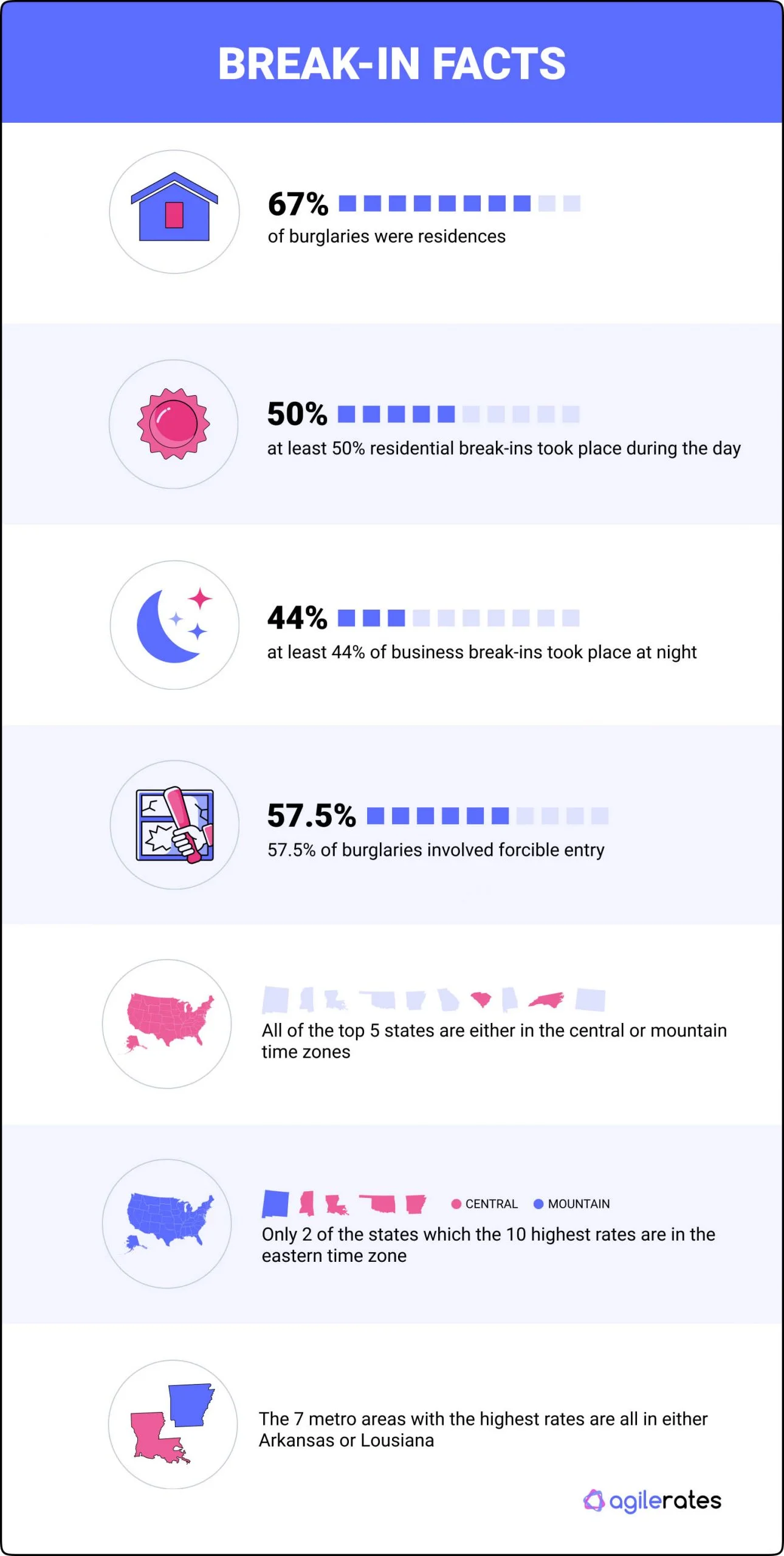 How does a home burglary affect your home insurance?
When home insurance companies determine your annual premium, they factor in all of the risks that can occur at your home — including home break-ins. If you live in an area where home burglary is prevalent, you'll pay more than someone who doesn't.
If you have a home burglary claim, your premium could increase even further. And if your home is broken into more than once, your insurance company could cancel your policy.
| Number Of Theft Claims | Average Annual Premium | Difference In Cost |
| --- | --- | --- |
| No Claims | $1,480 | |
| 1 Theft Claim | $1,780 | +20% |
| 2 Theft Claims | $2,085 | +17% more |
Does your insurance policy cover home break-ins?
Burglary insurance – or theft coverage – is included with standard home insurance policies. However, there are limits you need to be aware of.
First, any claim you file is subject to your policy deductible. This means your insurance company won't pay a claim for less than the deductible amount, which often means reporting small home thefts is pointless.
Also, home insurance policies limit the amount of money paid for claims on specific high-value items. If you own any of the items below, you should contact your insurance company to get them "scheduled" on your policy.
When you add a scheduled property rider to your policy, you're paying a small annual fee to insure the item for its appraised amount. In most cases, the benefits of having items scheduled on your policy greatly outweigh the minimal cost of the rider because the limits on a standard policy are pretty low.
Items you should add additional coverage for
Some of the items you should consider adding additional coverage to include:
Jewelry
Collectibles
Antiques
Artwork
Firearms
Furs
Medical equipment
Sports equipment
Musical instruments
Expensive electronics like a camera or computer equipment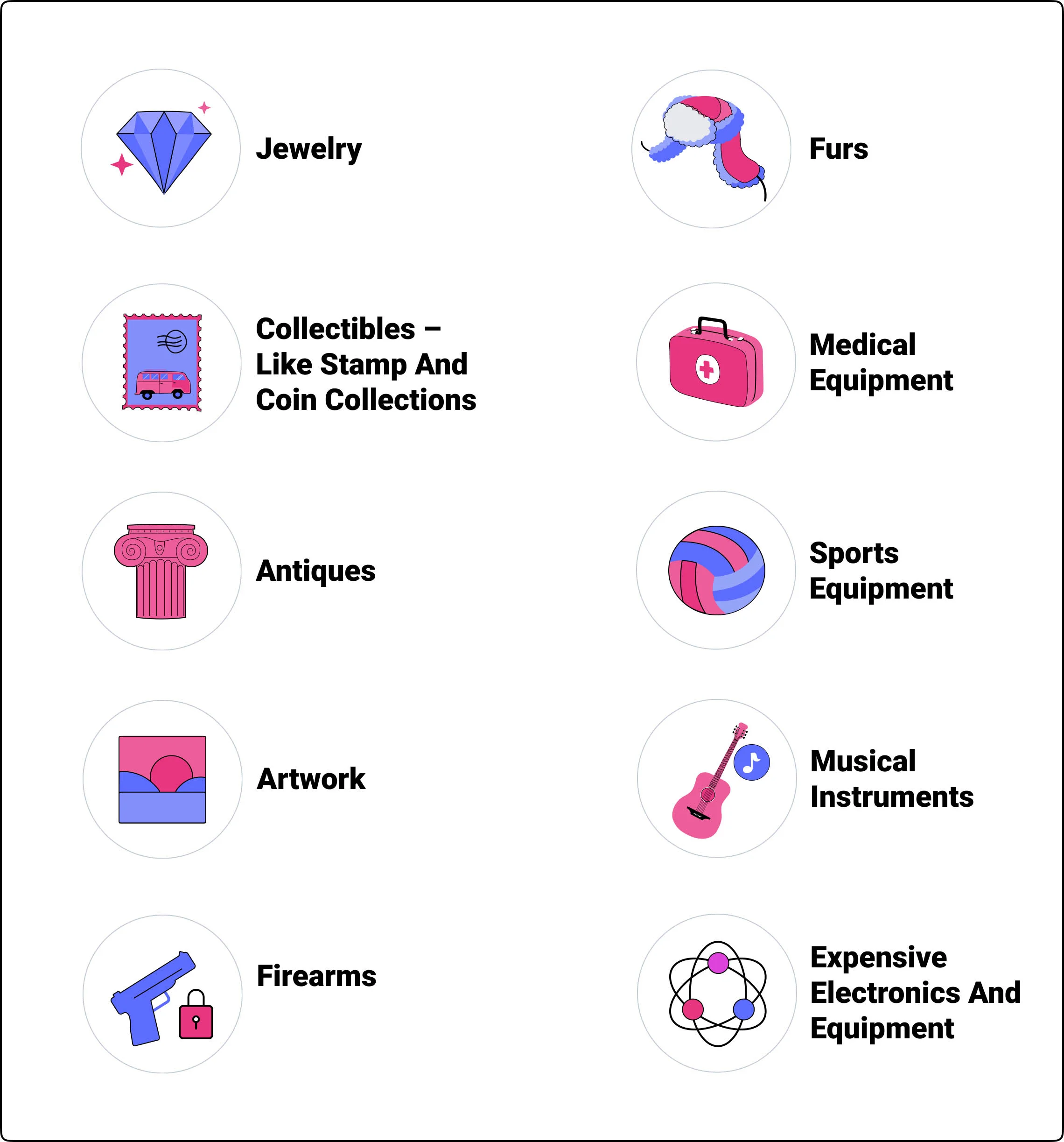 Burglary prevention strategies for homeowners
Preventing a home break-in is crucial for homeowners who want to avoid the trauma and financial impact that come with such an experience. There are several steps homeowners can take to protect their homes and deter burglars from targeting their property. Also, taking preventative measures could qualify you for a home insurance discount.
Install home security systems: Installing a home security system is one of the most effective ways to protect your home from break-ins. These systems can include cameras, motion detectors, alarms, and other features that alert you to suspicious activity and scare off potential burglars.
Secure doors and windows: Burglars often target homes with weak entry points, such as doors or windows that are unlocked or easy to break into. It's important to ensure that all entry points are secure and that you use strong locks, deadbolts, and other security measures to protect your home.
Maintain outdoor lighting: Adequate lighting around your home can deter burglars and make it more difficult for them to approach unnoticed. Motion-activated lights are an effective way to illuminate any suspicious activity around your property.
Keep valuables out of sight: Burglars are often motivated by the prospect of valuable items they can easily steal and sell. Keeping your valuables out of sight can make your home less likely to be targeted.
Keep travel plans to yourself: Don't post about travel plans on social media, and only tell people close to you that you'll be away from home. Having someone check on your house, putting interior lights on a timer, and having the post office hold your mail while you travel is also a good idea.
Join a neighborhood watch group: Neighborhood watch groups are community-based initiatives to prevent crime and increase community awareness. These groups can help homeowners identify and report suspicious activity and deter burglars from targeting their community.
FAQs
What city has the most home break-ins?
As of April 2022, Seattle, Washington, has the highest rate of home break-ins in the United States. Residents in the area have a one in 18 chance of being the victim of a property crime.
What states have the most home break-ins?
As of 2021, Texas is the state with the most home burglaries. The state averaged 393 burglaries per 100,000 people. Although that rate is high, it's been declining for years. In fact, in 2020, the burglary rate was down 5.1% from the previous year.
What houses are more likely to be robbed?
Homes that are more vulnerable or appear unoccupied are more likely to be targeted by burglars. Here are some of the factors that can make a home more attractive to burglars:
Lack of visible security measures
Poor lighting
Unsecured entry points
Valuable items in plain sight
What houses do burglars avoid?
Burglars are more likely to avoid homes perceived as difficult to break into or have visible security measures in place. Here are some of the types of homes that burglars are more likely to avoid:
Homes with visible security systems
Homes with good lighting
Homes with strong entry points
Occupied homes
Homes with neighbors nearby
Do burglars target rich homes?
Burglars tend to target homes they perceive as wealthy or affluent, as these homes often contain valuable items and are assumed to have fewer security measures. However, it's important to note that burglars also target homes that appear vulnerable or unoccupied, regardless of their perceived wealth.
Protect your valuables with home insurance
By taking preventative measures and staying informed, homeowners can reduce the likelihood of becoming victims of home break-ins and increase their peace of mind. Compare rates and coverage on home insurance policies today to ensure you're properly covered.
Related Articles: