UPDATED: SEPTEMBER 06, 2023 | 3 MIN READ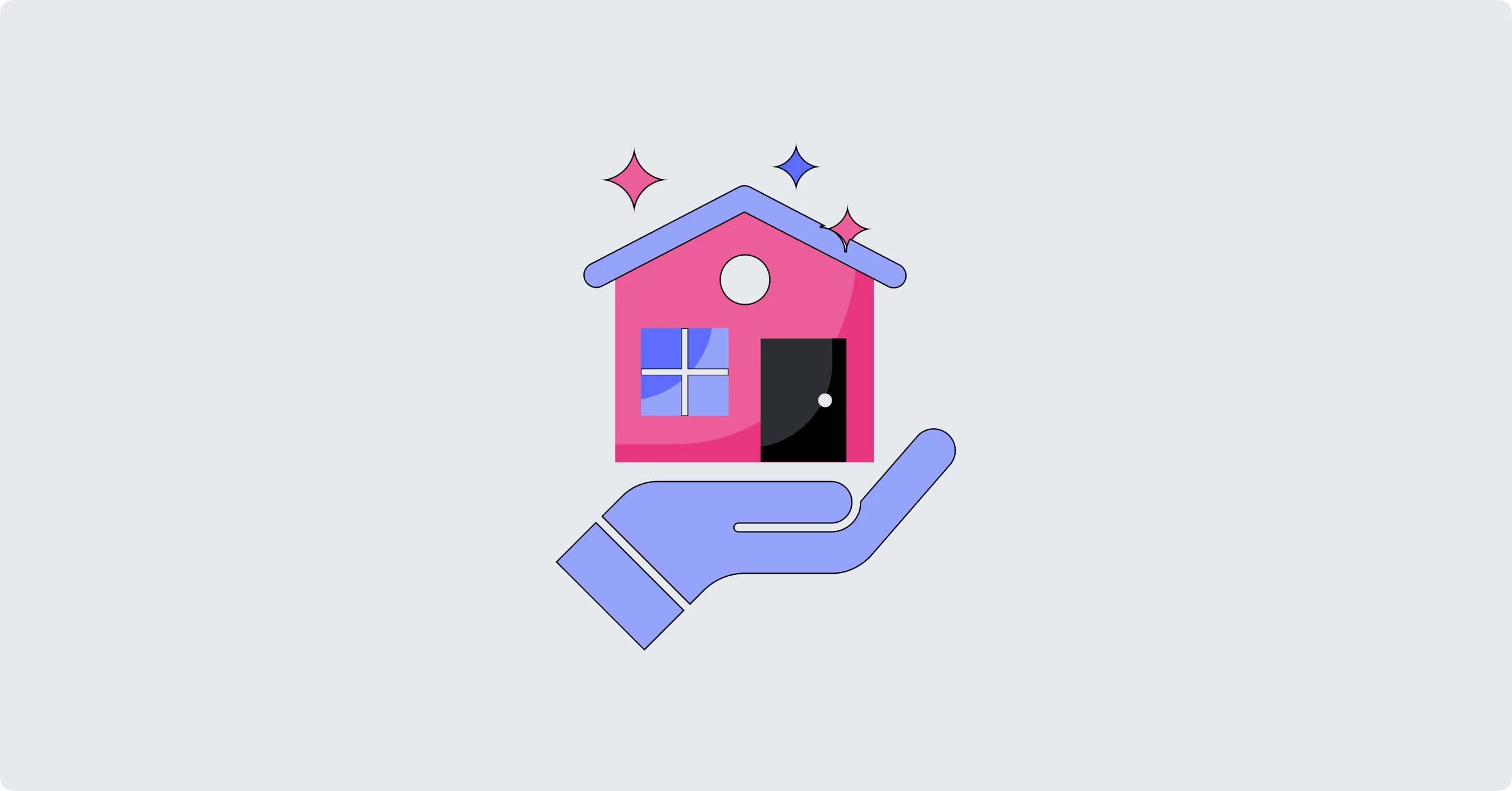 There are many reasons why someone can end up with an unoccupied property. They may be using it as a vacation or second home or carrying out renovations requiring them to live away from home. In any case, knowing what kind of coverage you need for an unoccupied property is essential. When a home is unoccupied, it requires specific coverage that's not needed when it's occupied. This article will outline the reasons for this and give examples of coverage available for unoccupied homes.
Why do unoccupied homes need specific coverage?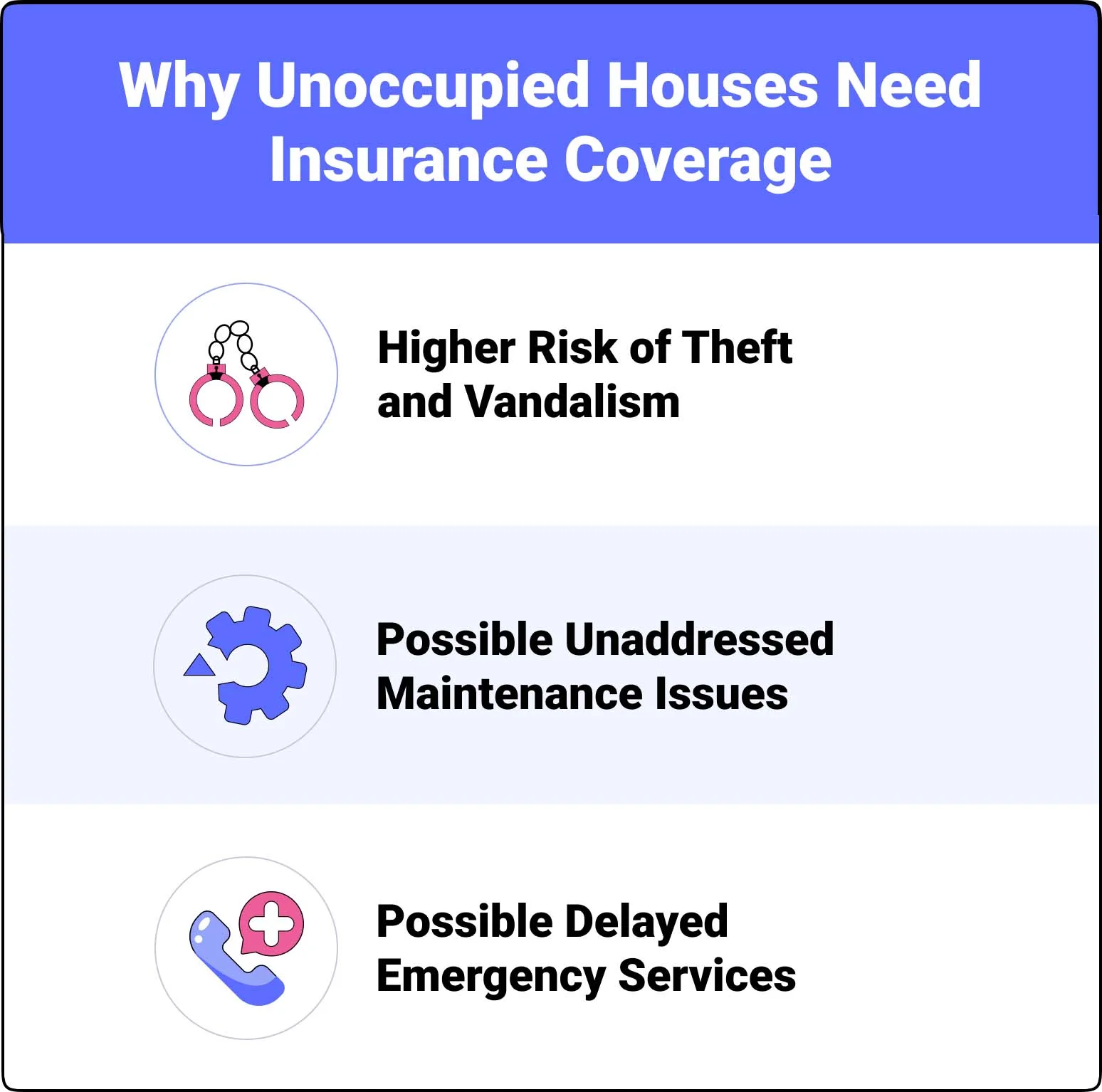 An unoccupied home needs specific coverage, as it's more vulnerable to damage and theft than a home with people living there. This unoccupied home may be a new one you still need to move into. Still, your standard home insurance policy won't typically cover you in this case. Many reasons home insurance providers see empty homes as a higher risk.
Higher risk of vandalism and theft
An unoccupied home or second home should have specific coverage. They're at a higher risk of being broken into, vandalized, or damaged. These risks are why they should have thorough coverage.
Theft is one of the main reasons why unoccupied homes need insurance with specific coverage. Vandalism, break-ins, and other property damage are common problems for unoccupied homes.
If you have an unoccupied home, you may consider purchasing special insurance coverage that will help protect your property from vandalism and theft.
Unaddressed maintenance issues
Regularly unoccupied homes, whether by owners or tenants, can be at a higher risk for maintenance issues. This maintenance risk is because the owner or tenant may need to be aware of the problems or need more time to address them.
Some common issues in unoccupied homes are mold, water damage, and pest infestation.
Delayed emergency services
Imagine if there was a small electrical fire in your home. If you were there, you would put it out on your own or be able to contact the fire department quickly.
However, you rely on neighbors or passers-by to notice issues if your home is unoccupied. They may take much longer to see things than if you lived there. The time between a problem's beginning and emergency services' arrival may be prolonged. This results in more significant harm than what would have occurred had the issue been addressed earlier. Burst pipes, for example, may take neighbors a long time to notice.
How to protect your unoccupied home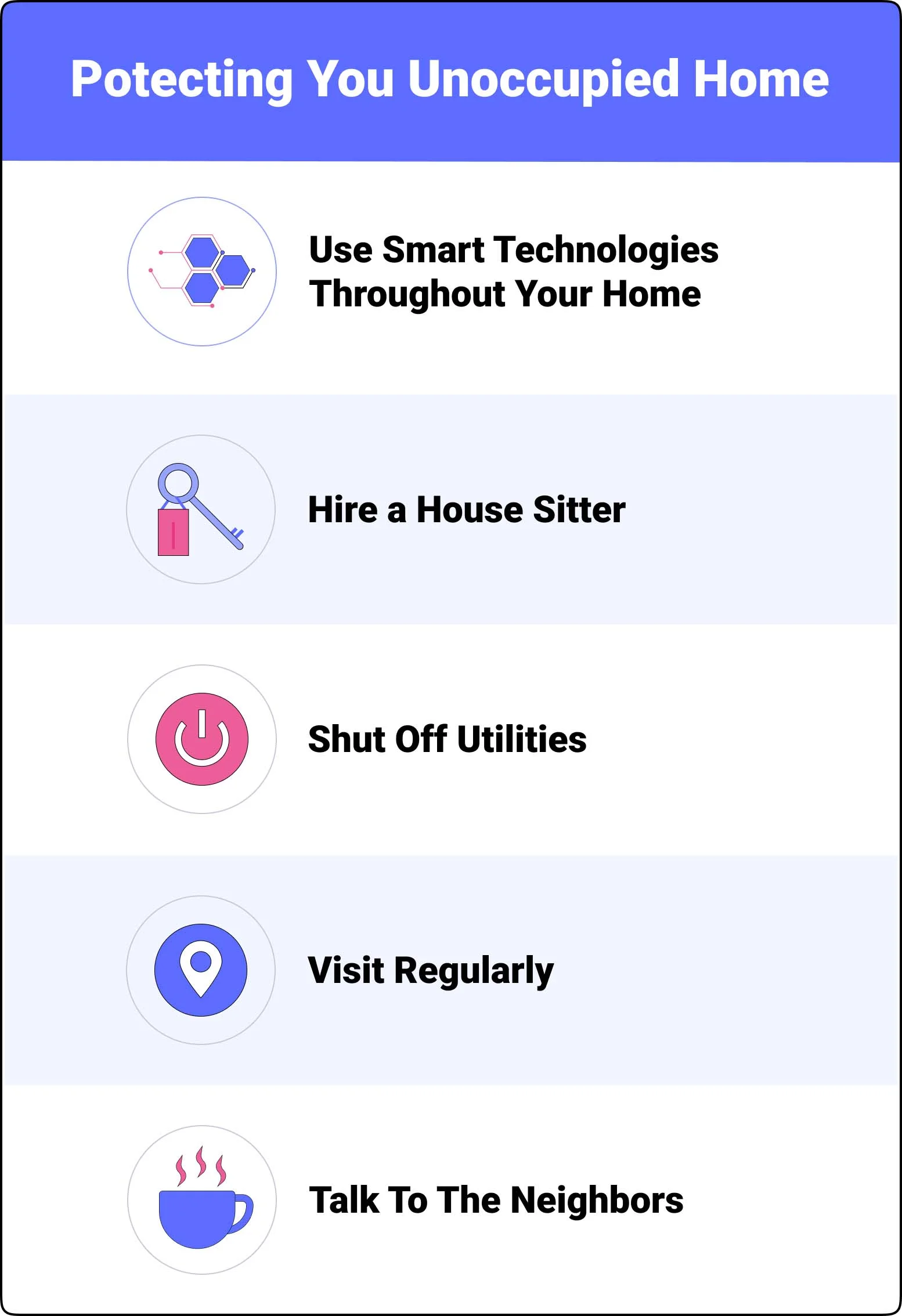 A home isn't just a place to live. It's an investment, a lifestyle, and a symbol of your identity. When protecting your home, it's essential to take the necessary precautions.
This section discusses protecting your home from burglars and intruders, even if you're away for some time.
Smart technologies
A lot of people are opting for smart security systems these days. This is because they help protect your home and make it more convenient. Some of the most popular features of a smart security system are:
Security cameras can provide live footage and act as a deterrent to burglars.
Motion detectors detect movement in your home and alert you when someone is there.
Smart locks allow you to grant access to your home without needing a physical key or code.
Home automation will enable you to remotely control all the devices in your home with an app on your phones, such as lights, heating, and appliances.
Hire a house sitter
Hiring a house sitter to protect your unoccupied home is one of the best ways to ensure the property is safe and secure.
House sitting has become more prevalent in recent years because it gives homeowners the peace of mind that their property will be cared for while absent.
The best way to find a reliable house sitter is by asking friends, family, or community members. This will help you find someone with experience who can provide references for their work.
Shut off utilities
If you have an unoccupied home, turning off the electricity and water is okay. You can shut them off at the main panel of your house. This will save money and protect your home from potential damages. Gas leaks and broken pipes are common problems that can become dangerous if not dealt with quickly.
Visit regularly
If you live in a different location than the property, some things can be done to help maintain the condition of your home. For one, make sure you visit the property periodically and look for damage or maintenance tasks that need to be completed. If this isn't possible, consider hiring a property manager.
Talk to your neighbors
Home security has never been more critical, and even if you live in a safe neighborhood with minor crime, having someone watch your home while you're gone is a good idea. If neighbors are available, they can stop by the house briefly during the day to ensure everything goes smoothly.
Types of insurance for unoccupied homes
When a home isn't occupied, it's at risk of being damaged by natural disasters and other events. This can be prevented by obtaining insurance for the property. Different types of insurance can be obtained for an unoccupied home.
Specific vacant property policy
Alongside the typical home insurance policy, many home insurance companies offer a vacant or unoccupied house policy that can give you even more protection. These policies may come with a higher price tag. However, they may be of benefit if your existing coverage is insufficient and you want an added layer of financial security in the event of an unoccupied residence.
These are typically 12-month policies but may offer a prorated cancellation option if you reoccupy your home in that period.
Endorsement
Homeowners can protect their property by adding an empty home policy to their existing homeowners insurance policy. With this type of coverage, the homeowner will receive protection against vandalism or theft even if they've left their home vacant for an extended period.
Landlord policies
Your insurance company may offer you some leeway for a rental property if you already have tenants who've signed a lease but still need to move in. The more guaranteed option is to add an endorsement to your landlord policy until the unit is rented again.
FAQs
Can you insure a house that no one lives in?
A standard homeowners insurance policy won't cover theft, vandalism, fire, or other claims for a vacant or unoccupied house. Unoccupied or vacant homes pose an increased insurance risk than occupied homes. Homeowners with vacant or unoccupied properties must obtain home insurance to be protected from potential damages.
What is the difference between vacant and unoccupied in insurance?
A vacant house generally won't have any furniture or personal property. Whereas an unoccupied home is ready to be used as a residence, it will have furniture and utilities set up.
What is a vacant home policy?
A vacant home policy is a way to protect a property from being vandalized or damaged. It's sometimes referred to as an empty property policy. The vacant home insurance policy can be used by owners of commercial and residential properties who are on vacation, away for a business trip, or need to take some time off. The policy will cover the cost of repairs in case of vandalism, a break-in, or other damage while the property is unoccupied.
What does a vacant home insurance policy cover?
Vacant home insurance policies are designed to offer protection from most of the things a home insurance policy would cover. For example, damage from fire, theft, vandalism, hail, wind, lightning, and explosions.
When do you need a vacant home insurance policy?
If your home is empty for an extended period, you should consider getting vacant property insurance. Some examples of when you might want vacant home insurance coverage include:
Hospitalized for a more extended period
Selling a home you no longer live in
Owning a rental property that's empty in the off-season
Do you have to have a separate insurance policy for an unoccupied house?
If you have an unoccupied or vacant property, your standard home insurance likely won't cover it. You can purchase a separate policy, such as a specialized vacant home insurance policy, to protect your vacant property. However, if you're still living in the property but it's temporarily empty occasionally, you may consider getting an add-on endorsement to your existing policy.
How to compare unoccupied house insurance
You must notify your insurance company when you're away from home for an extended period. They may increase your premium or even deny coverage if they find out you won't live in your home for a time.
Fill out our online request form to compare unoccupied house insurance rates quickly and easily.
Related content: